Hong Kong International Airports sees record movements, as airlines reduce services to Japan
Analysis
Aircraft movements at HKIA in Mar-2011 soared 15.5% year-on-year to a monthly high of 28,140. A new single-day record of 971 flight movements was also set on 31-Mar-2011, breaking the previous record set on 20-Apr-2008.
Airport Authority Hong Kong (AAHK) CEO, Stanley Hui Hon-chung, said airlines around the world would "continue to reduce flights to Japan until the nuclear threat is cleared. In the case of Hong Kong-based airlines, we have seen capacity being redeployed from Japan to other destinations in the region, which is why we continue to see reasonable increase in flight movements at HKIA". He added, "The situation with Japan may persist for a while, but we remain cautiously optimistic that the aviation market in general will continue to grow."
HKIA aircraft movements ('000): Jan-2009 to Mar-2011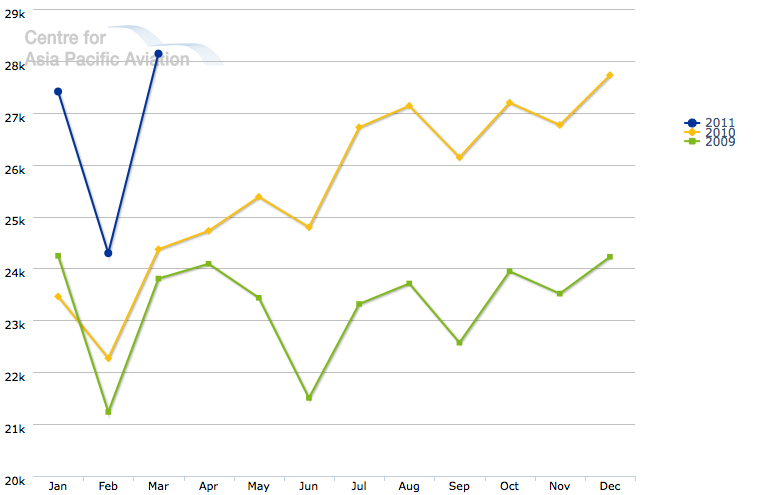 HKIA also handled a total of 4.2 million passengers in Mar-2011, up 1.8% year-on-year, driven mainly by Hong Kong resident travel, which registered an increase of 6% over the same period last year. Passenger traffic to/ from Southeast Asia and the Mainland also performed particularly well, according to AAHK.
Mr Hui stated, "The strong increase in movements was attributable to airlines increasing flights on the back of robust economy of the region, while the moderate growth in passenger traffic reflected partly the high growth rate in March last year and the immediate aftermath of the recent earthquake and nuclear crisis in Japan, which has led airlines to reduce flights to Japan quickly."
HKIA passenger numbers (mill): Jan-2009 to Mar-2011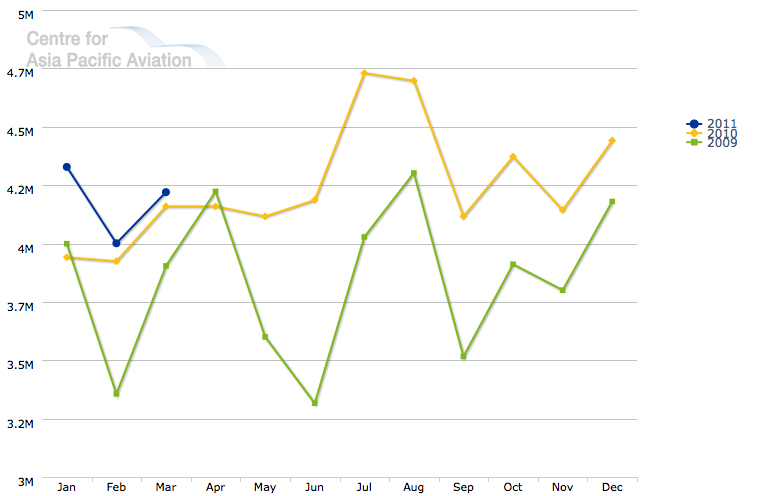 HKIA also handled 369,000 tonnes of cargo during the month, a 6.2% year-on-year increase. The growth in cargo tonnage was attributed primarily to the respective 7% and 8% growth in exports and transshipments, while imports grew by 4% in March, according to AAHK. Cargo to and from North America continued its strong momentum with double-digit year-on-year growth.
HKIA cargo volume (tonnes, '000s): Jan-2009 to Mar-2011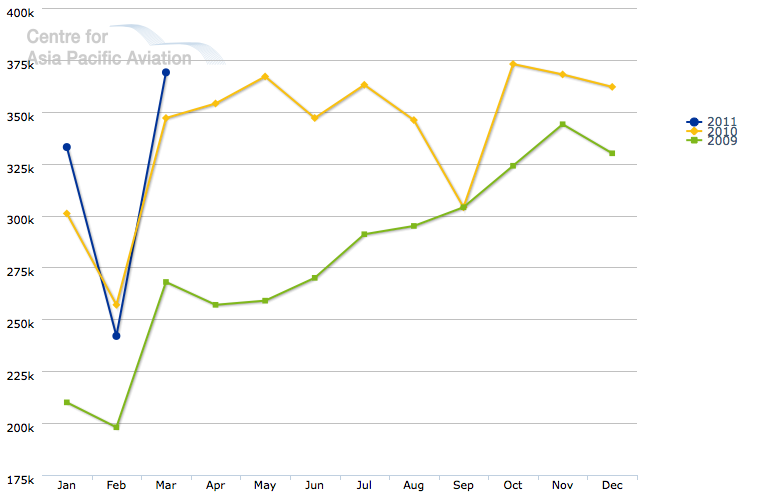 NB: CAPA Members may now access traffic graphs such as those presented here for well over 100 leading airports worldwide. Click here for the HKIA graphs. Data can be exported to excel.