HNA's China West Air to become a low-cost carrier – the catalyst for a LCC boom in China?
Analysis
China's privately-owned HNA Group, parent of Hainan Airlines, intends to transform its subsidiary China West Air into a low-cost carrier. The carrier, based in Chongqing on China's western frontier, has dabbled with branding itself as a LCC but now intends to make the commitment and change its structure to support its operation as a LCC.
Of wider significance than its transformation will be its spillover impact, as West Air becomes the catalyst for other carriers in the expansive HNA Group to gradually adopt the LCC model. The pressure on other Chinese carriers to respond will inevitably increase. With time and more growth, this may create the early stages of the long awaited Chinese LCC boom, in one of Asian aviation's '"final frontiers".
The nature of the mooted transformation changes will be closely watched. Spring Airlines, the country's only other genuine LCC, does not charge for checked luggage, which is typically the biggest ancillary revenue earner for LCCs. Although Spring would like to charge for checked luggage, it knows it would face market resistance. On the whole China, does not yet have ideal circumstances for LCCs, but things are changing.
What Spring Airlines has demonstrated is that the country does wants efficient airlines that are well priced and on time, not lazy legacy operations. As the movement grows China West may join Spring in evolving new forms of stripped-down LCCs.
West Air will undergo its LCC transformation at the same as sister HNA carrier Hong Kong Express. The two are expected to learn from each other and have a close relationship, both for big picture strategic decisions as well as network benefits: Hong Kong Express will serve Chongqing, West Air's hub, and intends to partner with HNA carriers, although West Air has not been specifically named.
See related report: Hong Kong Airlines embarks on dual-brand strategy with Hong Kong Express to become LCC
West Air, part of HNA, prepares to charge for meals, all-economy configuration, more web sales
China West is part of HNA, whose ownership structure is typically opaque. HNA, and to a lesser extent other big Chinese carriers, have a number of affiliates/subsidiaries. Most of these are partially-owned with, usually, the local government of the carrier's base taking a stake. This benefits the larger airline financially in the form of subsidies, tax breaks, land allotment and other benefits.
It also benefits the larger airline as the government's backing can be crucial for the carrier to receive launch approval. As in most places in the world in one way or another, airlines are a source of pride and, some say, a way for local officials to receive attention – they hope – from higher-ups.
Cross-ownership and partnerships amongst greater China carriers: Jul-2013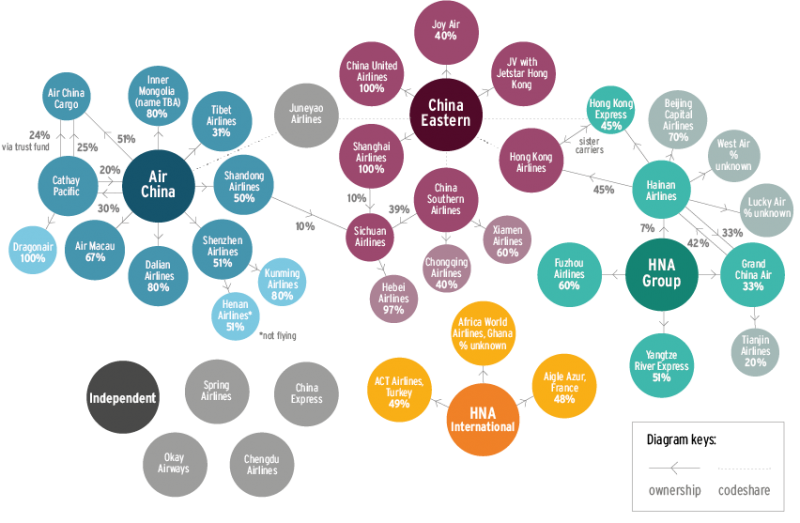 West Air operates an all-narrowbody fleet comprised mainly of A320 family aircraft and older 737s that are to be phased out, according to reports that also indicate the A319s may leave as well for a single fleet type. The A320s will be re-configured to an all-economy configuration. While West Air does not have any aircraft on firm order from manufacturers, it can tap into HNA's leasing and order portfolio.
China West Air Fleet Summary: as at 4-Jul-2013
Also as part of the LCC transformation, meals will no longer be free. Efforts will be made to increase utilisation, which was 11.5 hours in the first three months, up from 9.2 hours in 2012, according to local reports. Additional website sales will be targeted, and West Air says it is seeing improvements, with over 20% of tickets being sold on its website in early 2013, up from less than 10% in 2012.
Chongqing is China's 12th largest but second-fastest growing airport
China West is based in Chongqing, a sprawling municipality in western China around Sichuan province. Chongqing with Sichuan's capital of Chengdu are the focus of the country's "Go West" strategy to develop the western region now that China's east coast is heavily developed. (Western region may be a misnomer: although it is west of the east coast's anchor cities of Beijing, Guangzhou and Shanghai, it is largely in the middle of the country.)
Economic growth rates in Chongqing and Chengdu are higher than on the east coast, although from a lower starting point. This correlates with the growth rates at Chongqing and Chengdu airports. Of China's 20 largest airports in 2012 by passenger volume, Chongqing was 12th largest with 22.1 million passengers, but this represents year-on-year growth of nearly 16%. The only other top 20 airport to have higher growth was Urumqi (in the far west) at 21%. Chengdu ended 2012 as China's sixth largest airport with 31.6 million passengers and a growth rate of about 9% – modest for China but a dream for many other airports. Chengdu's 2012 growth rate was the 10th largest of the top 20 airports but larger than China's five largest airports.
China's 20 largest airports plotted against passenger volume (size of bubble) and year-on-year growth: 2012
Chengdu and Chongqing have also gained headlines with new or forthcoming foreign intercontinental services from British Airways (Chengdu), Finnair (Chongqing) and Qatar Airways (Chongqing). Chengdu-based Sichuan Airlines has also launched services to Australia's Melbourne and Canada's Vancouver (via Shenyang).
See related report: China enters 2013 with new long-haul routes from BA, Finnair, Hainan, Qatar – and more to come
Lower salaries in Chongqing more conducive to LCC, than full-service, HNA reckons
But despite this region being in the limelight, HNA has found that the passenger story is difficult. Long-haul routes especially typically receive government support, perhaps making some of the growth superficial. Chongqing's significantly lower salaries than on the east coast also translate to lower disposable incomes. Further, West Air tends to serve more secondary that primary routes to Beijing and Shanghai from Chongqing – regional routes where price sensitivity is higher. Having a lower cost base to better accommodate the Chongqing market is a heavy factor for West Air's transformation. The carrier has said it was profitable in 2012 but has not released figures.
West Air is the fourth largest carrier in Chongqing and has managed a 9% market share. Some 95% of Chongqing's seat capacity is domestic and all of West Air's flights are domestic.
Chongqing Airport seat capacity by week: 1-Jul-2013 to 7-Jul-2013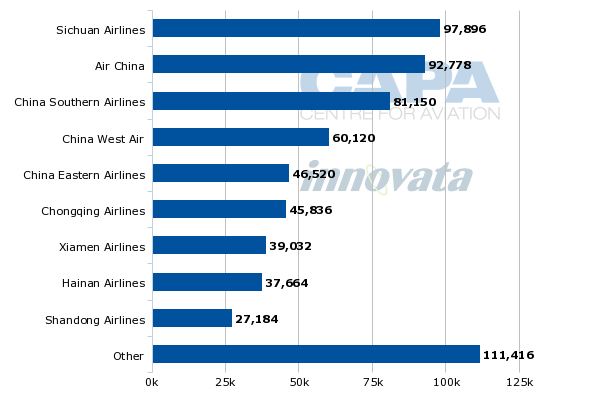 Unlike other major airports in China, no single carrier dominates the airport: the largest share is only 15%, held by Air China.
Chongqing Airport seat capacity share by week: 1-Jul-2013 to 7-Jul-2013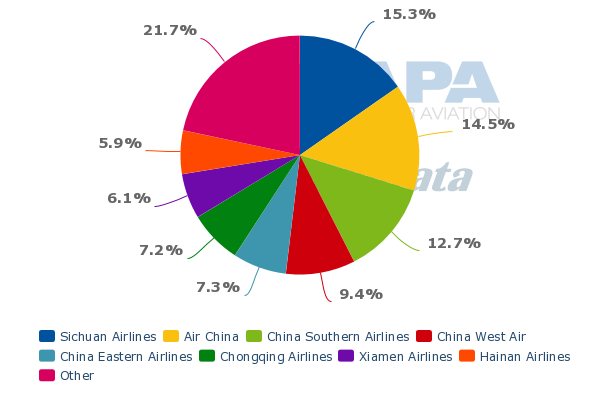 In Chongqing's route network, top destinations are mainly to the primary cities – and hubs – of the east coast: Beijing, Guangzhou and Shenzhen. Some secondary cities like Wuhan and Zhengzhou feature in the lower part of Chongqing's top routes.
Top 10 domestic routes from Chongqing: 1-Jul-2013 to 7-Jul-2013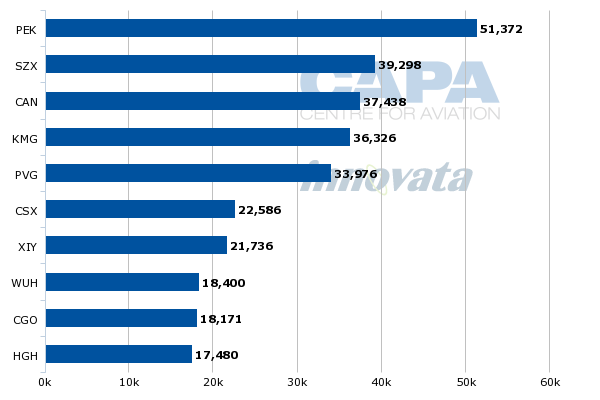 West Air's route profile is different, however. Primary routes are few: West Air has a daily service to each Guangzhou and Shenzhen but none to Beijing or Shanghai. The secondary cities like Wuhan that were in the middle of Chongqing's popular routes are at the very top of West Air's. The latter half of West Air's top 10 routes is dominated by even smaller secondary cities like Lijiang and Jinan. HNA does have a marginally bigger presence in Chongqing from Beijing via Hainan Airlines' daily flight, but this is pale to Air China's nearly hourly shuttle. And HNA has no presence to Shanghai from Chongqing.
While West Air may label itself as a regional carrier, this is probably less strategic than it is a reflection of the difficulty of a private carrier securing route approvals for major routes. Almost all routes are to/from Chongqing.
West Air top 10 domestic routes: 1-Jul-2013 to 7-Jul-2013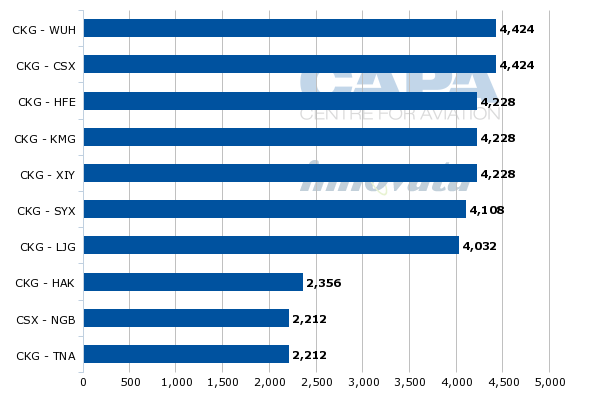 International routes from Chongqing (West Air flies none) are almost evenly split between Northeast and Southeast Asia. Hong Kong is the most popular route while Thailand, with services to Phuket and Bangkok, is the most popular country.
Top 10 international destinations from Chongqing: 1-Jul-2013 to 7-Jul-2013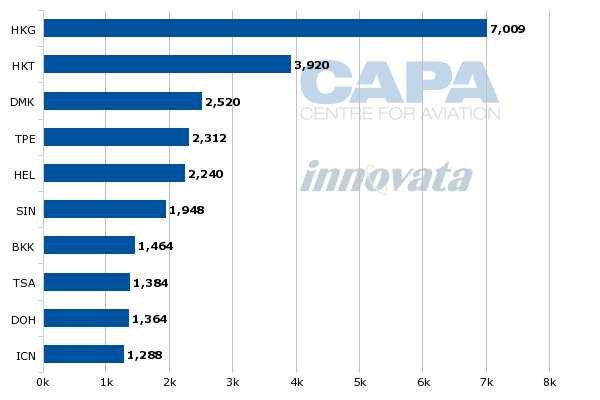 The Thai routes are almost entirely China-originating passengers going on holiday. Leisure markets are appealing for LCCs, but slightly more difficult in China than other markets as tickets are usually sold as part of a package, so it is not consumers going to the West Air website for a cheaper ticket for their holiday. Taiwan routes also have a predominantly leisure bent to them while Hong Kong is mixed. The other top destinations and countries largely reflect limited frequency: Qatar Airways from Doha, Finnair from Helsinki.
Top 10 countries served from Chongqing: 1-Jul-2013 to 7-Jul-2013
Only 13% of international seat capacity from Chongqing is to points outside of Asia.
Chongqing international seat capacity by region: 1-Jul-2013 to 7-Jul-2013
Private airlines have largely succeeded only in Shanghai
West Air will be watched, amongst other reasons, to see if it can report success from being based in a city other than Shanghai. Mid-last decade China allowed a spat of new, private airlines to launch. After varying financial and operational problems, the only carriers of note to emerge successfully were Spring Airlines and Juneyao Airlines. Spring is a LCC while Juneyao is full-service (food and drinks are free and it offers a traditional business class seat).
Both carriers are still in service and still claim Shanghai as their base. With the greater Shanghai area generally considered to have the highest incomes in China, this has supplied the airlines with a healthy market. Plus tourism interest from other regions and limited business travel from the cost-conscious set round out the passenger profile, but the mainstay is wealthy passengers around Shanghai. The airlines make no secret their fate could have been very different if they were based outside of Shanghai.
So the interest in China West launching the LCC model outside of Shanghai is if it can gain traction. Growth in the medium-term will surely keep it at a fraction of the size of Spring and Juneyao (about 30 A320 family aircraft each). China West's success could cause other airlines in up-and-coming cities with lower incomes to adopt the LCC model (or as best they can). The HNA Group sees China West's transformation as the start of a clearer division of its China-based carriers into three groups: full-service premium (such as Hainan), LCC (China West) and regional (Tianjin Airlines). Outside of China, HNA has interests in full-service Aigle Azur of France and LCC Africa World Airlines of Ghana. Further HNA carriers in mainland China should be expected to be transformed into a LCC. Subsidiary Hong Kong Express will become a LCC later in 2013. Hong Kong Express and West Air are expected to learn from each other about the LCC model.
It is true China West will not be the perfect litmus test for the LCC model outside of Shanghai. The carrier will still be a part of HNA Group and have the scale – and safety net – that affords. Financials could be blurred in the larger group. Spring and Juneyao, however, are entirely independent of any of China's four airline groups: Air China, China Eastern, China Southern and HNA.
China's market is not yet used to ancillaries. This must change – will West Air or Spring lead the way?
It is inevitable that one day LCCs and their ancillary fees will be rampant in China. But for now not even Spring charges for luggage although it does charge for meals and snacks (as is done on China's large train network), although those are lower-margin items. Luggage will have to be charged for but it must be a carefully managed process with lots of communication to reduce market backlash. Spring has shown itself to be an effective communicator over social media, but this is not an area other carriers have excelled in.
This could make it challenging for West Air to have ancillary fees. If West Air wants to be the first to charge for luggage and other services, Spring may enjoy having another carrier be the first – or alternatively Spring may want to be first so it can better shape the conversation airlines need to have with the market.
Does China want LCCs, or just efficient airlines?
China's regulatory environment at present is not conducive to LCCs; nor is this likely to change in the medium-term. What the country can support, however, is more efficient airlines like Juneyao and Spring.
They have no legacy baggage, possess lean structures and attitudes and are efficient (for China) operations. This compares to the often-bloated major airlines, weighed down not only by clunky mergers but the classic whiff of state-owned enterprises, where productivity is low.
Juneyao and Spring are both private, as is another beacon of efficiency: Xiamen Airlines. But the low-cost formula still has more ground to gain. Red-eye (back-of-the-clock) flights, boosting utilisation and reducing unit costs, are not viewed favourably by regulators. Nor is there much movement to improve efficiency of ground suppliers and their charges.
Growth is highly managed, and often more of a problem than finding landing slots is finding the appropriate officials – biased towards the state-owned carriers – to support a prospective service. Aircraft growth is controlled, ensuring capacity increases but nothing too extreme from the private carriers. They could certainly handle the growth, operationally and in terms of finding markets (route approvals pending). But that would be a disaster for the state-owned carriers, still trying to become efficient.
On the surface Spring may illustrate China's appetite for LCCs. But what Spring really demonstrates is a popular demand for efficient airlines, not the old legacy driven attitudes.
What has yet to come to market is a comparison between a LCC like Spring – and soon West Air – and an efficient full-service airline. The lower cost of labour and raw materials makes food and beverages a lower proportion of overall costs than in the developed markets of Europe or North America. In the US there are some low-cost and two "ultra" low-cost carriers in Allegiant and Spirit that have found successful niches. While that may demonstrate there is a market for LCCs even when the competition is effectively low-cost and low-service, and while the US carriers have cut costs from a decade ago, they are still not bastions of efficiency. Europe presently is going through this transformation.
So the question remains how a Chinese LCC will compare against an efficient Chinese full-service carrier. There are few signs of sweeping overhauls, at the Chinese legacy airlines, so the question will probably remain moot for a while longer.
As long as that remains the case, and there are more examples like West Air, LCCs should continue quietly to move ahead. Spring and West Air know a booming LCC sector in China, let alone their own growth, will take time. But China's consumers are becoming more vociferous by the day and as the taste spreads, it will undoubtedly accelerate faster than the planned timing of Beijing's bureaucrats.