Hawaiian, JetBlue and Southwest see some weakness in demand heading into 3Q2012
Analysis
Some US carriers are conceding slight softness in leisure demand and yields as the typically weaker travel period ushered in at the beginning of Sep-2012 continues to take hold. Against the backdrop of the diminished demand is an underlying concern by all carriers of rapidly rising fuel prices that continue to drive a hard to manage volatile pricing environment. Yet despite the softness cited by some of the lower-cost airlines operating in the US, their growth plans remain unchanged as they prepare for new market roll-outs beginning in 4Q2012 to coincide with some typical improvement in demand patterns.
The overall sentiment among the US lower-cost carrier group appears to be less bullish than the outlook expressed by the country's legacy airlines. Those carriers believe demand remains relatively stable as 3Q2012 comes to a close, and for the moment expect that stability will continue throughout the remainder of 2012.
See related article: US majors including United and Delta cite sustained demand as 3Q2012 comes to a close
Hawaiian sees some yield softness in North America
Hawaiian Airlines recently revised its expected 3Q2012 revenue per revenue passenger mile from up 1.5% to down 1.5% to a decrease of 1% to 4%. The carrier attributed the downward revision in its projections to lower than expected yields on certain routes to North America and lower load factors in some of its international markets.
Company CFO Scott Topping during a recent investor presentation noted some "pockets" of capacity increases in certain North American markets. At the same time higher occupancy rates at Hawaiian hotels are influencing fares, resulting in Hawaiian "dropping into the next fare buckets," Mr Topping explained. "So we are getting good volumes. We're just trading volumes for fares." However, he stressed that scenario only applies to a small portion of its North American network.
Data compiled by the Hawaii Tourism Authority show that seating capacity from Hawaii to the US west coast should increase nearly 5% for calendar year 2012 and about 6% in the country's east coast markets. Much of that rise in east coast seating capacity is attributable to Hawaiian's launch of new service from Honolulu to New York JFK and United's debut of flights from Washington Dulles to Honolulu in Jun-2012.
Estimated increase in seating capacity to Hawaii by region: full-year 2012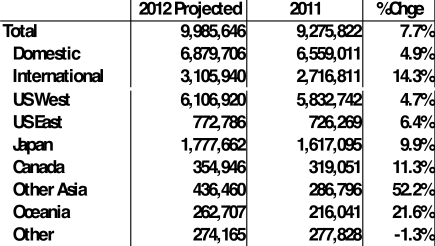 Hawaiian's management has repeatedly stated it was pleased with the performance of the new service to New York, with CEO Mark Dunkerley in May-2012 declaring that the route was booked at a higher load factor for the summer time period than any other US mainland route served by the carrier. But United's response from its Washington Dulles hub likely put pressure on Hawaiian's fares from New York. Hawaiian also likely offered lower promotional fares to support the launch of its first US east coast market.
See related article: Hawaiian pushes forward with international diversification strategy
Hawaiian is somewhat responsible for the pressure it is seeing on its load factors in certain international markets. Mr Topping cited Hawaiian's increase of service to Fukuoka in Jul-2012 from four weekly to daily and the airline's decision in Dec-2011 to operate daily service to Sydney. Hawaiian's CFO said those types of capacity increases are driving softer load factors in the carrier's international networks.
Allegiant Air senior vice president of planning Jude Bricker also recently acknowledged to investors that the carrier is moving into a soft seasonal period with respect to flights to Hawaii. The airline made its debut to the Hawaiian islands in Jun-2012 with the launch of flights to Honolulu from Fresno in California and its Las Vegas base. The company is following that debut in Nov-2012 with new services to Honolulu and Maui from Eugene in Oregon, Bellingham in Washington and Stockton and Santa Maria in California. During 1Q2013 Allegiant is further expanding its Hawaii flights with the addition of service from Boise in Idaho, Spokane in Washington and Phoenix in Arizona to Honolulu.
Being new to the market, Mr Bricker explained that Allegiant does not know what to expect as seasonality sets in; however, Allegiant has stated that its operating margin during Jul-2012 in its markets from the US to Honolulu outperformed the company's overall operating margin.
See related article: Allegiant's latest round of Hawaii flights reflects its network strategy
Alaska cites fuel costs concerns while Southwest outlines yield softness
Alaska Airlines has concluded that the current demand environment remains stable. But CFO Brandon Pedersen also cautioned to investors that he would not declare demand is either accelerating or contracting. He admitted some concern over rising fuel prices "as we head into weaker seasonal months for Alaska and the industry".
Mr Pedersen stated that fuel costs have increased significantly over the last month, and in an Aug-2012 investor update Alaska revised its economic fuel costs per gallon for 3Q2012 from USD3.09 to USD3.23 per gallon. Delta Air Lines has also faced fuel cost headwinds during 3Q2012 as the carrier recently stated that its target operating margin for the quarter would fall 1ppt below previous estimates due to fuel costs reaching USD3.23 per gallon during the quarter versus previous estimates of USD3.09 per gallon.
Southwest during Aug-2012 estimated its unit revenues grew 2%-3% year-over-year compared with 2% growth in Jul-2012. Similar to other carriers Southwest is warning Sep-2012 year-over-year comparisons will be much tougher due largely in part to the expiration of ticket taxes charged to US carriers by the FAA in Sep-2011 after a temporary lapse of the agency's ability to collect those taxes.
A nearly 2% decline in Southwest's capacity in Aug-2012 on traffic growth of 0.1% helped the carrier grow its load factor for the month by 1.6ppts to 84.2%, which senior vice president of planning Tammy Romo cited as very strong. However, she admitted the carrier has seen some softness in yields, and stated the airline has "been aggressively pushing fares where we can". So far during 2012 Southwest has pushed through four fare increases compared with a total of roughly eight instituted during 2012. The potential for fewer fare increases being introduced in 2012 could suggest some consumer push back to airlines attempting to raise prices.
Weaker than expected leisure demand for JetBlue
JetBlue expects to release its Aug-2012 operational results in the coming days. But offering investors a quick preview, CFO Mark Powers said the carrier's performance for the month was in line with expectations, and overall JetBlue was pleased with it performance during the summer 2012 season. But leisure demand going into Sep-2012 is a bit softer than expected, Mr Powers declared. He did remark that early signs for corporate demand in the typically slower travel season are encouraging, but it is too early to make definite conclusions given the nature of JetBlue's close-in booking curve.
The softness JetBlue is seeing in leisure demand contrasts with recent declarations made by US Airways president Scott Kirby, who stated that appetites among leisure customers remain strong. But in contrast to JetBlue, US Airways still sees some weakness in business travel demand as macro-economic headlines are triggering caution among some businesses in attending conferences and conventions.
During the last few years JetBlue has tried to counter typically weak periods for leisure demand through an effort to increase its business passenger mix. Presently, the carrier's business passenger mix is about 15% to 20% of its overall passenger base. That compares to a 60%-40% leisure versus business traveller mix at US Airways.
See related article: JetBlue continues to see benefits and growth opportunities from its hybrid business model
Much of JetBlue's effort to bolster business traffic centres in its focus city of Boston, where the carrier presently accounts for nearly 23% of seating capacity. The airline's business passenger share has steadily increased in several markets during the last few years, particularly in the Boston-New York and Boston-Washington markets. The carrier is hoping its continuing corporate build-up in Boston will help to diffuse some of the pressure it faces in the current weak leisure demand environment.
Boston Logan International capacity by carrier (% of seats): 10-Sep-2012 to 16-Sep-2012
JetBlue percentage of business revenue and customers in select Boston markets: Sep-2012
Despite the soft leisure travel patterns, JetBlue plans to launch six new markets primarily dedicated to leisure and visiting friends and relatives (VFR) travel in Nov-2012 ahead of the Northern Hemisphere winter season, when demand increases to sun destinations. New service includes the debut of flights from JetBlue's JFK base to Cartagena in Colombia and Samana in Dominican Republic. Service between Grand Cayman and JFK and Boston also begins during that time alongside new flights from Providence in Rhode Island to Orlando and Fort Lauderdale in Florida.
Hawaiian Airlines also plans further long-haul expansion during 4Q2012 even as load factors in its long-haul markets are currently softer than the company would prefer. The carrier is preparing for a Nov-2012 launch of service from Honolulu to its fourth destination in Japan - Sapporo - and Brisbane, which will be its second destination in Australia.
The service expansion by both JetBlue and Hawaiian reflects each carrier's confidence in their respective long-term strategies. But for the moment each airline, along with Alaska and Southwest, needs to carefully manage the short-term weakness to ensure resources remain robust enough to sustain their overall growth.