Hawaiian Airlines bolsters its balance sheet and prepares for a new network era with A321neos
Analysis
During the past decade, Hawaiian Airlines has exited bankruptcy protection and embarked on a significant network expansion that required the addition of costly widebody aircraft in a relatively short period of time.

Now the company is beginning to reap some of the benefits of that expansion as its growth has slowed during the last couple of years. Its balance sheet metrics have improved, and it is working to manage its debt levels prudently. In fact, it has beat its targets in some leverage metrics in 2015 and expanded its return on invested capital.

Hawaiian's outlook for 2016 remains positive. Its forecast capacity growth is in line with its supply expansion during 2015, and its upward margin trajectory should continue. The next major milestone for Hawaiian is the delivery of A321neos beginning in 2017, which will give the airline a new level of flexibility to effectively manage its network.
Hawaiian caps its projected capacity growth at under 6% for 2016 as it debuts Narita service
After growing capacity 19% in 2011, 22% in 2012 and 14% in 2013 during the height of its expansion to Asia, Hawaiian moderated its capacity growth in 2014 to 2%. During 2015 its capacity should increase between 3% to 5%, and current capacity estimates for 2016 are an increase of 2.5% to 5.5%.

Among the drivers of capacity growth in 2016 are fleet upgauging that includes the completion of a recent retrofit of Hawaiian's Boeing 717 narrowbodies used in its inter-island operations. The company has added slimmer seats to the aircraft, and as a result, added two rows of seats to some of the 717s and another row to other narrowbodies for a standard 128-seat configuration. In total, 125 seats have been added to Hawaiian's 717 fleet, which is nearly the equivalent of adding another aircraft.

Another facet of Hawaiian's capacity growth in 2016 is the introduction of flights from Honolulu to Tokyo Narita, joining the company's existing flights from Honolulu to Tokyo Haneda, Osaka and Sapporo. The new service is scheduled to begin in Jul-2016, departing Honolulu at 15:30 and arriving at Narita 19:30 the next day. It departs Narita at 21:00 and arrives in Honolulu at 09:55 the same day.

New service to Narita is a natural progression, said company executives, highlighting load factors on flights to Haneda at roughly 90%. Japan remains the largest inbound international tourist market to Hawaii, and Hawaiian CEO Mark Dunkerley concluded the airline is "doubling down" its investment in Japan in the current environment. Once the route is launched, Hawaiian projects having a 20% seat share in the Japan-Hawaii market.

Presently, (7-Dec-2015 to 13-Dec-2015) Japan is Hawaiian's largest international market represented by ASM deployment.
Hawaiian Airlines international capacity (% of ASMs) by country: 7-Dec-2015 to 13-Dec-2013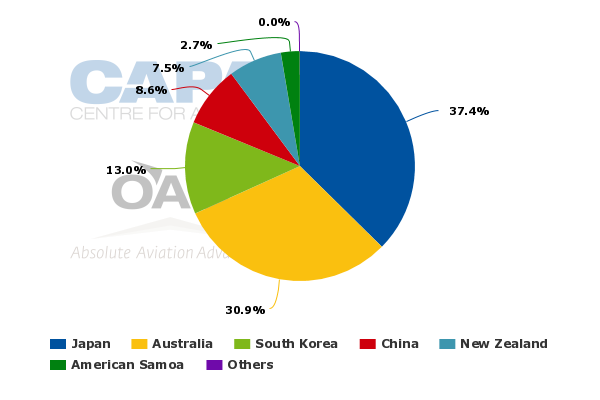 See related report: Hawaiian Airlines preps for a new phase of slower growth after rapid international expansion
Hawaiian narrows its unit revenue declines throughout 2015 as capacity pressure eases
Similar to most US airlines, Hawaiian has experienced unit revenue pressure in 2015 stemming from the strengthening of the USD against most major currencies and falling fuel surcharges on long haul international routes. Hawaiian's decreases in unit revenue have narrowed throughout during 2015. Unit revenues fell 8.6% in 1Q2015, 8.1% in 2Q2015 and narrowed to a 1.5% drop in 3Q2015.
In addition to f/x and fuel surcharge pressure, Hawaiian faced competitive capacity challenges on routes to the US west coast from mid 2014 to mid 2015, said COO Peter Ingram. The capacity pressure began to ease in 2H2015, and Hawaiian also adopted some revenue management changes in those markets. Hawaiian expects further improvement in its 4Q2015 unit revenues.

See related report: Hawaiian Airlines weather f/x and surcharge challenges just as its long haul network shows promise
Hawaiian makes strides in strengthening its balance sheet, exceeds liquidity targets
One of the biggest accomplishments Hawaiian has made during the last couple of years is strengthening its balance sheet. Between 2010 and 2014 as new Airbus A330 widebodies were incorporated into its operating fleet, Hawaiian's debt between 2010 and 2014 increased from USD189 million to USD1billion.

During the last couple of years Hawaiian has been working to pay down some of its debt and during 2015 has spent USD136 million, split evenly, to repurchase convertible notes and make principal debt payments. The company has also spent USD38 million in share repurchases.

At the same time as Hawaiian has worked to decrease its debt, it has also increased its liquidity, with 34% of its cash representing 12M trailing revenue as of Sep-2015 versus 30% in 2014. Its stated liquidity targets are 23% to 25%.

Hawaiian's adjusted debt to adjusted EBITAR ratio was 3.1x at the end of Sep-2015 compared with 4.2x in 2014. Its 2015 performance is at the lower range of its 3X-4X ratio targets. Its pre-tax ROIC for the 12M ending Sep-2015 was 25%, compared with 15.6% in 2010.
The Airbus A321neo gives Hawaiian another important layer of fleet flexibility
Hawaiian estimates the capital required for the 16 Airbus A321neos it has ordered should be 25% less than the A330-200 widebodies delivered during the last few years. Airline executives stated that Hawaiian has cash to pay for 14 of the 16 narrowbodies, but stressed the company would look at its financing options for the aircraft as deliveries draw near. Hawaiian will likely use a mix of financing options including bank financing, leasing and sale and leaseback arrangements. Its bolstered balance sheet also allows the airline to access favourable financing rates.

With the 128-seat 717s used in inter-island operations (along with turboprops) and the A330 widebodies operated on flights to the US west coast and its long haul flights to Asia lasting more than six hours, the A321neos offer Hawaiian a new level of fleet flexibility.

Hawaiian plans to operate the A321neos in a three class configuration featuring 16 reclining first class seats and 45 in its premium economy section. Aircraft deliveries begin in 2017 and continue through 2019.
Hawaiian Airlines projected delivery dates for new aircraft purchased from OEMs and leased from lessors as of 9-Dec-2015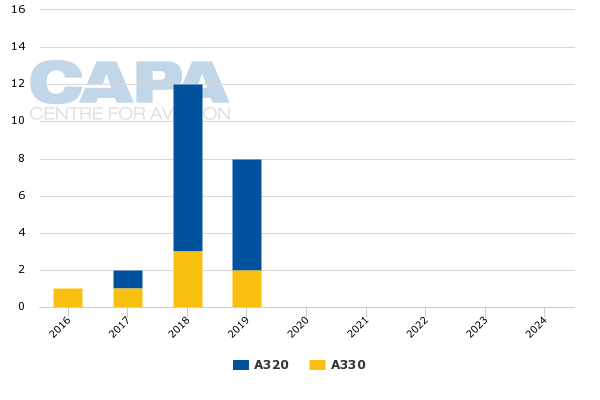 The A321neos allow Hawaiian to adjust capacity according to seasonal fluctuations, and also provide a better operating profile from the airline's Maui hub. Using routes to Las Vegas, San Diego, Portland, Phoenix and Sacramento as examples, the nonstop passengers per day each way in those markets warrant a smaller aircraft, while still supporting connections from Maui to Lihue, Kona and Hilo.
Potential mid-sized markets for Hawaiian's A321neos from Maui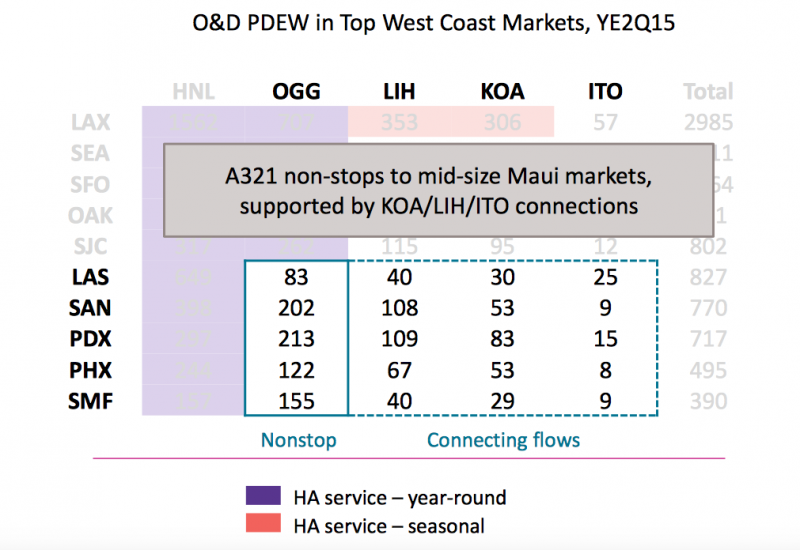 Additionally, the smaller gauge A321neo narrowbodies give Hawaiian the flexibility to convert seasonal and sub-daily flights from Kona and Lihue to markets including Los Angeles, Seattle, San Francisco, Oakland and San Jose to year round.
Potential routes for Hawaiian's A321neos from Lihue and Kona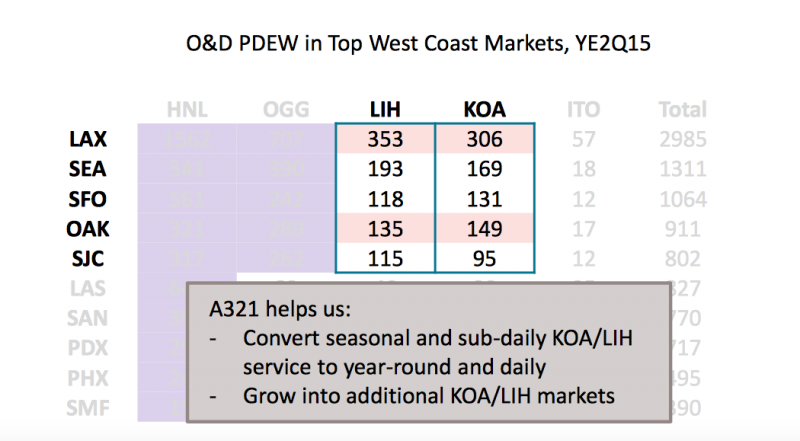 The obvious question, as the A321neos come online, is which markets are under consideration for the A330 widebodies?
China obviously holds huge potential for Hawaiian. It launched flights from Honolulu to Beijing in 2014, and is working to build up consumer awareness in the country and ensure it offers ticket sales through the proper distribution channels.
Potential future markets Hawaiian could serve as of Dec-2015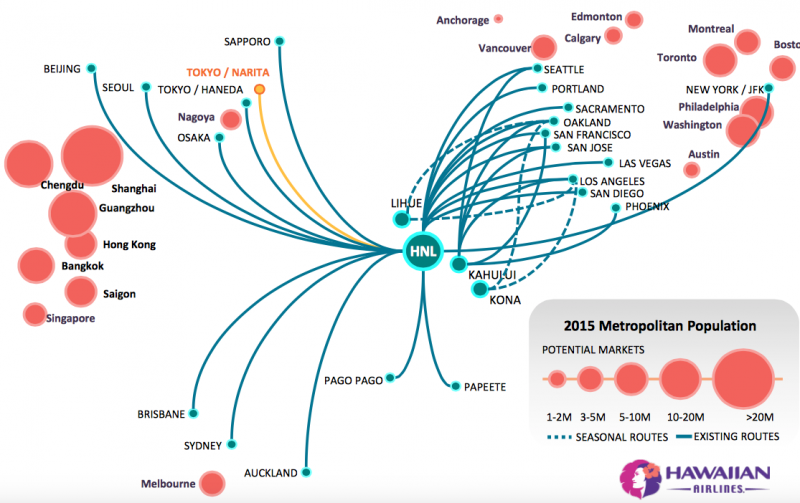 There is also the potential to place A330s on US east coast markets. That region is the second largest domestic source of passengers travelling to Hawaii, Hawaiian executives stated, so adding service to some of the larger metropolitan markets including Washington, DC, Philadelphia or Boston is natural progression as Hawaiian already serves most of the large US west coast markets to Hawaii.
Hawaiian turns a corner with a strengthened balance sheet and growing margins
Hawaiian's pre-tax margin for the 12M ending Sep-2015 was 11.7%, well above the 6.9% posted by the airline in 2014. Given the continued benefits of lower fuel and the lapping of some fuel surcharge and f/x pressure in mid-2016, Hawaiian should maintain its 2015 margin performance in 2016, or post an increase in that metric next year.

The company has accomplished a great deal in a short period of time, undertaking a rapid network diversification that has diminished its reliance on North American routes. In 2009 62% of its passenger revenue was derived from North America. In 2015, that figure has dropped to 53%. Hawaiian has had to make some adjustments in its long haul ambitions during the last couple of years, opting to cut service to Taipei and Fukuoka after those routes underperformed.

Hawaiian has now turned a corner, embarking on a path to strengthen its balance sheet and preparing to attain a new level of fleet flexibility with the A321neo. Once those aircraft start to enter service, Hawaiian seems poised to both leverage its growing presence in Asia and spread its brand to the US east coast.