Gulf 'Year of the Fleet' as Qatar Airways receives A350/A380 and Etihad Airways its A380/787
Analysis
The very end of 2014 was one of the most important parts of the year for Gulf airlines as they received new aircraft: the world's first A350 for Qatar Airways, which took its first A380 a few months prior, while Etihad received its first A380 and 787-9. These are more than just new toys: they bring improvements both operationally and customer-facing. The Gulf has been building up high-end premium products and the new aircraft cement the region's position of offering some of the best, if not the best, products.
Gulf airlines once sold on the basis of price and often convenience. As they expand their networks and build frequencies they are now moving into higher-end premium cabins, strengthening loyalty programmes, constructing new terminals and airports and have hubs with an increasing number of local activities for a stopover. Meanwhile in the old world airports are becoming more constrained, politicians remain ineffective and uninterested and legacy airlines are slow to invest while facing unpredictability from staff strikes. This brings a change to Gulf carriers that is actively welcomed by passengers; but protectionist rhetoric and use of regulatory constraints is increasing.
At the time of the A350 delivery to Qatar Airways, Airbus said it had 19 A350s assembled or in final assembly. This includes the latest A350, MSN19, which will be the second A350 for Finnair. The next seven A350s in production are for Qatar Airways followed by four for Vietnam Airlines (second operator and Asian launch operator) and at least two for Finnair (third operator and European launch operator).
Spreading the first 13 deliveries across three operators is slightly wider than Boeing, which had only two operators (ANA and JAL) for its first 15 787s. However, after that Boeing quickly created new "head of versions" for Air India, Ethiopian Airlines, Qatar Airways and United Airlines, bringing operators to six.
After Qatar, Vietnam and Finnair, Airbus in the short term will have new heads of versions for only Cathay Pacific, TAM and Singapore Airlines (also six in total). Airbus hopes a steady introduction of new head of versions will facilitate the industrialisation of the A350, bringing costs down and improving on time reliability. Airbus has pegged the A350's development cost at around USD15 billion.
A350 production status: 22-Dec-2014
Airbus finds it unlikely A350 deliveries will be made to airlines other than Qatar, Vietnam and Finnair in 2015. The only other candidate would likely be TAM. Airbus expects to deliver 15 A350s in 2015, and end 2015 producing three A350s a month.
Asia-Pacific, with 259 A350s ordered, is the single largest region for the A350 - many of them for long-haul low cost airlines - followed by the Middle East with 161 orders.
A350 orders by region: 27-Dec-2014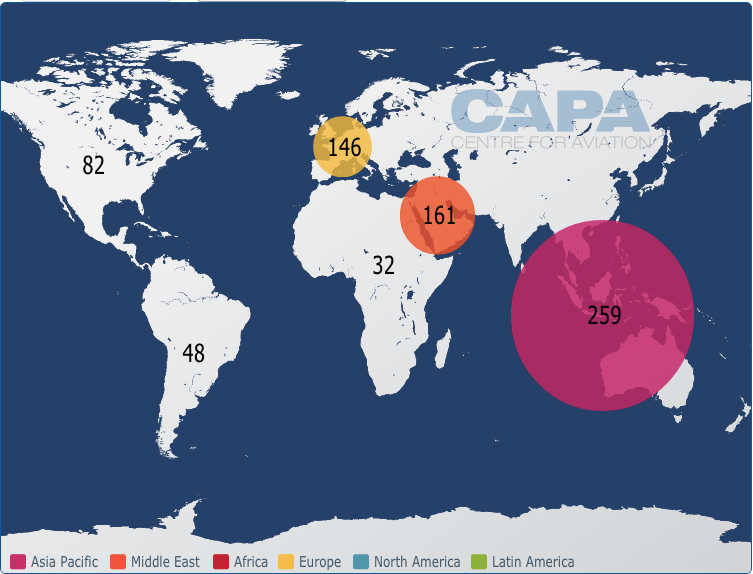 A350s to drive efficiency gains for Finnair's Europe-Asia transfer traffic
Finnair expects to receive its first A350 in the northern autumn of 2015 and to end the year with four A350s. Like Qatar Airways, Finnair will not offer first class but will have an "economy comfort" cabin, new to the airline. Finnair expects initially to use its A350s to Shanghai, Bangkok and Beijing while in 2016 Hong Kong and Singapore will come online.
Finnair's long-haul network is mostly to Asia. The selection of Beijing and Shanghai initially contrasts to some airlines planning 787 introductions. Those airlines are shunning China as initial 787 destinations, seeing the market's congestion and tendency for paperwork unfavourable to a new aircraft type that may have a reliability issue or need spare parts that are not common to the market.
Finnair needs the A350 to lower its costs as a transfer carrier in the Europe-Asia market, where it is struggling to achieve profits. 49% of the carrier's ASKs (but only 42% of revenue) were to/from Asia in 2013. In 2000, Finnair had just three destinations in Asia (Bangkok, Beijing and Tokyo Narita). In 2014, it has 15 destinations; Finnair has increased its Asia capacity more then seven-fold since 2001 (in ASK terms). Finnair aims to double its Asian revenue between 2010 and 2020.
Finnair network
Finnair will use the A350 to replace its seven A340s and later eight A330s. These 15 aircraft are Finnair's only widebody aircraft. There will also be growth as Finnair in Dec-2014 exercised its option on eight A350-900s, bringing its order to 19.
Comparison of cash cost per seat for A350 versus A340
Prior to the exercising of the eight options, Finnair planned to end 2020 with 20 widebody aircraft, up from 15 in 2014 and 13 in 2010.
Finnair long-haul fleet plan
See related report: Finnair struggles to convert Europe-Asia niche into sustainable profit as revenue outlook weakens
Vietnam Airlines will take both the A350 and 787, resuming long-haul growth
Vietnam Airlines will take almost simultaneous delivery of its A350 and 787 and resume long-haul growth after a hiatus of two years. Vietnam Airlines has not added a widebody aircraft to its fleet since 2011 – a standout amongst Asia's intercontinental carriers. As CAPA previously wrote:
Vietnam Airlines' CEO Pham Ngoc Minh tells CAPA the carrier plans to replace all 18 of its current widebody aircraft by the end of 2018. But there will also be growth opportunities as the carrier has committed to acquiring 30 new widebody aircraft, including 14 787-9s and 16 A350-900s, according to the CAPA Fleet Database.

The current fleet plan allows for at least 12 growth aircraft between 2015 and 2018. (Vietnam Airlines has been considering leasing a small number of additional 787s which would lead to even more growth aircraft.)

The first four of these growth aircraft will come in 2015 as Vietnam Airlines plans to take eight 787-9s and A350-900s in 2015 while phasing out only four of its existing A330s/777s. Mr Minh says the airline's first 787-9 is now slated to be delivered in May-2014 while its first A350-900 is for delivery in Jun-2014. He says Vietnam Airlines expects subsequently to take another six 787-9s/A350-900s in 2H2014 with one delivery every month.

Mr Minh says the four growth aircraft will enable Vietnam Airlines to resume expansion of its long-haul network after a two and a half year hiatus. He says the carrier is now reviewing which markets to add capacity in, with a decision expected within the next few months.

Additional capacity to Europe and Australia are under consideration as well as the launch of flights to the US, but the airline is approaching decision making cautiously. "We have to review this carefully. We may announce this by this summer," Mr Minh says. Flights to the US will only be possible if Vietnamese authorities succeed at securing a Category 1 safety ranking from the US FAA.
See related report: Vietnam Airlines pre-IPO outlook: rapid growth as 787s & A350s arrive, but competition intensifies
Another future A350 customer, Cathay Pacific, plans to use its A350s alongside 777-300ERs and also look for new European and North American destinations.
See related report: Cathay Pacific plans A350 product and network deployment, premium economy adjustment
Qatar Airways receives its first A350. East Coast US, Europe and Asia are planned markets
Qatar received its first A350 on 22-Dec-2014 and flew it to Doha on 23-Dec-2014. This was after a last-minute delay that CEO Akbar Al Baker confirmed was not due to Airbus but rather an unspecified BFE supplier. Qatar will place the aircraft into service on 15-Jan-2015 on the Doha-Frankfurt route. Qatar in Dec-2014 serves this route double daily with a 777-300ER and 787-8.
There will be a number of schedule variations once the A350 arrives, including double daily A350 service, but from late-Feb-2015 Qatar plans to have a daily A350 and daily 787 service, according to its schedule. This will see Frankfurt, which has become overly competitive for many carriers especially in the Gulf, having Qatar's latest premium product. Qatar's A350 business class seat is similar to its A380 and 787s in that every seat has direct aisle access and large personal stowage space.
Etihad A380/787 and Qatar A350/A380 entry into service details: 27-Dec-2014
Qatar had initially planned to launch A350 service to New York; the reasons for this change have not been announced. Possible reasons include early A350s not having full capability or commercial factors; or it could be to emphasise the symbolic aspect of flying Europe's newest aircraft, partially built with German labour, into the commercial heart of Germany, which has been prominently unyielding in restricting traffic rights to Gulf airlines.
Qatar Airways may also vividly remember Frankfurt-based Lufthansa ending their partnership some years back, a dissolution that saw Qatar enter the fray with oneworld and ultimately join the alliance (and not Lufthansa's Star).
Qatar has not yet announced other A350 destinations but Mr Al Baker said the aircraft would be used to the East Coast of the US in addition to Europe and Asia.
As of Dec-2014, only Qatar and Finnair have disclosed their A350 configurations. Qatar's two-class 283 seat A350 is not as dense as Finnair's 297 configuration. Compared to Qatar, Finnair will have more business seats (46 vs 36) and more economy/premium economy seats (251 vs 247). Both will offer nine abreast in economy.
Public A350 configurations: Dec-2014
| | | | | | |
| --- | --- | --- | --- | --- | --- |
| Airline | First | Business | Premium Economy | Economy | Total |
| Finnair | 0 | 46 | 43 | 208 | 297 |
| Qatar Airways | 0 | 36 | 0 | 247 | 283 |
Qatar Airways will offer first class only on the A380
Qatar's A350 was its third new widebody type in two years, following its earlier 787 delivery and more recent A380 delivery. Qatar is beginning the transition to a long-haul fleet of 777/787/A350/A380 (with A330s and A340s to be gradually replaced). Qatar has only committed to offering first class on its A380s, with the A350 and 787 delivered without the cabin.
The 777s do not have first class and there is no known retrofit programme, although the 777s have Qatar's older product. Mr Al Baker has repeatedly referenced what he sees as the superiority of Qatar's business class, which precludes the need for first class on all but a handful of routes.
Etihad has wider use of first class although its long-haul business class always offers direct aisle access. This is unlike Emirates, whose 777s do not offer direct aisle access in business class, but Emirates flagged new premium products in the wake of Etihad's May-2014 product announcements. Mr Al Baker in May-2014 flagged a new premium product that would be ready in around two years, an announcement also made after Etihad's new product unveiling.
The share of premium seats across Qatar's forthcoming long-haul fleet is generally around 9-13%. The exception is a high-density version of the 777-300ER that carries only a 6% share of premium seats, and the 777-200LR with a 16% share as the aircraft keeps the same number (42) of business class seats as on the longer 777-300ER but with fewer economy seats. Emirates also has the same number of business class seats on its 777-200LR as the -300ER.
The 787-8 is on the low end with premium seats having a 9% share, and A350 on the higher end (alongside Qatar's main 777-300ER configuration) with 13%. The A380 is in the middle with 11% of seats in premium cabins.
Qatar Airways long-haul aircraft configurations: Dec-2014
| | | | | | | |
| --- | --- | --- | --- | --- | --- | --- |
| Aircraft | First | Business | Economy | Total | Premium Share | Economy Share |
| A350 | 0 | 36 | 247 | 283 | 13% | 87% |
| A380 | 8 | 48 | 461 | 517 | 11% | 89% |
| 787-8 | 0 | 22 | 232 | 254 | 9% | 91% |
| 777-200LR | 0 | 42 | 217 | 259 | 16% | 84% |
| 777-300ER (1) | 0 | 24 | 356 | 380 | 6% | 94% |
| 777-300ER (2) | 0 | 42 | 293 | 335 | 13% | 87% |
Qatar's A380 has the lowest number of premium seats (56) to date and lowest premium seat share (11%) on the A380. The next lowest is 72 seats (Thai Airways and one version of Singapore Airlines' A380). The average across all configurations is 83 premium seats and 485 total seats for an average premium share of 17%. While Qatar is below average on premium seat count, it is above average on total seat count with its A380 having 517 seats, reflecting an economy-heavy configuration.
A380 Configurations: Dec-2014
Emirates in 2015 expects to launch a two-class A380, making it the first A380 operator to have a variant without first class.
Qatar Airways Fleet Summary: as at 27-Dec-2014
Etihad's A380 is lauded as being a luxury aircraft, and impressive marketing feat: the airline has also been able to deliver on economics and density. Etihad's 496-seat A380 is actually above the average total seat count of 485, and its premium seat share of 16% is around the average of 17%. Etihad's much-discussed "Residence" makes smart use of available space in the forward section of the A380, and Etihad has a smaller in-flight bar than Emirates and Qatar.
The large capacity is important as Etihad seeks to maximise its position at London Heathrow and the three daily slot pairs it has there. Etihad in Aug-2015 will offer an all-A380 service to London Heathrow. Emirates also only operates A380s to Heathrow, but with five a day to Etihad's three a day.
Etihad's seats per Heathrow slot will increase to 496 in Aug-2015, up from 345 in Aug-2014 and 327 in Aug-2013. Emirates has increased its average seats per Heathrow slot from 489 in 2010 to 516 in Aug-2014 and Aug-2015 by using its A380s without a crew rest, which makes way for more economy seats.
Emirates, Etihad and Qatar average seats per Heathrow slot, and Heathrow average: Aug-2004 to Aug-2015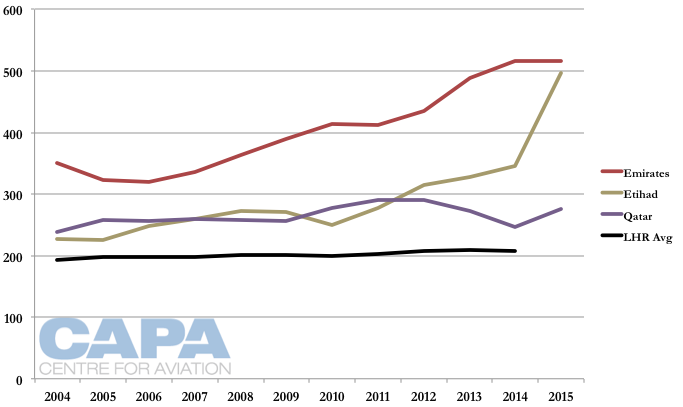 For much of the previous decade, Etihad and Qatar had a similar number of seats per slot at Heathrow at around 250-275. In 2012 Etihad increased this to 314. Qatar has chosen to grow through frequency; it now holds more (six) Heathrow slots than Emirates (five) but uses smaller aircraft. Qatar's introduction of the 40-seat all-business class A319 in 2014 saw its average seats per slot dip in Aug-2014 but use of the larger A380 in Aug-2015 sees some growth restored.
However, Qatar's average seats per Heathrow slot in Aug-2015 of 276 seats is below the peak in Aug-2011 and Aug-2012 of 291 seats per slot. All three Gulf carriers have more seats per Heathrow slot than the airport's average. Emirates and Etihad's high double digit growth of seats per slot compares to Heathrow on average seeing 193 seats per movement in 2004 to 208 in 2014. Etihad in Aug-2015 will have about the same number of seats into Heathrow as Emirates did in Aug-2004.
Emirates, Etihad and Qatar seats and slots at London Heathrow: Aug-2004 to Aug-2015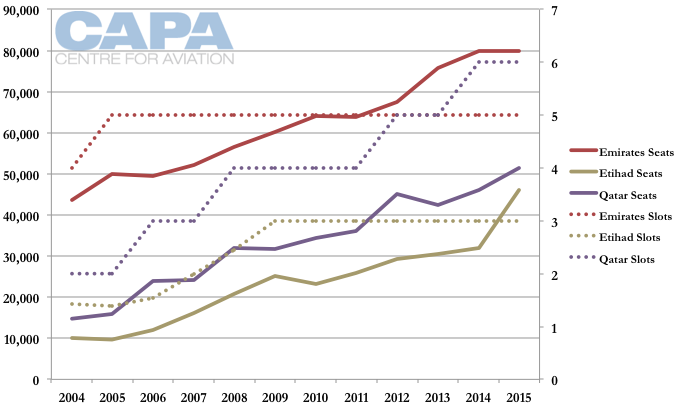 Whereas Emirates is building its long-haul fleet on the A380 and 777, Etihad and Qatar are more reserved when it comes to the A380. Etihad CEO James Hogan told Gulf News of the A380: "Ten A380s is the number we need. We have no discussions to acquire anymore." Mr Al Baker meanwhile said the airline needed to wait to see the aircraft perform in service for a full year, and noted that Qatar had three A380 options.
Etihad Airways Fleet Summary: as at 27-Dec-2014
Etihad Airways is the third airline to offer first class on the 787
The attention at Etihad may have been on its A380, but the workhorse will be the 787, which Etihad has 71 of on order compared to 10 for the A380. Etihad is one of 26-odd airlines with the 787, but only the third to have first class. The only other two 787 operators with first class are in China: China Southern and its subsidiary Xiamen Airlines. (The third Chinese airline operating the 787, Hainan Airlines, does not have first class.)
The two Chinese airlines each have four first class seats on the 787 while Etihad has double, eight. Xiamen has 9% of its seats in premium cabins, China Southern 12% and Etihad 15%.
Configurations of 787 operators with first class: 27-Dec-2014
Etihad's 787-9 configuration sees 15% of seats in premium cabins, consistent with the 15-17% share observed for Etihad's other three-class aircraft. An exception is the 777-200LR, which has a 21% share in the premium cabin as it shares a premium configuration with the 777-300ER but a smaller economy cabin.
Etihad Airways three-class aircraft configurations: Dec-2014
Airline

Residence
First
Business
Premium
Economy
Economy
Total Seats
Premium Share
Economy Share
A330-300
0
8
32
0
191
231
17%
83%
A340-500
0
12
28
0
200
240
17%
83%
A340-600
0
12
32
0
248
292
15%
85%
A380
2
9
70
0
415
496
16%
84%
777-200LR
0
8
40
0
177
225
21%
79%
777-300ER (low-density)
0
8
40
0
280
328
15%
85%
787-9
0
8
28
0
199
235
15%
85%
The not insignificant number of first class seats on Etihad's 787s contrasts to other airlines reducing or withdrawing first class, a dynamic that will see the United Arab Emirates be home to many of the world's long-haul first class seats.
See related report: Etihad Residence highlights the UAE airline ascension in first class travel, while others cut back
New aircraft lead the push forward but European regulators push back
The A350 delivery to Qatar may be the last all-new (non-derivative) aircraft type until 2030. The aircraft is Qatar's third new type in two years and caps the opening of its new airport and hosting the IATA AGM in Jun-2014. Qatar Airways ends 2014 with a significantly higher profile than it started the year, while Etihad's A380 and 787 deliveries accompanied a new visual identity from livery to uniforms.
Alas, regulators ensured 2014 had many downward moments. Abu Dhabi is benefitting from a large increase in India capacity while Dubai and Qatar are not. Other Middle East markets have regional challenges while China and Korea do not show any sign of letting up. Germany took issue with the airberlin/Etihad codeshare while the protectionist drumbeat unfortunately appears to be shifting to the United States despite the many opportunities there for partnership instead of protection.
See related reports:
2015 will see the airlines and their passengers undoubtedly pleased with the new aircraft, but behind the scenes Gulf airlines will have to fight the retrograde of protectionism with greater vigilance. Only by winning on the record there will more expansion opportunities be released.
The Gulf carriers will certainly not forget to remind countries of the relationship between buying locally-made aircraft (and interiors) and the need to secure landing rights. Emirates has long made the point in Europe, while Etihad is promoting the line in the United States and Qatar Airways delivers the message via its first A350 flight to Frankfurt.
The "Year of the Fleet" slogan which Qatar Airways coined is important not only for the Gulf.