Greece's Aegean Airlines and Olympic Air try once again to combine forces
Greece's largest passenger carrier, Aegean Airlines, has reached agreement with the shareholders of its main rival Olympic Air to buy the airline for EUR72 million, marking a third attempt to re-consolidate the Greek air transport market and survive in a dire – to say the least – environment as the country is in its fifth consecutive year of economic contraction. In contrast with the proposed union in 2010, which was blocked by the European Commission on competition grounds after a 10-month investigation, the present deal is not a merger but an outright acquisition of Olympic Air by Aegean. Olympic Air would become a subsidiary of Aegean, with both airlines maintaining their brands and distinct liveries.
The parties argue that the combination is necessary to effectively compete within the European aviation market and shield the two carriers against continued losses and further reductions of size and scope. Aegean posted a net loss of EUR27.2 million in 2011 and Olympic Air recorded a deficit of EUR37.6 million as its revenue and passenger numbers continued to decline. Olympic's passenger numbers fell 23% in 2011 to 3.4 million from 4.4 million in 2010 and decreased 14.5% to 1.4 million in 1H2012 compared to the year-ago period.
The buy-out is subject to approval from the relevant regulatory and competition authorities, and this might again become the stumbling block of the proposed combination. If the European competition watchdog maintains its 2011 stance and rejects the takeover, Olympic Air might die a slow death.
The airline operates a mainly domestic network and domestic demand in Greece has collapsed as the economic crisis in the country deepens. Additionally, Olympic Air operates a high number of Publish Service Obligation (PSO) routes and according to information obtained by CAPA the cash strapped Greek government has been in arrears for their subvention for these subsidised air services for several months.
Fight for survival
On 22-Oct-2012 Aegean Airlines and Marfin Investment Group Holdings (MIG) announced in a stock market filing that they had signed an agreement for the sale of 100% of Olympic Air to Aegean Airlines. Aegean will pay €72 million in cash for the ailing airline with payment in installments to MIG. The transaction concerns only the airline and does not include the ground handling company Olympic Handling and the maintenance, repair and overhaul services subsidiary Olympic Engineering.
During 2009 MIG acquired the brand, slots and licenses of the liquidated Olympic Airlines for EUR177.2 million, outbidding Aegean which had offered EUR170 million for the assets of the state-owned flag carrier. Olympic re-launched operations as Olympic Air on 01-Oct-2009 with a refreshed brand and slimmed down operations, but with great ambitions to "restore the most iconic Greek brand to its former glory," declared MIG CEO Efthimios Bouloutas.
The timing of Olympic's relaunch was highly unfavourable. The continuously deteriorating Greek economic environment through a prolonged recession has led to an inevitable decline in passenger volumes arising mainly from the reduction of domestic consumers' disposable income. "This, coupled with the overall unfavorable macroeconomic environment in southeast Europe as well as a sharp increase of fuel prices, have rendered the transaction necessary for the viability of the Greek airline industry," Mr Bouloutas said in announcing the latest agreement with Aegean.
Olympic Air operates on a network spanning 39 scheduled passenger destinations and 32 of these are Greek airports. The airline deploys about 81% of its seat capacity on domestic routes and 93% of its international capacity in terms of seats is to central and eastern Europe, according to Innovata data for the week of 22-Oct-2012 to 28-Oct-2012.
Olympic Air international vs domestic capacity share (% of seats): 22-Oct-2012 to 28-Oct-2012
One group, two airlines, two brands
Under the terms of the agreement concluded on 22-Oct-2012 between Aegean and MIG, which are both listed on the Athens Stock Exchange, Olympic Air and Aegean Airlines will continue operating under their own brands and each will retain its own distinct flight operations, fleet and personnel aircraft and flight staff. In 2010, Aegean and Olympic Air were aiming to merge and take on the Olympic Air brand.
The reason for the new approach is not obvious except maybe to try to persuade the European competition watchdog that the two airlines will effectively compete. By keeping separate airlines and brands Aegean is following the model adopted in most of Europe's consolidation (IAG controls British Airways and Iberia, Lufthansa Group owns Lufthansa, Austrian Airlines and SWISS, and Air France and KLM have retained their AOCs and identity since their merger in 2004).
But these are cross-border mergers and were accompanied with specific challenges with regards to extra EU traffic rights. These demands do not exist for the Aegean/Olympic combination as it concerns two Greek airlines.
If the proposed acquisition is allowed to proceed, Olympic Air will become a subsidiary of the listed Aegean. The administrative, commercial and technical services of Aegean and Olympic will be consolidated gradually for the "extraction of necessary cost synergies and the enhancement in the utilisation of fleet and network," according to the companies' statements.
The airlines have a complementary fleet as Aegean and Olympic Air both operate Airbus A320 family aircraft. Olympic also operates Bombardier Dash 8 Q400s and Dash 8-100s.
Fleet of Aegean Airlines and Olympic Air as of Oct-2012
| Aircraft | AEGEAN | OLYMPIC AIR |
| --- | --- | --- |
| A321 | 4 | |
| | 22 | 5 |
| A319 | 3 | 2 |
| Airbus Α320 Family | 29 | 7 |
| Q400 | 0 | 10 |
| Dash 8-100 | 0 | 4 |
| Total | 29 | 21 |
The airlines' international networks are complementary
Olympic Air and Aegean Airlines adopted a different approach following the EU Competition Commission's decision in Jan-2011 not to approve the planned merger and in their attempt to survive a worsening Greek economy and difficult operating environment exacerbated by a variety of general strikes (including from the country's air traffic controllers).
Aegean embarked on a mainly international focussed expansion strategy aboard a streamlined fleet of A320 family aircraft whereas Olympic Air retracted its flag carrier ambitions and replaced it with a largely regional focus. It added domestic routes while trimming and reorienting its international footprint to southeast Europe. Routes from Athens to Vienna, Brussels, London Heathrow, Paris CDG and Amsterdam have been discontinued and some of its slots at London Heathrow and Paris CDG were sold to Aegean.
Aegean now deploys 70% of its international seat capacity on routes to western Europe and its smaller Greek counterpart uses approximately 93% of its international seat capacity on services to eastern and central Europe, based on schedules in Innovata for the week of 22-Oct-2012 to 28-Oct-2012.
Aegean presently operates on a network spanning 34 scheduled passenger destinations, including 13 in Greece, 20 in Europe and one in the Middle East whereas Olympic's scheduled network extends to 32 airports in Greece, six in Europe and one in the Middle East, according to Innovata.
Aegean Airlines and Olympic Air network summary: 25-Oct-2012
| | Aegean | |
| --- | --- | --- |
| Domestic | 13 | 32 |
| International | 21 | 7 |
The airlines compete on only three of their international routes: Athens to Bucharest, Istanbul Ataturk and Tel Aviv-Yafo Ben Gurion International Airport.
Jointly they have only a 25% share of Greece's international seat capacity and an approximate 45% share of system seats deployed to, from and within the country, based on schedules in Innovata for 22-Oct-2012 to 28-Oct-2012.
Greece system capacity share by carrier (% of seats): 22-Oct-2012 to 28-Oct-2012
Greece international capacity share by carrier (% of seats): 22-Oct-2012 to 28-Oct-2012
Europe's two largest LCCs, Ryanair and easyJet now account for a 20% share of capacity in terms of seats deployed on international routes. In commenting on the agreement to purchase Olympic Air, Aegean chairman Theodoros Vassilakis warned that Greek tourism, an industry which is widely recognised as essential for the country's recovery, is "faced with the immediate danger of becoming entirely dependent on foreign carriers with permanent losses in local employment and state revenues".
Mr Vassilakis described the combination as a "challenging, ambitious and necessary endeavor" and noted that "Aegean still possesses the financial reserves to lead the consolidation of aviation in Greece to the benefit of tourism and state revenues as well as our employees and shareholders".
Whether the European Commission will hear his plea is less evident. The employment card was cleverly used by British Airways parent IAG and Lufthansa to convince the European Commission to clear IAG's acquisition of loss-making bmi, but the EC is extremely consumer oriented and will look deeply into Aegean-Olympics' market position on domestic routes.
See related article: Greek carriers flight an ominous jumble of recession, euro-woes and market fragmentation
Aegean and Olympic dominate domestic routes
In its reasoning in Jan-2011 to block the proposed tie-up between Olympic Air and Aegean Airlines to create a single major Greek airline, the EC explained the merger would have created a quasi-monopoly in the domestic market. Commission VP in charge of competition policy Joaquín Almunia concluded at that time that the merger would have resulted in higher prices and lower quality of service for some four million Greeks and tourists travelling between Athens and the Greek islands and Athens and the country's second largest city Thessaloniki.
While the domestic market in Greece has been characterised by a sharp drop in demand, the dominant position of Aegean and Olympic on the domestic market has not changed. Together they still control approximately 89% of weekly seat capacity though this is 6ppt less than in May-2011, according to Innovata data.
Two smaller Greek carriers (Astra Airlines and Sky Express Airlines) and three foreign carriers supply the remaining capacity. Thessaloniki-based Astra Airlines, which operates two new Airbus A320s and two BAe146-300 aircraft according to its website, and Cyprus Airways, now have each a 4% share of domestic capacity.
Greece domestic capacity share by carrier (% of seats): 22-Oct-2012 to 28-Oct-2012
Astra Airlines entrance in the domestic schedule market follows the allocation of five government-subsidised PSO routes to the airline in Apr-2012, including Thessaloniki Makedonia Airport to Samos near the Turkish coast, Thessaloniki-Corfu, Thessaloniki-Kalamata and Athens-Sitia.
Cyprus Airways has had a codeshare agreement with Olympic Air since Mar-2011 and operates within Greece on the following routes: Athens-Thessaloniki, Athens-Rhodes, Irakleion-Rhodes, Irakleion-Athens and Irakleion-Thessaloniki. In May-2011 the embattled national airline of Cyprus had less than 1% of the Greek domestic scheduled market in terms of seats.
The EC in Jan-2011 pointed to nine specific domestic routes where the Aegean-Olympic combination would significantly impede effective competition: Athens-Thessaloniki, and between Athens and eight island airports: Irakleion and Chania in Crete, Rhodes, Santorini, Mytilini, Chios, Kos and Samos.
Aegean pulled out of Athens-Samos and Athens-Chios in Oct-2011, leaving Olympic as the sole operator on these sectors. Athens-Thessaloniki saw two new entrants in Apr-2012 and the route is now served by four carriers, although Aegean and Olympic jointly still account for an 83% share of all seats deployed on the sector.
Athens to Thessaloniki Makedonia capacity by carrier (seats per week, one way): 19-Sep-2011 to 14-Apr-2013
The Athens-Irakleion route is now served by three operators and Cyprus Airways will start service in the upcoming winter 2012-13 timetable.
Athens to Irakleion Nikos Kazantzakis capacity by carrier (seats per week, one way): 19-Sep-2011 to 14-Apr-2013
Cyprus Airways will also enter the Athens to Rhodes market, leaving just four routes of the nine concerned routes where Aegean and Olympic compete head-to-head with no other operators.
Athens to Rhodes Diagoras capacity by carrier (seats per week, one way): 19-Sep-2011 to 14-Apr-2013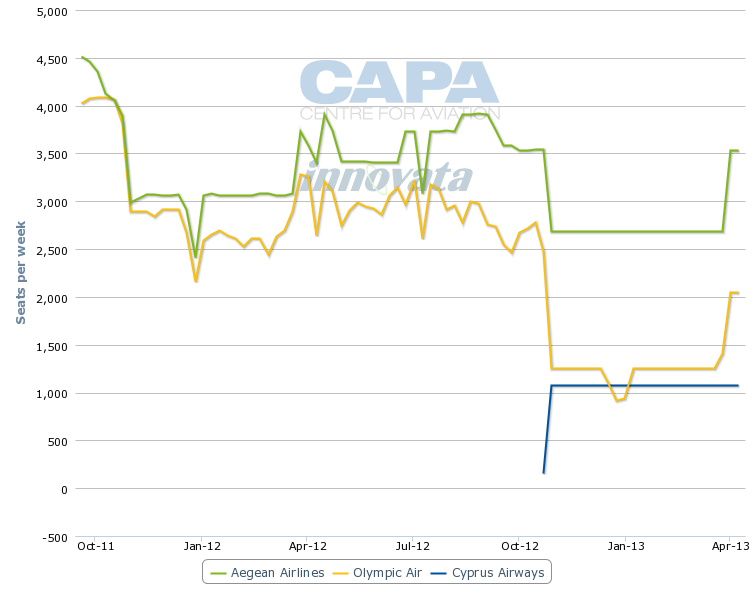 Aegean and Olympic are both recording losses
Aegean posted a net loss of EUR27.2 million in 2011 and Olympic Air recorded a deficit of EUR37.6 million. Both companies continued to show red ink in the first six months of 2012. MIG did not release detailed 1H2012 earnings for Olympic Air but the group noted in its consolidated results statement for the period that revenue of the carrier had decreased by EUR16.4 million year-over-year.
Olympic Air's net loss after minorities in 1Q2012 amounted to EUR16.4 million, reduced from a EUR22.3 million deficit in 1Q2011. Revenue in the first three months of the year dropped 21% to EUR41.5 million. The airline expects to carry only 2.9 million passengers in 2012, which would be a 14% decline on 2011 and a 35% decline on 2010.
Aegean Airline's net result after taxes deteriorated in 1H2012 to a loss of EUR38.5 million compared to losses of EUR19.8 million in the 1H2011. Revenue for 1H2012 fell 9% to EUR269.4 million, with a sharper 13% fall recorded in the second quarter. Revenue fell on a drop in passengers carried combined with lower fares.
The airline carried 2.7 million passengers in 1H2012, down 8%, comprising a 2% decline in enplanements on international flights and a sharp 14% fall of domestic passengers. The company pointed out that the fall in international traffic concerned its main base at Athens Airport as the international traffic from its bases in Thessaloniki, Heraklion, Rhodes, Corfu and Larnaca was up 6% in aggregate.
Aegean MD Dimitris Gerogiannis said that the weakness in domestic demand was anticipated but not the fall in tourism, especially to Athens, during the traditionally strong months of May and June. Tourist arrivals to the rest of the country seem to have normalised after July but weakness in Athens has persisted.
According to data from Athens International Airport, passenger throughput at the airport contracted 11.2% in the first nine months of 2012 compared to the year-ago period. Domestic passenger numbers fell 8.4% to 3.6 million and passenger arriving/departing on international flights fell 12.7% to 6.7 million.
Aegean Airlines select financial and operating results: 2010 vs 2011
| | 2010 | 2011 | % change |
| --- | --- | --- | --- |
| Revenue (in million EUR) | 591 | 668.2 | +13% |
| EBITDAR* (in million EUR) | 75.8 | 61.8 | -17% |
| Net losses after taxes (in million EUR) | (23.3) | (27.2) | +19% |
| Passengers total (000) | 6,230 | 6,491 | +4% |
| Passengers international(000) | 3,063 | 3,527 | +15% |
| Passenger domestic (000) | 3,166 | 2,963 | -6% |
Aegean Airlines select financial and operating results: 1H2011 vs 1H2012
| | 1H2011 | 1H2012 | % change |
| --- | --- | --- | --- |
| Revenue (in million EUR) | 295.2 | 269.4 | -9% |
| EBITDAR* (in million EUR) | 16.1 | (3.6) | - |
| Net losses after taxes (in million EUR) | (19.8) | (38.5) | +94% |
| Passengers total (000) | 2,934 | 2,693 | -8% |
| Passengers international (000) | 1,515 | 1,480 | -2% |
| Passenger domestic (000) | 1,419 | 1,214 | -14% |
MIG is a large and diverse group with interests in food and dairy, transportation, healthcare, IT and telecommunications, real estate and financial services. But the ongoing Greek political and economic crisis and the wider euro debt troubles have had an impact on its financial results and the group announced in its 1H2012 results presentation in Aug-2012 that management has begun implementing "a plan aimed at taking specific actions to ensure provision of financial support to certain subsidiaries and disposal of certain non-core investments and financial assets".
On 02-Jul-2012, MIG said that it had signed definitive agreements for the disposal of its subsidiary companies MIG Aviation UK and MIG Aviation 3 to Nordic Aviation A/S (NAC). The companies owned the turboprop fleet operated by Olympic Air comprising of 10 Q400 aircraft and four Dash 8-100 aircraft.
The transaction involved the lease back of the aircraft by NAC to Olympic Air for a period of 11 years at market terms. The net cash consideration from the transaction amounted to USD25.2 million whilst it also reduced the Group's loans by USD131.6 million.
PSO routes are important to Olympic Air
Following a tender for 24 PSOs the Hellenic CAA on 29-Mar-2012 allocated 13 routes to Olympic Air, five routes to Astra Airlines, four routes to Crete-based Sky Express and one route to Aegean.
The operation of these 13 Olympic Air routes is covered by a total subsidy of EUR109.5 million for the next four years "which reinforces the economic prospects of the company," MIG said in its 1H2012 results presentation.
The group also revealed that Olympic Air had been selected for the implementation of a further two marginal routes, Athens-Syros-Athens and Athens-Zakynthos-Athens, with a total subsidy of EUR6.6 million for the next four years.
Olympic Air's P&L will be negatively affected if the Greek government indeed is not able to fulfill its financial commitments for these PSOs. This is a further impetus to sell the company to Aegean and for the regulators to allow the acquisition.
MIG in Jun-2012 increased Olympic Air's share capital by EUR12.5 million but it might not want to repeat this to sustain a loss-making endeavour. The current airline industry in Europe is not kind, and IATA on 01-Oct-2012 revised its 2012 financial forecast for Europe to a USD1.2 billion loss from a USD1.1 billion loss predicted in Jun-2012.
See related article: Airline profitability prospects improve but profit margins remains anaemic
In its decision to refuse the proposed Aegean-Olympic merger in Jan-2011 the EC argued that "given the level of costs linked to a hypothetical exit of Olympic Air out of the market, Marfin has an incentive to either continue to support its subsidiary or to sell it instead of incurring financial losses". It also reasoned that the Olympic brand is a very attractive asset and MIG would be "likely to find a potential buyer which would use it in order to operate flights in the Greek market".
One would not bet the latter statement to materialise in the present Greek environment with falling demand, increasing taxes and continuous strikes. Even Aegean might find it cheaper not to acquire Olympic than to pay lawyers to prove to Brussels that the consolidation of the Greek airline industry is inevitable.
Background information
Greece is in its fifth consecutive year of economic recession and its GDP is forecast to contract by 4.7% in 2012.
GDP growth of Greece (% change): 2008 to 2017*