GOL's outlook revised to 'positive' by Fitch; Brazil Senate votes to increase foreign airline owners
GOL's outlook revised to 'positive' by Fitch Ratings
In the Brazilian market, GOL's shares gained 0.3%, as Fitch Ratings affirmed GOL's ratings on Foreign and Local Currency long-term Issuer Default Ratings (IDRs) at 'B+' and the Long-term National Rating at 'BBB(bra)'. The rating outlooks have both been revised from 'Negative' to 'Positive'. Fitch also has upgraded the ratings of GOL's perpetual notes (USD200 million) and senior notes (USD200 million) to 'B+/RR4' from 'B/RR5'.
Fitch Ratings stated the ratings reflect GOL's "significant market share position in the Brazilian airline sector, its comfortable liquidity position and high leverage". Fitch added that "GOL's current ratings contemplate Fitch's expectation that the company will maintain a competitive cost structure vis-a-vis the global industry and its significant market share position in the Brazilian airline sector".
Brazil Senate approvals Bill to increase foreign airline ownership
The Brazilian Senate, meanwhile, approved a Bill raising the limit for foreign ownership in Brazilian airlines from 20% to 49%. The bill must still be approved by the Chamber of Deputies, but has the support of the Administration of Brazilian President Luiz Inacio Lula da Silva.
Selected LCCs daily share price movements (% change): 25-Nov-09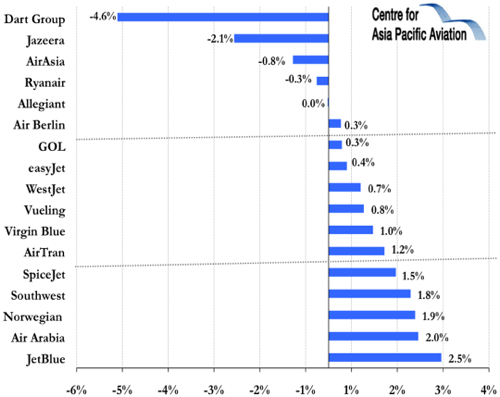 Jetstar to receive 25 of Qantas' 50 B787 order
In the Asia Pacific, Qantas (shares down 0.4%) confirmed 25 of its 50 B787s on order would be transferred to Jetstar. Qantas plans to deploy the first delivery of B787-800s on domestic services, replacing its B767 fleet from 2014, while Jetstar plans to utilise its B787-900s to expand into Europe, North America and new North Asian destinations from 2013. The LCC reportedly plans to launch operations to Europe from 2010, after it takes delivery of five A330s, potentially with services to Munich, Milan and possibly Paris.
See related article: Qantas to boost fleet expenditure; undertaking ambitious savings programme, hoping to rebuild yields
In Europe, Dart Group shares' slipped 4.6% yesterday, while Ryanair's shares were 0.3% lower and easyJet gained 0.4%.
See related article: Profits at Jet2.com parent company fall, but full year results to be in line with expectations