GOL shares soar on better-than-expected 2Q2009 results; AirAsia shares down despite bullish outlook
Analysis
GOL shares rose to its highest price since Aug-2008, surging 12.7% on better-than-expected 2Q2009 results and a stronger Brazilian market.
Latin America's largest LCC posted its second consecutive quarter of profitability in 2Q2009, the carrier's traditionally weakest quarter, as it benefited from a significantly reduced its cost base (operating expenses: -25.9% year-on-year; CASK: -17,9%; CASK ex fuel: -5.6%), combined with improved yields (+10.7%) and unit revenues (+5.5%). This combination helped the carrier report a net profit of USD191 million, an impressive turnaround from a loss of USD90 million in the previous corresponding period.
GOL's shares have been on a very strong upwards run since Mar-2009.
GOL share price growth: Jan-2009 to Aug-2009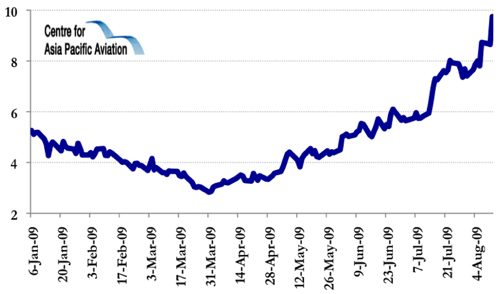 Meanwhile, AirAsia shares were weaker yesterday, down 1.4%, despite the carrier providing a positive outlook upon the release of its 2Q2009 financial results. During the three month period, AirAsia reported an operating profit of USD36 million (+328% year-on-year) with a profit after tax of USD39 (+1,378%), with the carrier's Thai and Indonesian affiliates also profitable in the period (AirAsia financial data was only provided for 1H2009, with the long-haul LCC also profitable in this period). See related article: AirAsia's operating profits up 328% in second quarter. Can the hot streak continue?
Shares in Jet2.com parent, Dart Group, fell again on Wednesday, down 9.6%, following Tuesday's 11.5% slump, as investors continue to react to news that Ryanair plans to open its 34th base at Leeds Bradford International Airport, Jet2.com's home, in Mar-2010. Also in Europe, easyJet's shares gained 2.1%, with Ryanair up 4.5%.
Selected LCCs daily share price movements (% change): 12-Aug-09