GoAir - British Airways takeover plans abandoned
Analysis
The deal, if it had gone through, would have provided a much-needed injection of capital to the struggling LCC. BA is reportedly now planning to negotiate a commercial agreement with GoAir. The Indian government has no guidelines on franchising arrangements.
Launches new premium class product
Possibly as part of the British Airways overtures, GoAir announced plans to trial a premium section, "Go Comfort", effective from this Winter-08/09 Schedule, as part of its re-branding as a "value carrier".
According to CEO, Edgardo Badiali, the current economic slowdown was an opportunity to attract corporate travelers, stating there was a growing trend among businesses to tighten their travel budgets and encourage middle-level executives to travel with LCCs to cut costs. GoAir's new Go Comfort class also aims to encourage repeat business travel, with one fifth of the carrier's passengers currently repeat travellers.
GoAir is promoting its class as the "comfort of a Business Class at the price of a full service Economy Class ticket". GoAir has initially dedicated the first three to four rows of its A320s to the new section, which will offer light snacks and other "frills", charging INR1,750 (USD35.40) extra for the service. If successful, GoAir reportedly plans to remove further rows in the future to allow more leg room for this segment, and will consider offering full meals.
Features of GoAir's "Go Comfort" class
Better leg space: pitch between two rows increased to 34"
Comfort seating: middle seat is always free
Priority check in
Reschedule travel plans at no extra cost
Complimentary F&Bs
GoAir last month announced it had rebranded itself as a "value carrier", positioned between LCCs and full service carriers, with which it aims to create a new value for money product with passengers having to "pay to get more", while retaining its point-to-point operating strategy. As part of the repositioning strategy, GoAir also reportedly plans to further expand its inflight F&B offering, return check-in facilities, and telephone check-in services.
India's domestic LCC market appears to be shrinking in line with higher fuel costs, with former LCC Deccan's recent absorption and rebranding by parent Kingfisher as 'Kingfisher Red', as it too targets higher yielding passengers. JetLite (the former Air Sahara) has also been re-branded as a value carrier. Pure domestic LCC models left remaining are SpiceJet and IndiGo.
Hit by high fuel prices, intense competition and weak growth in price-sensitive demand, GoAir's shift of business model underscores the difficulties facing poorly capitalised LCCs. Ministry of Civil Aviation reports GoAir's captured only a 1.8% domestic market share in Sep-08.
Indian domestic passenger market share in Sep-08: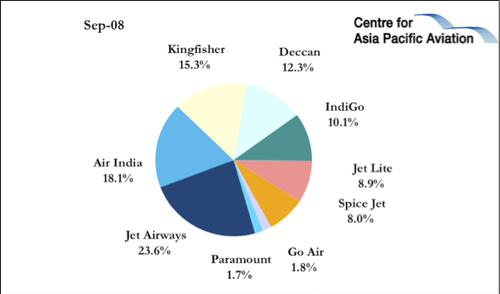 Vocal critic of the LCC model, Kingfisher Chairman and CEO, Vijay Mallya, stated, "if GoAir, which is the recent champion of low-cost carriers, is changing its model, it only proves what I have been saying for so long, that the budget carrier model cannot survive in India".
Reports 62.8% fall in passenger numbers in Sep-08
GoAir's move away from its current LCC model comes as it struggles to contain losses and retain passenger numbers aggravated by India's rapidly slowing aviation sector. Ministry of Civil Aviation reports GoAir's passenger numbers fell a massive 62.8% year-on-year in Sep-08 to 48,000, although it partially attributes the result to capacity cutbacks, as part of its restructuring programme.
GoAir passenger numbers and passenger numbers growth (% change year-on-year): Jan-07 to Sep-08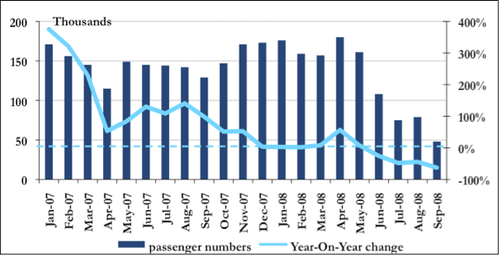 GoAir's load factors meanwhile were comparatively higher than its domestic competitors at 57% (no year-on-year change disclosed).
Indian carriers domestic passenger load factor in Sep-08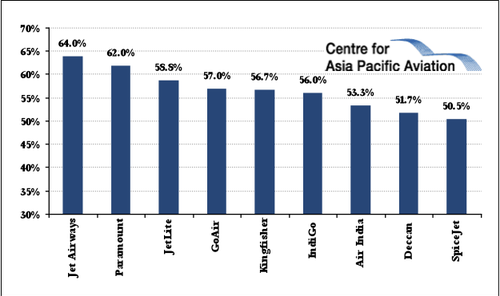 Slows fleet expansion programme
Mr Badiali announced GoAir's fleet expansion programme had not been severely impacted by the slowdown in the industry, as it was conservative and calculated when initiated.
However, as part of GoAir's restructuring plan, its fleet growth does appear to have been adjusted downwards. Of the 20 A320s ordered, the carrier plans to take delivery of four more A320s by Jun-09.
The airline currently has a fleet of six aircraft, but plans to return some aircraft to lessors, for a net fleet of eight A320s by Jun-09.
GoAir was originally scheduled to increase its fleet to ten aircraft by the end of 2009. The carrier previously dramatically slowed its original growth plans of taking delivery of 33 aircraft by the end of 2008. GoAir previously placed firm orders for 20 A320s, and in Apr-08 deferred a proposal to order another 20 A320s (for delivery after 2011), stating it planned to wait for prices to go down before buying additional aircraft.
GoAir A320 family fleet expected delivery schedule (ordered and leased equipment): 2009-2011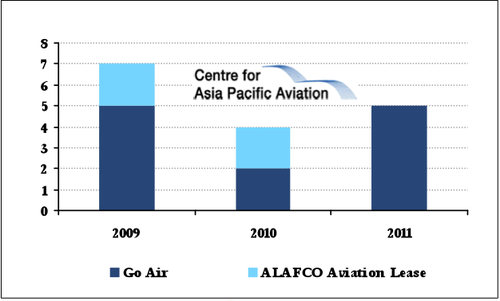 GoAir earlier stated it viewed current aircraft prices as too high, and was confident pre-2013 delivery slots will become available as other carriers realise they cannot take delivery of all the A320s that have been ordered.
The carrier awarded Air France Engineering a six-year USD40 million contract to provide MRO services for its future fleet of A320 aircraft.
Background information: