Global aviation agrees a carbon offset scheme at ICAO's Assembly - but leaves much work to be done
Analysis
On 6-Oct-2016 the Assembly of ICAO adopted a resolution to implement a global carbon-offsetting scheme for aviation. The scheme is aimed at helping to neutralise the CO2 emissions impact of the growth in international air travel after 2020. It complements efforts by the industry to mitigate its climate change impact through improvements in aircraft technology, operations and infrastructure and sustainable alternative fuels.
The President of the Council of ICAO, Dr Olumuyiwa Bernard Aliu, acknowledged that the process had been complex for all concerned, but hailed the agreement as the result of a process characterised by a high level of political will. IATA welcomed the "historic" agreement as the first global climate change mitigation scheme covering an entire industrial sector.
However, the International Coalition for Sustainable Aviation said that the agreement sent a "worrying signal" and the coalition member Transport & Environment called it "a weak start". It does leave a number of important details still to be elaborated. Given the complexity of negotiating a global deal, the ICAO agreement may be the best that could be expected for now. Nevertheless, aviation must continue to show strong ambition to play its part in mitigating climate change, and also in being seen to do so.
Aviation operates outside the UNFCCC, but has developed its own climate change mitigation framework
The ICAO resolution was adopted in the same week as the Dec-2015 Paris Agreement on climate change was ratified. The Paris Agreement took place under the auspices of the United Nations Framework Convention on Climate Change (UNFCCC). Its main aim was to keep the global temperature rise this century well below 2 degrees Celsius above pre-industrial levels. It also aimed "to pursue efforts" to limit the temperature increase even further – to 1.5 degrees Celsius.
Aviation (and international shipping) is not part of the UNFCCC due to the difficulty of apportioning international aviation to a particular country, since flights begin in one nation, end in another, and may cross the airspace of several more. However, aviation currently represents 2% to 3% of global carbon emissions and this is projected to rise to between 4% and 22% by 2050 (depending on the forecaster).
This means that the aviation sector has come under increasing pressure to play its part in limiting its climate change impact.
The industry, led largely by IATA, has developed a so-called "basket of measures" to address CO2 emissions from international aviation. These measures include improvements to aircraft technology, operational and infrastructure improvements, sustainable alternative fuels and a global market-based measure (GMBM).
The new ICAO resolution recognises the industry's aspirational goal of keeping net CO2 emissions from international aviation from 2020 onwards at the same level as in 2020 ("carbon neutral growth"). The role of a GMBM scheme is to complement the broader package of measures to achieve this goal, without imposing an "inappropriate economic burden on international aviation".
At the previous ICAO Assembly in 2013 member nations approved an IATA plan to develop a GMBM consisting of a mandatory global offsetting scheme. This means that emissions from aviation are offset by investing in carbon reduction projects elsewhere. In effect, this means that airlines buy carbon credits from other industries to offset the growth in their emissions.
The agreement avoids a "patchwork" of different schemes
One of the priorities within the industry with regard to the GMBM is that there should be a single global carbon-offsetting scheme, rather than a patchwork of State and regional MBMs. This has been recognised in the 2016 ICAO resolution.
Perhaps the most extensive, and most controversial, market-based measure has been the European Emissions Trading Scheme (ETS), which was introduced in 2005 and extended to include aviation in 2012.
See related report: Emissions trading: will Europe's concession to ICAO be just hot air? Airlines hold their breath
The European ETS is not the only carbon pricing scheme. According to the World Bank's Carbon Pricing Watch 2016, there are around 40 countries that put a price on carbon, with over half using some form of ETS. By 2017 the global value of implemented carbon pricing initiatives is expected to double to USD100 billion, from USD50 billion in 2015.
In addition to the multiplicity of carbon pricing schemes, governments have often regarded aviation as a potential source of revenue – either for the general coffers or to finance climate change initiatives for the benefit of other sectors. This concern has also motivated the aviation industry to develop its own climate change programme.
Carbon pricing schemes Jun-2016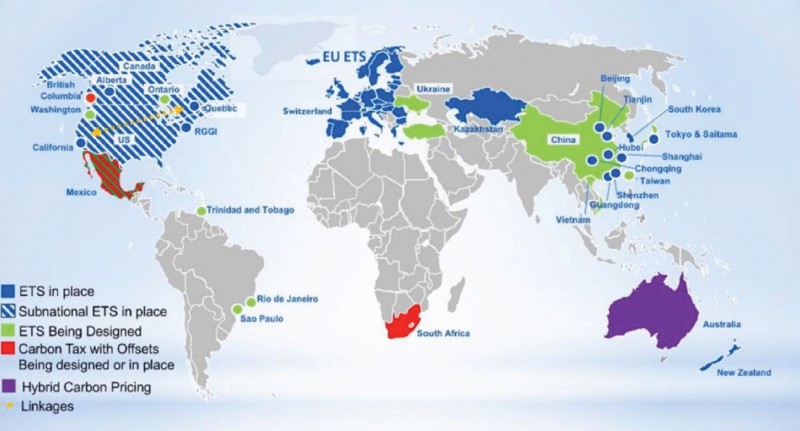 ICAO resolution implements carbon-offsetting scheme, CORSIA
With its Oct-2016 resolution ICAO has decided to implement a GMBM in the form of the Carbon Offsetting and Reduction Scheme for International Aviation (CORSIA).
This is aimed at addressing any annual increase in total CO2 emissions from international civil aviation (i.e. civil aviation flights that depart in one country and arrive in a different country) above 2020 levels.
It still encourages (and necessitates) further progress on aircraft technologies, operational improvements and sustainable alternative fuels. It aims to ensure that progress is achieved in all of the elements "in a balanced way with an increasing percentage of emissions reductions accruing from non-MBM measures over time".
Phased implementation of CORSIA
In order to take account of the different circumstances and capabilities of different states – in particular developing states – while minimising market distortion, the CORSIA's implementation will be phased.
A pilot phase will apply from 2021 to 2023 to States that have volunteered to participate. The first phase will then apply from 2024 to 2026 to States that voluntarily participate in the pilot phase, as well as any other States that volunteer.
The scheme's second phase will apply from 2027 to 2035 to all countries whose individual share of international RTKs in 2018 is above 0.5% cent of the total, or whose cumulative share in the list of States from the highest to the lowest number of RTKs reaches 90% of total RTKs.
The resolution "strongly" encourages all States to volunteer for the pilot phase and the first phase, noting that developed States have already volunteered and are taking the lead. It is understood that more than 60 countries have agreed to take part already.
Emissions to be offset are calculated by a formula
The amount of CO2 emission required to be offset by an aircraft operator in a given year from 2021 is calculated according to a formula that takes account of the increase in emissions in the given year relative to its average in 2019 and 2020.
The formula also applies a weighting, to factor in both sectoral growth and the individual operator's growth in emissions. The weighting is 100% sectoral until 2029 and then has an increasing weighting of individual growth (with precise weightings still to be decided by ICAO in 2028)
Review clause allows for adjustments; certain exemptions apply
In order to monitor the development and effectiveness of the scheme, the ICAO Council will conduct a review of CORSIA every three years from 2022. This will include its impact on the growth of international aviation, which will be an important consideration concerning whether to make adjustments to the next phase or compliance cycle.
All international flights between states that are in the CORSIA are covered by the offsetting requirements, but where the state at one or both ends of an international flight is not in the CORSIA, the flight is exempted.
There is an exemption for Least Developed Countries (LDCs), Small Island Developing States (SIDS) and Landlocked Developing Countries (LLDCs) unless they volunteer to participate in this phase. In addition, a new entrant is exempt for three years or until its annual emissions exceed 0.1% of 2020's total emissions.
The resolution still leaves work to be done, particularly on monitoring and standards
The resolution leaves a number of areas for further work and for more detail to be elaborated. For example, it highlights the need for safeguards to ensure the "sustainable development" of aviation and against "inappropriate economic burden" on the sector, requesting the Council to decide the "basis and criteria for triggering such action" and to identify ways to address these issues.
The GMBM requires a process of standardisation and independent validation to ensure that carbon emissions are properly balanced by the offsetting project. ICAO has developed standards in this area and IATA is one of four organisations that are qualified to check that programmes meet the standard.
Significantly, the resolution does not give details of the approach to a suitable monitoring, reporting and verification (MRV) system, including standards and recommended practices (SARPs). These will need to be developed for adoption by the Council in 2018.
Similarly, the development of standards and guidance on Emissions Unit Criteria (EUC) and recommendations on eligible emissions units are work areas that remain on the 'to do' list.
Clean Development Mechanism provides some precedent
Verification procedures and agreement on what constitutes suitable ECU are clearly vital to the credibility and success of the scheme. The resolution did decide that emissions units generated from mechanisms established under the UNFCCC and the Paris Agreement are eligible for use in CORSIA, but there is still more detailed work to be done.
One example of an emissions reduction programme used by other sectors is the UNFCC Clean Development Mechanism (CDM), which was conceived by the 1997 Kyoto Protocol and became fully operational in 2004. CDM enables investment in emission reduction projects in developing countries to offset emissions, involving the sale of CDM offsets (Certified Emission Reductions - CER).
Each CER represents one ton of greenhouse gas emissions, which have to be verified by UNFCCC and independent third-party inspectors. CDM has almost 8000 registered projects in 103 countries and a potential offset generation capability of close to 5 billion CERs up to 2020. It is the largest mechanism of its kind in the world.
The cost for a CER is set by each CDM project and (today) is typically in the range of USD0.5 to USD5 per CER.
IATA: carbon-offsetting cost impact is less than fuel price volatility
According to an IATA analysis, the costs to international aviation of a global offsetting MBM scheme will be less significant than those caused by fuel price volatility. IATA equated the cost in 2030 to that of a USD2.6 rise in jet fuel price (per barrel).
To give further context, over the past decade the standard deviation of the jet fuel price per barrel annually has been around USD40 – more than 15 times the size of the estimated offsetting cost in 2030.
CORSIA costs look absorbable
According to ICAO's Committee on Aviation Environmental Protection (CAEP), total offsetting costs could be between USD1.5 billion and USD6.2 billion in 2025, rising to a range of USD5.3 billion to USD 23.9 billion in 2035 (the ranges depend on the assumed carbon prices).
The CAEP analysis also showed that the cost of carbon offsetting for operators would be between 0.2% and 0.6% of total revenue from international aviation in 2025, rising to between 0.5% and 1.4 % in 2035.
CAPA has calculated that these figures approximate to between USD0.3 and USD1.2 in 2025, and a range of USD0.7 to USD3.0 in 2035. Although the airline industry has historically suffered from thin margins and is sensitive to changes in input costs, as well as to price elasticity of demand, these figures suggest that the costs of the CORSIA are likely to be absorbed.
The International Coalition for Sustainable Aviation (ICSA), which is the official civil society observer at the global negotiations, criticised the agreement. Although it said that the resolution was a first step to address emissions, ICSA felt that ICAO sent a "worrying signal" by deleting key provisions that would align aviation with the Paris Agreement aims over the 1.5/2 degrees limit.
Transport & Environment (T&E), a member of the ICSA grouping, called the deal "a weak start" and criticised its lack of clear rules for offsets.
ICSA acknowledged that the agreement was a "hard fought political compromise", but argued that "critical work" was still needed. It welcomed the three-year review structure, the mandate for ICAO to develop and adopt standards for MRV and EUC and the recognition of the importance of avoiding double counting of UNFCC emissions reductions.
However, it considered that the mechanism falls short of the goal of carbon neutral growth from 2020, the goals of the Paris Agreement and the aviation industry's goal of halving emissions by 2050.
According to ICSA, the GMBM will cover only three quarters of international aviation's emissions growth between 2021 and 2035. Even then, the estimated 2.5 billion tonnes of CO2 emissions covered would depend on carbon credit criteria yet to be established.
IATA has estimated that the 65 participating countries in the first phase will cover more than 80% of growth after 2020. This is higher than the ICSA estimate, but still does not cover all post 2020 growth.
ICSA urged ICAO to encourage wider participation and to use the three-year review clause to "ratchet up ambition over time". It also pressed for countries to adopt additional measures to mitigate the climate impact of aviation.
Bill Hemmings, aviation director at T&E, argued in a press release that the world needed more than voluntary agreements. "Without robust environmental safeguards the offsets won't cut emissions, leaving us with a deal that amounts to little more than adding the price of a cup of coffee to a ticket."
Airline industry, represented by IATA, welcomes the agreement
IATA welcomed what it called an "historic agreement", saying that its significance could not be overestimated.
Alexandre de Juniac, IATA's Director General and CEO, said that "CORSIA is the first global scheme covering an entire industrial sector. […] Aviation is a catalytic driver of social development and economic prosperity - it is the business of freedom making our world a better place. This agreement ensures that the aviation industry's economic and social contributions are matched with cutting-edge efforts on sustainability."
However IATA acknowledged that CORSIA, by itself, will not lead to a sustainable future for aviation. IATA pledged that the industry would continue to drive its four-pillar strategy on climate change (technology, operations and infrastructure, complemented by the GMBM).
Mr de Juniac was probably justified in claiming that the agreement "marks the end of the process to gather the political will" to implement a GMBM. He also rightly pointed out that "there is still a lot of technical work to ensure effective and efficient implementation and to ensure the environmental integrity and administrative simplicity of the scheme".
Aviation may have to go further in the longer term
A panel discussion at CAPA's Airlines in Transition (AIT) event in Dublin in Mar-2016 suggested that aviation might still need to go further with respect to mitigating its impact on the environment; in particular, in the development of sustainable biofuels.
Speaking at AIT, Professor Geoffrey Lipman had called for a "no carbon moon-shot" by the aviation industry, with a target to eliminate net carbon emissions by 2050. This is much more ambitious than the existing target to halve emissions from their 2005 level by 2050.
See related report: Climate is existential - for the planet and air travel: Aviation must renew its licence to grow
However, until the appropriate technological and scientific advances are made and large scale biofuel production becomes economic, the industry's carbon offset scheme may be the only way for it to neutralise the CO2 impact of its growth, even if it is a slightly fuzzy compromise.