Gambia Bird, Germania subsidiary, is poised to take advantage of Western African economic growth
Germania is "very satisfied" with the performance of its Western African subsidiary Gambia Bird which launched a regional and international aviation network nearly a year ago with the aim of making Banjul an air transport hub for the sub-region.
Germania MD Andreas Wobig reportedly stated in Sep-2013 that Gambia Bird has allowed the group to better manage its capacity, noting that while charter operations in Europe are characterised by overcapacity and price pressure, the African continent is a key growth market
Gambia Bird plans to increase its winter timetable after making seasonal adjustments during the summer low season, which included moving one of Gambia Bird's two A319s to Germania's Manchester base allowing the group to make maximise fleet utilisation.
Gambia Bird launched in Oct-2012 to replace Air Afrique
Germania launched Gambia Bird as a full service carrier in Oct-2012 in partnership with the Gambian Government as a replacement for previous regional carrier Air Afrique which was liquidated in 2002. Air Afrique was a joint venture between 11 mainly West and Central African nations.
See related report: Air CEMAC moves closer to launch in partnership with Air France
Germania sees an opportunity to develop Banjul as a gateway to Western Africa taking advantage of the region's economic prospects as well as its expanding tourism market and development. The carrier enjoys the full support of the Gambian Government and works closely with the country's tourism authority.
Gambia Bird quickly established a route network of five destinations along the length of Western Africa launching flights from Banjul to Dakar, Freetown, Monrovia, and Accra. Gambia Bird also operates to London and Barcelona aimed at catering for inbound tourism and the large Gambian diaspora, particularly in Spain.
Services to Lagos and Douala are planned, but no start date has been announced.
The carrier took delivery of its second A319 at the end of Nov-2012 allowing for further network expansion and frequencies. The A319s are fitted with 138 seats, including 12 business class and 126 economy class seats.
Gambia Bird route map as at 10-Sep-2013
Gambia Bird deploys nearly 86% of its 4,200 weekly seat capacity in Western Africa of which Sierra Leon and Senegal are the two biggest markets accounting for 64% of total capacity.
Gambia Bird operates international services to London and Barcelona
Gambia Bird operates from London Gatwick twice weekly direct to Freetown with the flight continuing on to Banjul. The carrier is the only operator on the route, but British Airways competes indirectly with three times weekly London Heathrow-Freetown-Monrovia frequencies with 767 aircraft. Gambia Bird also serves Barcelona-Banjul with a direct flight competing with a Vueling Airlines twice weekly A320 service, which entered the market in Mar-2013.
Gambia is a former British colony but its diaspora mainly reside in Spain, estimated at 22,000. There is also a Gambian population is the United States, Nigeria, Senegal, Britain and Germany.
Brussels Airlines is the largest carrier by capacity serving Banjul offering a four times weekly connection to Brussels via Monrovia which the carrier operates with a A330-300.
Gambia International Schedule Summary as at 10-Sep-2013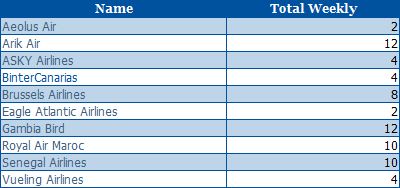 Gambia Bird's largest route is Banjul to Dakar which it operates six times weekly competing with Arik Air, which flies three times weekly with a 737-800 as part of its Lagos-Freetown-Banjul-Dakar service. Senegal Airlines also operates five times weekly between Dakar and Banjul with ATR72s, while Gambian competitor, Aeolus Air offers a weekly service on the route using a 19-seat Let 410.
The Dakar to Freetown route operates as part of Gambia Bird's twice weekly Banjul-Dakar-Freetown-Monrovia-Accra service. Gambia Bird has no competitor on the Dakar-Freetown segment, but Gambia Bird is the smallest competitor on the Freetown-Monrovia leg after Eagle Atlantic, and Royal Air Maroc (RAM). RAM operates the route as part of its Casablanca-Monrovia-Freetown-Casablanca service and has increased capacity on the route from 118 one-way seats in Feb-2013 to about 293 seats in Sep-2013, peaking at 525 seats per week in Jun-2013. Accra-based Eagle Atlantic operates twice weekly Accra-Monrovia-Freetown with MD-82 equipment.
Delta Air Lines dominates capacity on the Monrovia-Accra leg with a three times weekly MD-88 services which operates as a tag to Delta's direct daily New York-Accra service. Kenya Airways also operates Accra-Monrovia as an extension of its three times weekly Nairobi-Accra service using 737-800s. Arik and Eagle Atlantic are the only other Western African carries to serve the route.
Gambia Bird top seven international routes (frequency): 9-Sep-2013 to 15-Sep-2013
Gambia Bird has earmarked Lagos and Douala as routes it plans to serve in the future. Lagos is currently served by Arik via Freetown while there is currently no connection to Douala. Gambia Bird has not indicated when it will launch services to either destination or whether it will operate via an existing port.
Banjul is also connected to Lome by Asky via Accra and Freetown while BinterCanarias operates from Praia. RAM operates separate services from Banjul to Casablanca via Conakry and Bissau.
Tourism accounts for 20% of Gambia's economy
Gambia is the smallest country on the continent of Africa. The long skinny nation is largely situated on the flood plains of the Gambia River and is geographically surrounded by Senegal. Gambia has sparse natural resource deposits and a limited agricultural base, relying in part on income from workers overseas and tourism.
Gambia's natural beauty and proximity to Europe has made it one of the largest markets for tourism in West Africa, boosted by government and private sector investments in eco-tourism and upscale facilities. In 2012, however, sluggish tourism led to a decline in GDP. Tourism accounts for about 20% of GDP, according to the CIA World Factbook.
Gambia's tourism industry caters for three major markets. The hot climate and beaches attract holidaymakers looking to escape the European winter while the country's easy access and spectacular avian fauna is a magnet for birdwatchers. Gambia also benefits from a large number of African American visitors tracing their roots to the country. However, there is no direct airline link to the United States.
About a quarter of Gambia's population of about 1.9 million live in the capital city Banjul situated at the mouth of the Gambia River and where the country's only airport is also located. Banjul Yundum International Airport was a primary Transoceanic Abort Landing site for the Space Shuttle until 2002.
Gambia Bird is off to a promising start, but growth plans remain vague
West Africa is poised to achieve among the highest economic growth rates in Africa. But despite this, the region has a troubled aviation history marked by a litany of airline failures, often at the hands of protectionist governments of inefficient state-owned flag carriers.
Gambia Bird has joined an increasingly crowded market in West Africa with a large number of small airlines vying for a position in the region's large and potentially lucrative market. But with the exception of Nigeria's Arik Air, which has established the largest regional network, few are making any significant headway in a region noted more for its high operating costs and meddlesome governments which has led to a high airline attrition rate.
See related report:
Gambia Bird has the advantage of being backed by a successful German carrier in Germania which is able to support the growth of the start-up operation with finance, equipment and management expertise.
But, while Germania is happy with its subsidiary's progress, its future growth plans for Gambia Bird remain vague.