Fuel prices going sideways - where to next? Indian jet fuel prices kick up
Last month's global rally on equity markets, which took the oil price up as well, has paused, as investors grow more cautious. The US earnings season is now under way and markets are waiting for the next queue.
Air freight traffic, generally a good indicator of underlying economic conditions, is moving sideways at very depressed levels. However, purchasing managers surveys in many countries (including the Philadelphia Fed's economic index overnight) suggest some of the start of year bearishness could have bottomed and a restocking of inventories could be occurring. More evidence of this could come through with the April cargo traffic data.
Oil prices have also stabilised above USD50 per barrel after a period of volatility at the start of the month.
Underlying crude prices (WTI) eased 3.1% in the week to 14-Apr-09 and jet fuel prices have also fallen, but not as much, including New York (1.8%), the US Gulf Coast (-1.8%), Los Angeles (-2.6%), Amsterdam (-2.8%) and Singapore (-2.5%).
However, Jet fuel prices are down more than crude over the past 12 months, with refining margins for jet fuel narrowing.
For daily updates on American aviation stock prices and a complete wrap of the day's breaking news, sign up now for a complimentary subscription to America Airline Daily.
Daily jet fuel prices (kerosene, cents per gallon) at New York, US Gulf Coast, Los Angeles, Amsterdam, Singapore vs Crude Spot price (WTI, USD per barrel): 06-Apr-09 to 14-Apr-09
06-Apr-09

07-Apr-09

08-Apr-09

09-Apr-09

13-Apr-09

14-Apr-09

one week
Change

12 month
Change

New York Harbor

146.35

143.74

144.86

146.15

143.79

143.74

-1.8%

-61.1%

U.S. Gulf Coast

142.6

138.99

141.11

142.4

139.79

139.99

-1.8%

-59.0%

Los Angeles

148.41

143.24

145.36

146.9

144.29

144.49

-2.6%

-56.8%

148.21

145.41

145.71

146.85

144.2

144.05

-2.8%

-58.0%

147.38

143.21

138.69

145.69

143.74

143.76

-2.5%

-56.3%

WTI Spot

51.1

49.13

49.37

52.24

50.22

49.51

-3.1%

-55.7%
Daily jet fuel prices (kerosene, cents per gallon) at New York, US Gulf Coast, Los Angeles, Amsterdam, Singapore: 25-Nov-08 to 14-Apr-09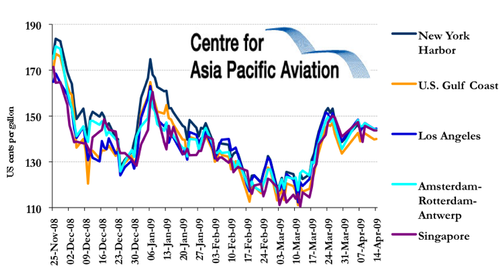 Fuel prices rise in India
But fuel prices are on the rise in India. Indian Oil Corp and Bharat Petroleum Corp increased jet fuel prices for Indian domestic carriers by 6.7% on 15-Apr-09, as they play catch up to the recent rises in international fuel prices. (They now set their prices twice a month).
The latest increase is a blow to Indian carriers devastated by last year's extreme fuel price environment and the steep falls in demand since late 2008.
For more analysis of the Indian aviation market, including latest airline traffic, load factor and market share data, see the upcoming edition of The Monthly Essential India: Airports, Airlines & Tourism.