Frankfurt outperforming Munich amid downturn in passenger throughput, not cargo
Analysis
Frankfurt Airport's traffic numbers are holding up better than its smaller rival, Munich, amid the global economic downturn.
Fraport reports Frankfurt Airport handled 4.5 million passengers last month, down 5.6% year-on-year, while Munich Airport's passenger numbers were still down 9.2% in Jun-2009 to 2.9 million. But a recovery is apparent. Fraport noted, "the recovery trend accelerated particularly toward the end of the month when the summer vacation period began in several German states".
Frankfurt has also had a milder reduction in aircraft movements, which were down 4.6% last month to 40,074, against Munich's 11% reduction to 34,485.
Frankfurt Airport passenger number growth and cargo volume growth: Jul-2008 to Jun-2009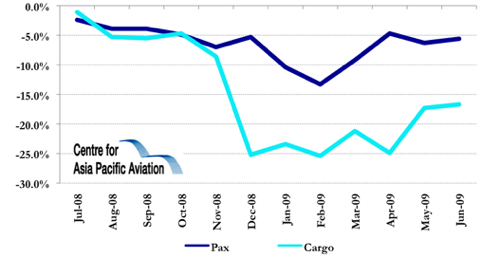 Cargo stabilising – Frankfurt hit harder
By contrast Munich Airport's cargo volumes were down 13.8% to 19,606 tonnes in Jun-2009. Frankfurt's cargo throughput is almost eight times greater than Munich, but its throughput has been hit harder, falling 16.7% year-on-year in Jun-2009 to 152,161 tonnes.
Munich Airport passenger number growth and cargo volume growth:
Jul-2008 to Jun-2009