Fourth Incheon Airport expansion phase almost complete; it will reveal an 'Up-Great' facility
Analysis
One of the airports worst affected by the COVID-19 pandemic was Seoul's Incheon International Airport, where passenger numbers fell from 71.2 million in 2019 to 3.2 million in 2021.
But it did not stop construction work that has been going on consistently since 1992. It is now in the fourth and final phase and will come to a conclusion in the second half of 2024.
With a 287% passenger growth rate so far in 2023, and one of 459% in 2022, Incheon airport can again look forward to having the third largest capacity of any such airport in the world – and to being able to fill it.
This prospect has prompted the management to refer to the project as one of 'Up-Greating' rather than upgrading.
Just how well Incheon performs, though, will partially depend on a greater presence of foreign airlines than is evident right now.
Summary
South Korea's Seoul Incheon Airport is finally coming towards the end of a four-phase expansion project that has been in progress since 1992 and has cost over USD8 billion in total.
The fourth phase is 83% complete and should conclude in 2H2024.
Key elements in this phase have been expansion of Terminal 2 and the provision of a fourth runway.
In a smart play on words, the management proposes that it is an 'Up-Greated' airport, being one that will have the world's third largest capacity.
It hasn't been plain sailing this decade, as passenger numbers plummeted during the COVID-19 pandemic.
The recovery suggests a return to normality in 2024 – other Black Swans excepted – which fully justifies the investment.
Incheon has an unusual traffic mix for a primary gateway airport: mainly full service, with attendant alliances, but with one third of capacity LCCs and two budget airline alliances in situ.
But foreign airlines have a restricted presence, and that might account for some stark gaps in the route network.
Incheon Airport concluding seven-year fourth expansion phase, costing USD3.5 billion
Incheon International Airport Corporation's (IIAC) CEO Hak-jae Lee reported that the fourth and final phase of the continuing expansion project at Seoul Incheon International Airport was currently 82.9% complete. Further, that the Corporation awaited its entry into operation, and to the day when the airport will be able to handle over 100mppa "in earnest" (even though the fourth phase is scheduled presently to be completed in the second half of 2024).
The KRW4.8 trillion (USD3.54 billion) phase is set to increase the airport's capacity from 77 million to 106 million passengers per annum upon its completion in 2H2024. Cargo tonnage capacity will increase from 5.8 million tonnes per annum to 6.3 million.
According to the CAPA - Centre for Aviation Airport Construction Database, total investment on all the phases to date is almost USD8 billion, of which this phase accounts for USD3.5 billion.
The fourth phase construction has taken about seven years, including the expansion of the second passenger terminal.
The Corporation held a 'Briefing Session' for Incheon Airport Phase 4 Operation Preparations' at the Corporation's main auditorium on 16-Oct-2023. Approximately 200 people from government agencies, airlines, and subsidiaries attended the briefing session.
At that session it was explained that Incheon Airport had been "operating stably" through three rounds of large-scale construction and careful operational preparation since the start of site development work in 1992. In order to respond in a timely manner to rapidly increasing demand, including reaching 800 million cumulative passengers (in Oct-2023), the fourth phase construction project has been in progress since 2012.
Main tasks have been expansion of second passenger terminal and construction of fourth runway
Major tasks have included expansion of the second passenger terminal and construction of a fourth runway (starting operation in Jun-2021).
When the fourth phase of the project is completed, the airport will secure infrastructure that is the largest in Northeast Asia and the third largest in the world at a single site airport, after Istanbul (150 mppa) and Dubai (118 mppa).
In order to transition successfully to the operation of the expanded airport facilities and provide improved services, the IIAC established an operation preparation organisation in Sep-2022 and also an advisory organisation composed of external experts and stakeholders, itself composed of government agencies, airlines and so on. A close cooperation system, including collaboration channels, was additionally established.
Don't upgrade your airport; 'Up-Great' it
The briefing session also informed its attendees that the announcement should be regarded as the first step in which the facility will become an 'Up-Great Incheon Airport', which has been achieved through the completion and successful operational transition of the fourth phase of the project over the past seven years (2017-24).
'Up-Great Incheon Airport' is a play on words which suggests an achievement that goes beyond upgrade to 'Up-Great', and which includes such features as smart service advancement, safe and comfortable airport facilities, quick and convenient service, and world-class aviation security.
The Corporation plans to achieve its goal of providing the best service and stable airport operation transition from the start of operations through operational preparation verification, evaluation, improvement, and operational in-house training for the fourth stage core facilities.
A '4-stage grand opening event' is targeted for the end of 2024, by which time it is intended that the airport should have established South Korea as 'the world's number one aviation powerhouse based on infrastructure.'
Incheon took a battering from COVID-19
While the airport and IIAC have been moving inexorably towards this position, it did not escape the clutches of the COVID-19 pandemic.
In fact, the pandemic impacted heavily on South Korea, and on Incheon Airport especially, as the passenger traffic statistics below confirm.
Seoul Incheon International Airport: annual traffic, passenger numbers/growth, 2009-2023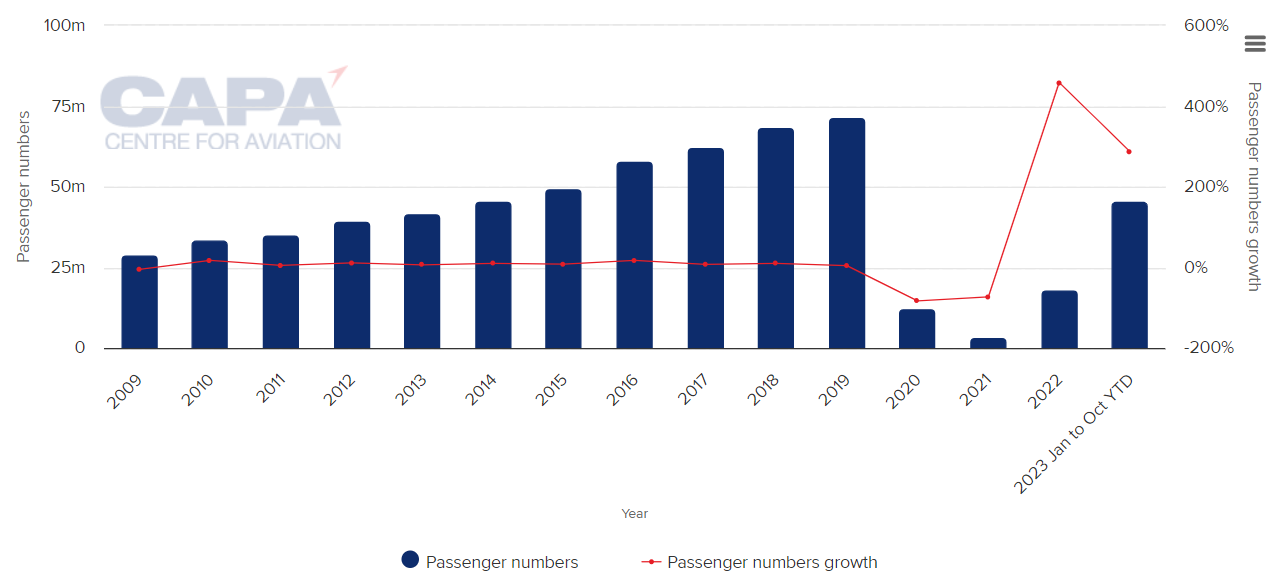 Traffic growth was consistent from 2010 onwards, but collapsed in 2020 to only 12 million passengers from 71 million in the previous year; then to just three million in 2021 – going from 14th busiest in the world in 2019 to outside the top 50 in 2021, when the smaller, domestic Gimpo Airport was busier. There was a 459% recovery in 2020, but that only took Incheon to 17.9 million users.
In Jan-Oct-2023 that traffic has recovered to 45 million and if it continues at that rate the need for the phased expansion again becomes clear.
Incheon still has some way to go to in order to get back to 2019 seat capacity levels, but it has narrowed the gap in each successive month in 2023.
In the first week of Jan-2023 capacity stood at only 61% of what it had been in the same period of 2019, but by the week commencing 06-Nov-2023 it had reached 92.5%.
Seoul Incheon International Airport: weekly total system seats capacity, 2019-2024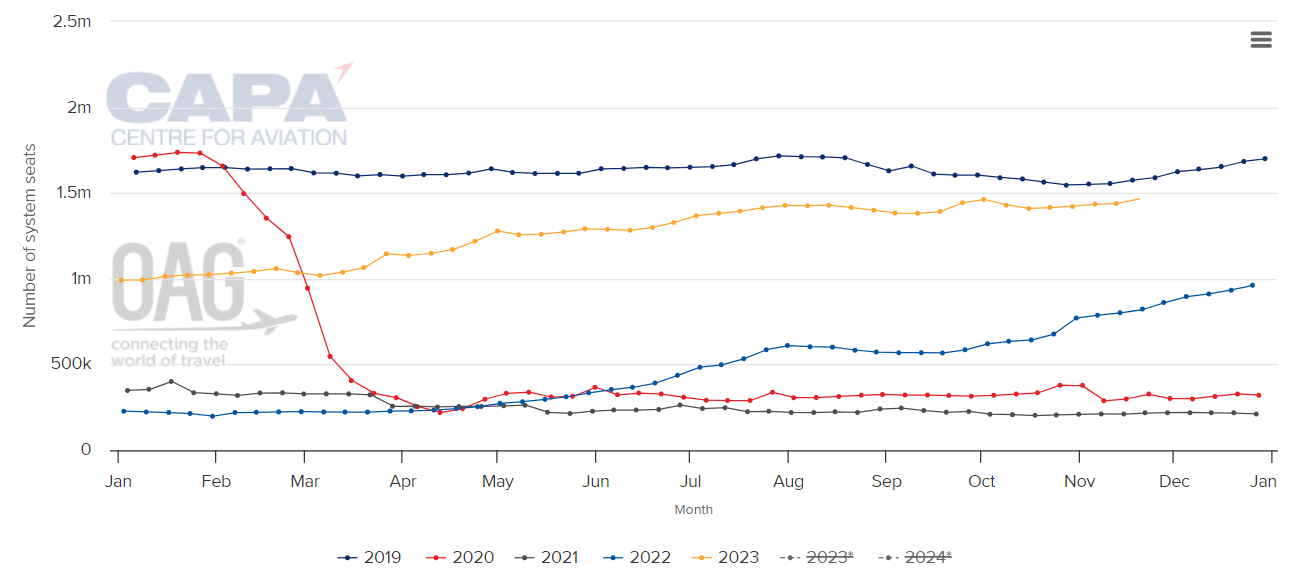 Utilisation close to 24/7
That position is further emphasised by the chart below of utilisation by the hour, represented by arriving and departing capacity.
This chart is for Monday 13-Nov-2023, but it is replicated for every day of the week. There is only one hour block in which there is no activity (0300-0400).
Seoul Incheon International Airport: system seats per hour for 13-Nov-2023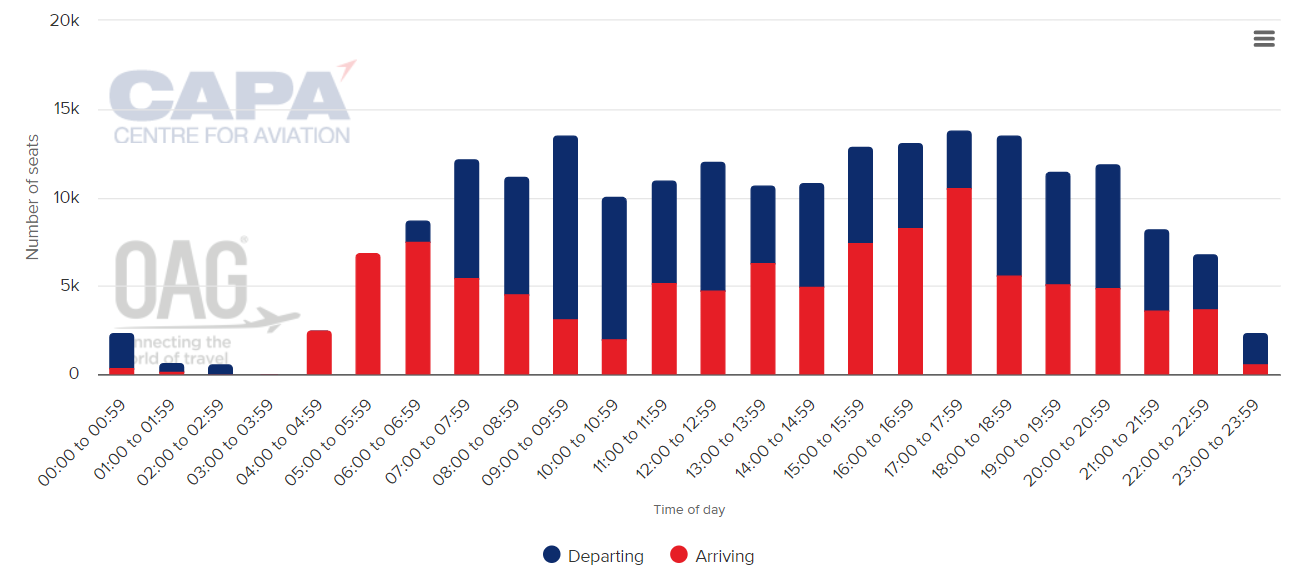 Incheon is a wholly international airport; domestic responsibility lies with Gimpo Airport.
A full service airport with a high alliance presence, but one that also embraces LCCs
It is oriented towards full service operations, with two thirds of the capacity taken by those airlines and the remainder by low cost carriers.
But that compares with 90% full service capacity at Tokyo Haneda Airport in a country (Japan) where LCCs still find it difficult to catch the popular imagination.
At Incheon 32% of seats are on unaligned airlines. Star Alliance and Skyteam are well represented, also the local Value Alliance (low cost oriented, and the world's fourth largest airline alliance), with oneworld and U-Fly (also low cost only) both having much less significance.
Seoul Incheon International Airport: system seats by airline alliance, week commencing 13-Nov-2023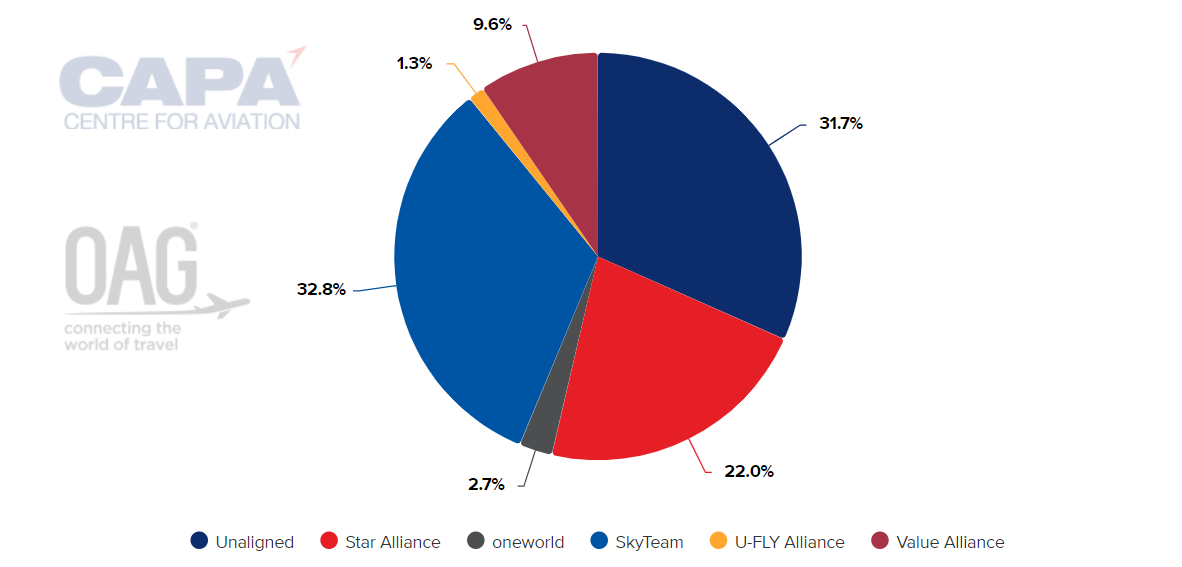 Both the (conflicting) high LCC and alliance presence pose planning quandaries for airports with long term multi-phase construction projects.
Foreign airlines have only a small presence
The two major airlines at Incheon are Korean Air and Asiana Airlines, which between them have 40% of capacity. Other Korean airlines account for an additional 28%.
Foreign airlines have slightly less than one third of the total capacity, which is considerably less than peer airports in the region such as Tokyo Narita (58%) and Hong Kong International (40%), both of which were severely affected by the COVID-19 pandemic. But it is more than Beijing Capital (18%), where the impact was even worse, and where the growth revival has begun to taper off.
The route network is again comprehensive, but with notable whole-continent gaps
Incheon's route map shows where it is strong and where there is still work to be done.
Seoul Incheon International Airport: network map for the week commencing 13-Nov-2023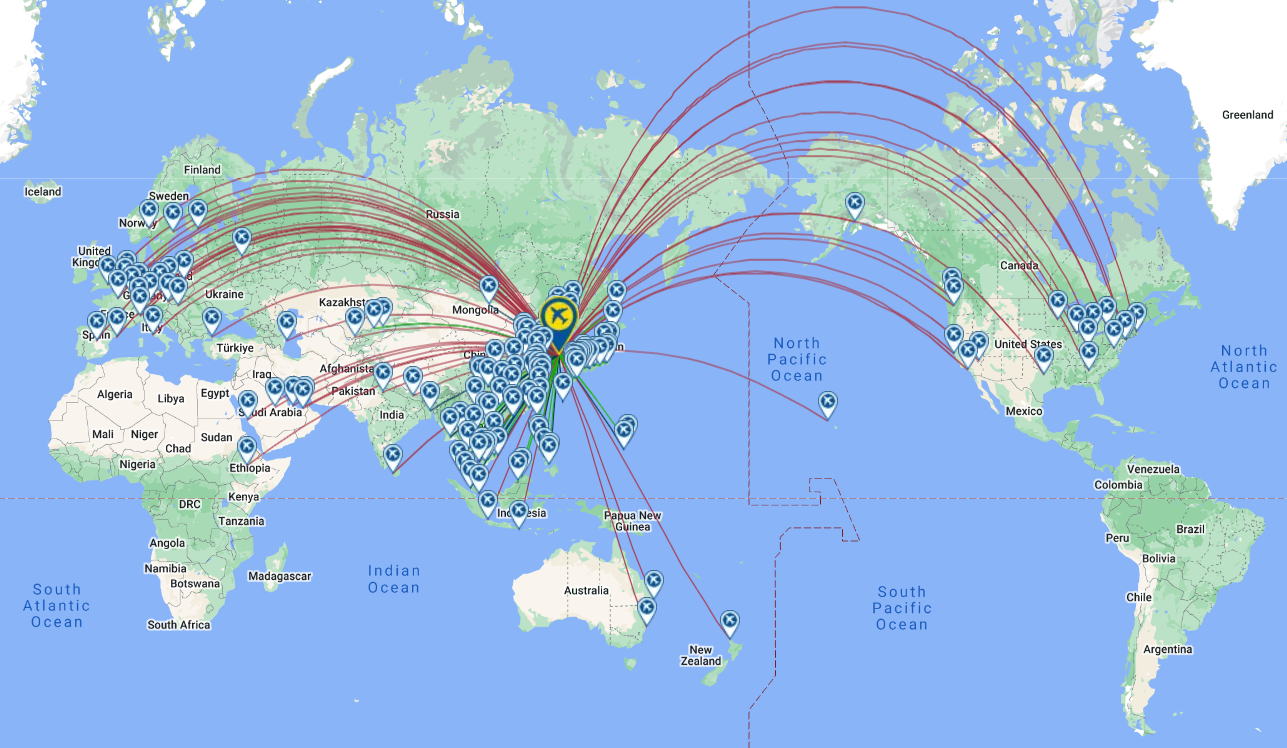 As a rival to Tokyo as a gateway to and from the whole of North Asia, Incheon has a comprehensive network connecting with Europe and North America. Also to Australasia, and a more comprehensive one in North-Southeast Asia corridors.
There are 96 cities served non-stop in Asia Pacific.
Northeast and Southeast Asia are by far the best-served regions, and within that region, Japan and China top the individual country listing.
Seoul Incheon International Airport: international departing seats by region, week commencing 13-Nov-2023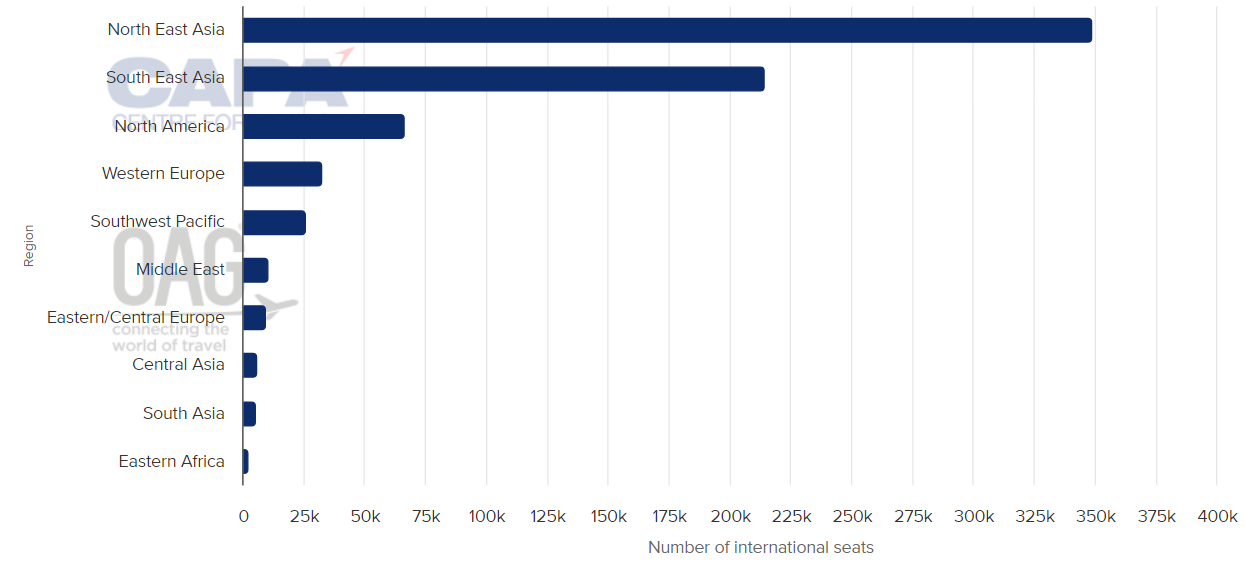 The Gulf area is well served, but not India, and there are few or no services connecting with Africa and Latin America, home to existing and aspiring members of the BRICs bloc.
In conclusion, there must have been times during the pandemic when the Incheon Airport management wondered about the value of the multi-billion dollar investment that they had made, but as traffic recovers that value should become evident, and especially so if it helps fill gaps in the route network and establish the airport as a critical Asian gateway.
See also a previous CAPA - Centre for Aviation report on Incheon Airport from Sep-2021: Incheon Airport's 30-year expansion ends with USD4 billion 4th phase