For Doha's new Hamad International Airport the big test comes on 27-May-2014
Analysis
Doha's new Hamad International Airport (HIA) opened for scheduled traffic at the end of Apr-2014, with progressively 15 airlines transferring operations to the new facility.
The much delayed USD15.5 billion airport takes over from the existing Doha International Airport (DOH) as the nation's gateway, as all remaining airlines, including national carrier Qatar Airways, transfer across to it on 27-May-2014.
HIA brings a much-needed addition of capacity for Qatar Airways' hub operations, as well as for the airline's oneworld partners.
After nearly 10 years of construction, multiple postponements ad cost over-runs, the opening of the new airport will provide relief for airlines and passengers alike.
The old DOH had a maximum design capacity of 14 million passengers p/a, a level it breached in 2010.
Doha International Airport passenger traffic: 2008 to 2013
In 2013 it handled 23.3 million passengers, with growth of 10% over the previous year. As a result, passengers regularly experienced long queues and waiting times to clear customs and security, while airlines suffered from delays on the tarmac and in the air.
The opening of the new airport has been delayed multiple times: first in 2008, then again in 2009, 2012 and finally in Apr-2013, only hours before the first flight was due to arrive, for a variety of reasons.
Delays have been related to revisions to the airport's development plan and issues with civil and military aviation authorities.
Delays meant additional upgrades to the old airport were necessary - and expensive
Qatar has been forced to invest heavily to keep DOH capable of handling the increasing amount of travellers. To cope with the demand, the existing airport had almost doubled in size over the last three to four years. Even with the expansions, DOH was still operating well beyond capacity, leading to problems for passengers and commercial users. DOH worked hard to ensure that its service was as seamless as possible even as traffic mounted.
As Qatar waited for the new airport to be completed, more than USD1 billion was invested in the old facility. Infrastructure improvements at DOH carried out in 2013 included additional check in gates, more aircraft parking bays and expanded terminal facilities, even as the new airport was undergoing advanced passenger trials.
Initial capacity at the new airport is for 28 to 30 million passengers p/a, enough to handle the projected growth in Doha traffic for around two to three years. The second phase of the airport, due to open after 2015, will increase capacity to nearly 50 million passengers p/a. This is enough to handle projected passenger traffic growth out to 2020, or a little further on.
Beyond that, the airport master plan calls for an ultimate expansion in capacity to 70 to 90 million passengers p/a. Qatar Airways CEO Akbar Al Baker has stated that a second passenger terminal may be constructed at the airport, depending on growth in passenger traffic. Under the proposed plan, Qatar Airways would occupy the airport's existing terminal and other airlines would move to the new facility.
Qatar expects the continued growth of the local economy, the expansion of Qatar Airways and major international events such as the hosting of the 2022 FIFA World Cup will provide continuing impetus for growth, making such extensive plans a necessity.
For Qatar Airways, a welcome relief as the new capacity becomes available
For Qatar Airways, the introduction of the new airport will be a proud moment and also a welcome relief. Mr Al Baker, has also personally overseen the development of Hamad International Airport, and has ensured that his own exacting quality standards have been met in the development and construction of the new facility.
Doha's new Hamad International Airport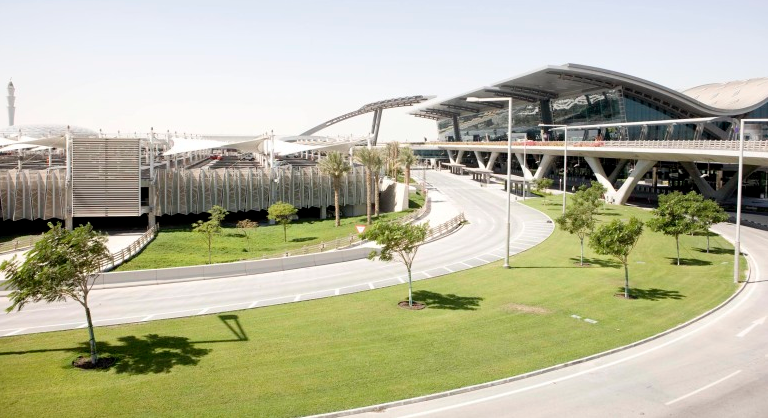 Qatar Airways was inevitably the airline most affected by the overcapacity issues at DOH. According to Mr Al Baker, DOH was providing a constraint on its growth. The carrier accounts for more than 80% of seat capacity and passengers at the old airport, as well as more than 90% of available seat kilometres. In 2013, three-quarters of all travellers at DOH were transfer passengers, a testament to the sixth freedom model operated by the Gulf carrier.
The new airport features a dual runway operation and systemised airspace design, following a multi-year airspace design and implementation project with NATS, which will offer more than double the capacity of the existing airport.
For Qatar Airways' passengers, the paired runways and extensive facilities of the new airport will come with a multitude of tangible benefits. Mr Al Baker has promised passengers a "completely different experience from what they are accustomed to", as much a comment on the state of DOH as it is on the new airport.
The new airport's 600,000 sqm terminal has been designed to offer a seamless airport experience, with enhancements to check-in, customs, security, retail and hospitality offerings to match Qatar Airways' own focus on service. Amenities on offer include free internet access and dedicated TV viewing areas, children's entertainment zone and a rest/sleeping area. Two 100-room luxury hotels have been built for transit passengers with longer stop-overs.
Non-aeronautical revenues are expected to contribute 50%, or more, of the new airport's total revenue
The check-in and duty-free shopping areas will be 12 times larger than those at the current airport, offering 40,000 sqm of combined retail, food and beverage facilities. Qatar Duty Free, a subsidiary of Qatar Airways, will boast 15,000 sqm of retail space. SSP and Qatar Duty Free have also formed a JV to operate 11 of the hundred-plus food and beverage outlets at the new terminal.
The new terminal features 138 check-in counters: 14 seated check in areas for Qatar Airways' First class passengers, 16 check in counters for its Business class passengers and another 108 counters for its Economy passengers and all other airline passengers. Immigration clearance processing will be faster thanks to the 34 passport control counters at the new airport, as well as 12 e-gates - along with the airport's trademark "Lamp Bear".
The iconic "Lamp Bear"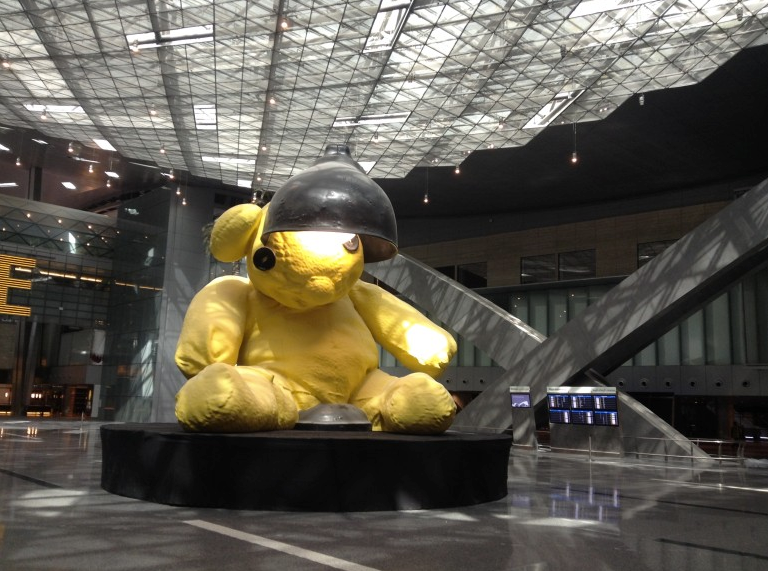 Qatar Airways' premium passengers again receive special treatment, with six passport control counters and three e-gates for First class passengers, and 10 passport control and five e-gates for Business class passengers.
Given the amount of transfer traffic at the airport, 60 security lanes will provide screening for passengers connecting at the airport, while there are only 21 for origin/destination travellers. Qatar Airways and the airport authorities are working to ensure a 30-minute minimum connection time for passengers.
Initially, the airport will boast three concourses and 33 contact gates, eventually increasing to five concourses and 65 contact gates, including eight that are capable of handling the double-decker A380s. This is fortuitous for Qatar Airways, as the airline is due to receive the first of 13 A380s in Jun-2014. The new aircraft will be deployed to London, Sydney, Singapore and Brisbane.
The new Doha Hamad International Airport also houses the carrier's maintenance, operational and technical units, operating as the central maintenance hub for Qatar Airways' international fleet. The new Doha Hamad International Airport maintenance hangar will have the capability to handle two A380s and six other widebodies simultaneously.
oneworld partners will benefit from the new facility
Another key beneficiary of the new airport will be oneworld alliance members. Qatar Airways joined the alliance at the end of Oct-2013, becoming the first (and only) of the Big Three Gulf carriers to join a global airline alliance in the process. The other oneworld carriers that operate to Doha – British Airways and Royal Jordanian – are expected to be located close to Qatar Airways to minimise passenger transit times.
The carriers that transferred across to the new airport on 30-Apr-2014 were flydubai (DOH's second largest carrier by seats and frequencies, whose aircraft was the first to arrive), Air Arabia, Air India Express, Biman Bangladesh Airlines, Iran Air, Nepal Airlines, Pakistan International Airlines, Pegasus Airlines, Syrian Air and Yemenia. Collectively, these airlines account for a little under 10% of total capacity at DOH, with around 310 frequencies per week.
The real test for Doha Hamad International Airport comes on 27-May-2014, with the transition of Qatar Airways to the airport. Along with it will come DOH's remaining airlines, including most of the Middle East's regional players. Qatar Airways alone operates nearly 2600 flights per week from DOH. The other carriers will bring another 400 weekly frequencies with them.
Doha Hamad International Airport is another of the outstanding infrastructure investments setting the trend for the Middle East's aviation industry. It will provide Qatar Airways with facilities it needs to continue its growth. Along with the carrier's entry into the oneworld alliance and its rapid fleet and network expansion, the capacity the airport provides will be an essential ingredient in Qatar Airways' future.
For the flag carrier as well as the airport, the operation will be intense: "The move will mean that as of 09:00 Doha time on 27 May, all commercial passenger airlines operating into Qatar will be arriving and departing from Hamad International Airport," the airline announced.
Transfer details