flydubai outlook improves, with reduced losses and faster rebound despite global uncertainty
Analysis
As airlines worry about having passed their peaks and entering a downturn, flydubai, the LCC owned by the Dubai government, is on an upwards trajectory. This is very welcome after flydubai's sudden and sharp 1H2015 loss occurred as most other airlines were in party mode, buoyed by low fuel prices. flydubai significantly narrowed its 1H2016 loss despite double-digit growth. With the industry worrying about its health, flydubai appears to have caught the cold early and rebounded from it. An improvement in load factor, uplift in business traffic (19%) and reduction in expenses may show greater efficiency that can be maintained – the silver lining to the financial upset.
flydubai's 1H2016 loss narrowed to USD24.5 million from 1H2015's USD40 million, despite a 14.9% increase in flights. Losses per passenger decreased about nine percentage points faster. Unlike its bigger sister Emirates, also owned by the Dubai government but run separately, flydubai is primarily a point-to-point operator - so it depends on the health of Dubai.
Subdued oil prices continue to dampen the local economy, and at the start of 2016 flydubai warned of a cautious outlook. Yet growth in 2H2016 appears higher than forecast, indicating optimism that flydubai's various markets and niches are healthy, and a full rebound is closer than originally forecast.
flydubai narrows first half losses, but full-year performance hinges on second half
flydubai launched in 2009 and became profitable in 2H2011. flydubai reported net profits in both halves of 2013 and 2014, although the second half was far more important. flydubai had a sudden loss in 1H2015 due to a combination of currency impacts (the UAE dirham is pegged to the US dollar), closing of routes (such as for security reasons, geopolitics in Russia and the CIS, and aeropolitics), and fuel hedging.
Despite a USD40 million loss in 1H2015, flydubai remained in the black for the full year due to strong 2H2015 performance of USD67.4 million. flydubai disclosed its 1H2016 performance in Sep-2016, reporting a loss of USD24.5 million – a significant improvement from 1H2015's USD40 million loss.
flydubai net profit (USD millions): 2012-1H2016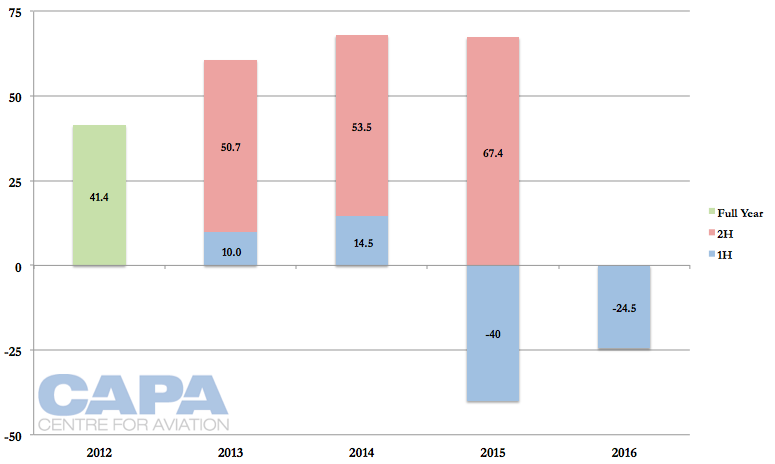 flydubai has benefited more strongly from low fuel prices as it comes off hedges. There has been a reduction in its hedging position from 41% last year to 22% this year. This resulted in fuel accounting for 23.5% of total operating costs, reduced from 30.6%.
First half losses shrank, despite double-digit growth
The approximately 39% decrease in first half losses is especially notable given flydubai's operating environment. Losses at airlines can result in the operator sharply curtailing growth, or entering negative growth in order to stem losses, effectively shrinking into unprofitability. flydubai's loss decreased by 16.5% in spite of growing passenger numbers, and operating 14.9% more flights (indicating some improvement in load factor).
The growth partially reflects full-year realisation of previous growth. It also includes new growth as a result of needing to utilise fleet, as well as maintaining a long-term outlook and balancing its immediate financial concerns with what will be best in the future for the airline, the aviation hub and the Dubai economy. Given expenditure and costs associated with new growth, had flydubai focused only on the short term and implemented limited-to-nil growth, losses would likely have been reduced even further.
The regular double-digit growth of flydubai means that profit and revenue figures need the context of production output. 1H2016 losses per passenger decreased to USD5.00, compared with USD9.52 in 1H2015.
This is not necessarily a like-for-like calculation given the impacts of average sector length and the balance between yield and load factor, but it is indicative.
flydubai net profit (USD millions) per passenger: 2012-1H2016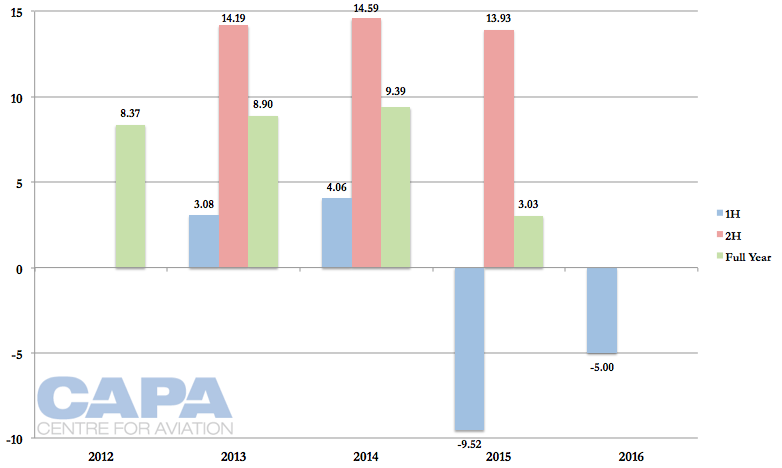 The third quarter is flydubai's strongest and can offset 1H losses
flydubai is largely a point-to-point operator (as compared with having an integrated global network) and has a large range of destination types – from worker traffic, to leisure destinations, to corporate markets, to niche near-monopolies. This means that traffic and profitability fluctuate widely, although perhaps not as widely as at European short haul operators that experience strong summers but typically losses in winters.
flydubai's disclosure of its 1H2015 loss was accompanied with the trading note that the losses were fully recovered in 3Q2015. 1H2015 losses were approximately USD40 million, indicating that 3Q profits (not disclosed) were at least USD40 million. flydubai's 2H2015 profit was USD67.4 million, indicating that at least two thirds of the second-half profit was earned in the third quarter. The third quarter in Dubai (01-Jul through 30-Sep) coincides with annual holidays.
flydubai's financial year is to 31-Dec, so 3Q2016 trading has not concluded. Given the improvements in 1H2016 trading, it would be expected that the positive momentum would be retained and 3Q2016 could offset 1H2016 losses – as occurred with 3Q2015 profits offsetting 1H2015 losses. flydubai has not entirely relied on third-quarter profits for its second-half performance, so full-year profitability hinges on how strong the third quarter is, and what the contribution of the fourth quarter is.
2H2016 growth appears to show confidence in operating environment
The outlook for flydubai appears to have strengthened. At the time of the 1H2015 losses the airline forecast an eventual rebound, since key drivers – weak sentiment in Russia and the CIS – were seen as a temporary effect. What now appears is an acceleration in improvement. flydubai CEO Ghaith Al Ghaith cautioned in Feb-2016 that the year would be "difficult", and the airline would take "precautions", as reported by Gulf News.
A Feb-2016 statement cautioned of a "prudent outlook" and hinted of curtailing growth, with the statement remarking: "Our network is maturing and so we continue to monitor capacity and review the opportunities for existing routes as well as for new routes. In response to the changing environment, considered, balanced adjustment and management will be required."
flydubai has not issued growth guidance but estimates are available from schedules filed with OAG. Actual growth can be higher as flights (frequency/destinations) are added during the balance of the year. flydubai said that it had plans to take delivery of six 737s in 2H2016.
flydubai expects this to enable 77 flights per week to be added to services from Dubai International: to Almaty, Asmara, Astana, Bahrain, Bangkok, Bishkek, Bratislava, Colombo, Dar es Salaam, Entebbe, Erbil, Kiev, Male, Moscow, Odessa, Prague, Tbilisi, Yerevan, Yekaterinburg and Zanzibar. Flights from Dubai World Central to Kathmandu will increase to 14 per week from 10 October.
Data from OAG shows flydubai's growth in 2H2016 reducing from 1H2016. 1H2016's growth included full-year realisation of previously inputted capacity. Growth is decreasing as the year progresses, from upwards of 23% in Feb-2016 to 2-3% in Sep-2016 and Dec-2016, according to schedules filed in Sep-2016. Seat growth is forecast to grow 6% in 2H2016 for a year-end growth of 10%, according to OAG.
flydubai seat and frequency growth per month measured against the same month in the previous year: 2016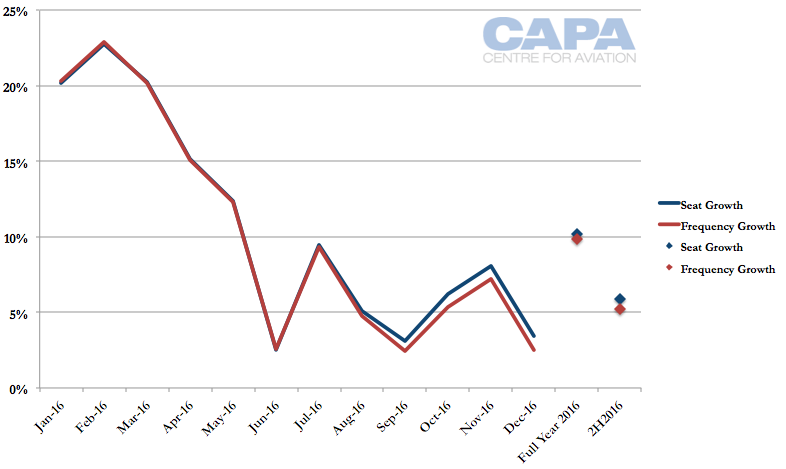 This appears to indicate faster growth than what was planned in the wake of the weakened operating environment that became apparent in late 2014 and was felt in 1H2015. Growth is a complex equation of market sentiment and aircraft (flydubai is taking delivery of aircraft but also retiring older ones, although the exact balance for 2016 has not been publicly disclosed). Yet ultimately 2H2016 growth has to reflect, at a notable level, improvement in market outlook.
2016 growth was long planned to be subdued (relative to past years) as flydubai transitioned between aircraft fleet orders. Percentage growth of a 10% increase in ASKs for 2016 is approximately the same as in 2014, although net additional ASKs in 2016 will be higher in 2014 given the larger size of flydubai.
New ASKs for 2016 will be just over a third of the ASKs added in 2015, but 2015 was a record year. 2016's net additional ASKs are approximately two thirds as much as in 2012 and 2013, according to data from OAG.
flydubai net additional ASKs (left axis) and ASK percentage growth (right axis) year-on-year: 2011-2016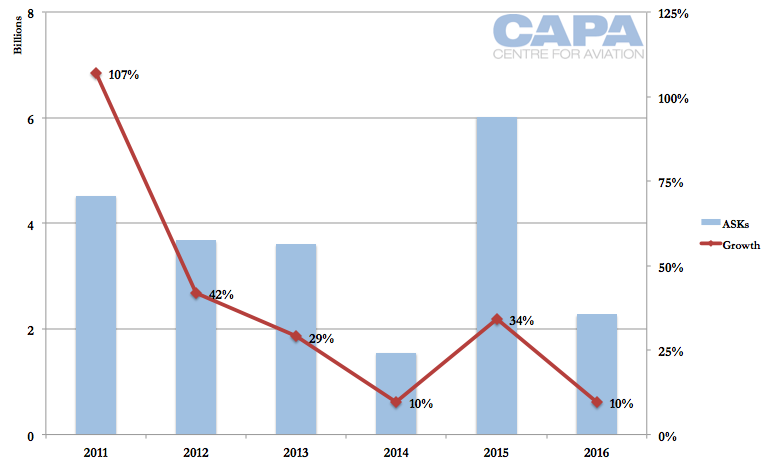 flydubai outlook encouraging but not a bellwether for others
flydubai's downturn in 2015 meant that the airline needed to adjust to changes in some markets while waiting others out. Internally flydubai has strengthened efficiency and cost reductions, which will have a positive ongoing impact – not that flydubai was bloated prior.
Re-examining its operation and commercial relations is prudent as flydubai prepares to relocate its hub from Dubai International to Dubai World. A new hub requires flydubai to reflow its processes and consider which commercial contracts will need to be adjusted. It is more efficient to plan for the new hub with greater efficiency in mind rather than uproot the existing operation and then try to change it. Achieving the desired operation from day one requires greater effort at the start, but is more efficient in the long run.
flydubai has not officially given a timeframe on the relocation. Its existing Dubai World flights are all-new services supplementing existing frequencies from Dubai International. Increased fees for all operators in Dubai (and other Gulf hubs) are a headwind to work with.
See related reports:
A priority in the short term is recreating in 2016 the full year of profitability in 2015, despite a loss in the first half. Restoring the first half to profitability is also an objective. Business class traffic has increased and load factors have grown too. These are to be balanced with the consideration of yield and connecting vs O&D traffic. Simply increasing them is not as straightforward as it may seem, especially in markets that are very profitable but ultimately have limited demand and cannot be greatly stimulated by price.
Although it may seem that flydubai is emerging from a downturn as aviation appears to enter a large one, the airline should be relatively isolated from the latest factors.
These include European uncertainty due to terrorism and Brexit (flydubai has only a limited presence in Eastern Europe), and long haul overcapacity. flydubai is more of a short haul and medium haul operator, although this will slightly change due to a new service to Bangkok and opportunities from the 737 MAX, which has longer range.
The fact that flydubai is showing a faster recovery is encouraging, and its outlook remains bright. Unfortunately for aviation, flydubai's niches mean that its uplift in performance is not necessarily a bellwether for others.