flydubai has its second consecutive annual profit as network continues to overlap with Emirates
Analysis
Flydubai, the largest LCC by far in the Middle East, has delivered its second consecutive profit in its five years of existence. Revenue and profit grew faster than capacity growth, producing a slight improvement in margin to 6%. ASK growth of 28% in 2013 is more impressive when considering flydubai launched 17 new routes, with each new route requiring large resources. Some 39% of flydubai destinations are also served by Emirates, separately managed but with the same ownership and a limited partnership.
Runway works at its Dubai hub may dampen revenue, but flydubai plans to take eight 737s in 2014 compared to the seven added in 2013. Growth will continue to be strong as flydubai takes delivery of its backlog, including aircraft purchased at the Dubai Airshow in Nov-2013.
The introduction of business class enhances flydubai's position, but some settling down might be in order to improve load factors (an estimated 66% in 2013) and for flydubai to maximise its position of sitting on relatively uncompetitive markets.
Second consecutive profit for five-year old airline
flydubai's 2013 (12 months to 31-Dec-2013) profit of AED222.8 million (USD60.7 million) is a 47% increase over its maiden profit in 2012 of AED152 million (USD41 million). flydubai says it was first in the black in 2H2011, although specific figures were not disclosed.
2013's margin was a respectable 6.0%, a 0.6ppt improvement over its 5.4% margin in 2012. 2013 revenue was AED3.7 billion (USD1.0 billion), an increase from 2012's AED2.8 billion (USD756 million).
2014's performance will be dampened by runway works at flydubai hub Dubai International Airport, which is forcing flydubai and other carriers to cut flights. flydubai is planning a 21% decrease in seat capacity in 2014 compared to 2013, according to OAG. However, ASKs will drop slightly slower at 18%, indicating flydubai in 2014 is giving preference to longer flights that can potentially promise more revenue, yields and loads permitting. flydubai operates flights within a five hour radius of Dubai.
While passengers and revenue will surely be down in 2014, hopefully flydubai can make significant load and margin improvements with minimal impact on profitability. flydubai has the room to absorb additional passengers, but this should not be construed to mean flydubai will not see an impact from the Dubai runway works.
Financial details were not available, but flydubai says fuel accounted for 39.5% of costs and in 2013 it started hedging fuel.
See related reports:
Revenue and profits outpace capacity growth
Flydubai's only official traffic statistic is that it carried 6.82 million passengers in 2013, representing a 38% increase from 2012. Based on capacity figures from OAG, we can place flydubai's 2013 load factor at 66%, a 7ppt improvement from 2012's estimated 59% load factor. But these figures are still perhaps surprisingly low and reflect limited competition, which means flydubai can pursue yield rather than loads. It also means flydubai does not have to meet as high volume targets as Ryanair and others do in order to secure discounts.
OAG capacity data indicates flydubai's seat capacity grew 25% and ASKs grew 28%, indicating the positive trend of revenue growing faster than capacity. But as noted with the low load factors, there has been and continues to be room for per-flight revenue improvement.
While flydubai's growth rate is slowing as capacity is cut due to Dubai runway works, 2013's growth was still an exceptionally fast 25%. The graph below shows seat capacity as recorded by OAG, and year-over-year comparisons are given from 2011 onwards; 2010 was the carrier's first full-year of operations.
flydubai annual seat capacity: 2009-2014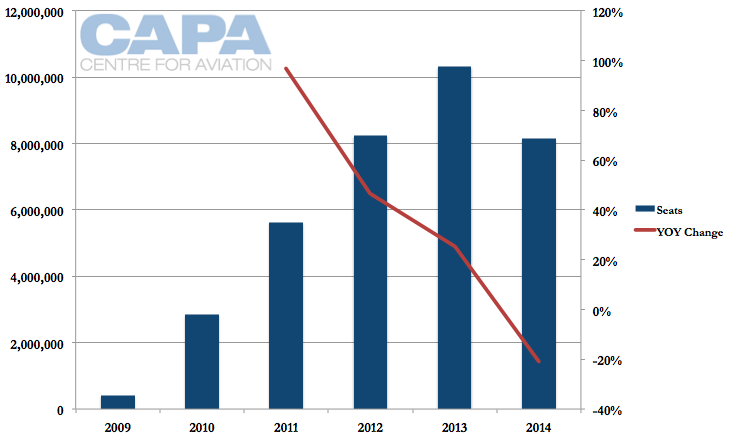 ASK growth in 2013 of 28% had a softer fall than seat capacity owing to longer-stage flights.
flydubai annual ASK capacity: 2009-2014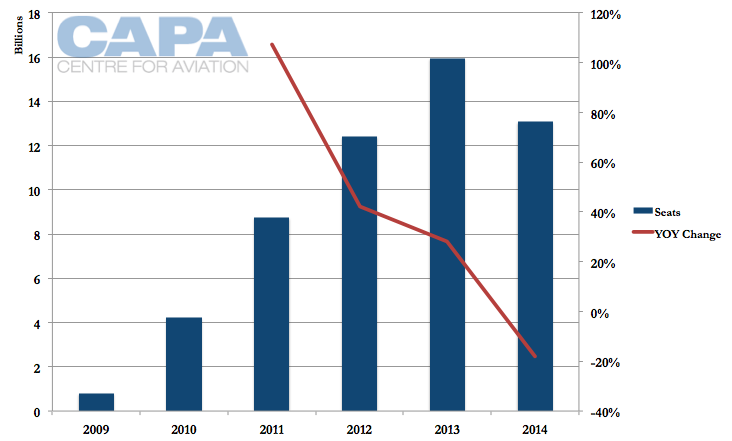 Further revenue gains to come from new business class being deployed
flydubai in 2H2013 commenced business class services, introducing a proper business class seat (not just blocking the middle seat) along with enhanced service, including a lounge at Dubai (terminal two) to be opened in 2014. This follows a refurbishment of flydubai's departure hall in May-2013. The business class configuration on flydubai's all-737-800 fleet is 2-2, with three rows for a total of 12 seats. As of Mar-2014, 14 aircraft have business class. By the end of 2013, business class was available on 28 routes – or more than half ­of all routes. By the end of Feb-2014 business class was available on 46 routes.
New aircraft are arriving with the business class seats while most of the existing fleet will be retrofitted. Some older aircraft up for lease expiry in the near future will likely not see the new product, and these aircraft can be deployed on flydubai's markets more angled towards expatriate labour markets, where demand for business class is virtually nil.
Flydubai operates a diverse range of routes; its network ranges from those expatriate labour markets in the sub-continent to near cash cow routes to Kuwait and Saudi Arabia where there is high demand for premium services.

flydubai's business class allows it to capture and up-sell to passengers who previously only had economy class as an option on flydubai. And with load factors in the 60s, flydubai has room to experiment with vacant floorspace, although the introduction of business class has an exceptionally strong outlook. Gains will also come from the Emirates partnership as Emirates can interline passengers on flydubai's business product.
flydubai stands on its own, but overlaps with Emirates – and drives faster innovation
flydubai caters to the point-to-point Dubai market, but also supports connectivity as it partners with Emirates. Despite the partnership, flydubai overlaps on about 40% of its destinations with Emirates.
At launch in 2009 some 46% of flydubai's destinations were served by Emirates, and in 2014 this is down to 39%. flydubai is adding unique destinations not served by Emirates in faster proportion than destinations that overlap with Emirates.
Flydubai destinations and overlap with Emirates: 2009-2014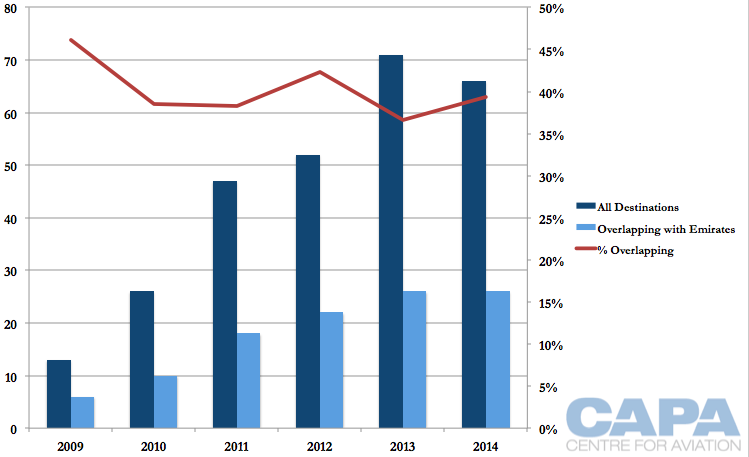 It is typically flydubai that adds a destination already served by Emirates, but this is not exclusively the case. flydubai commenced services to Iraq's Erbil in 2010 but it was not until 2012 Emirates commenced services. This may seem minor but the proportional impact can be large: Etihad has said its Iraq destinations are its most profitable.
The Emirates-flydubai dual-brand strategy is consciously not coordinated between the two carriers, although they have the same shareholder. But at Emirates-flydubai there is an emerging trend which is found at other dual-brand/subsidiary examples: the new, younger carrier is becoming more agile and innovative, responding faster than the "legacy" parent. Besides spearheading destinations, flydubai has greater control over its product, such as through customisation, something that Emirates is beginning to watch with approval.
The prevailing thought in other markets (often promoted by disgruntled unions) is that it is the subsidiary/newer airline that has to rely on the established airline, but there are also numerous opportunities for the established airline to learn from the newer one. Emirates and flydubai are healthy, but the question for their common shareholder is whether it will be valuable to achieve synergies resulting from coordination. Meanwhile, each is able to find its own way and flydubai to develop its own personality and brand.
With such a high quality brand as Emirates, a cautious approach to connecting to an LCC, albeit with the same ownership, is understandable.

2013 growth is led by Russia, but Saudi Arabia is largest market
In 2013 flydubai doubled its Russian network to eight destinations while bringing destinations in Saudi Arabia to 10, and adding leisure destination Salalah in Oman and Moldova's capital of Chisinau.
Given the increases in Russia, it is unsurprising flydubai's largest growth region in 2013 was Europe (including Russia) with a 55% increase in passenger numbers. The subcontinent grew 41%, Central Asia 39%, Middle East and GCC 37%, Caucasus 24% and Africa 17%.
flydubai seat capacity by region: 3-Mar-2014 to 9-Mar-2014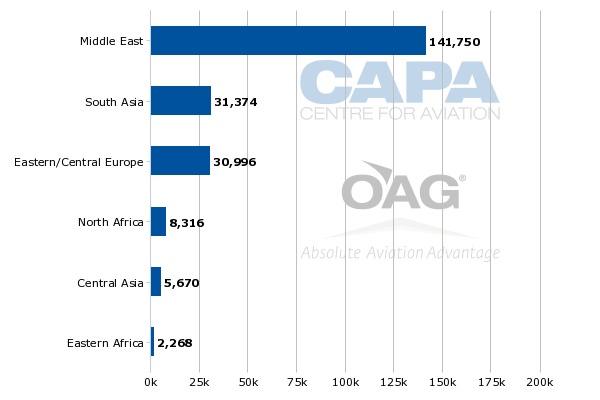 flydubai seat capacity by country: 3-Mar-2014 to 9-Mar-2014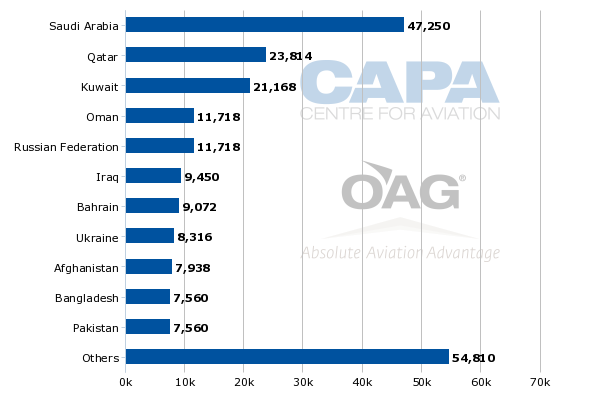 flydubai top 10 routes ranked on seat capacity: 3-Mar-2014 to 9-Mar-2014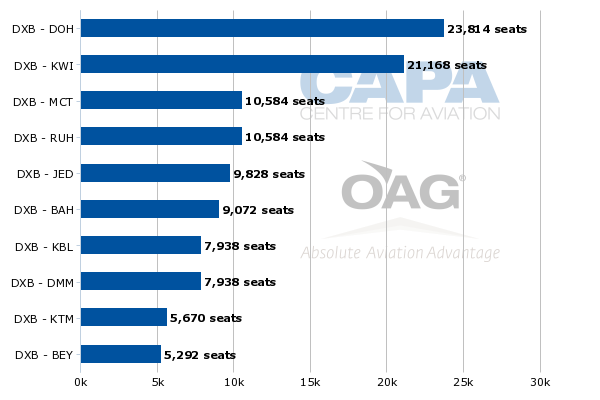 Flydubai is the largest LCC in the Middle East.
Top 20 LCCs in the Middle East ranked on seat capacity: 3-Mar-2014 to 9-Mar-2014
Rank
Airline
Total Seats
1
FZ
flydubai
220,374
2
G9
Air Arabia
150,716
3
XY
flynas
115,254
4
IX
Air India Express
53,298
5
J9
Jazeera Airways
33,000
6
6E
IndiGo
22,680
7
SG
SpiceJet
21,120
8
PC
Pegasus Airlines
14,742
9
U2
easyJet
11,784
10
W6
Wizz Air
10,440
11
E5
Air Arabia Egypt
5,508
12
5J
Cebu Pacific Air
5,232
13
KK
Atlasjet
5,220
14
MJ
Mihin Lanka
4,920
15
JT
Lion Air
4,522
16
DY
Norwegian Air Shuttle
3,348
17
D7
AirAsia X
3,016
18
QS
SmartWings
1,860
19
BT
airBaltic
1,856
Outlook: a challenging 2014 due to runway works, but region's wealth drives opportunities
flydubai has a bright outlook. 2014 will be challenging, but mostly owing to one-off runway works, which are causing aircraft deliveries to halt until after the works are completed. Once finished, there is a large fleet backlog for flydubai to put into operation. flydubai took seven 737-800s in 2013 and plans to take eight in 2014.
flydubai Fleet Summary: as at 4-Mar-2014
At the Nov-2013 Dubai Airshow flydubai ordered 75 737 MAX 8s with 25 purchase rights. These will be delivered from 2H2017 to the end of 2023. flydubai also ordered 11 737-800s for delivery from 2016 until 2017, serving as a bridge between its MAXs and its 2008 Farnborough order of 737s, the last of which arrives in 2015.
The carrier is posting handsome results in what is still a relatively early period of its life. Complacency does not seem to be a concern; innovation and evolution continues with flydubai's introduction of business class, which seems sensible, with large potential and limited downside.
This is a valuable carrier, and so it was no wonder there was a flurry of excitement when a Dubai official mooted that flydubai, and bigger sister Emirates, could go public in the long term (with the short term ruled out). That is hardly surprising: flydubai (and Emirates) continue to create value. flydubai's growth and business class is an example, as is growing ancillary revenue (14.6% of total revenue in 2013).
Like other LCCs, flydubai is carrying cargo and reported an uptick through the use of e-AWBs. More value can be created as markets mature and flydubai extracts greater value from its envious position of sitting on many uncontested destinations.