flydubai begins dual-hub strategy with Dubai World Central launch. Emirates still silent on DWC move
Analysis
The future is arriving. From 25-Oct-2015 flydubai for the first time will commence regular services from Dubai Al Maktoum Airport at Dubai World Central (DWC), supplementing existing services at its main base of Dubai International (DXB). Seven cities will be served collectively 70 times a week, but this will grow in subsequent seasons. The soon-to-be massive DWC is the future of flydubai, sister carrier Emirates Airline, the Emirate of Dubai – and much of global aviation.
Emirates remains firm that its large, connection-heavy model means it cannot run a split hub and so will move from DXB to DWC in one go sometime next decade. But flydubai, which has more local traffic and a regional focus, can more easily run a dual hub, although still a daunting task. The equation is complex with multiple factors. Shifting flydubai growth to DWC frees up DXB slots, potentially advantageous to Emirates; allows flydubai to target a different catchment area; and becomes an anchor carrier for DWC, which sees limited traffic.
flydubai to launch DWC hub with service to seven destinations
flydubai will commence regular DWC operations from 25-Oct-2015. The LCC served DWC over a limited period in 2014 while its home base of DXB had its runway undergo works, necessitating a decrease in movements. Some airlines pared back their schedules while others like flydubai transferred some flights to DWC, but ultimately moved back to DXB. Emirates did not operate passenger flights from DWC.
Regular services from DWC have been inevitable. The airport will be the future home of flydubai and Emirates. The question has been when the two would start services. Emirates has been adamant it will not run a split hub and so will move sometime next decade. The situation with flydubai has been more fluid, varying between staying at DXB, moving to DWC and running a split hub.
The DWC hub commences with seven destinations, four served daily and three served double daily. Those three points served double daily from DWC are flydubai's largest points: Kuwait first, Doha second and Muscat third, based on both frequency and seats. From DXB, flydubai operates at least seven daily flights from each of those three points, meaning further growth to those destinations from DXB would be incremental. There would be little network benefit since timings would overlap and not substantially increase connecting opportunities. Connections accounted for 25% of flydubai's traffic in 2013, most flydubai-flydubai connections with some from Emirates and then other operators.
flydubai in Oct-2015 will serve 95 points non-stop from Dubai. Its other four DWC destinations are its sixth largest (Beirut), 10th largest (Amman) 12th largest (Kathmandu) and 17th largest (Chittagong).
flydubai DWC hub summary: week of 25-Oct-2015
| | | | | | |
| --- | --- | --- | --- | --- | --- |
| Destination | Weekly service from DWC | Weekly service from DXB, Oct-2015 | Total Dubai area service | Service from DXB, Oct-2014 | Destination Rank for flydubai |
| Amman | 7 | 14 | 21 | 10 | 10 |
| Beirut | 7 | 21 | 28 | 21 | 6 |
| Chittagong | 7 | 7 | 14 | 8 | 17 |
| Doha | 14 | 70 | 84 | 63 | 2 |
| Kathmandu | 7 | 11 | 18 | 23 | 12 |
| Kuwait | 14 | 76 | 90 | 76 | 1 |
| Muscat | 14 | 49 | 63 | 28 | 3 |
The DWC services will mostly build on existing DXB services with no reduction to the DXB hub. The exceptions are Chittagong and Kathmandu. Those points saw more service from DXB in Oct-2014 than they will see in Oct-2015. These points have large labour traffic, making them susceptible to large changes.
Chittagong in Oct/Nov-2014 saw service of seven to 10 weekly while Kathmandu in late-2014/early-2015 saw service as low as 13 weekly. Chittagong will have larger overall Dubai area (DWC and DXB) service in Oct-2015 than in Oct-2014 while Kathmandu will have a similar level of capacity. flydubai is the only operator between Dubai and Kathmandu, and its capacity deployment has seen frequent and large changes.
Dubai International Airport to Kathmandu Tribhuvan Airport (seats per week, one way): 19-Sep-2011 to 24-Jan-2016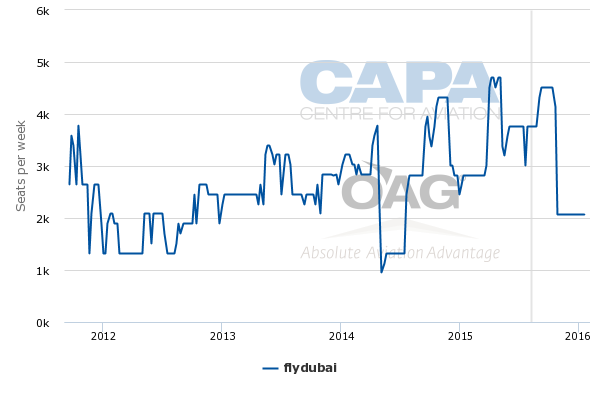 flydubai will become the largest operator at DWC, surpassing Qatar Airways
flydubai will become the largest operator at DWC by far. flydubai will operate 140 weekly flights to/from DWC, surpassing the 56 from Qatar Airways. Qatar is currently the largest, with four daily flights to its hub of Doha. flydubai will have over 20,000 seats from DWC compared to Qatar's 8,000.
flydubai will become only the sixth passenger airline at DWC (there are more cargo operators, including Emirates and Cathay Pacific). No doubt it will send a better signal to the world with a Dubai-registered carrier being the largest operator at what will one day be the city's flagship airport and is currently a significant investment and infrastructure project.
Dubai World Central (Al Maktoum Airport) seat capacity by carrier: 3-Aug-2015 to 9-Aug-2015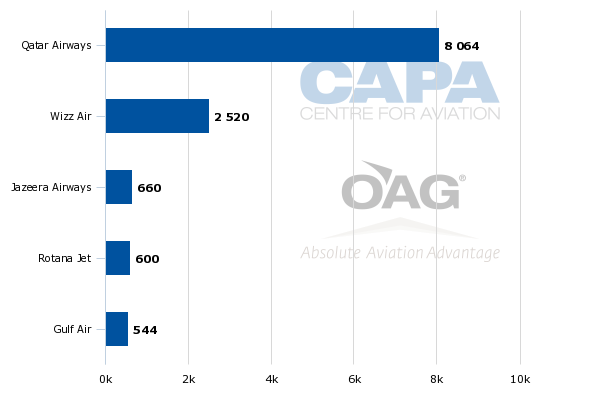 In the UAE Qatar also serves DXB, Abu Dhabi, Sharjah and from later in 2015, Ras Al-Khaimah. Doha-DXB is Qatar's largest route and the UAE is Qatar's largest country by seat capacity.
Qatar Airways largest routes ranked on available seat capacity: 3-Aug-2015 to 9-Aug-2015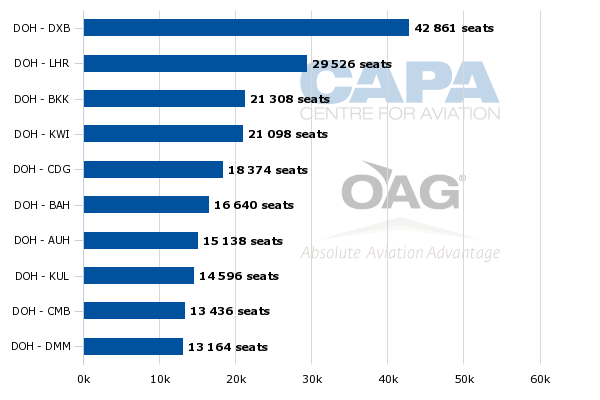 Qatar Airways largest countries ranked on available seat capacity: 3-Aug-2015 to 9-Aug-2015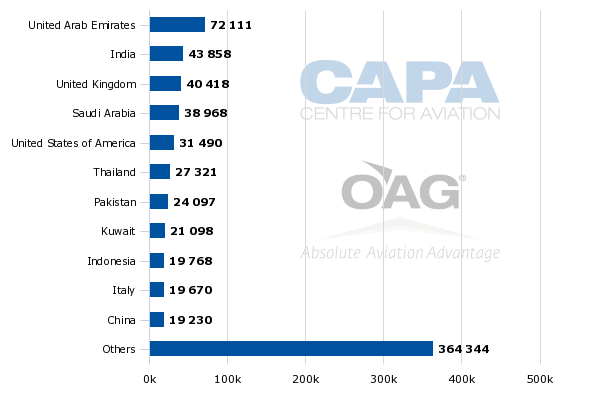 DWC gets boost from flydubai, but Sharjah is still larger
flydubai's growth will mean it more than doubles the available weekly seats at DWC, from about 7,000 to 20,000. This will be a fifth the size of Sharjah's 108,000 seats. flydubai will account for about 60% of DWC's seat capacity while Air Arabia, the UAE's only other LCC, will account for approximately 85% of seat capacity at its home base of Sharjah.
DWC still has a long ramp-up to surpass Sharjah. Even during the Dubai runway works, DWC was less than half the size of Sharjah for passenger traffic.
DWC and Sharjah weekly one-way seat capacity: 2014-2016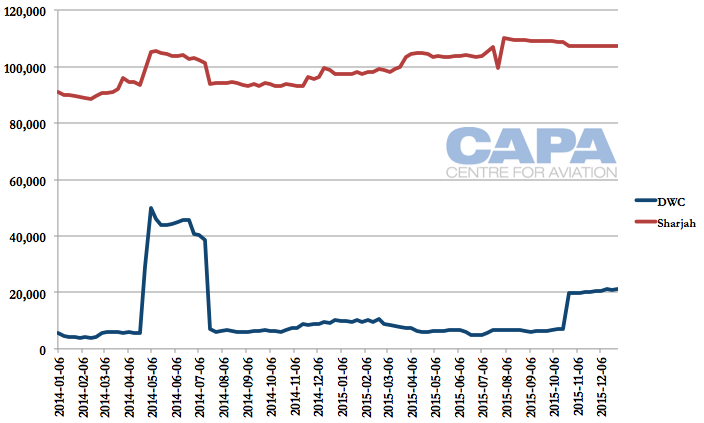 Sharjah is the UAE's smallest major airport, with 9.5m passengers in 2014 compared to Abu Dhabi's 19.8m and DXB's 70.4m.
Annual Traffic Comparison for Sharjah Airport, Dubai International Airport and Abu Dhabi International Airport: 2008-2014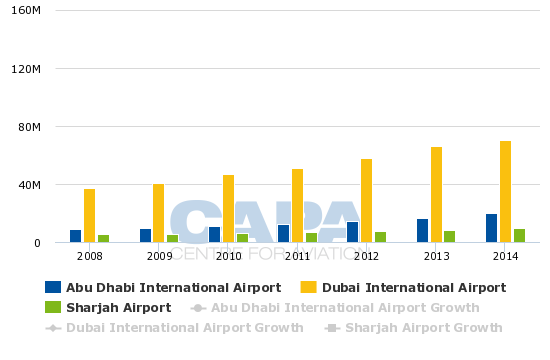 DWC has a different catchment area, and is free of DXB's slot congestion
Because of its rapid growth DXB is increasingly congested, with some peak periods having limited to no increases in movements, while other periods have more opportunities. DWC in comparison is free of these issues.
There was likely no single determinant for flydubai's move, which was inevitable sooner or later; the only question was when. Slots, competitive environment, value to DWC are some of the considerations. Dubai has pioneered on a massive scale an integrated aviation strategy. flydubai is one component of that, and its launch of DWC had to take into account the holistic picture for Dubai.
Dubai International Airport movements per hour for all airlines: 07-Aug-2015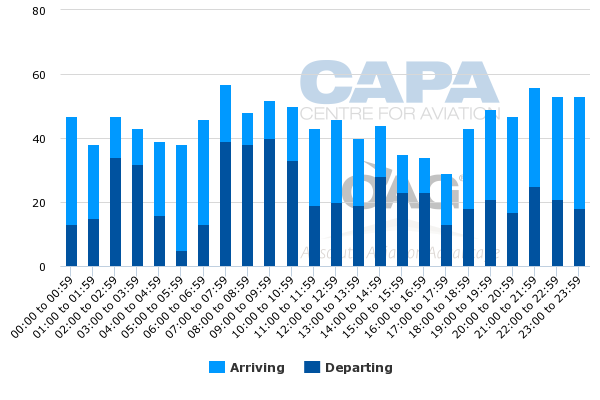 DXB sees movement saturation in the late evening and early morning, the two key scheduling banks for Emirates. flydubai however does use slots throughout the day, and sees peaks in the late evening and early morning.
Dubai International Airport movements per hour for flydubai: 07-Aug-2015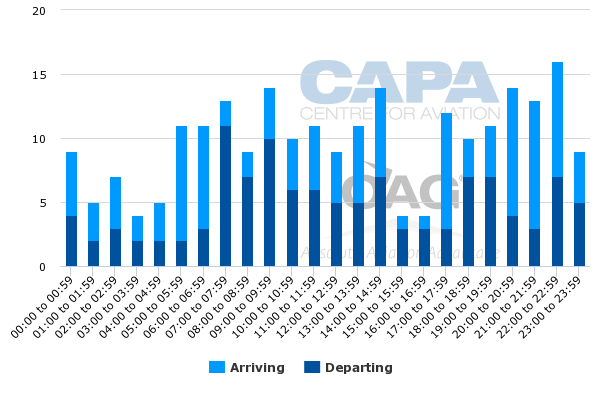 DWC has a different catchment area from DXB. Dubai's growth is increasingly towards the DWC area. DWC is 28 miles from DXB. For now flydubai is not reducing capacity at DXB. But as that inevitably happens and its focus shifts to DWC, Air Arabia and its Sharjah base will potentially have an advantage as Sharjah airport is only 11 miles from DXB.
There are existing shuttle buses from Dubai locations to Sharjah airport. DWC will become a more attractive proposition to the Abu Dhabi area than DXB is: DWC is only 45 miles from Abu Dhabi compared to DXB's 72 miles from Abu Dhabi. There is no LCC based at Abu Dhabi. It is likely that in the medium term Sharjah will be able to have more traffic from Dubai than DWC will have traffic from Abu Dhabi.
Map of major UAE airports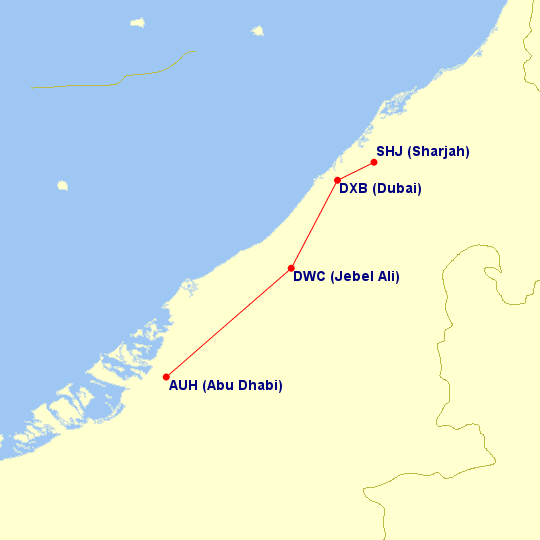 flydubai success at DWC could indicate when Emirates might make the big move
Later in 2015 flydubai will receive its 50th aircraft to its all-737 fleet. Eight 737s are due in 2016, seven in 2017 and then 12 in subsequent years. Establishing the DWC base creates another hub opportunity as aircraft deliveries ramp up. flydubai expects a fleet of 100 by 2023 – perhaps more if long-awaited regional liberalisation is realised.
See related reports:
flydubai projected delivery dates for aircraft on order: as at 6-Aug-2015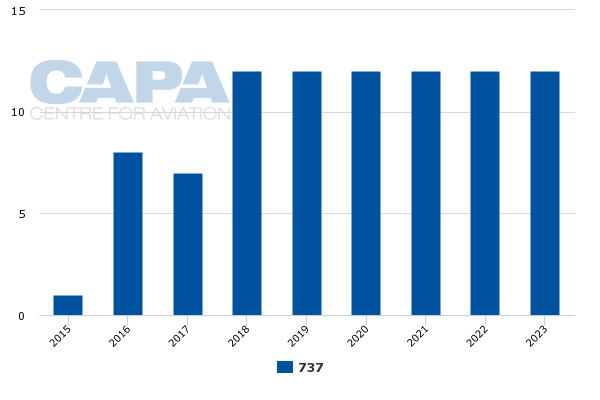 flydubai's DWC operation upon launch will account for approximately 8% of the carrier's seat capacity. The flights are not yet bookable so it is unclear if DWC fares will be lower than from DXB. Qatar Airways can have identical economy pricing for itineraries between Dubai and Doha, with premium fares lower from DXB while connecting itineraries in all classes of service are often less from DWC (or Sharjah) than DXB.
flydubai enters new territory, not just for itself but for LCCs. Few other LCCs manage multiple hubs in their home city or a major city. Jetstar has a token presence at Melbourne alternative Avalon Airport, but this capacity is heavily incentivised. Ryanair and easyJet manage operations from multiple London airports, but London's unique geography, population size and travel demand makes this workable.
Air Arabia has a single base at its home, although it has a small presence at Ras Al-Khaimah. Air Arabia is pursuing a pan-Arab world strategy with affiliates in Egypt, Jordan and Morocco. flydubai is not interested in affiliates, and its dual-hub Dubai strategy is borne out of necessity, although there are nuances that can make this strategy work.
See related reports:
DWC's ample capacity has not been viewed favourably by some airlines, finding the current facilities below expectation. flydubai in a statement noted expansion of DWC's passenger handling contributed to its decision to launch a DWC base; it is unclear what facility improvements DWC is making along the way and what will be offered specifically for flydubai. DWC when completed will cater to Emirates and other full service airlines, as well as LCCs. The flydubai statement says: "Following the recent decision to expand capacity at the existing terminal at DWC to 26 million by 2018 flydubai has taken the opportunity to offer its passengers the choice of flying from Dubai's two airports."
It is expected to be less than a decade before Emirates and (likely more sooner) flydubai make the full move from DXB to DWC. Ending of the next phase of construction in 2018 may provide an opportunity for flydubai to ramp up DWC growth – or entirely move – depending on its experience at DWC in the next two years.
flydubai's experience at DWC and pace of expansion there could also indicate when Emirates might move. That will be an operation to parallel Hong Kong's overnight move from Kai Tak to Chek Lap Kok and (one day) Berlin's overdue Tegel/Schönefeld to Brandenburg move. Mainland China in coming years will offer a number of seismic airport changes of its own.
Competitors will be watching for when Dubai's feared but enviable aviation sector moves to its new home that has even more growth opportunities.