flydubai and fastjet drive LCC growth in East Africa as Uganda gets its first taste of low fares
Analysis
East Africa is seeing an influx of new LCC services, led by expansion at flydubai and fastjet. flydubai is launching six destinations in four East African countries during Sep/Oct-2014, which will make it the leading LCC in the region's international market.
flydubai and fastjet both launched services to Entebbe in Sep-2014, giving Uganda its first taste of low fares. flydubai will also by the end of Sep-2014 become the first LCC to serve Burundi and Rwanda, increasing the number of East African countries with low-cost services to eight, compared to only three two years ago.
There are only about 300 weekly flights operated to from or within East Africa by low-cost carriers, resulting in an LCC penetration rate of about 8%. But LCCs are expanding rapidly in the region with over half of East Africa's LCC routes launched within the last year.
LCC capacity in East Africa approaches 50,000 weekly seats
There are now five LCCs serving East Africa providing (as of mid Oct-2014) just under 50,000 weekly seats. About three-quarters of these seats are provided by two local carriers – fastjet Tanzania and Kenya Airways budget subsidiary Jambojet. But flydubai has quickly become the largest LCC in the East African international market.
The launch between 27-Sep-2014 and 16-Oct-2014 of services to Entebbe, Kigali, Bujumbura, Dar es Salaam, Kilimanjaro and Zanzibar will give flydubai eight destinations in East Africa. flydubai was already serving Addis Ababa and Djibouti.
fastjet Tanzania also now serves eight destinations – four domestic and four international – while Jambojet is purely a domestic operator with four destinations.
The other three LCCs serving the region – South African Airways budget subsidiary Mango, Sharjah-based Air Arabia and Sri Lanka-based Mihin Lanka – are much smaller with just one East African route each. But Air Arabia and Mango have huge opportunities to expand in the region, potentially with multiple affiliates. fastjet is already planning to launch a second East African affiliate in Kenya.
East Africa LCC capacity by carrier (weekly seats): 20-Oct-2014 to 26-Oct-2014
Carrier
Domestic seats
International seats
Total seats
% of total
LCC capacity
fastjet
16,536
4,368
20,904
43%
Jambojet
16,280
N/A
16,280
33%
flydubai
N/A
7,656
7,656
16%
Air Arabia
N/A
2,688
2,688
6%
Mihin Lanka
N/A
780
780
1%
Mango
N/A
744
744
1%
TOTAL
32,816
16,236
49,052
East Africa's LCC network grows to 17 routes across eight countries
After flydubai launches services to Tanzania in mid Oct-2014 there will be 17 LCC routes in east Africa. The top six routes are domestic while the other 11 routes are international and are served with between two and seven weekly frequencies.
flydubai's new daily flight from Dubai to Dar es Salaam, which continues two days per week to Kilimanjaro and two days per week to Zanzibar, will be the eighth LCC route in East Africa launched so far this year. (This is counted as one route as flydubai is not currently selling seats on the domestic sectors.)
East African LCC routes ranked by seat capacity: 20-Oct-2014 to 26-Oct-2014
| | | | | |
| --- | --- | --- | --- | --- |
| Rank | Route | Carrier | Launch date | Weekly seats |
| 1. | Nairobi-Mombasa | Jambojet | Apr-2014 | 8,584 |
| 2. | Dar es Salaam-Mwanza | fastjet | Nov-2012 | 6,552 |
| 3. | Dar es Salaam-Kilimanjaro | fastjet | Nov-2012 | 5,616 |
| 4. | Dar es Salaam-Mbeya | fastjet | Nov-2013 | 4,368 |
| 5. | Nairobi-Kisamu | Jambojet | Apr-2014 | 3,848 |
| 6. | Nairobi-Eldoret | Jambojet | Apr-2014 | 3,848 |
| 7. | Dubai-Entebbe-Kigali/Bujumbura* | flydubai | Sep-2014 | 2,436 |
| 8. | Dubai-Dar es Salaam-Kilimanjaro/Zanzibar* | flydubai | Oct-2014 | 2,436 |
| 9. | Sharjah-Nairobi | Air Arabia | Oct-2008 | 2,268 |
| 10. | Dubai-Djibouti* | flydubai | Sep-2009 | 1,740 |
| 11. | Dubai-Addis Ababa | flydubai | Apr-2011 | 1,044 |
| 12. | Dar es Salaam-Lusaka | fastjet | Feb-2014 | 1,248 |
| 13. | Dar es Salaam-Entebbe | fastjet | Sep-2014 | 1,248 |
| 14. | Dar es Salaam-Johannesburg | fastjet | Oct-2013 | 936 |
| 15. | Dar es Salaam-Harare | fastjet | Aug-2014 | 936 |
| 16. | Colombo-Seychelles | Mihin Lanka | Nov-2013 | 780 |
| 17. | Johannesburg-Zanzibar | Mango | Sep-2013 | 744 |
Of the 17 routes, 14 were launched within the last two years. Air Arabia became the first LCC to serve the East Africa market in 2008, when it launched services from its Sharjah hub to Nairobi. This is still Air Arabia's only East African route and is currently served daily with A320s.
flydubai entered the East African market in 2009 with service to Djibouti, which along with neighbouring Eritrea and Somalia is the closest African country to the UAE. Addis Ababa in Ethiopia became flydubai's second East African market in 2011. flydubai currently operates five weekly flights to Djibouti and three weekly flights to Addis Ababa using 737-800s. It is the only LCC serving both markets.
flydubai also became the first LCC serving Rwanda on 27-Sep-2014 and will become the first LCC in Burundi on 30-Sep-2014. Kigali in Rwanda is being served as a three times per week tag to Entebbe in Uganda while Bujumbura in Burundi is being served as a twice per week tag to Entebbe. flydubai is serving Entebbe, which was launched on 27-Sep-2014, with seven weekly flights including two turnaround flights.
Of the 10 countries in East Africa only Eritrea and Somalia, two very small markets which have been plagued in recent years by political instability, will still lack any LCC service after flydubai enters Burundi on 30-Sep-2014. Seychelles gained its first LCC service in late 2013 when Mihin Lanka launched flights to the small island nation from Colombo, while Tanzania got its first taste of low fares in late 2012 when fastjet began operations.
fastjet beat flydubai by 11 days to become the first LCC to serve the Ugandan market. fastjet launched services from its Dar es Salaam base to Entebbe on 17-Sep-2014.
fastjet currently serves Dar es Salaam-Entebbe, which is not served by any other carrier, with four weekly A319 flights. On the Entebbe-Dubai route, flydubai joined sister carrier Emirates, which currently operates one daily flight using A340-500s.
Uganda is a small but natural market for LCCs as it is underserved following the suspension of operations at flag carrier Air Uganda.
Air Uganda operated a fleet of three CRJ200 regional jets and one Boeing MD-80 until Jul-2014, when most of its fleet was returned. Air Uganda had linked Entebbe with Bujumbura, Dar es Salaam, Kigali, Kilimanjaro, Mogadishu, Mombasa, Nairobi and Juba.
Uganda is likely to receive more LCC services
fastjet fills the void left by Air Uganda in the Entebbe-Dar es Salaam market. fastjet could potentially also serve Entebbe from Nairobi once its new Kenyan affiliate is launched. The group announced in late Aug-2014 that fastjet Kenya, which is 49% owned by London-listed fastjet and 51% by an undisclosed Kenyan investor, had applied for an air service licence (ASL).
Entebbe-Nairobi would be logical for fastjet Kenya as it is a large route that is ripe for low fare stimulation and would meet the overall fastjet strategy of connecting the dots.
In addition to Kenya, fastjet is now in the process of establishing an affiliate in Zambia and has been looking at several other potential home markets throughout Africa. Uganda however is likely too small to support its own LCC and instead can be served by multiple affiliates.
See related reports:
Kenya Airways now enjoys a monopoly on Entebbe-Nairobi, which is the largest route from Entebbe. Kenya Airways currently operates five daily flights between Entebbe and Nairobi and is by far the largest carrier in the Entebbe market with about a 27% share of seat capacity. Kenya Airways has been the biggest beneficiary of the Air Uganda suspension.
Entebbe international capacity share by carrier (% of seats): 29-Sep-2014 to 5-Oct-2014
flydubai.png" alt="" width="500" height="299" />

Uganda would benefit from LCC fifth freedom services
No carrier has picked up the Entebbe-Bujumbura route since Air Uganda's suspension, while Entebbe-Kigali is now served by Rwandair and Ethiopian. Rwandair is the fourth largest airline in the Entebbe market and currently operates 24 weekly regional jet flights from Kigali.
Ethiopian has a limited presence on the Entebbe-Kigali route as it only offers a non-stop option one-way from Entebbe to Kigali as the route is part of a daily Addis Ababa-Entebbe-Kigali-Addis Ababa circle route. (For Kigali to Entebbe, Ethiopian only offers a circuitous connection via Addis Ababa.)
flydubai has become the fifth airline operating Entebbe-Kigali as a tag without local pick up rights, joining Brussels Airlines, KLM, Qatar Airways and Turkish Airlines. It is unlikely any of these carriers will be able to secure pick-up rights as the Rwandan government is generally protective of its flag carrier. Such protectionist policies are still common throughout Africa despite the obvious benefits of competition, particularly LCC competition, for consumers and the overall economy. The logic becomes even more powerful in the absence of viable flag carriers, as is the case in many markets.
flydubai has reportedly secured pick up rights for Entebbe to Bujumbura but the carrier is currently not selling this sector or including the city pair in its online booking engine. In theory pick up rights for this market would be easier to secure as the route is not currently served and neither country now has a flag carrier to protect.
But it can take months and even years for airlines to secure all the required approvals in Africa for fifth freedom services.
LCCs will help Uganda grow its aviation market (and economic activity)
Uganda should be actively promoting LCC services including authorising fifth freedom services for foreign LCCs such as fastjet and flydubai. Without a local international carrier there should be little resistance but Uganda could be holding out in the hope its flag carrier can relaunch. (There are still some very small domestic operators in Uganda.)
Uganda is the fourth largest aviation market in East Africa after Kenya, Ethiopia and Tanzania based on current weekly seat capacity. But it is less than half the size of Tanzania and about one seventh the size of Kenya and Ethiopia.
It is critical for small African markets such as Rwanda, which is only slightly smaller than Uganda, to be receptive to LCCs and have liberal aviation policies. Unfortunately many African countries have still not embraced LCCs.
Tanzania's liberal stance was a key reason for fastjet's selection of Dar es Salaam as its initial base. Tanzania already had two airlines with international services (and a few domestic operators) when fastjet Tanzania launched in late 2012.
fastjet has successfully stimulated growth in Tanzania's domestic market and has now launched four international routes – Johannesburg, Lusaka, Harare and Entebbe. Several more international routes are planned including Nairobi but fastjet continues to encounter red tape in securing authorisations from foreign countries.
Tanzania is liberal enough to potentially even allow flydubai to pick up passengers on domestic sectors, which would further stimulate growth in the domestic market. flydubai is launching daily service to Dar es Salaam on 16-Oct-2014 with two weekly flights continuing to Kilimanjaro (from 17-Oct-2014) and two weekly flights to Zanzibar (from 19-Oct-2014).
Unlike Entebbe to Bujumbura and Kigali, flydubai is listing on its online booking engine flights from Dar es Salam to Kilimanjaro and Zanzibar. But at least for now all the local sectors are displayed as "sold out", only allowing passengers to book through tickets from Kilimanjaro and Zanzibar to Dubai.
Tanzania's liberal policy has enabled it to become the largest LCC market in East Africa. After flydubai becomes the third LCC in the market, joining fastjet and Mango (which has two weekly flights from Johannesburg to Zanzibar), Tanzania will have an LCC penetration rate of about 26%. In comparison Kenya has an LCC penetration rate of about 9% while Ethiopia's LCC penetration rate is less than 1%.
Kenya and Ethiopia are both well placed for LCC expansion
Kenya should see significant LCC growth if fastjet succeeds at establishing a Kenyan affiliate. fastjet Tanzania also has been trying to secure authority to serve Kenya using its existing Tanzanian air operator's certificate.
fastjet Kenya's launch could prompt the Kenya Airways Group to accelerate expansion at Jambojet. As CAPA previously outlined, the Jambojet initial strategy is conservative and defensive. The Kenya Airways Group at least for now has no intention of using Jambojet to serve the international market as the carrier focuses on stimulating demand in the domestic market, particularly on routes which have been unprofitable under the full-service brand. But changes in Kenya's competitive landscape could quickly change how Jambojet is used.
See related report: Kenya Airways new budget subsidiary Jambojet to focus on stimulating demand in domestic market
Ethiopia is also ripe for LCC growth and its ambitious flag carrier, Ethiopian Airlines, could eventually be persuaded to join its Kenyan rival in establishing a budget subsidiary. Ethiopian is now the largest airline in East Africa, accounting for about 32% of total capacity compared to 19% for Kenya Airways.
East Africa capacity share (% of seats) by carrier: 20-Oct-2014 to 26-Oct-2014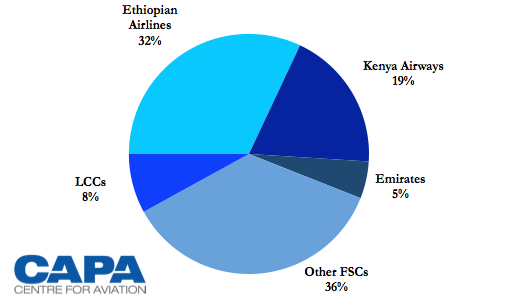 After Ethiopian Airlines and Kenya Airways the East African market is extremely fragmented with several small East African carriers accounting for between 1% and 3% shares of the total market. Emirates is the largest foreign carrier and the third largest airline overall in the East African market with about a 5% share of total seat capacity. Turkish, KLM and Qatar Airways are the next largest foreign carriers, with each having about a 2% share of capacity.
Overall LCCs now account for 8% of total capacity in East Africa. The LCC growth over the past two years is just the tip of the iceberg as East Africa is still one of the least penetrated regions in the world.
Further LCC expansion in East Africa is inevitable
East Africa will likely attract several more routes from foreign LCCs, primarily from the Middle East and North Africa. Air Arabia could potentially launch more East African routes from Sharjah to catch up with its Dubai-based rival as well as start using its Egyptian affiliate to serve East Africa.
But the biggest growth will come from local start-ups. fastjet and Jambojet almost certainly will be joined by new East African LCCs.
Each individual market is rather limited and as there are only a few big domestic routes in the region, the most logical model for covering the region would be through cross-border joint ventures.
fastjet is making the first move in establishing an LCC group across East Africa – and the rest of Africa. Mango and flyafrica.com have also expressed interest in this model, which has been extremely successful in penetrating the Asian market.
See related reports:
Over the last year the pace of LCC expansion in East Africa has picked up. The road ahead is still challenging but it can only go in one direction as the region finally starts to embrace the LCC phenomenon.