Flybe to buy bmibaby? Opportunism or conservatism - why ruin a perfectly good model?
Analysis
Lufthansa was the reluctant bride when Chairman, Sir Michael Bishop, exercised his 1999 put option to sell his company in late Oct-08, just before his CEO, Nigel Turner reported last week that bmi would be "in intensive care for some considerable time", in face of "what is probably the worst crisis the aviation industry has faced".

This was a prelude to announcing to staff that "our financial results this year will produce the largest loss we have ever recorded by a considerable margin."

This is not particularly good news for Lufthansa, which had been fearing that Sir Michael would exercise his right to dump the airline on the German flag, ever since the market turned down savagely (nor, for that matter, for SAS, which has enough problems of its own and still owns 20% of bmi).

Wholly-owned subsidiary, bmibaby, has not been a fruitful contributor either over recent months, as competition grew in inverse proportion to slowing demand. The parent company was already planning to reduce capacity by 15% in summer 2009 and to downsize its fleet from 20 to 17 aircraft.

Lufthansa is keen to minimise its outlay and liabilities, especially as it really only wanted bmi Heathrow slots anyway. bmibaby has none of those and, together with being a loss-making LCC, sports little to attract it to its new owners.

But for Flybe, there are entrancing characteristics that make it look like a quick route to expanding, without a significant outlay.
Even key bases like Birmingham do not suffer from major overlaps in route structure.
bmibaby route map; December 2008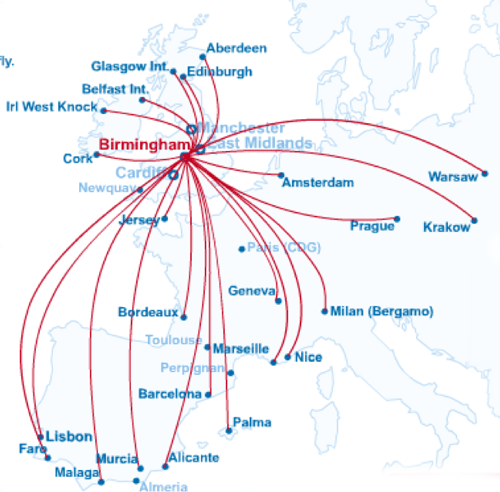 Flybe route map; December 2008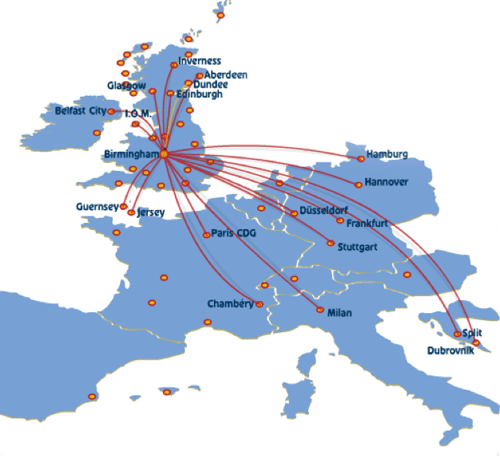 But bmibaby is a near-classic LCC, with a minimalist style. It also promises to come with a pilot complement , fully BALPA-ed, which is both ready to fight against cutbacks and nervous about alternatives in a country where people no longer want to fly.

Flybe meanwhile has a model that makes a virtue of being a little bit different. As we described it in Sep-08, "by picking the eyes out of many of the better strategies - low cost profile, network planning, frequency, good yield mix with product to match, loyalty strategy, cautiously tailored operating relationships - it has been able to sit on the fence without suffering the pain that often goes with that position. As a contrast of styles, the Ryanair model, whose low cost approach it broadly follows, sits at the opposite end of the spectrum."

Nonetheless, it had managed to digest BA Connect without too much difficulty, allowing Flybe to continue growing. This may be what gives management the confidence to ride ahead into this proposed new venture.

But the loss-making bmibaby is another story. Even if Lufthansa is keen to drop it like a hot brick for a very low price, it promises a few curly issues that may well threaten the steady course that Flybe is currently steering.

The temptation of a quick-fix expansion appears to be too much for even the wiser heads at Flybe. 2009 is going to be - well, we really don't know, do we, but it sure don't look good. And broadening the UK base, where economic conditions look like plumbing the depths, may not be the best strategy just for now.

Perhaps conservatism should prevail over opportunism this time.