Fleets: American Airlines orders the 787-8, simplifies its fleet
Analysis
American Airlines has reached a conclusion about its future widebody needs: the airline has cancelled the A350 order inherited from US Airways and instead ordered additional 787s.
The order is notable for stalling Airbus in making inroads in American's widebody fleet, and means that Boeing has diverted another A330neo sales opportunity.
But American's order includes both the -8 and -9 variants. The -8 backlog had been running dry as Boeing prefers to build the -9, and airlines have struggled to generate sufficient revenue from the smaller -8. This could change as Boeing improves -8 manufacturing.
American's 787-8 configuration – even if it means greater density with a future LOPA – is still well below 787-8 average. Given the fresh opportunity for fleet assessment, American has found that 787-8 economics still deliver.
Summary
American Airlines' order for 47 787s includes the original -8 variant
On 06-Apr-2018 American Airlines signed an order with Boeing for 22 787-8s scheduled for delivery from 2020 and 25 787-9s scheduled for delivery from 2023. There are a further 28 options. The order will more than double American's existing 787 fleet and make American the largest 787 operator in the western hemisphere.
The 787-8s will replace American's fleet of 767-300s, while later 787-9 deliveries will replace A330-300s and older 777-200 widebody aircraft. The entire order of new 787s will be powered with General Electric's GEnx-1B engines, which American uses on its existing 787 fleet.
American is logically adding more 787s, rather than continuing with an A350 order from US Airways that would have resulted in American introducing two new aircraft and engine types. American has terminated its order for 22 A350s. American has also reached an agreement with Boeing to defer the delivery of 40 737 MAX aircraft previously scheduled to arrive between 2020 and 2022, with the revised delivery schedule to align better with the planned retirements of other narrowbody aircraft.
American Airlines President Robert Isom said in a statement: "In the end, our goal to simplify our fleet made the 787 a more compelling choice".
CFO Derek Kerr also acknowledged the airline's goal to simplify its aircraft types, pointing out that the prior plan would have had American operating five widebody aircraft types. Mr Kerr said: "We see significant advantages to carrying common fleet types, including creating less friction in our operation when aircraft swaps are necessary, reducing inventory needs, and creating a more consistent service for customers and team members".
American had twice pushed back the deliveries of A350 jets. It most recently expected to receive its first A350 in 2020. Previously, American has estimated that the Airbus widebody deferrals would slash capex and pre-delivery payments by USD500 million in 2017, and USD700 million in 2018.

See related report: America's airlines adjust A350 commitments. United's order in doubt as used widebodies draw praise
American Airlines' 787 order significantly grows Boeing's 787-8 backlog.
This is a mixed scenario for Boeing. Boeing would prefer to build the -9 as it is more profitable, and the -8 still incurs financial difficulties from production problems, although this is changing (see last section, below). The -8 and -9 are built on the same assembly line. (The -10 is only built in Charleston.)
But agreeing to American's -8 order helped Boeing secure an overall sale and heads off Airbus from selling the A330neo and A350 to American.
American's order brings the 787-8 backlog to 91. American has the largest unfilled order, followed by Aeroflot. The Republic of Iraq has 10 787-8 orders, but no other operator has more than five -8s on order.
Unfilled 787-8 orders: Apr-2018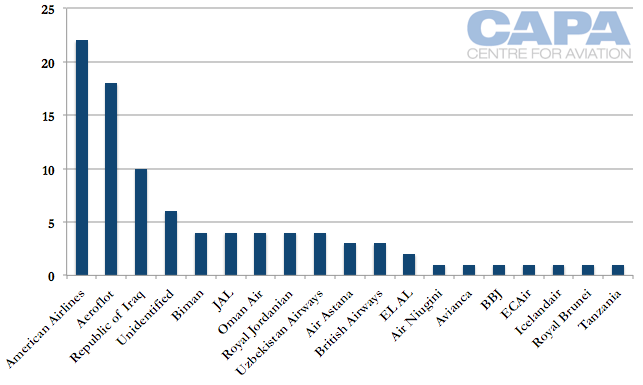 With American's order the airline becomes the largest customer for the smallest 787 variant, with a total of 42 -8s (in service and on order).
ANA has 36 of the type, and Qatar Airways has 30, and these three operators account for a quarter of the 787-8 programme. Qatar Airways intends to replace its -8s with -9s. Some of the -8s will be transferred to Qatar Airways' new minority (but substantially) owned airline, Air Italy (formerly Meridiana).
787-8 customers (filled and unfilled): Apr-2018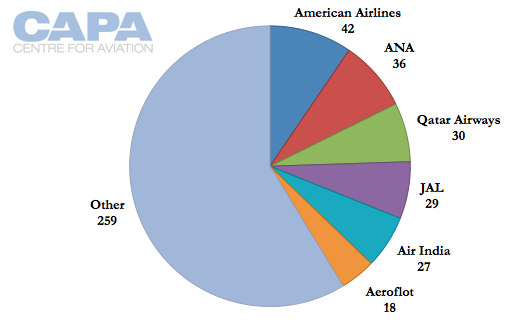 Ther are more 787-8 deliveries than -9s, but the gap is narrowing
Boeing has already delivered its first 787-10 – a variant with a larger fuselage but shorter range, intended for regional and medium haul flying.
See related reports:
Looking at the 787 programme's long-range variants, the -8 and -9, Boeing has delivered more -8s (350) than -9s (319). But even including American's 787 order, there are far more unfilled orders for the -9 (434) than the -8 (91).
787-8/9 order progress: Apr-2018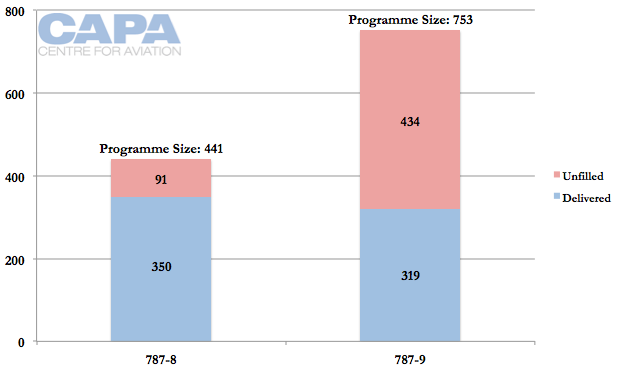 Outlook: the 787-8 falls out of favour with full service airlines due to density challenges
Boeing has seemingly been hesitant in marketing the 787-8, since from an industrial standpoint it is a very different aircraft: the 787-8 has about 30% commonality with the 787-9 while the 787-9 and 787-10 have 90% commonality with each other, according to Boeing and quoted in the Post and Courier.
Boeing plans to redesign the aft section of the 787-8. This section is home to many of the differences and inefficiencies in the -8. The new aft section should improve manufacturing costs (there is some speculation the -8 is loss-making for Boeing). The fact that Boeing is looking to improve the -8 could also signal it wants to be more competitive against the A330neo.
Coincident with Boeing's under-selling the -8, airlines have shown some reluctance to go with the smallest 787 variant. Some airlines have concluded that the -8 is too small to generate sufficient revenue; the -9 offers stronger opportunities.
Yet this varies depending on seating density, (or LOPA, layout of passenger accommodations, as the FAA describes it). 787-8 seat density ranges widely, from 161 (JAL) to 335 (Jetstar and Scoot). At these seat densities it has been popular with long haul LCCs.
The average for the 787-8 is 245 seats. American's 787-8 seats 226, putting it well below average. American can slightly increase capacity by replacing some business class rows with premium economy.
787-8 LOPAs by operator: Apr-2018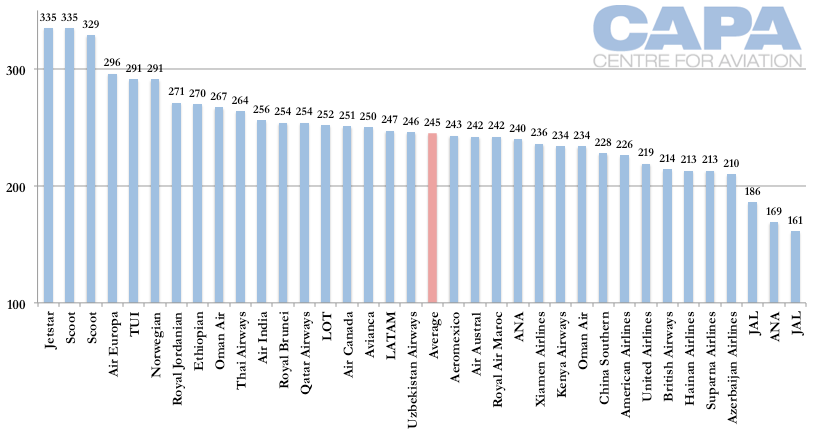 Yet even with some increase in density, American will still have a relatively low configration 787-8.
Given that American's 787-8 order is new, American's assessment was that the 787-8 still offers the right economics for certain markets. In all the circumstances, American may also have received a very attractive offer from Boeing.