Fitch Ratings upgrades outlook for Mumbai Airport; Lagardere shares up 4.9%
Fitch Ratings stated: "The upgrade is underpinned by the mitigation of completion risk, strong traffic performance, healthy internal accruals plus the levy of an airport development fee, which is expected to result in lower-than-anticipated debt levels." The bank loan facilities have a 'BBB' rating, signifying a moderate credit risk.
Meanwhile, GMR Infrastructure shares dropped 1% while GVK Power and Infrastructure gained 3.7%.
Airport operator shares were a mixed bag on Tuesday (21-Dec-2010) with DO & CO (-2%), SATS (-1.1%) and Australian Infra Fund (-0.3%) shares down while Gemina (+0.4%), OMA (+0.5%) and MAp (+1.7%) gained slightly.
Selected airport operators/investors daily share price movements (% change): 21-Dec-2010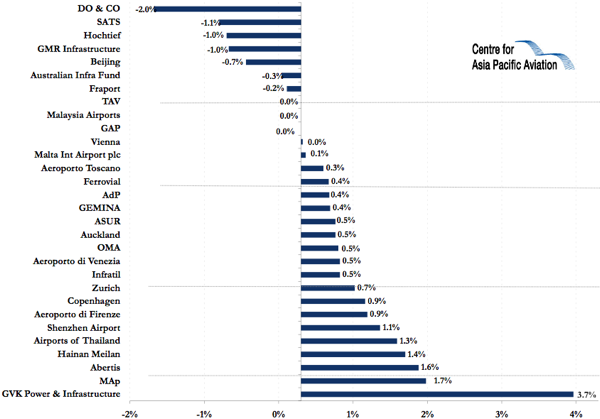 Airport supplier shares were mostly on the rise on Tuesday with Hellenic DFS (-0.2%) down while GateGroup (+0.2%), DUFRY (+0.8%), Lotte Shopping (+1.1%) and Lagardere (+4.9%) shares rose.
Selected airport suppliers daily share price movements (% change): 21-Dec-2010