Finnair shapes up to face a cold winter. Cost cutting is the key
Analysis
The Finnish carrier could have done without the troubles in Thailand last month. Along with many other airlines, it suffered heavily from resulting lost revenue and additional costs.
But Finnair shares improved modestly yesterday. The rise was not due to its financial performance but in response to further staff reductions, as it announced earlier it would require cabin crew to rotate and take holidays in the Spring, in order to reduce crew costs in that way, rather than merely reducing staff numbers.
Early retirement and layoffs of temporary staff are complete the changes, leading to an expected EUR 25 million in savings. The carrier also has negotiations due to complete in the next couple of weeks with its 750 pilots. Intransigence on their part may eventually see retrenchments.
Finnair has run into headwinds this year, as fuel costs hurt its long haul operations, mostly performed with 14 year-old MD-11s. the recent fall in fuel prices has given some updraft to the airline, but it is now being hit by stiff competition and slackening yields.
However, newer A340 and A330 equipment are helping now to rein in operating costs.
This pushed it into loss for the third quarter, when it lost EUR17 million and signs are there that the fourth quarter is not looking strong either.
Finnair operating margin: 3Q08 and YTD3Q08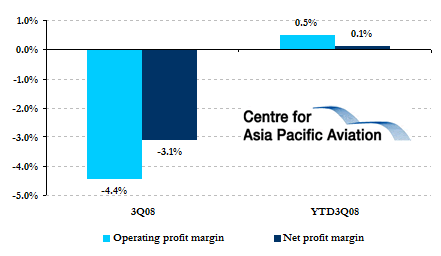 Passenger number growth has slowed rapidly as the economies of each region melted down. But, by switching capacity onto the North Atlantic market in November, the slowing Asian and European route groups have partially been compensated.
Finnair capacity growth by region: Jan-07 to Nov-08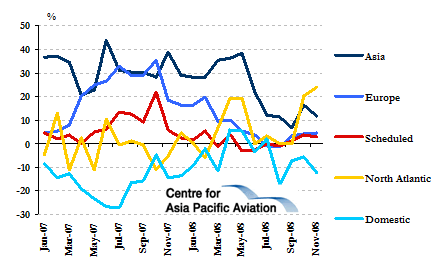 The closure of Bangkok's Suvarnabhumi Airport cost Finnair dearly and the negative publicity which the Thai troubles have generated look likely to flow through to the 2009 Christmas season, as sales begin next month. This normally lucrative trade for Finnair appears likely to suffer right across Europe.
Finnair passenger numbers growth by region: Jan-07 to Nov-08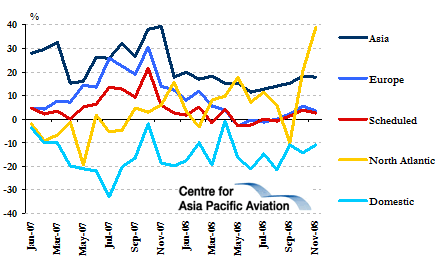 Meanwhile though, Finnair is increasing services to India, a potentially powerful market.
The key for Finnair will be to reduce its cost base, as markets wane. The only way to do this may be to slash operations, but at risk of sabotaging its valuable network strategy. There will be more cuts to come.