Finnair accelerates long haul growth based on Europe-Asia niche, thanks to A350 and labour deals
Analysis
Finnair's 2016 Capital Markets Day on 25-May-2016 was an opportunity to mark the progress made in CEO Pekka Vauramo's first three years at the airline. Since his arrival on 1-Jun-2013 Finnair has completed its entry into the oneworld trans-Atlantic JV and the JAL-BA JV; implemented cost reduction initiatives, including the renegotiation of labour agreements; and taken delivery of its first Airbus A350 aircraft. After falling into loss in 2014, it returned to profit in 2015 and its 1Q2016 results show further progress, although it remains short of Mr Vauramo's medium-term margin targets.
Finnair is now reinvigorating and accelerating its long haul growth plans, based on its niche in Europe-Asia connecting traffic. A target to double its 2010 Asia ASKs by 2020 has been brought forward to 2018, and this can be achieved with minimal additional investment. Through a refocused commercial strategy, Finnair hopes to stay ahead of market RASK performance in a weak unit revenue environment. Through growth, fleet upgrades and improved labour productivity, Finnair aims to make significant CASK reductions. Finnair management certainly appears to be more confident about the future than at any other time in the past three years and more.
Finnair reinforces its Europe-Asia focus
In 2015, Asia was Finnair's largest traffic region by ASKs, accounting for 48% of this measure of capacity. Europe accounted for 40% of ASKs (excluding Finland, which was 5%). North America represented 7% of Finnair's 2015 ASKs.
The airline has long pursued a strategy of using the geographic location of its Helsinki hub to attract traffic flows from Europe to Asia – in particular, Northeast Asia. This is reflected in the distribution of its ASK capacity.
As an example, there is no direct flight for a passenger travelling from Tokyo to Hamburg. According to Finnair, the distance between the two cities is 9,014km and a one-stop connection over Helsinki is only 7km longer, at 9,021km. By comparison, a connection over Frankfurt would be 9,805km and add 2.5 hours to the trip, while a journey via a stop in Dubai would be 12,882km and add 4.5 hours.
Finnair: ASKs by region 2015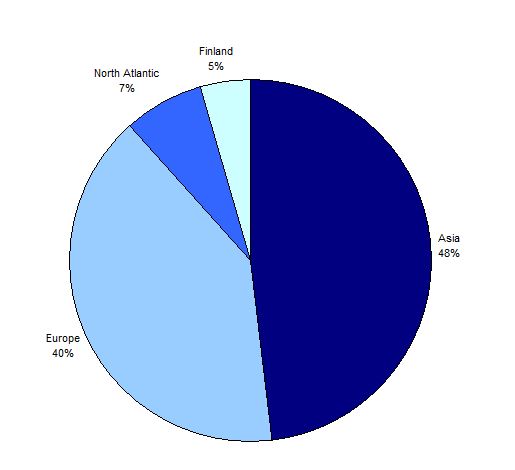 A screenshot taken from flightradar24.com shows that Europe-Asia flights via the southern route of the Middle East and South Asia are numerous, whereas the northern route over the Nordic region and Russia is less crowded.
As CEO, Pekka Vauramo, observed at Finnair's 2016 Capital Markets Day, "There is plenty of airspace" in the Nordic skies.
Representation of global air traffic flows, 26-May-2016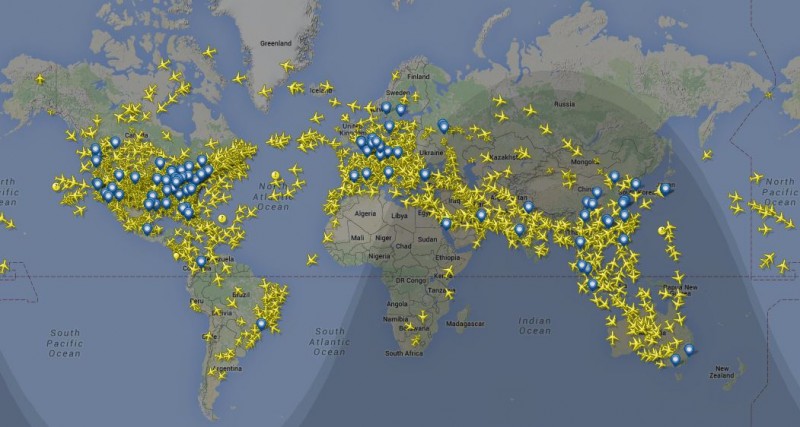 Target markets: Finnair's geographic advantage versus Gulf hubs; 24 hour rotations
Finnair is concentrating on 30 cities and their catchment area in three categories of market with strategic focus. Its strategic home market is Finland; its strategic focus markets are in Northern Europe and Asia – mainly, but not exclusively, northeast Asia; and its strategic joint business markets are in North America and Japan – where it has joint ventures, or joint business agreements, with oneworld partners.
According to data presented by Finnair at its 2016 Capital Markets Day, the traffic between Europe and Finland comprised 9.3 million passengers in 2015 and is expected to grow at 2.7% pa to 2034. Europe-Asia traffic consisted of 70 million passengers and is forecast to grow at 4.4% pa. The trans-Atlantic market was 66 million passengers, with a 2.9% pa forecast growth rate. North America-Asia was 42 million passengers and it is expected to grow at 4.9% pa.
Finnair's strategic niche, Europe-Asia, is the biggest of these markets by passenger numbers and offers the second highest growth rate. Its Helsinki hub offers an advantage, in distance terms, over hubs in the Gulf for destinations north of an imaginary great circle line that runs from southern France over the northern shores of the Black Sea, along the Himalayas to Bangkok (see red dotted line on the map below).
In addition, Helsinki can also capture some flows in the North America-Asia market, which offers the highest forecast growth rate. Its membership of the immunised North Atlantic JV with American Airlines, British Airways and Iberia is crucial in this respect.
Almost all of Finnair's long haul destinations are within a 12-hour flight time radius of Helsinki, allowing for a 24-hour rotation of aircraft (only Delhi and Singapore are just outside this area - see map below). This means that the airline is able to operate with a daily service and avoid overnight parking of aircraft.
Finnair's strategic focus markets and competitive area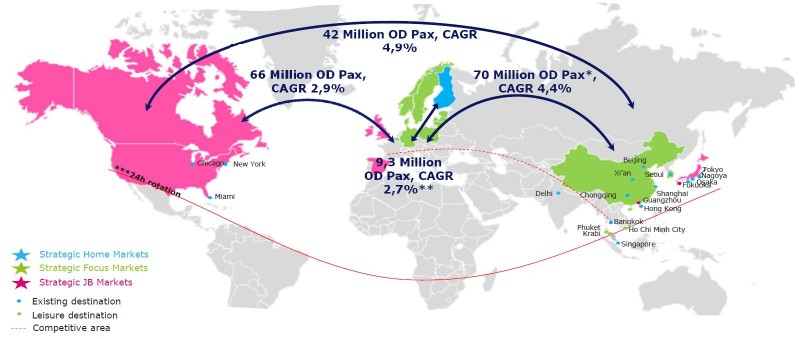 China is a particular focus for Finnair
Finnair has served China since 1988 and the country remains a particular focus. It is the biggest single country market in Finnair's network and accounts for six destinations: Beijing (launched in 1988), Hong Kong (2002), Shanghai (2003), Chongqing (2012), Xi'an (2013), and Guangzhou (2005, relaunched 2016).
China's GDP growth remains faster than the global average, even if it is slower than it was in the early part of this decade and earlier. It is still underpenetrated by air travel – by comparison with global averages. The combination of higher GDP growth than the world average and an increase in propensity to travel by air should continue to drive faster traffic growth in China than in developed regions.
In addition, Europe is the second most preferred destination region for Chinese travellers, after Japan/Korea. The slowing Chinese economy and currency weakening have not prevented Chinese consumers from travelling but they have prompted lower spending patterns, according to survey data presented by Finnair.
Overall, China remains a large and growing market. Moreover, most destinations in China can be reached from northern Europe via Helsinki more quickly than via Gulf hubs. These are the factors behind Finnair's strategic attraction to China.
Guangzhou relaunch helps Finnair's 24% capacity increase to China in summer 2016
According to schedule data from OAG, Finnair is operating around 7,200 weekly seats to China in summer 2016: an increase of 24% compared with its capacity in each of the previous three summers.
Most of this capacity increase comes from Finnair's return to Guangzhou (on a summer seasonal basis), but there are also capacity increases to Shanghai and Beijing as a result of upgauging to 350-900 aircraft on these routes. Shanghai was Finnair's first A350 long haul route.
According to OAG data for the week of 30-May-2016, Finnair is the ninth largest airline, and the fourth largest European airline, by seats on direct routes between Europe and China.
Among the top 10 Europe-China airlines, Finnair has the smallest home market and probably has the greatest strategic focus on capturing sixth freedom flows in this market. Turkish Airlines – having a similar level of capacity to China as Finnair – is very much a sixth freedom airline, but it also has a much larger home market than Finnair and so, less of its China capacity is for connecting traffic.
Europe to China: top 10 airlines by seats, 30-May-2016 to 5-Jun-2016
| Rank | Airline | Seat Share |
| --- | --- | --- |
| 1 | | 22.2% |
| 2 | | 10.5% |
| 3 | | 7.4% |
| 4 | | 7.2% |
| 5 | | 7.2% |
| 6 | | 7.0% |
| 7 | | 6.4% |
| 8 | | 4.8% |
| 9 | | 4.6% |
| 10 | | 4.6% |
Europe-China: double-digit growth, led by Chinese airlines
Seat numbers in the Europe-China market have been growing at approximately 10% pa in each of the past three summers. The leading Chinese airlines have added capacity more rapidly than have the leading Europeans on these routes.
According to data presented by Finnair at its Capital Markets Day, the combined annual Europe-China seat capacity of Air China, China Southern, China Eastern and Hainan Airlines grew by 64% from 2011 to 2015.
Lufthansa, Air France-KLM, Turkish, British Airways and Finnair increased their aggregate capacity to China by 19% over the same period. The Chinese top four almost caught up with the European top five in their combined capacity in 2015.
Finnair serves four of the top five Chinese cities in Europe-China market
Helsinki is the number 10 airport by seats between Europe and China (source: OAG, week of 30-May-2016). Among the European cities in the top 10, it has a greater focus on connecting traffic on these routes.
Finnair serves four out of the top five largest Chinese airports by seats to/from Europe, the exception being Chengdu. The next largest Chinese airports by seats to/from Europe that Finnair does not serve are Urumqi, Wuhan, Xiamen Gaoqi and Harbin Taiping. Finnair expects to announce a further route launch to a Chinese destination in 2H2016.
Europe to China: top 10 airports by seats, 30-May-2016 to 5-Jun-2016
| Rank | Airport | Seat Share |
| --- | --- | --- |
| 1 | | 21.8% |
| 2 | | 16.7% |
| 3 | | 7.6% |
| 4 | | 7.2% |
| 5 | | 5.8% |
| 6 | | 4.7% |
| 7 | | 4.6% |
| 8 | | 3.6% |
| 9 | | 2.5% |
| 10 | | 2.3% |
| 11 | | 2.1% |
| 12 | | 1.6% |
| 13 | | 1.4% |
| 14 | | 1.4% |
| 15 | | 1.1% |
| 16 | | 1.1% |
| 17 | | 1.0% |
| 18 | | 1.0% |
| 19 | | 0.8% |
| 20 | | 0.7% |
Finnair to double its 2010 Asia ASKs by 2018 (two years early)
Finnair has long held a target to double its 2010 level of ASKs to Asia by 2020. After little or no growth in this market between 2012 and 2015, the company is now accelerating its growth to Asia and expects to reach its target two years early, in 2018.
Finnair: ASKs to Asia, 2010 to 2020 (target to double 2010 level by 2020 will be reached in 2018)

Accelerated growth facilitated by retention of A330s
Finnair was the first European operator of the Airbus A350, after deliveries commenced in Oct-2015. According to the CAPA Fleet Database, it now has five A350-900s and a further 14 to be delivered by 2023 (two more in 2016, four in 2017, two in 2018 and 2019 and then one in each of 2020 to 2023).
The wide body fleet also contains eight A330 and five A340 aircraft, with a total strength of 18. Seven of these are on operating leases.
In order to meet its accelerated capacity growth target, Finnair has modified its previous fleet plan, which was established in 2014. The 2016 fleet plan now involves keeping its A330 fleet as its A350s are delivered, rather than withdrawing two of them in 2017. The A340s will be withdrawn by 2017.
Under the previous plan, the long haul fleet was to grow by one per year, from 15 in 2015 to 20 in 2020. Under the 2016 plan it will now grow to 22 in 2020, and to 26 in 2023. However, should market conditions be weaker than expected, Finnair has flexibility to return the wide body fleet to a total of 15 aircraft in 2019 and to maintain it at this level through to 2023.
Finnair's narrow body fleet consists of 30 Airbus A320 family aircraft (9 A319s, 10 A320s and 11 A321s). Operating leases account for 13 units of this narrow body fleet. Finnair plans for the A320 family fleet to grow to 36 aircraft in 2020, with the A319 fleet falling to seven and the A321 fleet rising to 19.
The Finnair-branded short haul network also includes 24 regional aircraft operated by Nordic Regional Airlines (12 ATR72 and 12 E190). The combined narrow body/regional fleet comprised a total of 54 aircraft the end of Mar-2016. This total is set to climb only to 55 in 2023, with downside flexibility to fall to 17.
Finnair long haul and short haul fleet plans and annual seat growth to 2020
Finnair to grow total ASKs at 8%-10% pa 2016 to 2018
Wide body ASK growth will be driven by the increase in the number of wide body aircraft and the upgauging effect of the A350-900. After two or three years of growth below market rates in long haul markets – pending improved labour contracts and the A350 deliveries – Finnair's long haul capacity growth will be faster than the market over the next few years.
Short haul ASK growth will be driven by growth in the fleet and the upgauging effect of the A321. Overall, Finnair plans ASK growth at a compound annual average rate of 8% to 10% in 2016 to 2018.
Finnair ASKs by fleet type, 2014-2018

Finnair aims for RASK to beat the market
Finnair is realistic about the unit revenue environment that it currently faces, acknowledging that market RASK is falling. In 2015 its RASK fell by 1% at constant currency, and in 1Q2016 it fell by 2%.
Nevertheless, Finnair believes that it can achieve a RASK performance that will beat that of the market. According to its strategic plan, this will be based not only on a superior ticket RASK, but also on strong growth in ancillary revenue. In addition, it expects that a new cargo terminal, focusing on higher yield speciality products, will drive incremental belly space revenue.
Finnair argues that its niche geographic location, operational performance and service quality will drive better than average ticket RASK. This will also be underpinned by its focus on strategic markets and the benefits of partnerships. In addition, it will be enhanced by tactical destination marketing. This includes marketing the Nordic region in Asia and offering a stopover product to encourage connecting passengers to stay in Helsinki, Finland, or the wider region.
Moreover, Finnair plans to upgrade its revenue management system, based on optimising revenue on an O&D basis at the network level, rather than on each flight sector. According to the Finnair CCO, Juha Jarvinen, network level optimisation typically leads to a 2% to 4% revenue improvement.
Finnair aims to increase its average ancillary revenue per passenger from EUR8.2 in 2014 to EUR14.9 in 2018. It grew by 24% in 2015 to reach EUR10.2, and the 2018 target represents a further 46% increase. The majority of ancillary products have much higher margins than ticket sales and so, increased ancillary penetration will be very beneficial to Finnair's bottom line.
Finnair is investing in digitalisation, including the introduction of on-board Wi-Fi to its fleet. It aims to have all wide bodies enabled by summer 2017, with the narrow body fleet to follow by summer 2018. This will help Finnair to target customised ancillary products and will facilitate the launch of its planned Nordic Sky retail platform
CASK reduction from fleet, labour and growth
In parallel with what it hopes will be a superior RASK performance relative to the market, Finnair is aiming to achieve lower unit costs. Broadly, it expects CASK reduction to come from three main sources: fleet, labour and the impact of growth on fixed cost per ASK.
Fleet-related CASK reduction will come from three sources: first – the upgrade to the more efficient technology of the A350; second – an increase in the average number of seats per aircraft; and, third – growth in the number of aircraft, facilitating ASK growth. Excluding capital costs, Finnair expects an 8% fleet-related CASK reduction in 2018 versus 2016. According to the CFO, Pekka Vahahyyppa, this is around 5% with capital costs included.
Finnair: expected CASK reduction from fleet growth, upgauging and modernisation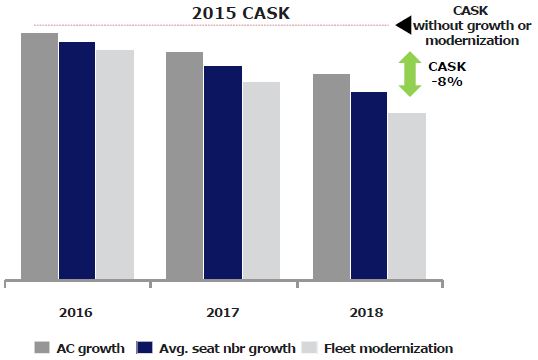 Labour-related CASK reduction will come from the recruitment of 900 new cabin crew and pilots under new collective labour agreements that should allow for a 9% reduction in average labour cost per head by 2018.
Based on its 2015 labour costs and headcount, Finnair has calculated a 'what if' scenario with a 9% average pay decrease and an increasing share of new employees as planned by 2018. This would lead to a 14% labour CASK reduction, according to Finnair.
Finnair: "What If" labour CASK decrease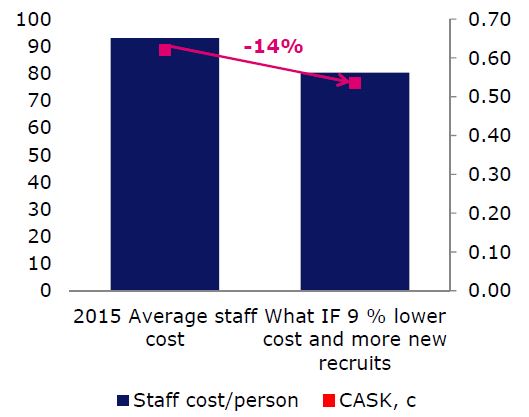 In 2015 Finnair's fixed cost base was EUR400 million, around 18% of the total costs in its airline business. As capacity grows these fixed costs will be spread over a larger number of ASKs. Under its plan to grow ASKs by 8% to 10% pa throughout 2016 to 2018, total ASKs will increase by around one quarter over three years. This will lead to a 21% reduction in fixed costs per ASK (all other things being equal).
Finnair has balance sheet strength, but thin margins
Finnair's medium-term financial targets remain as previously communicated. These are to achieve an operating margin of 6% (versus 1.0% in 2015); a minimum EBITDAR margin of 17% (versus 9.9% in 2015); ROCE of at least 7% (12.2% in 2015); and adjusted gearing of less than 175% (it was 46% at the end of 2015 and 71% at the end of 1Q2016).
Finnair's margins are not as strong as it would like them to be but its balance sheet strength ensures that it has laid a solid base for growth, and that it can finance its fleet modernisation programme. Moreover, its accelerated capacity growth plans can be achieved with little additional capital expenditure.
Finnair's 1Q2016 results showed signs of further progress towards its medium-term profitability targets – although it still did not give a profit target for FY2016 (this will be announced at the 1H stage). The first quarter is seasonally weak and historically loss-making, but Finnair almost halved its comparable operating loss from EUR28 million in 1Q2015 to EUR15 million in 1Q2016. Its comparable operating margin improved by 2.6ppts to -2.9%.
CEO Pekka Vauramo three years on: Finnair is more confident
Although Finnair remains tight-lipped about its FY2016 profit target, and in spite of its caution that demand is uncertain, the improvement in its 1Q results and the tone of its outlook statement ("the lower price of jet fuel supports [its] financial performance in 2016") demonstrate that it expects another increase in comparable operating profit this year.
Looking further out, it is clear from Finnair's 2016 Capital Markets Day that Finnair management is feeling more confident about the business than at any other time in the three years since Pekka Vauramo arrived on 1-Jun-2013.
Finnair's geographic niche has long allowed it to punch above its weight in traffic terms – given the small size of its home market – by attracting Europe-Asia connecting flows. Its refocused commercial strategy, fleet upgrade and progress with labour agreements should help it to capitalise further on this natural advantage.
Finnair still needs to go further with margin improvement. Any reversal of its positive earnings momentum could possibly lead to increased pressure on the Finnish government to sell part of its controlling stake in the stock exchange-listed airline. Finnair's CASK reduction targets look more secure than its plans for RASK enhancement, particularly if and when the next downturn arrives.
Nevertheless, as CAPA concluded in its analysis of the airline's 2015 financial results in Feb-2016, Finnair's outlook is its brightest for some years.
See related report: Finnair: back in profit and set to reap benefits of A350-led fleet upgrade and labour productivity