Ferrovial, Fraport and Aeroports de Paris rise Macquarie Airports drops back
Analysis
Airport stocks were mixed yesterday, with Shenzhen Airport (+3.8%) and Auckland Airport (+2.6%) running against weakness across Asia Pacific stock markets. Korean Airports (-4.2%) and Australian Infrastructure Fund (-2.8%) lost ground, while Macquarie Airports' -1.7% reduction was better than the overall ASX200 Index fall of around 3% yesterday, and reflects the successful completion of Sydney Airport's deleveraging exercise (see below).
In Europe, Aeroports de Paris shares went up 1.1% yesterday (as the Paris CAC Index eased at -0.2%), while Fraport gained 0.6% as the Frankfurt Dax 30 rose 0.3%. BAA parent, Ferrovial added 2.2%.
Selected airports daily share price movements (% change): 23-Jun-09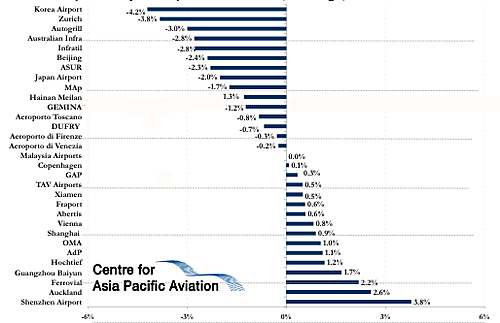 Sydney Airport deleveraging complete - edited press release
On 23-Feb-2009, Sydney Airport announced that its shareholders had decided to invest AUD870 million to deleverage the company's capital structure by eliminating the term debt maturing in Sep-2009 and Nov-2009. At that time, Macquarie Airports (MAp) stated that it expected its contribution to be between AUD650 million and AUD780 million.
The deleveraging has now been completed and MAp's contribution was AUD711 million. MAp's ownership interest in Sydney Airport has increased to 74.0%.
Sydney Airport's net senior debt stands at AUD4.6 billion and, based on EBITDA (before specific items) of AUD657 million for the 12 months to 31 Mar-2009, its net senior debt/EBITDA ratio is 7.0x. The airport has no further material debt maturities until Sep-2011.
MAp stated Sydney Airport currently enjoys investment grade credit ratings of 'BBB' from Standard & Poor's and Fitch and 'Baa2' from Moody's.
MAp added Sydney Airport "continues to deliver a resilient performance against the current external backdrop, reporting EBITDA growth (before specific items) of 2.2% for the first quarter of 2009".
MAp's cash balance currently stands at AUD766 million, excluding the TICkETS Defeasance Trust. This is before taking into account the expected proceeds from the forthcoming tender of MAp's interest in Japan Airport Terminal into the latter's proposed off-market buyback and before payment of MAp's interim distribution.