Europe's non-scheduled airlines in long-term structural decline, but Thomas Cook, TUI evolving
The market for non-scheduled (charter) passengers in the UK and across Europe is in structural decline and this appears to be confirmed by recent data from the UK Civil Aviation Authority. The main beneficiaries have been the low-cost carriers as holiday-makers have developed the habit of assembling their own self-made package of flights, hotels, car hire and other services. Nevertheless, there is still a role for integrated tour operators, particularly for specialist, long-haul and other niche holidays. This is illustrated by TUI Travel's recently reported expectation of a 10% increase in profit for FY2013.
However, neither TUI Travel nor Europe's other major listed tour operator, Thomas Cook, has any plans to expand its fleet and Thomas Cook has even indicated that it is considering an asset light model, making more use of third party capacity. The Thomas Cook group continues to focus on its restructuring, an important element of which is its recent decision to integrate its four airlines into one. This could also be a precursor to selling its airline eventually as the travel companies focus on their distribution and destination management skills.
UK airlines saw another fall in charter passengers in 2012
The most recent UK airline traffic statistics from the Civil Aviation Authority (CAA), for December 2012, allow calculation of preliminary data for calendar 2012. This shows that the number of charter passengers carried by UK airlines fell for the eleventh year in a row. The drop in 2012 was 8.2%, after a 1.6% fall in 2011. Since the number of UK charter passengers peaked in 2001, the numbers are down by 45%.
While total passenger numbers have seen growth vary quite significantly from one year to the next, buffeted by the economic cycle and external events, the growth in charter passenger numbers has consistently underperformed.
Number of non-scheduled passengers (000) carried by UK airlines 2001 to 2012p*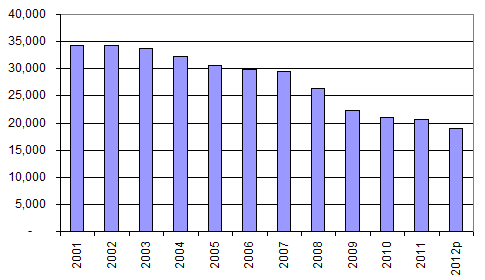 Growth in total and non-scheduled (charter) passengers carried by UK airlines 2001 to 2012p* (%)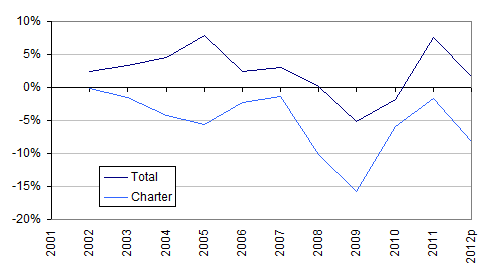 From 2001 to 2012, the total number of passengers carried by UK airlines is up by 29% and charter passengers' share of the total has fallen from one third to just 14%.
Non-scheduled (charter) passengers carried by UK airlines as a percentage of total passengers 2001 to 2012p*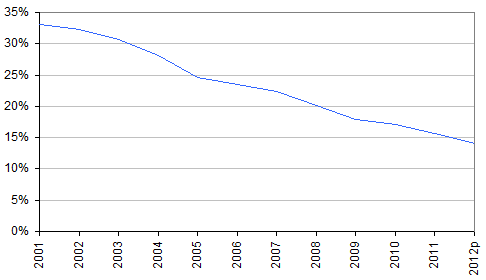 Charter flights appear to be in structural decline across Europe
Recent data from Eurocontrol revealed that charter flights' share of all flights in Europe increased from 5.1% in 2011 to 5.4% in 2012. However, this was mainly due to charter operators' experiencing a minor bounce-back after a heavy fall in 2011 due in large part to the Arab spring events hitting demand for holidays to North Africa. Whether this signals the start of a resurgence for charter flights across Europe remains to be seen, but the long term trend is still very much downwards: the 5.4% share for charter flights in 2012 compares with a share of 7.7% in 2005.
The recent CAA data confirm that, for the UK certainly, charter remains in long term structural decline.
Charter flights as a percentage of total flights in Europe 2005 to 2012 (%)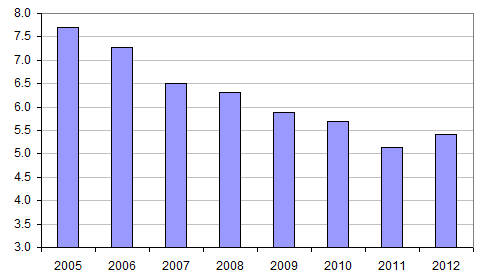 LCCs are the main beneficiary of the decline in charter traffic
The UK's CAA does not record what proportion of the market share lost by charter carriers has gone to which other category of carrier, but there can be little doubt that the low cost carriers have been the main beneficiaries. Indeed, this is confirmed by comparing 2011 annual CAA passenger data by airline with 2001 data and assigning the categories of LCC or other scheduled to the total scheduled passenger numbers.
This shows that LCCs' share of passengers carried by UK airlines grew from just under 7% in 2001 to almost 49% in 2011, while the share of other scheduled carriers fell from 60% to 37% and charter carriers fell from 33% to just under 16%.
UK airline passenger numbers (000) by main category of carrier 2001 and 2011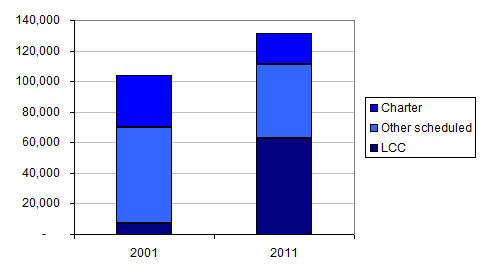 Turning again to Eurocontrol data on the number of flights, rather than passengers, during the period 2005 to 2012, when charter carriers' share of flights fell by 2.3 percentage points, the share of traditional scheduled carriers fell by 10.5 percentage points to 55.0% and the share of LCCs increased by 11.8 percentage points to 25.1%.
Flights in Europe by category of carrier (% of the total) 2005 to 2012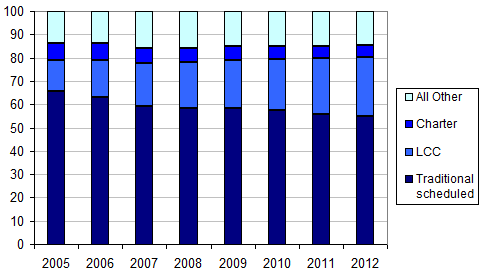 Against this background of demand for charter flights in structural decline, we present below a brief look at the fleets and recent developments at the airlines of Europe's two biggest listed tour operators and charter airline owners, Thomas Cook PLC and TUI Travel PLC. Both groups are the result of mergers and acquisitions and have several constituent parts, bringing challenges in integration and coordination, even if there is logic in the pursuit of efficiencies of scale that drove their creation as groups.
Both groups have some old aircraft in their fleets, particularly Boeing 757s and 767s, but TUI Travel's fleet average age is around 9 years, while Thomas Cook's is around 13 years. Presumably, in a declining market, neither is very confident to commit to new aircraft. Both make extensive use of operating leases and it may make sense for them just to roll over leases rather than bring in significant numbers of newer aircraft until they have a clear strategic view of the best course for their airline activities. Thomas Cook has signalled that it is talking with potential partners about the 'asset light' model as part of a review of its use of internal vs external capacity and this could signal further contraction in its in-house fleet.
Thomas Cook has only recently decided to integrate its four airlines into one, while TUI Travel continues to operate six different airlines with different brands. We examine below Thomas Cook's motivation for this decision, which makes a lot of sense. The key to its success will be in its execution.
Thomas Cook's group restructuring targets GBP65 million from airline integration
Thomas Cook targets GBP65 million of P&L benefits by 2015 from the integration of its airlines. This represents almost 19% of its group-wide targeted savings of GBP350 million by 2015.
Thomas Cook targeted benefits from integrated air travel strategy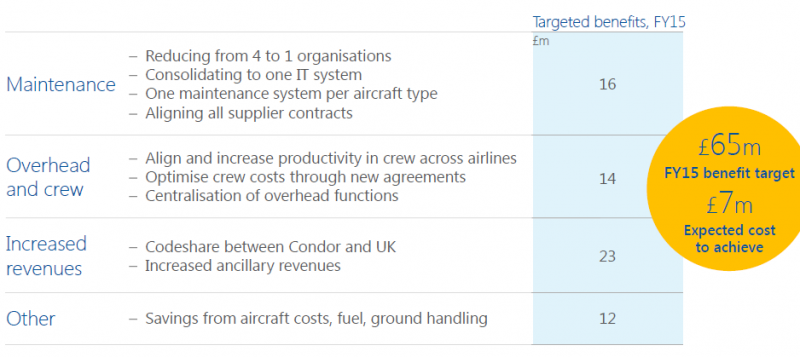 Spend by Thomas Cook on air capacity is GBP3.1 billion, of which 55% is on its own in-house airline capacity. The remaining 45% goes to third party airlines, roughly evenly divided between charter and scheduled carriers.
The Group's airline revenue is GBP2.8 billion, including around GBP1 billion for third party and seat only revenues.
Thomas Cook's airline key parameters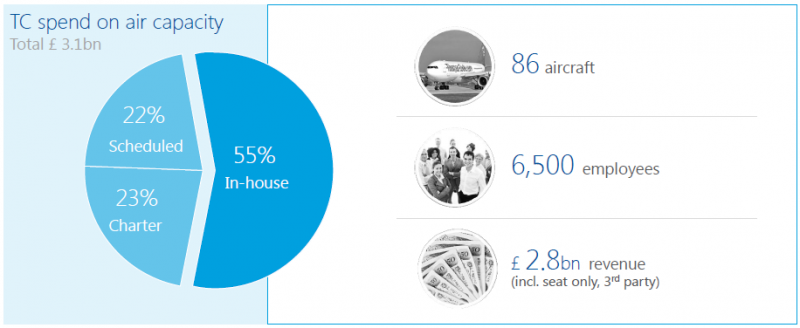 The group's four separate airlines were previously sub-scale on an individual basis, so a decision was taken to integrate them. The airlines in Belgium, Germany and the UK have now been brought together for the next financial year and the group is now analysing the further integration of its Scandinavian airline into this unit. Whereas the old structure allowed limited coordination across the different functions of each airline, the new organisation will create clear functional departments across the airlines.
Thomas Cook's new airline organisation

Thomas Cook expects the new airline structure to deliver many benefits, achieving the targeted GBP65 million of P&L improvements by 2015.
These include areas such as the reduction of IT complexity, fleet and network planning, the creation of a single integrated on-line platform for the distribution of seat-only capacity, the improvement of in-flight and commercial activities and the consolidation of procurement.
Thomas Cook key areas of expected benefits from the new airline organisation

The Thomas Cook group is also engaged in reviewing the balance of external vs internal capacity to serve its customers. This review is being carried out on a route by route basis, based on balancing reliability, profitability, service and access to capacity. Thomas Cook is also looking at possible joint ventures and other potential deals around the asset light model with potential partner carriers.
Thomas Cook's group fleet consists of Thomas Cook Airlines (UK), Thomas Cook Airlines Scandinavia, Condor (Germany) and Thomas Cook Airlines Belgium. CAPA's fleet database records 83 aircraft, which we detail in the tables below (grouped into one and split according to the four constituent airlines).
Thomas Cook group fleet summary as at 4-Apr-2013
Aircraft

In Service

In Storage

On Order

Average
age (yrs)

Airbus A319

1

0

0

22

0

0

11

0

12

10.4

3

0

0

4

0

0

13.3

11

1

0

1

0

0

15

0

0

14.6

15

0

0

19.1

83

1

12

13.4
Thomas Cook Airlines Fleet Summary: as at 4-Apr-2013
Aircraft

In Service

In Storage

On Order

Average
age

11.3

13.9

15.2

18.2
Thomas Cook Airlines Scandinavia Fleet Summary: as at 4-Apr-2013
Aircraft

In Service

In Storage

On Order

Average
age

10.2

13
Condor Flugdienst Fleet Summary: as at 4-Apr-2013
Aircraft

In Service

In Storage

On Order

Average
age

13.2

13.9

19.3
Thomas Cook Airlines Belgium Fleet Summary: as at 4-Apr-2013
TUI Travel's fleet consists of six constituent carriers: TUIfly (Germany), Thomson Airways (UK), Corsair International (France), Jetairfly (Belgium) and Arkefly (Netherlands). Its group fleet totalled 141 aircraft at the end of its last financial year (Sep-2012), down from 165 five years previously.
TUI Travel aircraft fleet at 30-Sep-2007 to 30-Sep-2012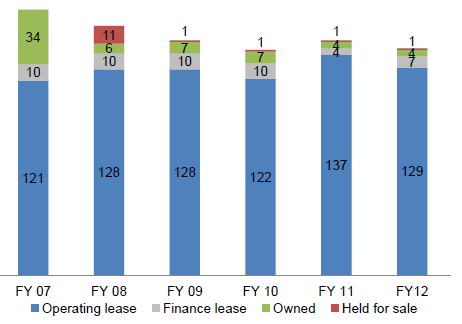 TUI Travel aircraft fleet entries and possible exits as at 30-Sep-2012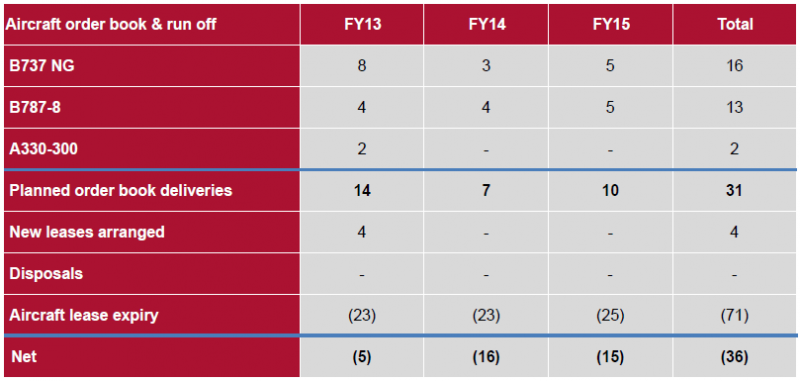 We present the TUI Travel group and individual fleets below, using data from the CAPA fleet database.
TUI Travel PLC Fleet Summary: as at 4-Apr-2013
Aircraft

In Service

In Storage

On Order

Average
age

Airbus A321-200

1

0

0

14.8

2

0

0

2

0

0

6.9

4

0

0

61

0

0

5.4

4

0

0

20.6

11

0

0

7

0

0

14.0

16

0

0

17.4

Embraer ERJ190-100STD

2

0

0

0.2

Total:

110

0

0

9.1
TUIfly Fleet Summary: as at 4-Apr-2013
Aircraft

In Service

In Storage

On Order

Average
age

8.9
TUIfly Nordic AB Fleet Summary: as at 4-Apr-2013
Aircraft

In Service

In Storage

On Order

Average
age

1.1
Thomson Airways Fleet Summary: as at 4-Apr-2013
Aircraft

In Service

In Storage

On Order

Average
age

14.8

1.6

14.0

17.3
Corsair International Fleet Summary: as at 4-Apr-2013
Aircraft

In Service

In Storage

On Order

Average
age

6.9

20.6
Jetairfly Fleet Summary: as at 4-Apr-2013
Aircraft

In Service

In Storage

On Order

Average
age

6.1

17.5

0.2
Arkefly Fleet Summary: as at 4-Apr-2013
Aircraft

In Service

In Storage

On Order

Average
age

5.7

17.4