European airports continue to rise, MAp, Auckland Airport lower as Asia Pacific airports drop back
Analysis
Australian Infrastructure Fund lost ground, easing 1.2% yesterday, despite Singapore Airlines' announcement of plans to deploy A380 equipment to Melbourne International Airport, which is expected to add 35,000 seats to the airport p/a (see below).
Austrian Airlines, the largest operator at Vienna International Airport, reported further declines Jun-2009 traffic, with passenger traffic (RPKs) falling 17.9% year-on-year, ahead of the carrier's 15.9% reduction in capacity (ASKs). Vienna Airport's share gains were muted yesterday, rising 0.9%.
Selected airports daily share price movements (% change): 15-Jul-2009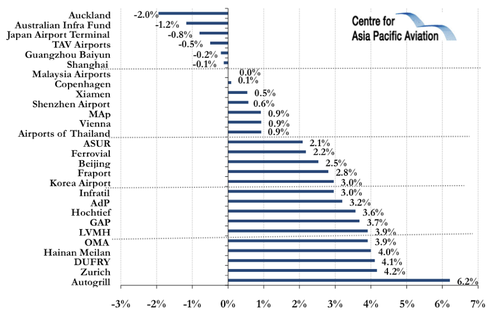 Singapore airlines announce daily A380 services from Melbourne Airport – edited press release
Singapore Airlines announced that Melbourne will be the sixth global destination the airline will serve with A380 equipment (replacing B747-400 equipment on one of three daily frequencies). Singapore Airlines currently operates the A380 to Hong Kong, London, Paris, Sydney and Tokyo. The new services to Melbourne will commence on the 29-Sep-2009.
Commenting on SIA's announcement, Melbourne Airport CEO, Chris Woodruff, stated "Melbourne Airport is proud to deliver significantly lower charges than our interstate competitors - which is clearly appealing to our airline customers", adding "this aircraft will not only increase capacity on the Melbourne - Singapore route but provide customers with greater access to a range of destinations on Singapore Airlines global network and further strengthen consumer's ability to fly internationally direct from Melbourne".
The new Singapore Airlines A380 services will result in 35,000 additional seats to Melbourne p/a.
Mr Woodruff added "our airline customers have confidence in the strength of Melbourne as a business base and our airport's key operational advantages such as curfew free, single terminal precinct and our new international terminal expansion. We were the first A380 ready Australian airport and this is the first daily A380 service from Melbourne. We are continuing to build for capacity increase with the inclusion of three extra A380 compatible gates in our AUD330M upgrade of our international terminal".
The international passenger market at Melbourne is continuing to grow when the majority of other airports around the world are in decline.