European airport earnings wrap: 2008. Vienna Airport shares up after solid profit report
Analysis
Austria's Flughafen Wien Group, operator of Vienna Airport, reported a 4% lift in net profit for the 12 months ended 31-Dec-08. EBITDA rose 5.7%, leading to a 0.6% increase in EBITDA margin to 37%, which exceeded margins at Aeroports de Paris and Fraport last year.
Flughafen Wien's net margin was also very solid at 17%, exceeding all of the European airports in the Centre for Asia Pacific Aviation's sample, with the exception of Copenhagen Airport (see the upcoming Apr-2009 edition of Airport Investor Monthly for more information).
European airport and airport operator financial performance comparison in 2008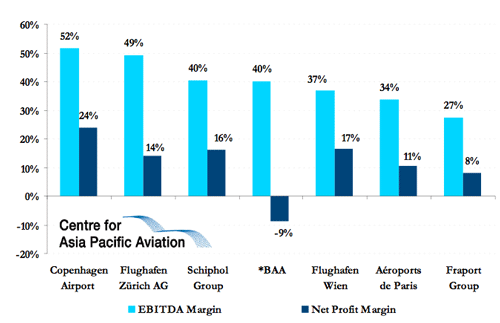 For 2009, Flughafen Wien is predicting a 5% reduction in passenger numbers from last year's 19.7 million and a 4% reduction in aircraft movements from 266,402 in 2008, as the consolidation trend among European airlines continues. Investors seemed satisfied with these predictions, sending the company's shares up 4.1% on 27-Mar-09.

Elsewhere, Copenhagen Airports shares rose 4.7% on Friday, while Fraport eased 2.9%.
Selected airports daily share price movements (% change): 27-Mar-09