Estonian Air is aiming to survive by rapidly downsizing its operations
Estonia's national carrier has dropped its ambitions to develop extensive hub operations at Tallinn Airport and appointed Jan Palmér as the new CEO to scale down the airline's network and halt mounting losses. The small regional carrier in 2011 adopted a new network model, shifting its traditional focus on point-to-point markets to a network strategy based around feeding transfer traffic within Europe and to and from the Commonwealth of Independent States (CIS) region. The core goal was twofold: to increase the number of destina­tions and frequencies from Estonia, and to do so with a sus­tainable profit in the medium term.
To underpin Estonian Air's new strategy, the Estonian government in Dec-2011 decided to invest an additional EUR30 million in the airline, increasing its ownership from 90% to 97.34%. It also endorsed the revamp of the carrier's entire fleet of narrowbody and regional jets with Embraer E-Jets.
But things did not go according to plan. Passenger traffic did increase – and elevated Estonian Air to the status of Europe's fastest growing airline with the number of passengers up 33% in the first nine months of 2012 – but so did the losses. The company recorded an almost doubling of its net loss to EUR20.2 million for 9M2012 from EUR11.2 million posted in the year-ago period. Loss on operations nosedived by 60% year-over-year to EUR17.9 million on revenue of EUR70.4 million.
CEO Tero Taskila was asked to step down and was replaced by Mr Palmér on 01-Nov-2012, when the carrier's board decided to abandon the new network strategy. Mr Palmer was previously CEO of Cimber Sterling and Sweden's Skyways.
Commenting on the decision, Estonian Air Supervisory Council Erkki Raasuke said it had become clear by the middle of the year that the chosen strategy of Estonian Air had worsened the company's financial performance considerably. "Based on the financial results and future prospects, the Supervisory Council decided to change the strategy approved last year," Mr Raasuke said, adding that the airline's "new direction is based on a core route network for Estonia, where there is a solid fundamental demand."
The U-turn of Estonia's flag carrier is not surprising. Prepped up by national pride and envious of the high growth achieved by its southern counterpart airBaltic, Estonian Air's majority shareholder chose to copy the example of its Latvian rival and in June-2011 poached Mr Taskila from airBaltic to become the new CEO and president of Estonian Air. Mr Taskila was airBaltic's former CCO and helped develop the carrier's hub-and-spoke model around its so called North Hub Riga at Riga International Airport to compensate for its limited O&D traffic. Passenger numbers shot up from 336,000 in 2003 to 3.4 million in 2011.
airBaltic annual passenger traffic: 2003 to 2011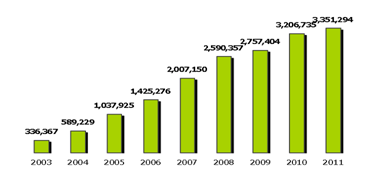 But too much transfer traffic (up to 50%) combined with a testing public dispute between the airline's two main shareholders, which resulted in a decline in customer loyalty, brought airBaltic uncomfortably close to bankruptcy in 2011. "Transfer traffic caused the losses. I'm happy there still is an airline," airBaltic's CEO Martin Gauss told CAPA in May-2012. Mr Gauss, who was brought in in Oct-2011 to replace Bertolt Flick as CEO after Mr Flick was forced to resign to bring the shareholders dispute to an end, is now reorienting the carrier's strategy towards a more point-to-point model, and aims to restore profitability under a wide-ranging ReShape restructuring plan. "The past strategy did not work. It's easy to achieve passenger growth, I can easily grow to 4 million passengers but the focus from now on is EBIT," Mr Gauss said.
See related article: airBaltic's restructuring plan is in full swing but competition from Estonian Air is rising
Estonian Air will now have to execute a similar restructuring plan to airBaltic, and review its network and service model, lower its cost structure and look for new income streams. Its CEO and board alike failed to see the pitfalls from a stringent focus on transfer traffic over its Tallinn hub and was blinded by the stunning passenger growth figures as it opened multiple new routes and added frequencies on existing routes. Boardings rose 16.5% in 2011 to 678,049, reversing two consecutive years of traffic loss, and passengers carried jumped year-over-year 33% in the first nine months of 2012 to 687,528. Mr Taskila had targeted to more than double the airline's annual passenger numbers to 1.5 million by 2015, which he believed could be achieved profitably.
Estonian Air passenger growth 2007 to 2011 (in 000)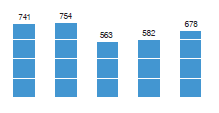 Duplicating airBaltic's network was daring and costly
Estonian Air embarked on a major network expansion as part of its strategy to build a regional hub at Tallinn Airport. In Sep-2011, the small regional airline opened three new routes from Tallinn to Trondheim, Amsterdam and Vilnius and it increased frequencies on its services to Oslo, Kiev and Moscow Sheremetyevo. Estonian Air commenced a thrice weekly service to Paris Charles de Gaulle in Feb-12 and in the 2012 summer timetable it added new routes to Helsinki, Tbilisi, Jyväskylä, Hannover, Vienna, Venice, Kokkola/Pietarsaari, Joensuu, Kajaani and Riga, the hub of its main competitor airBaltic. Significant increases in frequencies were made on existing service to Amsterdam, Brussels, Copenhagen, Stockholm, Vilnius, Moscow and Saint Petersburg.
As Estonian Air followed airBaltic's former network strategy connecting Europe with markets in Scandinavia, Russia and CIS, the carriers' networks started to increasingly overlap. Estonian Air and its regional subsidiary Estonian Air Regional fly to 15 international destinations from Tallinn Airport and airBaltic offers 11 of these gateways from its hub at Riga International Airport (located 310km south of Tallinn), according to data in Innovata for the week of 05-Nov-2012 to 11-Nov-2012. The Latvian airline's network is much larger than Estonian Air's – it spans 42 international destinations – which puts it in a stronger position compared to Estonian Air to compete for the same market.
Seven of airBaltic's 10 largest international routes in terms of weekly seat capacity feature also in Estonian Air's top 10 largest routes.
airBaltic top 10 international routes (weekly seat capacity): 05-Nov-2012 to 11-Nov-2012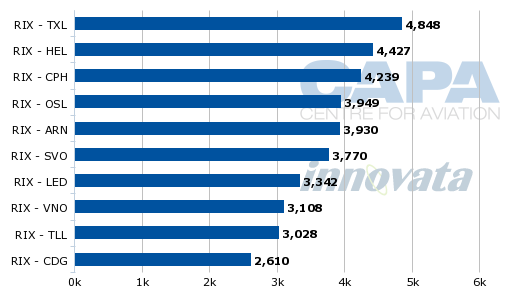 Estonian Air top 10 international routes (weekly seat capacity): 05-Nov-2012 to 11-Nov-2012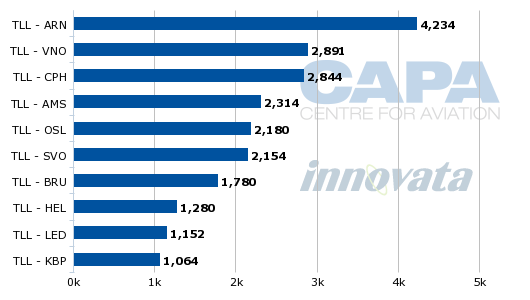 First route changes already underway
To stop the airline from bleeding more money, Estonian Air has announced its first tranche of route closures. Estonian Air will reduce frequency of flights between Tallinn and Joensuu from 13-Nov-2012 and cull the two routes on 27-Dec-2012. The airline's only domestic segment, Tallinn-Tartu will terminate on 22-Dec-2012 and on 27-Jan-2012 Estonian Air will stop operating its Tallinn-Helsinki service. The airline launched the route only with the start of the 2012 summer schedule, but the segment was already served by Finnair (Flybe Nordic) and the much larger Finnish carrier defended its dominant position fiercely and still has a market leading capacity share of almost 80%.
Estonian Air also decided that it will forgo the planned launch of two new routes in spring 2013: London City and Gothenburg. London currently is served by two LCCs; Ryanair flies from London Luton to Tallinn and easyJet operates from London Gatwick and London Stansted.
At a press conference in Tallinn on 01-Nov-2012 announcing the company's change of CEO and business strategy, Mr Raasuke said Estonian will trim its network to roughly nine to 11 routes. "These are destinations that have been worked up, which have the greatest business necessity and which are the most important for ensuring flight connections for Estonia," he said.
The prompt downsizing of Estonian Air's network will most likely be followed by a more comprehensive restructuring plan and will encompass implementing cost-cutting measures by reducing employees and fleet. The focus on transfer traffic will be scrapped. According to Mr Palmer, trying to establish a hub-and-spoke system at Tallinn Airport or to "build a big network system, when you are very close to Riga, Helsinki, Stockholm and Copenhagen is a tough mission because there is not enough feed for everybody".
Estonia is a small home market but LCC presence is low
As it retrenches on a more O&D-focussed network strategy, Estonian Air will be faced with the limitations of its small home market. Estonia currently has a population of around 1.2 million people. On a more positive note, the country's economy has recovered well from the global financial crisis when its GDP contracted 3.7% in 2008 and a painful 14.3% in 2009. Estonia's economy grew 7.6% in 2011 and is estimated to grow 2% in 2012, outpacing the GDP growth of most euro zone countries.
GDP Growth of Estonia (percent change): 2008 to 2017
Budget carriers have not inundated the market and their capacity share has reduced from 34% of system-wide seat capacity in the week of 06-Feb-2012 to 12-Feb-2012 to 24% in the week of 05-Nov-2012 to 11-Nov-2012, according to Innovata. In parallel, Estonian Air has increased its capacity share from 33% to 51% over the period. At Tallinn Airport, the country's largest airport, Estonian Air has a leading 51% capacity share measured by seats and a 52% share in terms of frequencies, based on Innovata schedules. Ryanair is the most prominent LCC in Estonia and at Tallinn Airport, accounting for an approximate 9% share of system seat capacity at the capital's airport. Ryanair operates to 10 destinations from Tallinn Airport but its only operates 18 weekly frequencies, whereas Estonian Air at present operates 378 flights per week to/from its hub.
See related article: airBaltic and Estonian Air continue to counter LLC threat from Ryanair and others
Tallinn Lennart Meri Airport capacity by carrier (% of seats): 05-Nov-2012 to 11-Nov-2012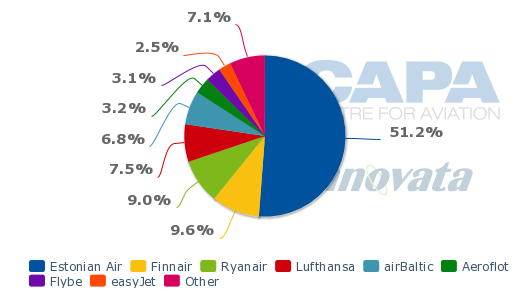 Heavy losses cast doubt on Estonian's survival
Established in 1991 following the restoration of Estonia's independence, the flag carrier has had a tumultuous two decades. The Estonian Government experimented with privatisation in 1996, selling a majority share to private investors, only to ramp up its shareholding to 51% in 2003 when SAS acquired a 49% stake. The Government further increased its holding to 90% in 2010 following the global financial crisis. It grew its shareholding further to just over 97% in Dec-2012 through a capital increase of EUR30 million. SAS continues to hold the small remaining stake.
As competition grew, economic growth waned and then fuel prices spiked, Estonian Air, beginning in 2006, started to record a string of annual losses.
Estonian Air revenue and net result (in EUR 000): 2007 to 2011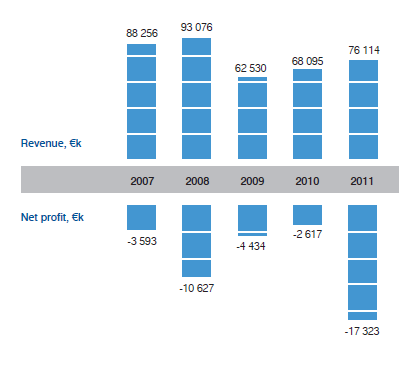 The main pillar of Estonian's ambitions to return to profitability was increasing connection opportunities via Tallinn. While on paper the plan sounded grand, the result of the network alignment during 2011 and 2012 that entailed bringing more destinations online to boost transfer options via the Estonian capital actually deepened the carrier's losses. Net loss for 2011 spiraled from EUR2.6 million in 2010 to EUR17.3 million in 2011 and the trend continued in 2012, with the deficit for the first nine months widening 81% year-over-year to EUR 20.2 million. Group revenue for 9M2012 rose 20% to EUR70.4 million.
Estonian Air select financial results: 3Q2012 vs 3Q2011 and 9M-2012 vs 9M2011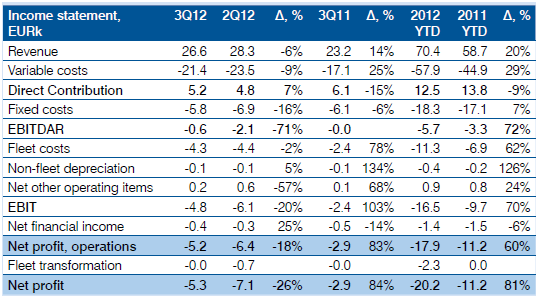 Fleet transition costs are most unwelcome at this point of the game
Estonian Air's ambitious fleet modernisation and renewal programme is not helping the company's fragile financial state. Fleet transformation contributed EUR2.3 million to Estonian Air's loss for 9M2012. The carrier increased its fleet from eight to 11 aircraft in the reporting period and is shifting to newer aircraft, replacing its Boeing 737-500s and Bombardier CRJ900s with Embraer family of E-Jets.
In Feb-2012 Estonian Air firmed its selection of E-Jets to revamp its entire fleet of narrow-body and regional jets and signed a contract with Embraer for the purchase of three E175s and one E190. Estonian Air also signed contracts to take eight additional aircraft, four E170s and four E190s, under a combination of lease agreements with third parties and leasing companies. The first of four E170s leased from Finnair entered service in Feb-2012, while the aircraft on firm order will be delivered in the second semester of 2014.
With its fleet transformation in process, the company at the end of 3Q2012 had 11 aircraft and four different aircraft types in operation – four E170s, three CRJ900s, a single 737-500 and three Saab 340 turbo-prop aircraft. The Boeing narrowbody is scheduled to be grounded in 4Q2012 and will be redelivered to its owner in 2013, and all CRJ900s are set to exit the fleet by 30-Mar-2013. Estonian Air Regional will continue operating the Saab 340 turboprops.
According to its fleet plan, more E170/190s will be gradually phased in during winter 2012/13 but the envisaged restructuring of Estonian Air might change this.
One larger Baltic airline would be logical and is the most market smart solution
Estonian Air is clearly is bad shape. Apparently, Estonia's Parliament's Economic Affairs Committee held a confidential meeting on 25-Sep-2012 where three options were outlined for the national air carrier: a quick sale of the company to an investor, a EUR60 million government bailout or bankruptcy.
A new cash injection might not be acceptable to the European Commission under EU state subsidy rules, although it might be lenient to try to safeguard further job losses in the 27 member bloc. Finding an investor for a continuously loss making regional carrier is highly unlikely in the current dire aviation environment in Europe, while the demise of the national airline might be unacceptable for the government.
The most viable market smart solution is a joint airline for the three Baltic States. Lithuania currently has no national carrier, Latvia's and Estonia's national airlines have suffered considerable losses over the past few years and their future prospects seem unclear. airBaltic posted a profit in 3Q2012 but it will not show a full year profit. Latvia has officially launched the process to find a strategic investor for the airline. A study carried out by the Lithuanian Transport Ministry several years ago showed that only a joint Baltic airline can be successful in a small market such as the Baltic States.
But in Europe's quickly consolidating airline industry, even a joint Baltic airline might lack the scale and sustainability to survive.