Emirates records record profit for FY2010-11 despite challenging 4Q
Emirates has overcome a challenging final quarter, which included political instability in its home region and skyrocketing oil prices, to post a record profit for FY2010-11. The Dubai-based airline group turned a net profit of AED5.9 billion (USD1.6 billion) for the year ended 31-Mar-2011, extending its incredible profit streak to 23 years. Group revenue surged 26% in FY2010-11 to AED 57.4 billion.
At the airline unit, revenues increased by 25% to AED54.4 billion. Operating profits at the airline increased by 52% to a record AED5.4 billion. Emirates Airline has now recorded increases in operating profits for three consecutive years, after recording a significant drop in FY2008-09. The previous record was set in FY2007-08, when the carrier recorded an operating profit of AED4.5 billion.
Emirates Airline had a 10% operating profit margin for FY2010-11, a three-year high but below the levels achieved between FY2002-03 and FY2007-08. In FY2004-05, which in many respects was Emirates' best year yet, the carrier had a 14.6% operating margin. But back then the break-even load factor, thanks to low fuel costs, was only 58%, compared to 65% in FY2010-11.
Emirates' operating profit margin: 2006/07 to 2010/11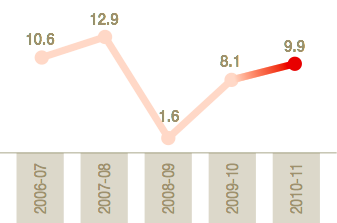 Emirates ended the year with its highest ever annual average load factor – 80%. This was achieved despite a 13% increase in capacity and a tough final quarter of the year, in which political instability in the Middle East drove down its load factor to about 75% for several weeks.
Emirates load factor (%): 2006/07 to 2010/11
Emirates%203.png" alt="" height="222" />
Emirates did not sacrifice yield in filling up the additional seats. The carrier's passenger yield increased 9% in FY2010-11. Emirates flew 31.4 million passengers in FY2010-11, an increase of 15% compared to FY2009-10.
Emirates passenger yield (fils per RPM): 2006/07 to 2010/11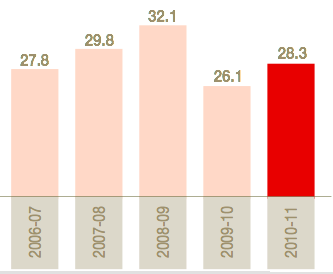 Operating costs were up 23% to AED48.9 billion, driven by a 41% increase in fuel costs to AED16.8 billion as the price of fuel was up 27% compared to the previous year. Non-fuel costs also increased due to the significantly expanded operation and growth in head count. The group ended the year with 57,000 employees.
Given its positive financial results despite the recent challenging climate, Emirates is confident it is well prepared for more growth and continued profitability. As of the end of its just completed fiscal year, Emirates had an aircraft order book of 193 aircraft, including the 32 additional A380s and 30 additional B777-300ERs which were ordered during FY2010-11.
Emirates during the year had an unusual hiatus of several months without any new aircraft deliveries, which was done by design to give the rapidly growing carrier a breather before starting the next phase of its expansion plan. During FY2010-11, Emirates only took delivery of eight new aircraft including seven A380s and one B777-300ER. The carrier ended the year with a fleet of 148 aircraft, including 15 A380s and 86 777s.
Six new destinations were added during FY2010-11: Amsterdam, Prague, Al Medinah al Munawarah, Madrid, Dakar and Basra. Frequencies were also added to several high-demand cities in all regions.
Emirates capacity (ASKs, mill): 2006/07 to 2010/11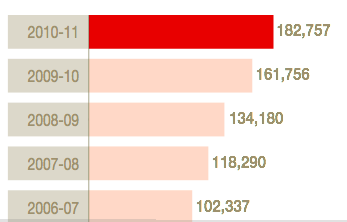 Emirates says of all regions, the Americas recorded the highest growth in revenue in FY2010-11, with a 38% increase, followed by East Asia and Australia (+31%). Europe also recorded a 24% increase in revenues. No single region contributed to more than 30% of total revenues.
Emirates revenues by region (AED, mill): 2010/11 vs 2009/10

This network diversity enabled Emirates to minimize the impact of the recent political instability in the Middle East, which started in Tunisia in Jan-2011 and quickly spread to several important Emirates markets including Egypt, Yemen and Libya. Emirates quickly adjusted flight schedules to the affected markets and redeployed aircraft to other markets where there was sufficient demand to support additional capacity. As a result the carrier within about one month recovered from the impact and identified new revenue streams, allowing it to offset the dramatic increase in fuel prices which occurred at the same time.
The group's other subsidiaries and units also chalked up impressive growth during FY2010-11. Emirates SkyCargo recorded a 28% increase in revenues to AED8.8 billion as cargo traffic increased 12% and freight yield improved 11%. SkyCargo, which includes seven dedicated freighters as well as the belly space in Emirates' all-widebody passenger fleet, now accounts for 17% of the company's total transport revenue pie. The destination and leisure division, which is part of Emirates Airline, also recorded 10% growth in revenues to AED1.1 billion as packages sales increased.
Emirates Group subsidiary and air service provider dnata saw revenues grow by 39% to AED4.4 billion, driven by the acquisition of Alpha Flight Group and Plane Handling as well as organic expansion. Profits at dnata were AED560 million, the second largest in the company's history. Its catering business had a particularly impressive year, growing 438% in FY2010-11 to AED576 million.
In the group's newly published annual report, Emirates chairman Sheikh Mohammed bin Rashid al Maktoum credits Emirates' flexibility and high efficiency for enabling it to overcome the recent challenges and post record profits. "The future of the Emirates Group is bright. Both Emirates and dnata, together with their exceptional know-how, are well positioned for continued future growth and success stemming from a history of stellar achievements," he says. "Through high professional standards, commitment and a forward looking vision they will continue on the path of excellence and prosperity."