Emirates' interim profits dives 88%, but timing of industry storm perfect for Middle East carriers
Analysis
Fuel prices have exposed Emirates' Achilles Heel, slashing its first half profits by 88%. Unlike some of the myths surrounding the airline's cost structure (ie suggestions of free fuel and government subsidies), Emirates has not been immune to the cost headwinds facing the sector. The airline's fuel costs more than doubled in the period.
Emirates' net profit margins (%): FY04 to FY1H09 (Financial years ended 31-Mar)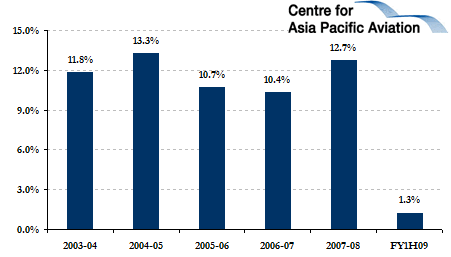 Emirates is not immune to the global economic slowdown facing the sector either. The rapid economic slowdown in many of Emirates' core markets has exposed the Dubai-based carrier, with load factors easing 1.4 ppts in the first half to 78.3% as the carrier increased capacity by 13%. Passenger yield was however up a very positive 20%.
Emirates' passenger traffic growth and passenger load factor: FY04 to FY1H09 (Financial year ended 31-Mar)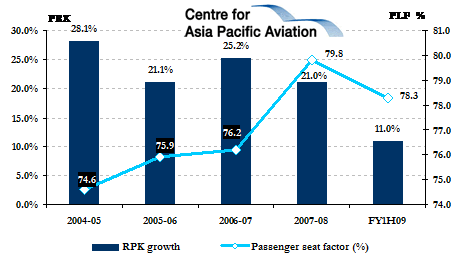 The Middle East region's airline industry is showing signs of strain, with traffic growth rates falling to their lowest levels in years. But the region's carriers, led by Emirates, are expected to go on the offensive in this environment, encouraged by lower oil prices, to unleash further network development and frequency expansion, while also using pricing much more aggressively.
Shaikh Ahmad Bin Saeed Al Maktoum, Chairman and CEO of Emirates Airline and Group, stated, "recent events show that only the most efficient businesses will survive and prosper, and these investments put us in a strong position to weather the current crunch and future challenges". He added the airline expected a "robust second half of the financial year", provided there was no further fallout from the current global financial crisis.
Recently crowned CAPA Aviation Executive of the Year for 2008, Tim Clark, President of Emirates, stated the global economic downturn would not derail the carrier's expansion plans, but he added, "we are looking at cost-cutting measures".
With a steady stream of A380s now entering its fleet and fresh capacity available at its Dubai base, all the conditions are in place for Emirates to exploit its geographic and political advantages and hard-earned brand and product strengths to the full over the next 12-18 months. There are some older aircraft which will probably see early retirement, in favour of more fuel efficient new aircraft, but nonetheless, continuing capacity growth in the double-digit range will undoubtedly create some pressure on yields. But it will almost certainly mean a substantial increase in gross revenue.
Sheikh Ahmed stated, "the first half of the year has been very tough for the airline industry, with record fuel prices forcing many carriers to shut shop or consolidate". The second half of the year will be even tougher for Emirates' rivals.
Even if Emirates is unable to maintain its recent high levels of profitability, it is extraordinarily well placed to benefit from a downturn. There will almost certainly be considerable diversion of traffic flows away from European and some Asian airlines, as they either reduce capacity or stagnate. In this respect, the timing is nearly perfect.