El Al's plans to buy 787s will allow fleet renewal, perhaps expansion. Hainan, Cathay to Tel Aviv?
Analysis
El Al's plans to acquire 15 787s are an important, and overdue, step in its restructuring process. El Al cancelled a previous order for 10, and although a new order faced 2019 delivery slots at the earliest, El Al expects to receive its first 787 in 2017 and the last in 2020. The 787s will be used to replace El Al's six 747-400s and six 767-300ERs, both with an average fleet age of 20 years. The smaller but more numerous 787s replacing the larger 747s could indicate planned flat seat growth depending on the exact configuration.
Re-fleeting will not be a silver bullet to El Al, which after returning to profit in 2013 reported a loss in 2014. El Al improved its 1Q2015 loss while 2Q2015 showed profit growth – with low fuel prices clearly influential. El Al will need to make further adjustments, especially if it looks to grow with the 13 787s it expects to have on option in addition to the 15 firm orders. North America and Europe are El Al's core markets, but Asia is appealing with growing Chinese investment. Hainan Airlines had announced a Tel Aviv service for Sep-2015, but this appears delayed. Israeli reports meanwhile say Cathay Pacific could launch Tel Aviv service in mid-2016 with new A350s.
El Al's fleet regeneration comes as financials show improvement. But challenges remain
When CAPA last reviewed El Al in Apr-2014, the carrier had reported a return to profit in 2013 with a net profit of USD25 million after a loss of USD19 million in 2012 and a USD50 million loss in 2011. 2014 brought an unfortunate turn, with a loss of USD28 million. This was on the back of a 1% decrease in revenue and 2% increase in costs.
As low fuel costs came into play in 2015, results improved. El Al reported a 1Q2015 loss of USD16.0 million compared to a loss of USD39.7 million in 1Q2014. 2Q2015, the latest result available, reports a 6% increase in net profit to USD17.3 million, but this was with a 10.7% decrease in revenue. Lower fuel costs are helping El Al, but are helping stronger carriers more significantly. 2015 should be a year when everyone can make money, but some will make more than others.
Fleet regeneration is one area El Al has needed to address. Successful negotiation of the plan will be good, although benefits will not start to flow through until 2017 at the earliest. There are other areas El Al needs to address. As CAPA previously wrote:
El Al's return to a net profit in 2013 should not be allowed to hide a wide range of challenges facing the newly appointed management team of CEO David Maimon and CFO Dganit Palti. The list is long: an ageing fleet, stagnant traffic growth, falling market share, a high cost structure, an open skies agreement between Israel and the EU, growing competition from European LCCs and network carriers such as Turkish Airlines and an under-capitalised balance sheet all need urgent attention.

In 2013, El Al managed to return to profitability, reporting a net profit of USD25 million after a loss of USD19 million a year earlier and a USD50 million loss in 2011. Its operating profit, which had turned positive in 2012 after an operating loss in 2011, more than tripled to USD38 million in 2013. However, its 2013 operating margin was only 1.8%, below the world average of 3.0% estimated by IATA and below El Al's post financial crisis high of 4.4% achieved in 2010.

Although El Al's revenues grew by 4.3% in 2013, they were only at their 2008 level and have reached a plateau after recovering from a slump in 2009. The airline now looks to be on a trend of improving profitability, thanks to cost containment, but its margins are very slim and profits are volatile, as highlighted by the fall in operating margin from +4.4% in 2010 to -2.1% in 2011.

...

As a result of El Al's sub-market rates of growth, it has lost market share. The Group (including its charter subsidiary Sun D'or) saw its share of seats at its Tel Aviv hub fall from 43.5% in 2005 to 32.5% in 2013.
See related report: El Al: new LCC start UP should not excuse the mainline airline from urgent cost cutting
Intentions to take 15 787s, with 13 options is more than previous order for 10 787s
El Al on 05-Aug-2015 announced it was in negotiations with Boeing for the purchase and lease of 15 787-8 and 787-9 aircraft, with plans to acquire options for an additional 13 787s. El Al plans for 787-9s to replace 747-400s and 787-8s to replace 767-300ERs. El Al has not provided a breakdown between 787 variants. It expects to conclude the arrangement within a few weeks. The intended 15 firm orders are more than the 10 El Al previously had last decade but cancelled.
The 787-8 is a similar-sized replacement for the 767-300ER while the 787-9 is considerably smaller than the 747-400. El Al has not provided a tentative configuration for its 787s. The 15 aircraft planned to be firm are more than the 12 aircraft to be replaced (6x 747s and 6x 767s). But there could be replacement of 777s, and the total fleet impact depends on El Al's configuration.
Boeing's standard two-class configuration for the 787-9 is 290 seats, far less than El Al's average 408 seats per 747-400. And standard configurations are typically higher than what airlines select; United, a high density 787-9 operator, has only 252 seats on its 787-9, for example. Replacing El Al's six 747-400s with a hypothetical nine 787-9s would prove 2,610 seats – more than El Al's current 2,448 seats across the 747 fleet. But this is using Boeing's baseline configuration.
Six 787-9s in United's configuration of 252 seats would give El Al 2,268 seats – less than its 747 fleet. And should El Al have a different balance in -8s and -9s, the equation further changes. There is much at play.
El Al passenger widebody fleet comparison: Aug-2015
Existing Aircraft Type
Existing Aircraft Seats
Replacement
Aircraft Type
Replacement
Aircraft Seats
747-400
381 (1x), 403 (4x), 455 (1x)
787-9
290
767-300ER
215-228
787-8
242
777-200ER
279 (6x)
n/a
n/a
The 767-300ER replacement is perhaps more straightforward. El Al gives the type as having 215-228 seats (an exact breakdown is not provided). This is less than the 242 seats used in Boeing's 787-8 baseline model, but El Al's current configuration is approximately the same as the 219 seats on United's 787-8, to use that comparison again.
Once El Al retires its 747s, the 777-200ER will be largest type in El Al's fleet, assuming the aircraft remain and El Al uses a more typical 787-9 configuration. The 787-9 could be featured on longer-haul and more premium routes, where any loss of seats will be offset by superior operating economics and a likely overall better passenger experience.
El Al's 747s and 767s average 20 years old. 12 years for 777s
Fleet renewal is sorely needed. El Al has been able to mitigate the passenger impact of operating older aircraft with refurbishments, although some may say this programme did not go far enough and was too late. Operationally, however, the aircraft remain inefficient. This is a further challenge to El Al, which faces high security costs, LCCs, competitors with huge home markets (such as Delta and United) and sixth freedom carriers.
On average, El Al's fleet is 13.4 years old, according to CAPA's Fleet Database. Widebodies drag down the average: both El Al's passenger 747s and 767s average 20 years old. 777s are 12.2 years old.
Projected delivery dates of 2017-2020 mean the average age will climb further before it falls. But this delivery date range is an improvement, as previously El Al was looking at 2019 as the earliest for initial deliveries.
El Al average fleet age: 09-Aug-2015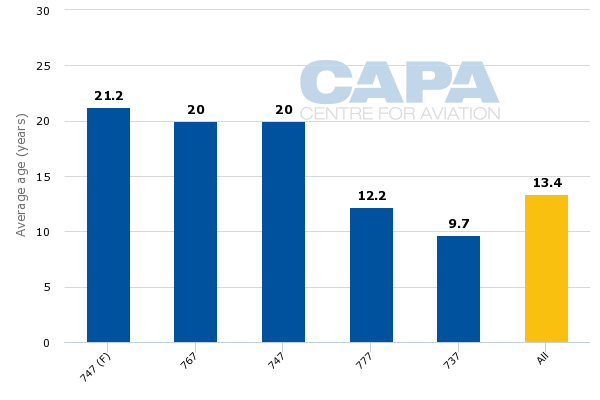 El Al's six passenger 747s are all -400s and all but one are 19-21 years old. There is one example that is a 16 years old. El Al's sole in-service freighter, a 747-400F, is 21 years old. El Al's six 777s are all passenger -200ERs. Four are 13-15 years old and two are eight years old. El Al's six passenger 767s are all -300ERs. Three are 20-24 years old and three are 16-18 years old.
El Al Fleet Summary: as at 9-Aug-2015
Europe and North America are El Al's main markets, accounting for over 90% of all seats
El Al is mostly westwards looking, reflecting the overseas geography of Israelis and trading partners. Western Europe accounts for over half of El Al's seat capacity, with Eastern/Central Europe a further 21%. North America is 17% with Asia about 7%.
El Al international seat capacity by region: 10-Aug-2015 to 16-Aug-2015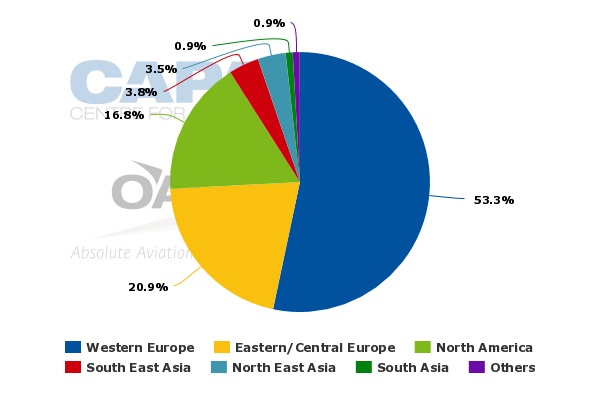 By ASKs, Western Europe and North America are about equal at 38%, followed by Eastern/Central Europe at 10%.
El Al international seat capacity by ASKs: 10-Aug-2015 to 16-Aug-2015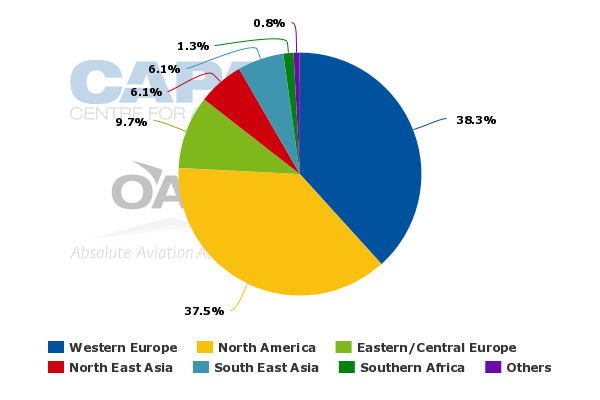 El Al international seat capacity by country: 10-Aug-2015 to 16-Aug-2015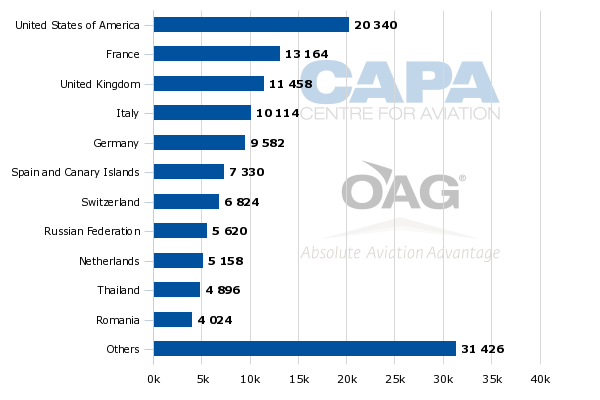 El Al's single largest country by seats is the United States, followed by France and the UK.
Unsurprisingly, El Al's single largest routes are New York JFK, Paris CDG and London Heathrow.
El Al top 10 international routes ranked on seat capacity: 10-Aug-2015 to 16-Aug-2015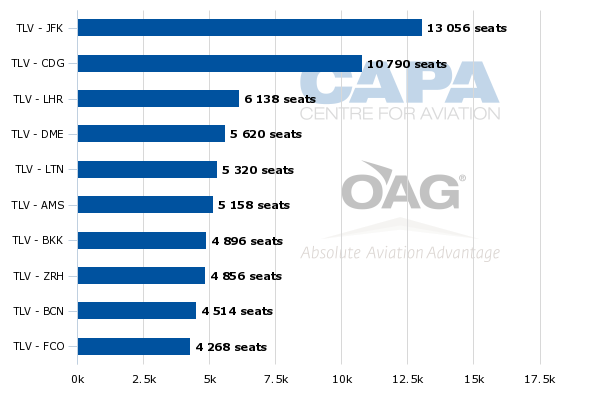 To North America, there has been little change in market dynamics, aside from Delta slightly decreasing capacity. El Al's capacity varies throughout the year, and in Aug-2015 has an approximately 54% share of the market.
Israel to North America (seats per week, one way): 19-Sep-2011 to 31-Jan-2016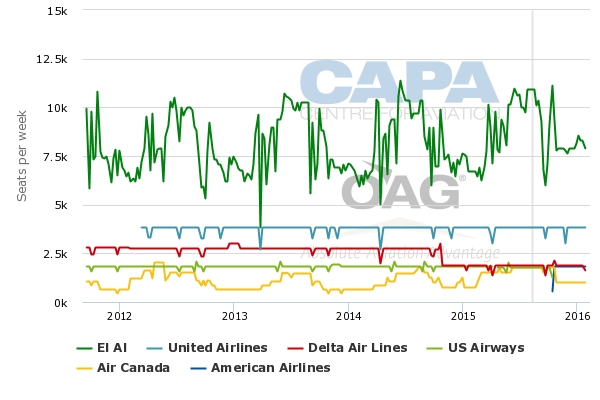 However, competition with Turkish Airlines is growing; Turkish is expanding between Turkey and Israel and Turkey and North America. Turkish is already the largest foreign carrier in Israel, with its relatively close-by base providing strong hubbing opportunities. Turkish's Aug-2015 seat capacity is up about 9% year-on-year and has more than doubled over two years. Turkish is 60% bigger than the next largest carrier in Israel, easyJet.
Israel international seat capacity by carrier: 10-Aug-2015 to 16-Aug-2015
Tel Aviv Ben Gurion International Airport to Istanbul Ataturk Airport (seats per week, one way): 19-Sep-2011 to 31-Jan-2016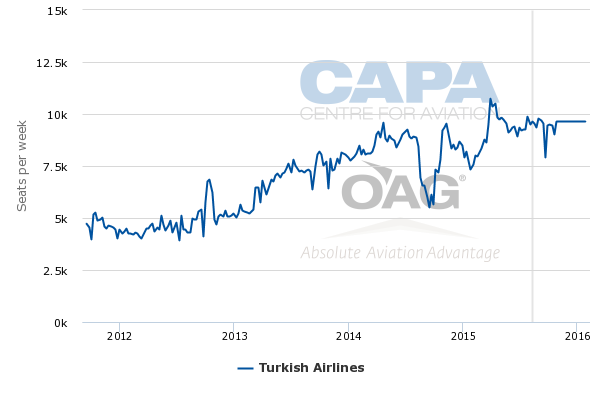 Outlook: There is growing Asian interest in Israel. Is this a market for El Al?
There are a number of scenarios for El Al to replace its 747s and 767s, as planned, with 787s. But this is relatively straightforward compared to the possible outcomes from El Al exercising some or all of its planned 13 options for the 787. Presumably they could be used to replace El Al's 777-200s, but there are only six of these. The options could be exercised before 777 retirement to usher in growth.
As is often the case in market options, Asia holds potential. In particular the focus is China, with the government encouraging investment, which has resulted in a sudden build-up of activity, if from a low base.
Israel is receptive but worries about China's Iran relations and if investment should be welcomed in all sectors.
El Al Asian top 10 hubs/bases/stations by seat capacity: 10-Aug-2015 to 16-Aug-2015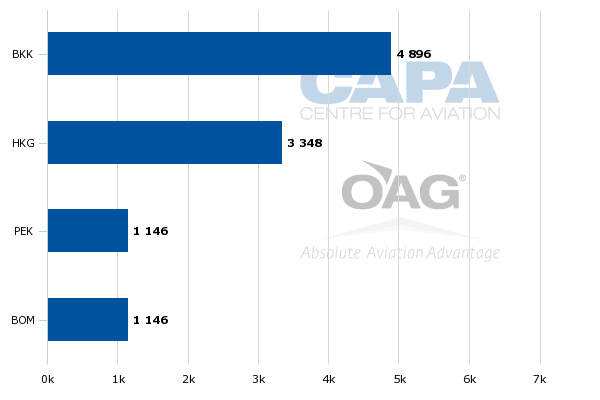 El Al's Asian network extends to only four points: Bangkok, Hong Kong, Beijing and Mumbai.
Bangkok is the largest, reflecting holiday interest from Israelis. El Al's three weekly flights to Beijing and six to Hong Kong may receive sudden competition. Of Asian carriers, only Korean Air flies to Israel, and its service is mostly angled around Koreans going on holiday.
Israel to NE/SE Asia (seats per week, one way): 19-Sep-2011 to 31-Jan-2016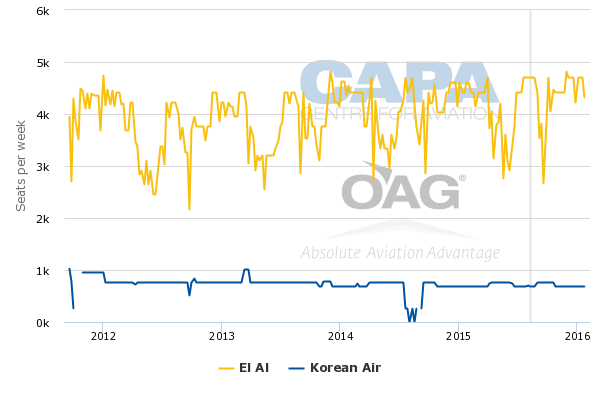 The future thus offers the opportunity for some sudden activity after a quiet period. Hainan Airlines in Jan-2015 announced plans to serve Tel Aviv from Beijing, confirming one of the routes on its 2015 wishlist. This was planned to commence in Sep-2015 with three weekly A330 flights but schedules have not been loaded and the carrier has not provided an update.
Israel's Ministry of Tourism records that approximately 34,000 Chinese tourists visited Israel in 2014, an increase of 36% over 2013. The Israeli media in May-2015 reported Cathay Pacific was in discussions to launch Hong Kong-Tel Aviv service from mid-2016 with A350s. The route has not been announced.
See related report: Hainan Airlines eyes ambitious 2015 with wishlist for nine new long-haul routes
Asian routes provide much excitement but the ramp-up to sustainability and eventual profits are typically longer than expected. Profits can be higher in mature markets, which for El Al would be to North America, although that is hardly devoid of competition.
Traffic on a new Asian route will be weighted towards Asian travellers, which is a market unfamiliar with El Al, unlike Israelis in North America and Europe. El Al will need strength to sustainably serve a new market. While its fleet regeneration will be an important component, there is still much left to change.