Ecuador Aviation: liberalising and courting LCCs
Analysis
Growth among Ecuador's airlines has slowed during the last few years based on seat deployment as the country dipped into a recession during 2016. Even as it returned to positive economic growth in 2017, Ecuador's growth prospects remain below historical levels for 2018 and 2019.

Ecuador's largest airline state-owned TAME has also cut its seat supply during the last few years, and more recently has undertaken a restructuring with loans from the government as it pledges to bolster revenue and slash costs.

Low cost airline penetration in Ecuador remains low. JetBlue offers service from Fort Lauderdale to the country's largest airport, Quito, and Spirit in Mar-2018 launched flights form Fort Lauderdale to the country's second largest airport, Guayaquil. Even as Ecuador holds promise for passenger stimulation, expansion of air travel could remain tempered until its economic growth returns to more normal levels.
Summary
Even as Ecuador's recession is over, its economic growth remains sluggish
The major economic headlines from Latin American during the past few years have centred on Brazil's recession and emergence from economic decline.
But as the International Monetary Fund (IMF) highlights – Ecuador is also emerging from a recession. Its data show Ecuador's GDP declined 1.6% year-on-year in 2016 before rebounding to an increase of 2.7% in 2017. The IMF's projections for GDP growth in Ecuador for 2018 and 2019 are 2.5% and 2.2%, respectively.

The IMF characterises Ecuador's forecast 2018 GDP growth as below historical averages. Data from the World Bank show that between 2006 and 2015 Ecuador's GDP averaged 4.3%, driven by high oil prices and external financing. Oil exports are a significant driver of Ecuador's economy.
Ecuador's seat capacity shrinks as urban unemployment levels grow
The shrinking of Ecuador's economic growth coincided with a decline of airline seat capacity in the country. Data from CAPA and OAG show that the country's system seats declined approximately 21% from 2013 to 2018 (estimated).
Annual system seats for Ecuador from 2012 to 2018 (estimated)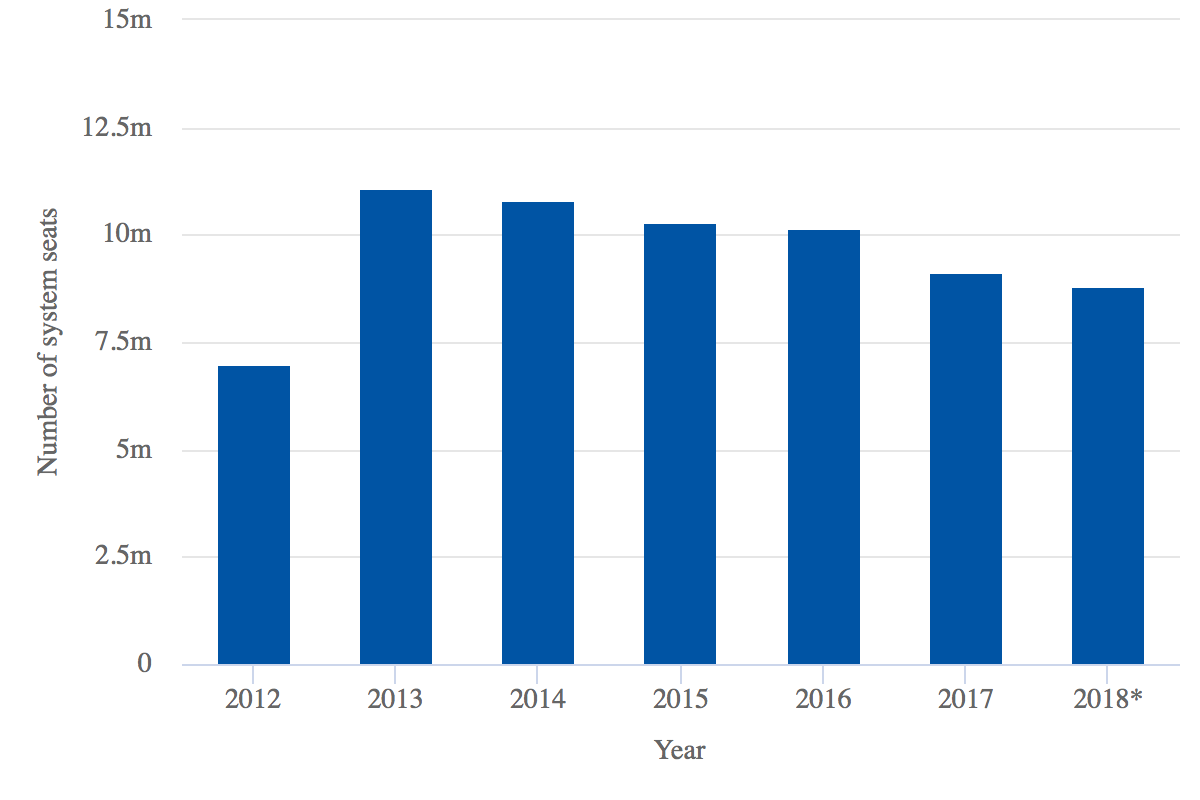 Ecuador
's recent economic decline was driven by several factors, including the decline of the USD (which is the country's currency), declining oil prices, and an earthquake that struck the country's Northeast cost in Apr-2016.
The World Bank
calculates that between 2014 and 2016, urban unemployment in
Ecuador
grew from 4.5% to 6.5%.
TAME restructures, getting government support and shrinking its fleet
Given Ecuador's economic struggles, the country's largest airline, state-owned TAME, has also cut its seat inventory during the past few years.
Annual system seats for TAME from 2012 to 2018 (estimated)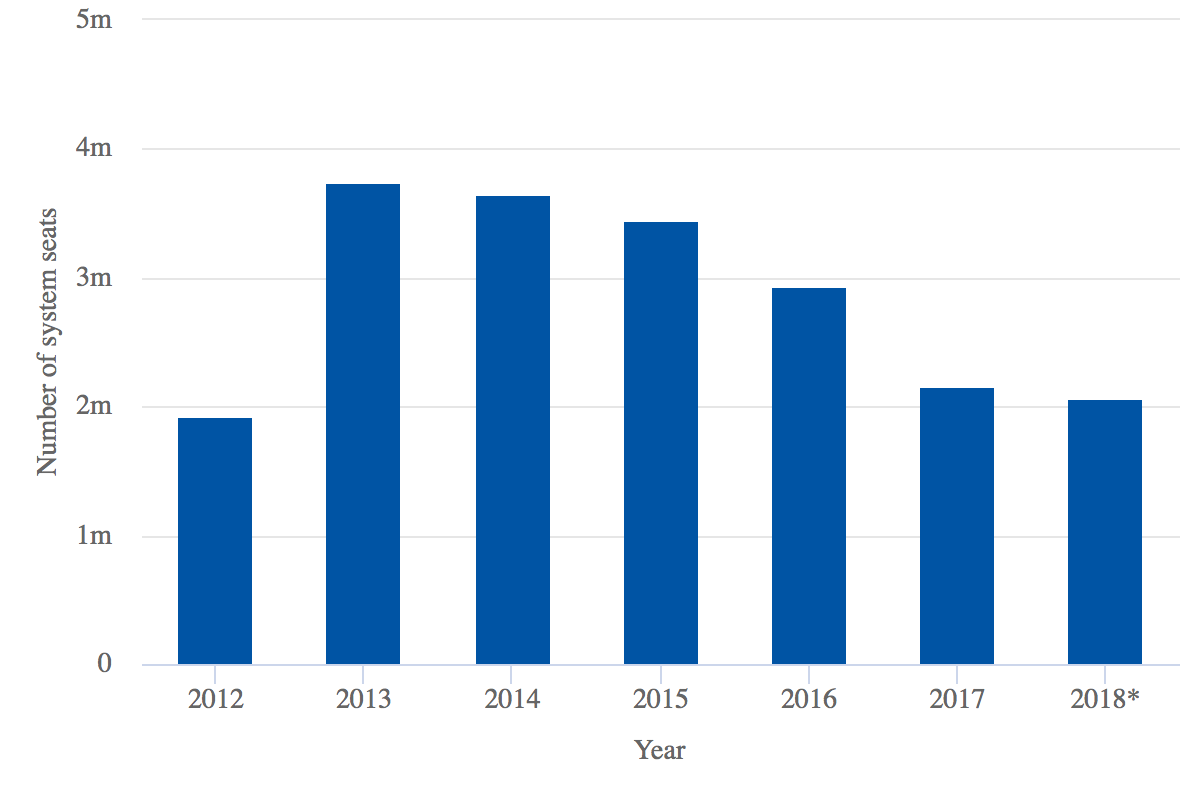 Ecuador
's largest airline, representing 24.3% of the country's seats on offer.
The airline remains
Ecuador system capacity by airline (% of seats) as of early Jun-2018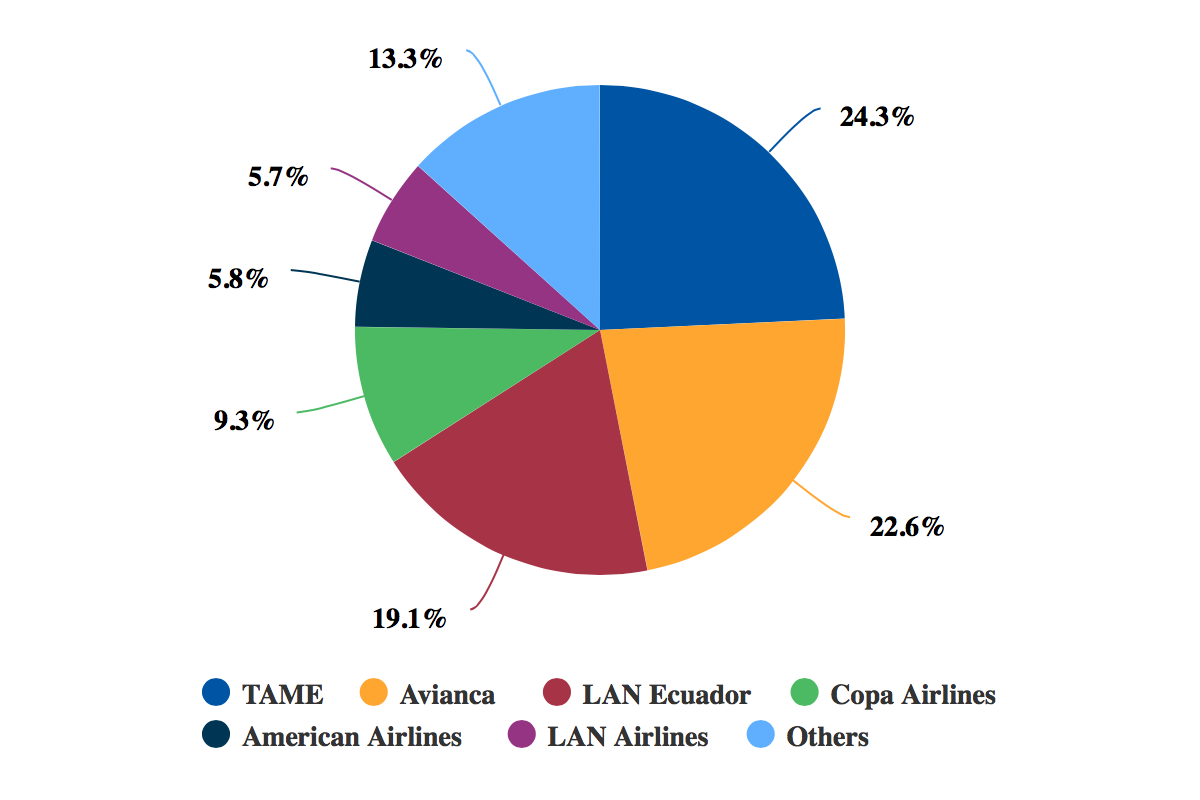 To overturn its losses, TAME has undertaken a restructuring plan that reportedly entails loans and support from the government of more than USD80 million. Its fleet size has decreased from 15 to 10 aircraft.
TAME fleet summary as of early Jun-2018

The airline has touted its improved operational performance, and has also added service from Quito to Puerto Francisco, Lago Agrio and Santa Rosa. It has also added fights from Quito and Guayaquil to Bogotá. TAME's other international destinations include Fort Lauderdale (from Guayaquil), New York JFK (from Quito), Cali (Esmeraldas) and Lima (Quito).

At one point the government was seeking investors for TAME, but investors may not come forward until the airline shows a level of sustained profitability. Ecuador's slower economic growth compared with other countries in the region could also be a deterrent to an investor for TAME stepping forward.
Ecuador's government adopts open skies and tries to court low cost airlines
Even as Ecuador's overall seating capacity has declined during the past few years, much upside remains for the country if the government can jumpstart economic growth.

Ecuador's government has taken an important step in adopting an open skies policy, in part to foster connectivity from more international airlines to the country. Recent new service additions are Air Europa's flights from Madrid to Guayaquil and Quito, Condor's planned flights from Frankfurt to Quito via Santo Domingo, and Spirit Airlines' new service from Fort Lauderdale to Guayaquil.

Low cost airline penetration in Ecuador is relatively low. Aside from Spirit, JetBlue operates flights to Quito from its Fort Lauderdale focus city. Spirit is competing with TAME on its new service from Fort Lauderdale to Quayaquil and is offering markedly more seats on the route than Ecuador's flag carrier. Data from CAPA and OAG show that TAME dropped service between Quito and Fort Lauderdale shortly before JetBlue launched service on the route.
Weekly one-way seats between Fort Lauderdale and Guayaquil from Jan-2015 to mid-Nov-2018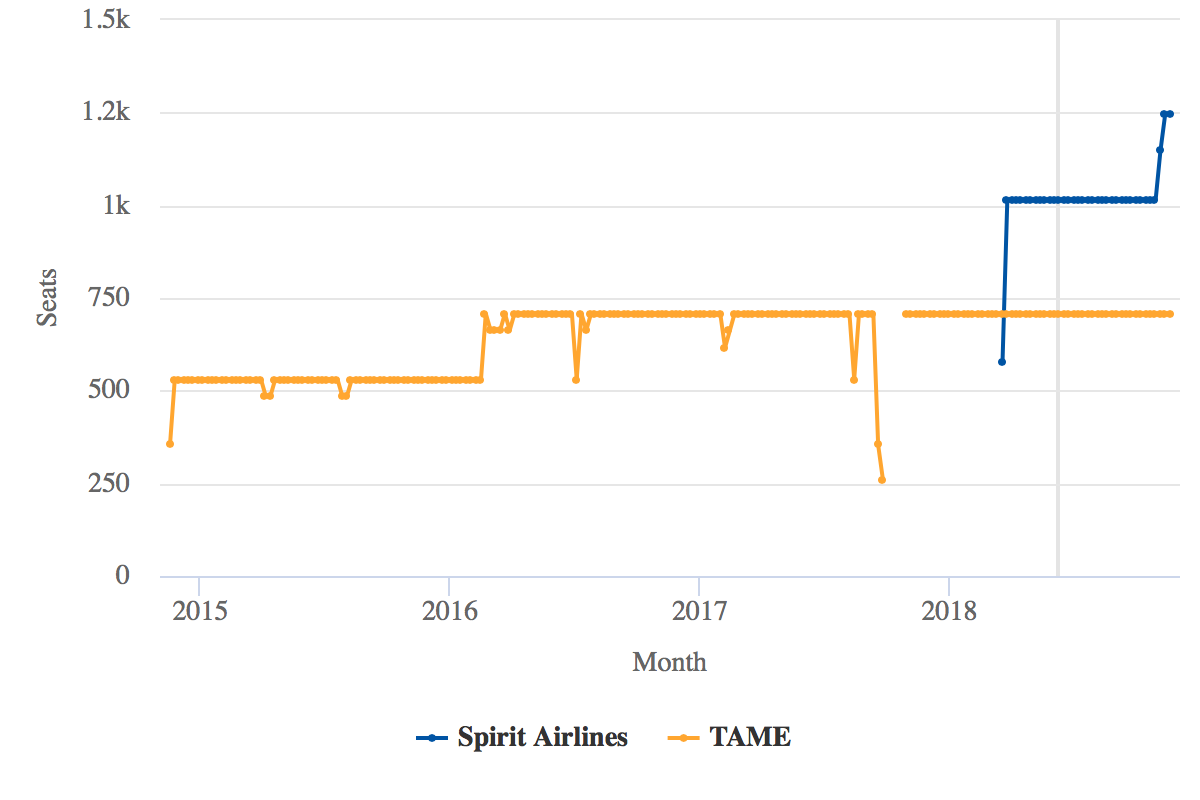 Ecuador's government has reportedly held discussions with the Chilean low cost airline Sky but so far, no new service to Chile has materialised. LATAM Airlines Group operates service from Santiago to Guayaquil, but ended flights to Quito in 2015. GOL is also reportedly considering launching flights from São Paulo to Quito, but has yet to announce plans to launch service on the pairing.
Ecuador's aviation market transitions to a more liberalised mindset
In many ways, Ecuador's aviation market is undergoing a transition. The country itself is slowly emerging from an economic slump, and the government is showing a more liberalised mindset with the adoption of an open skies policy, which is a welcome sign for the evolution of Latin America's larger aviation market.

At the same time, Ecuador's state-owned flag carrier is undertaking work to become more competitive in the market, and the government does not appear to be adopting a protectionist stance in order to shield TAME from competitive forces.

There is no doubt that the evolution of Ecuador's market has much upside, and the government has taken many important steps to make the country more attractive in order to bolster tourism and connectivity.