easyJet sets course for record FY profits - and another clash with Sir Stelios...
Analysis
easyJet's 1H2013 pre-tax result improved by GBP51 million to a loss of GBP61 million. This puts it comfortably on course to achieve the current consensus forecast for record pre-tax profits of GBP410 million in FY2013. It may also be on another collision course with founder and largest shareholder Sir Stelios Haji-Ioannou over aircraft orders.
CEO Carolyn McCall believes easyJet can take further market share from non-LCCs on point-to-point routes. At its top 20 existing airports, where easyJet has 46 million seats (a share of 22%), she puts this potential additional market at 86 million seats. This analysis appears to pave the way for a large aircraft order after easyJet completes a review of its future fleet strategy later this year, although it insists that no decision has yet been taken.
This would not please Sir Stelios who said: "Good things happen to airlines that don't order more aircraft." Under Ms McCall's guidance easyJet's share price has more than doubled over the past year and not just because it didn't grow. It may be time for Sir Stelios to let go.
First half loss narrows to give lowest loss margin in six years
easyJet narrowed its loss before tax for 1H2013 (covering the period Oct-2012 to Mar-2013) from GBP112 million last year to GBP61 million in 1H2013. This was slightly better than the midpoint of guidance given in Jan-2013 for a first half loss of between GBP50 million and GBP75 million (revised in Apr-2013 to a range of GBP60 million to GBP65 million).
Revenues grew by 9.3% to GBP1,601 million, driven by seat growth of 3.3% and revenue per seat growth of 5.8% to GBP53.39.
easyJet financial highlights 1H2013


The first half year has traditionally been loss-making for easyJet, but its pre-tax margin of -3.8% was its best 1H margin since 2007.
easyJet first half pre-tax loss 1H2011 to 1H2013 (GBP million)
Winter load factor is now almost level with the summer
easyJet operational and financial KPIs 1H2013


In 1H2013, easyJet grew its seat capacity by 3.3% and passenger numbers by 5.3%, so that load factor increased by 1.7ppts to 88.6%. This load factor is impressive for a winter season and is almost the same as the summer load factor achieved two years ago.
easyJet has steadily narrowed the gap between its 1H and 2H load factors and, as further gains in the summer load factor will be increasingly difficult, given that was 90% last year, the prospect of having year round load factors of 90% is a real one.
easyJet load factor by half year FY2008 to 1H2013 (%)
Revenue per seat remains on an upward path
Revenue per seat growth of 5.8% outstripped cost per seat growth of 2.0% (3.1% ex fuel), leading to the improved pre-tax result. Currency movements dampened the growth of both these measures – unit revenue growth would have been 8.6% and unit cost growth ex fuel would have been 3.4% at constant exchange rates. Overall, currency movements had a negative impact of GBP34 million on the result, GBP43 million in lower revenues partially offset by GBP9 million in lower costs (of which GBP7 million relates to fuel).
Unit revenue growth was boosted by what easyJet called "revenue initiatives" and, to a lesser extent, by the maturing of new routes and the shift of Easter from 2Q last year into 1Q this year. Growth in revenue per seat at constant currency has been on an upward trend over the past four quarters as easyJet's seat growth has trended downwards and competitor capacity has been cut in its markets.
Growth easyJet revenue per seat and seat capacity and competitor seat capacity: 3Q2012 to 2Q2013
Unit costs hit by airport charges in Spain and Italy and by de-icing
The most significant area of unit cost increase was in ground operations, which saw cost per seat at constant currency increase by 10.9%, driven by steep increases in airport charges in Spain and Italy and by higher de-icing costs related to the weather conditions over the winter. Crew costs per seat were up 2.1% at constant currency due to a 1.8% pay increase and changes to performance-related bonus schemes. Unit overhead costs also grew, as a result of higher disruption costs, IT investment and performance-related pay.
Navigation costs per seat fell as the increased proportion of A320s versus A319s and a lower average sector length offset increased charges. The reduction in maintenance costs per seat was the result of a one-off adjustment to leased engine maintenance provisions taken last year. Ownership unit costs fell due to the repayment of more expensive debt and a decrease in lease costs from a lower proportion of leased aircraft.
easyJet is pursuing a number of projects aimed at reducing costs, including Bendibelt, a new bag loading technology that reduces from three to two the number of people needed to load bags, and forced air de-icing technology, which could cut fluid usage by 40% to 50%. It is also looking at reducing fuel burn through sharklets and weight-saving ideas including seats, trolleys and carpets; and aims to reduce aircraft turn around times by three minutes (around 10%).
easyJet cost per seat 1H2013
Evaluation of possible fleet order continues
easyJet's fleet consisted of 210 aircraft at the end of Mar-2013: 154 A319s (156 seats) and 56 A320s (174 seats). The proportion of A320s is growing as easyJet sees unit cost benefits in the larger gauge. The evaluation is ongoing of new generation aircraft for a possible new order to drive fleet growth from 2017 and of interim fleet plans for 2014-2017.
According to CFO Chris Kennedy, "having a strong balance sheet helps in negotiations with suppliers" and there is a genuine competition between all three manufacturers (Airbus, Boeing and Bombardier), "especially Airbus and Boeing".
easyJet fleet at 31-Mar-2012 vs 31-Mar-2013
Opportunity to take point-to-point share from non-LCCs
According to easyJet's analysis of its markets, it has 46 million seats in its top 20 airports. This is 22% of the total number of seats at those airports, while other LCCs have a combined 25% and non-LCCs have 53%. The share held by non-LCCs includes an estimated 12% for transfer traffic and 41% on point-to-point routes. This latter segment represents 86 million seats, which easyJet sees as its area of opportunity. This figure rises to 180 million when applied to easyJet's top 50 airports.
Of course, other LCCs will also be seeking to capture share from this segment and the full service carriers will be fighting to defend it, but it does represent significant further potential for easyJet and it does not include the additional potential from new markets that easyJet is yet to enter.
Share of traffic within easyJet's top 20 airports
Stelios: 'hardly any new routes left'
Although Mr Kennedy stressed that no decision had yet been taken on new aircraft orders, this analysis would appear to support what appears to be the likely outcome in favour of making a large order. This could lead to a further clash with easyJet founder and largest shareholder Sir Stelios Haji-Ioannou, who said: "The results today were the outcome of buying only two new planes in the last six months while selling six.
A smaller fleet allows the airline to put up ticket prices – the only reason for the current strength in the share price. However all this good work could be undone by the vanity exercise of buying new aircraft. There are hardly any new routes left that can make a good profit to justify their cost."
Seat growth of 3.5% in 2H2013; Switzerland up 13% and Spain down 16%
easyJet plans annual seat growth in the region of 3% to 5% ("slightly in excess of market") in the years before any major fleet order. For 2H2013, planned growth in seat capacity is 3.5%. In the past it grew at much stronger rates, but is now keen to focus on profitable growth and to hold onto the gains in revenue per seat that have come from tighter capacity growth. According to its analysis of OAG data, competitor seat capacity on easyJet's routes will be cut by 1% in 2H2013 (a lesser cut than the 2.8% competitor reduction in 1H2013 and the 3.0% cut in 1H2012).
easyJet's fastest growing market in its second half will be Switzerland, where it plans seat growth of 13% while competitors cut capacity by 4% on its routes. easyJet is well established in Switzerland and is number one in Geneva and Basel. In Italy, it plans growth of 7% versus competitor cuts on its routes of 9% (not only is Alitalia cutting capacity, but the demise of Wind Jet in Aug-2012 is also having a year-on-year impact on capacity).
CEO Carolyn McCall told analysts at the meeting to discuss the 1H results that easyJet's new Milan Linate to Rome Fiumicino route was going well. "It was the last great monopoly route," she added, noting that Alitalia still has significant capacity on the route, but that easyJet's value was being welcomed. "It is a coming of age for easyJet in Italy. Business passengers are much more likely to consider us now".
easyJet's planned seat capacity in the UK and France will be around 4%, while competitor capacity will be up 1% and down 2% respectively (Air France is cutting capacity in the regions, especially Marseille and Toulouse). UK growth will focus on London, Edinburgh and Manchester. In Germany, it plans capacity growth of 4.5%. Ms McCall was quick to point out that "we are not in Germany; we are in Berlin" adding that easyJet's approach there is, "steady as you go".
Among its principal markets, only Spain will see easyJet cut capacity in 2H2013, by 16%, as a result of increased airport charges. The company says that Spain remains an important market, but it is currently a depressed one.
Seat capacity growth in easyJet markets: Apr-2013 to Sep-2013
Almost half of the capacity planned for the second half had been sold as of 6-May-2013, the same as this time last year.
Percentage of seats sold: 2H2013* vs 2H2012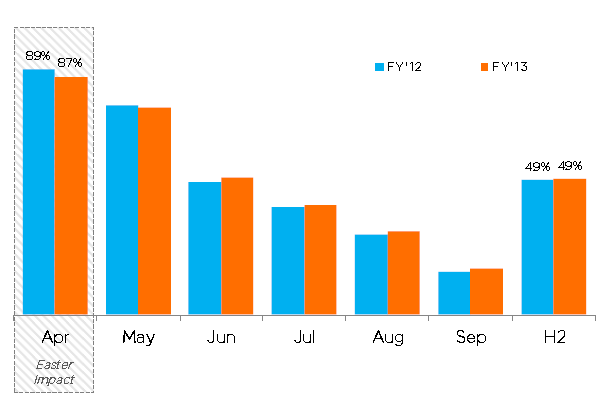 easyJet has fewer underperforming routes
easyJet's focus on return on capital employed – the group target is 12% – extends to its analysis of route profitability. In 2012, 56 of its routes earned less than 40% of the average ROCE and this number has now fallen to 20 routes. Of the remaining 36, 18 have improved their returns and 18 have been dropped (for example, Liverpool to Brussels and Brest to Paris CDG).
The decision to close the Madrid hub was taken as part of this approach. On a rolling 12 month view, the number of underperforming routes in the year to Apr-2013 was less than a year earlier and the number exceeding the 12% target was greater.
Rolling 12 months returns: Apr-2012 to Mar-2013 vs. Apr-2011 to Mar-2012
Allocated seating is ahead of plan
According to Ms McCall, easyJet's allocated seating initiative, which started in Dec-2012 and became fully available on line in Apr-2013, is progressing well and is slightly ahead of management's plans. It has not harmed asset utilisation or cost per seat, but has helped to drive increased customer satisfaction (easyJet says that satisfaction with the boarding experience increased by 2.6ppts to 70.5% year-on-year for the six months to Mar-2013). Moreover, it drove an incremental GBP8 million in sales over Speedy Boarding in 1H2013.
The focus for the airline this summer is to minimise its operational impact, while it gathers data on the scheme. At the end of the summer, easyJet will review allocated seating and look for opportunities to enhance yield management by modifying the approach where necessary.
Business passenger numbers are up 4%
easyJet continues to focus on attracting business travellers, with a combination of existing easyJet features such as low fares, a wide network of primary airports and relatively high frequencies together with newer features such as flexi fares, allocated seating and good levels of punctuality.
New product features are being added, including allowing fast track security for Flexi-Fare passengers at selected airports. In addition, business friendly routes have been introduced, such as Milan Linate to Rome Fiumicino; London Gatwick to Luxembourg; London Gatwick to Moscow and Manchester to Moscow.
Business travellers provide easyJet with higher yields and reduced seasonality. easyJet has negotiated deals with GDSs and TMCs and directly with corporate customers and public sector organisations, including the Scottish public sector and several large banks. The leading GDS providers have invested in technology to standardise the way in which easyJet is presented within their systems to allow users to more easily access the easyJet fares.
Amadeus and Galileo solutions will be in place in the third quarter of the financial year. Business passenger numbers grew by 4.1% year-on-year in 1H2013.
Attracting business passengers
A new aircraft order would make sense… with two conditions
easyJet management have said that it expects to deliver improved returns and profitability for the year ending 30-Sep-2013. If it can achieve, or (as seems likely) improve on, the current consensus forecast of GBP410 million in pre-tax profit for FY2013, this would be an almost 10-fold improvement on the GBP44 million reported in FY2009. It would also beat its target of a 12% return on capital employed.
If it were also right about the scale of the potential market that it can add to its existing business, it would make sense to set aside Stelios' concerns and to order additional aircraft to secure its long term growth.
There are, however, two key conditions that must be met. First, it must negotiate a competitive price from the manufacturer that will allow it to generate a healthy return. Second, future capacity growth must be sufficiently measured so as not to damage unit revenues.
The share price performance over the past 12 months (it has more than doubled) demonstrates that Stelios and his family may be the only shareholders that do not trust easyJet's management team on these points.
But the past year's results are about more than simply maintaining status quo.
Aggressively pursuing a uni-dimensional strategy of non-expansion is unlikely to be a policy panacea for easyJet's future. The US majors are briefly revelling in the advantages of non-growth and consolidation, but this is a questionable long-term strategy, especially in a much more competitive European market.
See also related reports: