easyJet: FY profit double digit growth despite "less benign" environment in European short-haul
Analysis
easyJet's reported revenue growth of 8.6% for 3QFY2014 (i.e. Apr-2014 to Jun-2014), is an acceleration on 1H's 6.3%, with further growth in revenue per seat. However, load factors are already at industry-leading levels throughout the year and easyJet will probably need to focus more on revenue per passenger if it is to continue to see continued growth in revenue per seat. In 3Q, it experienced a rare (and slight) dip in revenue per passenger. To some extent, the change in the timing of Easter distorts year on year comparison for 3Q, but the airline's new FY2014 guidance implies a modest fall in revenue per seat in 4Q.
Strong capacity growth by easyJet at Gatwick, due to the acquisition of slots from Flybe, and a competitive environment of increasing capacity growth are making themselves felt in this modest yield weakness.
Nevertheless, easyJet's unit costs were lower than previously expected and it has a significant cost advantage versus legacy carriers at the primary airports on which its network focuses. Moreover, its FY2014 guidance implies another year of double digit profit growth and return on capital above the cost of capital.
Seat growth of 6.8%; revenue per seat was up 1.7%
easyJet's 3Q interim management statement does not contain details of profits for the quarter, but it does report progress on traffic, revenue per seat and cost per seat. Seat numbers grew by 6.8%, broadly as had been guided, and passenger numbers increased by 9.4%, with load factor gaining 2.2 ppts to reach 90.4%. This is an impressive load factor and follows easyJet's 1HFY2014 figure of 89.0%, arguably an even more impressive figure given that this was achieved during the winter.
The 3Q load factor gain drove a 1.7% increase in revenue per seat to GBP62.47. Without currency effects, this would have been stronger still: revenue per seat at constant currency grew 2.7%. This is consistent with guidance given in May-2014 that 2H revenue per seat at constant currency would grow at a low single digit rate. However, it came at the expense of a modest fall in revenue per passenger (down 0.7% year on year, although this was probably weakened by the change in the timing of Easter from 2Q last year into 3Q this year).
easyJet traffic and revenue performance: 3QFY2014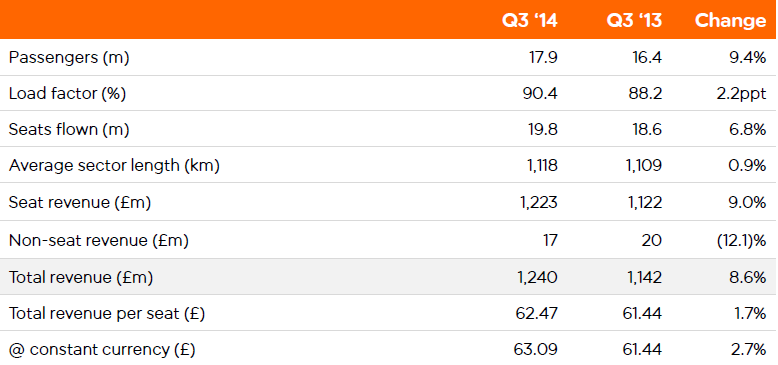 Business passengers are important for yields
easyJet's network, with its primary airport focus, helps with its initiatives to grow the number of higher yielding business travellers that it carries. This passenger segment was up 7% in 3Q, which was less than the airline's overall passenger growth of 9.4%, but this was due to the movement of Easter into April (in 1H - Oct-2013 to Mar-2014 - business passenger growth of 8.5% outpaced total passenger growth of 4.0%). In 3Q, easyJet's sales at its five largest travel management companies increased by 11%.
Growth in the number of business passengers will be an important factor in growing revenue per passenger and (if further load factor gains become more difficult to achieve) in growing revenue per seat.
Cost per seat ex fuel was down 1.3%
Cost per seat ex fuel fell by 1.3% year on year in 3Q, partially due to currency movements working in easyJet's favour. easyJet also achieved reductions in ground handling costs and also benefited from lower de-icing costs and lower disruption costs. Offsetting these cost benefits, airport charges grew (mainly in Italy) and maintenance costs increased due to a gradual increase in the age of the fleet and a higher number of leased aircraft.
At constant currency, cost per seat ex fuel increased by 1.0%, broadly in line with the 0.9% increase in average sector length and less than the 2% increase anticipated in easyJet's guidance for 2H, given in May-2014.
Looking ahead, easyJet expects further unit cost efficiencies in a number of areas. These include engineering and maintenance (a high proportion of its contracts in this area are due to be re-tendered in 2015, providing an opportunity to lower unit costs); airport charges, where it sees scope to negotiate improved deals; engine selection (it recently selected CFM as engine supplier for its new Airbus aircraft and said that it had achieved a modest improvement in pricing relative to the order approved by its shareholders in Jul-2013); and further up-gauging from A319 to A320 equipment.
easyJet year on year change in cost per seat ex fuel: 3QFY2014

Half of easyJet's 2H capacity growth is at Gatwick
easyJet's capacity increase in the quarter will be broadly replicated in 4Q (it plans a 6.4% increase in seats for 2H). Half of the planned increase will come from London Gatwick, its largest base, and the majority of this (40% of its total increase) is due to its acquisition of Gatwick slots from Flybe, effective from Apr-2014.
See related report: EasyJet works the Gatwick slot machine as Flybe cashes out
At Gatwick, it is also seeing some growth from the increased proportion of A320 versus A319 aircraft and from new slots created by the airport's runway efficiency programme.
A further 10% of easyJet's seat growth will come from its new base at Hamburg and 9% from Basel. Its new base at Naples, opened this summer, and new routes from Rome Fiumicino jointly account for around 11% of the seat growth. easyJet has strong market positions at all the airports where it is growing rapidly this summer. It has a number one ranking at all, with the exception of Fiumicino, where it is number two, and Hamburg, where it is number three.
See related report: Vueling, Ryanair, easyJet square up and all surround Alitalia in Rome: the gladiators are back!
easyJet breakdown of summer 2014 seat growth by market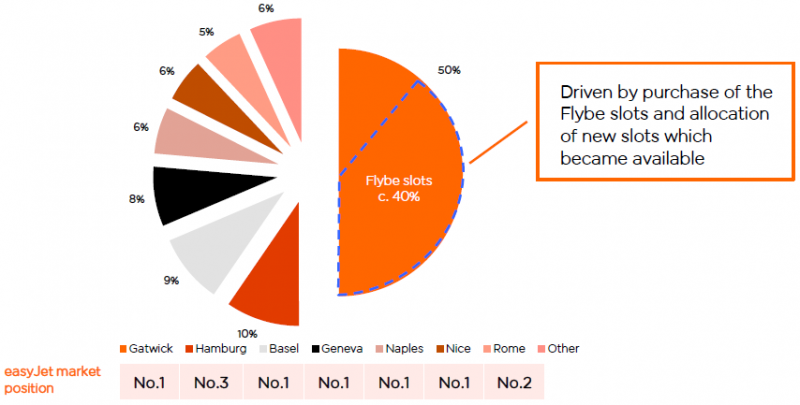 easyJet market share at London Gatwick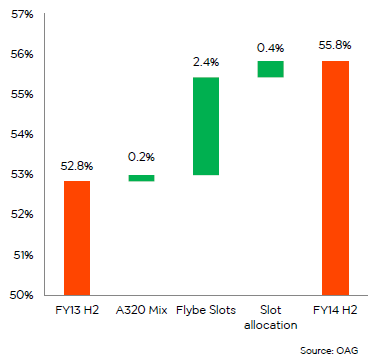 Revenue per seat falls at Gatwick, but grows in other markets
The increase in 3Q revenue per seat was not replicated at London Gatwick, as a result of the strong capacity increase at the airport. "Revenue per seat was good right across the network, other than at Gatwick", CEO Carolyn McCall told analysts on a conference call to discuss the 3Q results. easyJet's 2HFY2014 seat capacity at Gatwick is up by approximately 15% year on year, compared with competitor growth of 2.2% in its markets from the airport.
This resulted in a fall in 3Q revenue per seat for easyJet from its largest base, although the airline has not quantified this fall. In the rest of the UK, its 2H capacity is flat year on year, while in the rest of Europe it is up 7.4%. 3Q revenue per seat was up in these markets.
easyJet year on year change in seat capacity 2HFY2014 and direction of change of 3Q revenue per seat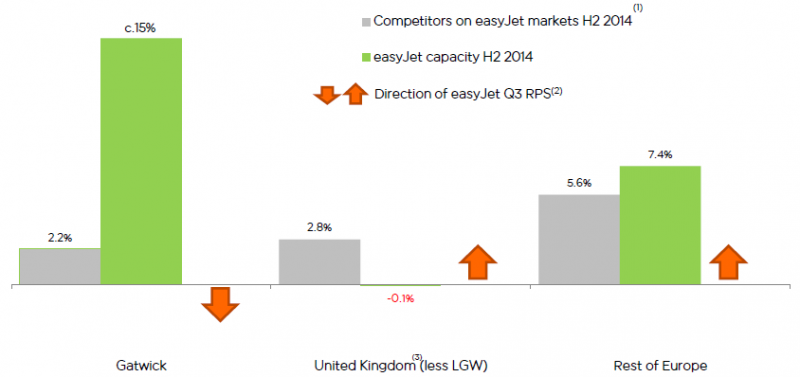 easyJet plans to re-allocate 40% of its Gatwick slots to obtain a better distribution across its route network, in order to optimise its slot portfolio from 2015 onwards. It further expects growing route maturity to contribute to this process, with the result that revenue per seat is expected to improve. "We will get it as right as we can for next summer," said Ms McCall, although CFO Chris Kennedy cautioned that he still expects downward yield pressure at Gatwick in the coming winter season.
Route returns continue to improve
easyJet has managed to continue to improve route by route return on capital employed (ROCE) over three successive 12 month periods, raising the number of routes meeting its target 12% ROCE.
This has been achieved in spite of the increasing rate of capacity growth in the European short-haul market since 2012 and suggests that easyJet has applied a disciplined approach to its own capacity growth and route selection.
In spite of the current weakness at Gatwick in easyJet's revenue per seat, this track record gives some confidence that its capacity growth at this airport will be absorbed profitably into its network.
easyJet rolling 12 month ROCE by route: year to Jun-2014 versus three previous years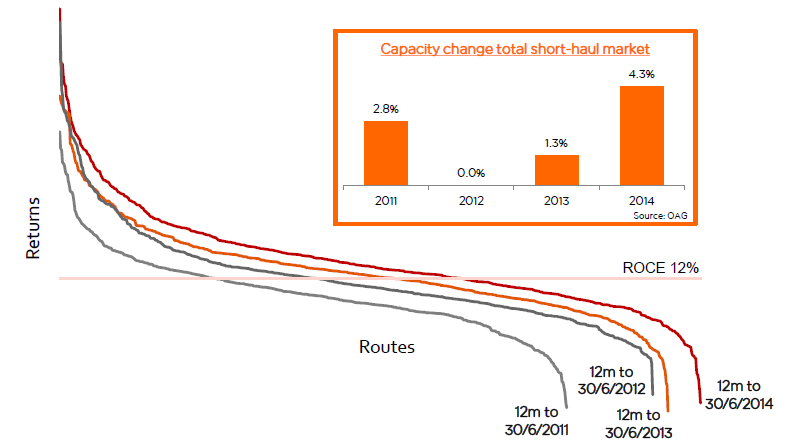 Forward bookings are strong, in spite of "less benign" environment
easyJet reported a healthy forward bookings profile, with 77% of its 2H seats sold as of 16-Jul-2014 compared with 75% the same time a year ago. This is in spite of easyJet's 6.4% capacity growth this summer outpacing competitor growth on its routes. easyJet said that competitor growth is now expected to grow by 4% this summer compared to the 3% forecast in May-2014, citing OAG.
"It is clear to us all that the capacity environment is less benign", Carolyn McCall told analysts on the 3Q conference call, but she added that the "fundamentals have not changed". easyJet has a strong network right across Europe (60% of its passengers are now non-UK originating), with a focus on primary airports.
easyJet market share at selected airports: 2014 versus 2011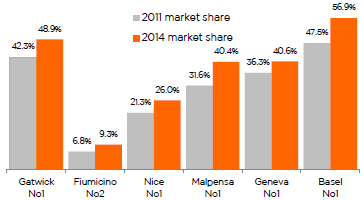 Profit warnings from legacy airlines highlight their cost inefficiency (and directional uncertainty)
This provides easyJet with an opportunity to continue to take market share from the legacy airlines. Ms McCall sees recent profit warnings as a further reinforcement of this opportunity. Although overcapacity has been cited by a number of European FSCs as a reason for a lower profit outlook, these warnings point to a deeper challenge faced by legacy carriers.
"They were not able to achieve what they said they would, largely around restructuring," she said, adding that the cost gap between them and easyJet was still too wide.
Concerning Lufthansa, Ms McCall said that it faced an enormous challenge: Lufthansa "are trying to be a low-cost short-haul carrier and low-cost long-haul and premium long-haul. They're trying this, trying that. That's fine by us."
By contrast, easyJet – and other European LCCs – has a much sharper focus, which has helped it to deliver better financial results than most of its competitors. As Ms McCall put it, "I'm quite glad that all we do is low-cost short-haul."
Return on capital employed for easyJet and selected competitors: 12 months to Mar-2014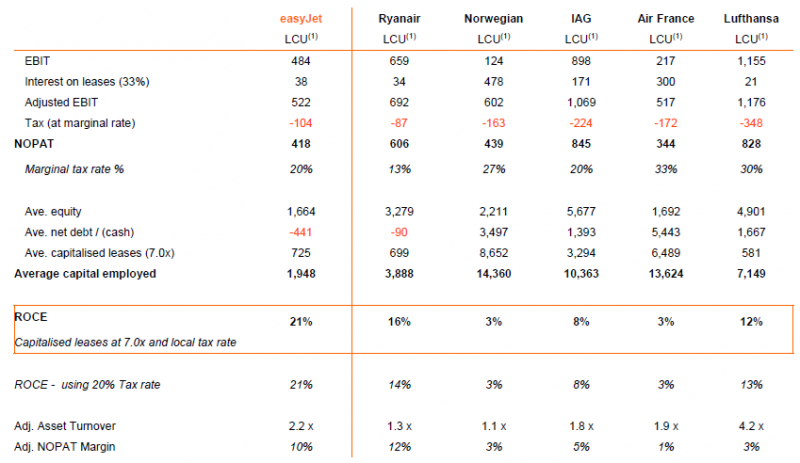 FY2014 outlook: revenue per seat and cost per seat both lower than previous guidance
The "less benign" capacity environment and easyJet's strong growth at Gatwick have led to a subtle lowering of the airline's 2H guidance on revenue per seat at constant currency. Previously expected to be up by a "low single digit rate", it now says this will be up by around 1%. Given an increase of 2.7% in 3Q, this implies that revenue per seat at constant currency will be down slightly in 4Q.
Fortunately, easyJet expects to continue to outperform on costs and now expects 2H ex fuel cost per seat at constant currency to be up 0.5%, versus 2% previously guided.
Together with a very slight year on year reduction expected in fuel cost per seat and up to GBP15 million in favourable foreign exchange movements, easyJet expects pre-tax profit for FY2014 to be in a range of GBP545 million to GBP570 million (roughly 15% to 20% higher than FY2013). This is the first time that easyJet has given a profit figure in its guidance, although analysts (and CAPA) were already expecting a figure around the top end of this range.
See related report: EasyJet narrows its winter losses as it attracts more business travellers
In recent years, easyJet has tended to achieve a final result at the upper end of, or above, its guidance range. This suggests that it can be expected to achieve the GBP570 million figure. The only, mild, disappointment is that its guidance did not foresee a higher figure (but the impact of geopolitical events in Israel, Egypt and Moscow, which were not previously factored in, is now included).
Nevertheless, easyJet's ability to deliver consistent double digit growth in profits, in spite of a softer market environment, is rare in the airline industry.