easyJet down on weak result, "profitable" outlook. Air France-KLM, SAS lead market up - Share Wrap
On a favourable market day, Air France (+8.7%) and SAS (+8.7%) led the airline sector up, while easyJet, despite a moderately confident profitable outlook, was the worst performer, as its interim report for the six months ended 31-Mar-09 disappointed the market and another bout of 'Steliosis' emerged (more rumblings from Director, Sir Stelios Haj-Ioannou, about over-reaching the carrier).
British Airways (+4.8%) meanwhile reported less-bad Apr-2009 results than feared and moved on the upside. BA was again hard hit by premium traffic slackness, with that category down 17.7%, in an Easter-affected month. The carrier sees the outlook as "very challenging".
For daily updates on American aviation stock prices and a complete wrap of the day's breaking news, sign up now for a complimentary subscription to America Airline Daily.
Europe selected airlines daily share price movements (% change): 06-May-09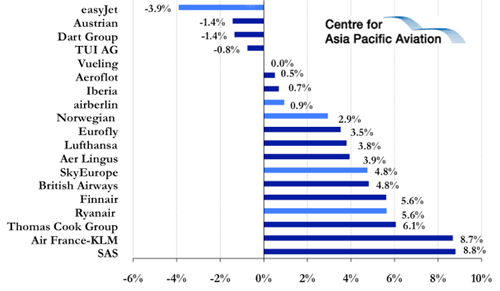 easyJet maintains growth

Despite Sir Stelios' continuing vocal concerns over the carrier's expansion plans, CEO Andy Harrison, with the support of the rest of the board, is maintaining 'steady as she goes'. And, for the first time, the British-based airline has become a pan-European operator, with over 50% of its passengers from offshore.
easyJet fleet plans
And, according to the CEO, "While we remain cautious about the consumer economy, at current fuel prices and exchange rates, easyJet expects to be profitable for the full year."

Seat capacity will fall by 6% over the summer period, but in the second half, will grow, as previously announced, by "around 2%".

As for the general outlook, "The revenue environment remains uncertain due to rising unemployment across Europe and the
impact on UK consumers of the strengthened euro."

The impact of swine flu on European operations has been minimal so far. And easyJet's business strategy seems to be paying off. "In this difficult trading environment easyJet's network remains well positioned against the competition and is clearly benefiting as a flight to value by business passengers is offsetting some of the weakness in discretionary leisure travel."

Perhaps surprisingly, "Second half bookings are broadly in line with last year with over 40% of the summer now booked", with the yield profile looking similar too, on a "constant currency basis".