EasyJet: back in profit for the winter half, but the unit revenue outlook is weakening
Analysis
easyJet's 1H2015 results statement made for interesting reading. On the one hand, it reported its first positive pre-tax profit figure for the winter half in more than a decade (effectively due to lower fuel costs).
On the other hand, easyJet's outlook statement predicted a fall in 2H revenue per seat at constant currency, in contrast with the increase achieved in 1H. This is partly because of faster capacity growth, both by easyJet and competitors in its markets (to use easyJet's own words, "inefficient capacity is likely to stay in the market longer"), but also reflects the impact of lower fuel prices on air fares.
EasyJet is still set to record double digit growth in FY2015 pre-tax profit and to remain one of Europe's most profitable airlines. Nevertheless, after a very successful five year period between FY2009 and FY2014, when its pre-tax profit increased by a factor of eleven, it is perhaps not surprising that it is now in a more sustainable growth phase.
Easyjet recorded a positive pre-tax profit in the seasonally weak winter half
In 1H2015 (six months to Mar-2015), easyJet reported a pre-tax profit of GBP7 million, turning around a loss of GBP53 million a year earlier. The result was towards the upper end of the airline's guidance range of a loss of GBP5 million to a profit of GBP10 million. The year on year improvement in pre-tax profit of GBP60 million was almost the same as the increase in revenue, which grew by GBP65 million, or 3.8%, to GBP1,767 million.
EasyJet financial highlights 1H FY2015

This positive 1H result was the culmination of four years of improving winter performance from a pre-tax loss of GBP153 million in 1H FY2011. The last time easyJet made a 1H profit was in FY2002, when its 1H revenue was GBP194 million, just 11% of the figure just reported.
EasyJet first half pre-tax loss per seat and pre-tax margin 1H2011 to 1H2015 (GBP million)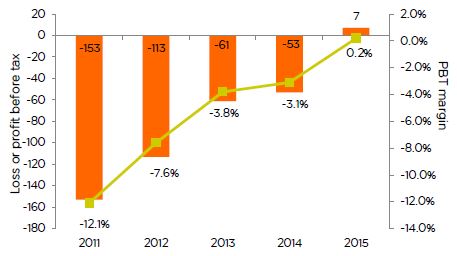 Seat capacity up 3.6%
EasyJet increased its 1H FY2015 seat capacity by 3.6% year on year and passenger numbers grew by 4.4%. Passenger load factor (defined in easyJet's preferred manner as passenger numbers divided by seat numbers) gained 0.7 ppts to 89.7%.
EasyJet already has very impressive load factors and is now almost achieving 90% or more on a year-round basis (calculating load factor as RPK divided by ASK, its 1H load factor was 91.5%, giving it a year-round level above 91%). Growth in seat numbers accelerated from 2.9% in 1Q FY2015 to 4.3% in 2Q FY2015.
EasyJet operational KPIs 1H FY2015

Revenue was up 3.8%
Total revenue growth of 3.8%, was very slightly faster than the 3.6% increase in seats. Revenue per seat was a little better than flat year on year (+0.2% to GBP54.91), but this performance was adversely affected by currency movements (particularly the weakening of EUR versus GBP).
At constant exchange rates, revenue per seat was up 2.6%, compared with easyJet's own guidance of 2.5%. The rate of growth in this measure slowed from 3.7% in 1Q to 1.4% in 2Q as a result of increased capacity growth (both from easyJet and competitors) and the impact of lower fuel prices on fares.
easyJet total revenue and revenue per seat 1H2015


Although easyJet's seasonal load factor differences have been narrowed very substantially, the winter half (1H) still has significantly lower unit revenue than the summer half (2H). EasyJet's 1H2015 revenue per seat figure of close to GBP55 was much lower than the figure of almost GBP71 for 2H2014 (last summer). Winter demand must be stimulated with lower prices, but easyJet's cost per seat in the winter half is typically very similar to its summer cost per seat and this gives rise to seasonal winter losses.
EasyJet has reduced its losses in the winter half year every year since FY2011, turning to a profit this year, because it has grown its 1H revenue per seat by 22%, while holding the increase in 1H cost per seat to 8% since then.
EasyJet revenue per seat and cost per seat (GBP) by half year FY2011 to FY2015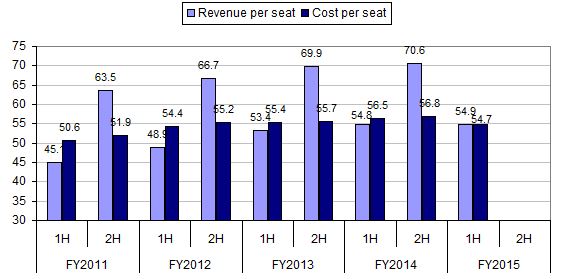 easyJet costs rose 0.3%
Total costs (including net finance costs) were just above last year's level in 1H2015 (+0.3%), in spite of the capacity increase. Fuel costs fell by 3.9% and non-fuel costs grew by 2.1%. Fuel costs would have been GBP35-40 million higher at the same average fuel cost per seat as easyJet paid in 1H2014.
Cost per seat fell by 3.2% year on year in 1H2015, with ex fuel cost per seat down by 1.4%. Fuel cost per seat dropped by 7.3% due to lower fuel prices, although easyJet's fuel hedging programme limited the benefit. Currency movements also had a beneficial impact on cost per seat. At constant exchange rates, total cost per seat was up 0.1% and ex fuel cost per seat was up 2.9%.
Stripping out fuel and currency, the increase in cost per seat of 2.9% (compared with easyJet guidance of an increase of up to 3%) was primarily due to three factors. First, there were airport charge increases at regulated airports, mainly in Germany and Italy; second, de-icing and disruption costs were greater than last year; and third, easyJet incurred costs associated with new bases ahead of their opening.
Much of the cost damage was the result of strikes by Italian air traffic controllers, firemen in France and airport security staff in Germany, which led to 683 cancellations by easyJet (versus 520 a year earlier). Its on-time performance was 86% in 1H2015, down 3ppts against 1H2014, reflecting more challenging weather conditions and the impact of these strikes. Strikes by French air traffic controllers in Apr-2015 (the first month of easyJet's 2H) led to the cancellation of more than 600 more easyJet flights and will weight on its FY2015 profit by around GBP25 million, according to the airline.
EasyJet cost per seat and year on year change at constant currency 1H2015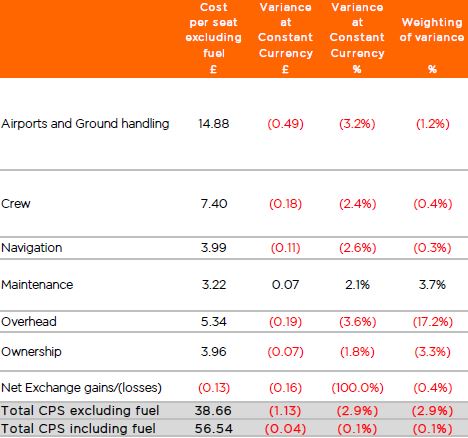 A320s reach 35% of the fleet; future deliveries to have 186 seats from May-2016
EasyJet's fleet grew by ten aircraft to 230 as at 31-Mar-2015, with the A319 fleet falling by 4 aircraft and the A230 fleet growing by 14 to reach 35% of the total (up from 30%). Growth will continue to focus on A320s at the expense of a shrinking number of A319s. According to the CAPA Fleet Database, the airline's aircraft orders consist of 56 A320-200s and 100 A320-200neo as at 12-May-2015.
From May-2016 all A320 deliveries will have 186 seats, compared with 180 for the existing A320 fleet, which will be retrofitted starting in winter 2016 (this is expected to be completed by summer 2018). The rationale behind this change is to improve unit cost performance; easyJet expects that 186 seat A320 will provide a cost per seat saving of 2% against the 180 seat version. The A320 neo is expected to yield a further 4%-5% saving in cost per seat.
Under easyJet's base case fleet plan, the total will grow to 311 aircraft in FY2022, but this could be increased to 322 or reduced as low as 200 under existing contractual arrangements. The proportion of aircraft that are operating leased fell by 3ppts from 33% in Mar-2014 to 30% in Mar-2015. EasyJet plans to reduce this further to 20%.
EasyJet fleet at 31-Mar-2015 vs 31-Mar-2014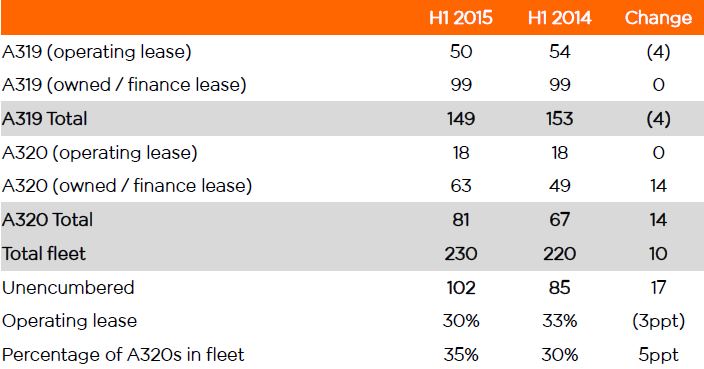 easyJet plans 6.2% seat growth in 2H2015, but the market will grow faster
Looking into this summer, easyJet's seat growth will increase relative to 1H to 6.2%, although this is a little slower than last summer's 6.8%. According to the airline's 1H2015 results presentation, competitor capacity growth in its city pair markets will be 6.7% this summer, compared with 4.1% last summer.
The most significant contributors to increased capacity in easyJet's markets are British Airways at Heathrow, Ryanair at Stansted and Vueling at Rome Fiumicino. The London market is seeing 10% capacity growth, according to easyJet CEO Carolyn McCall at a presentation to analysts on the 1H results, with BA, Ryanair and easyJet all adding seats. Strong growth by easyJet, Vueling and Ryanair at Rome Fiumicino has created very competitive conditions.
See related report: Rome Fiumicino Airport: Vueling, Ryanair, easyJet and Alitalia are locked in mortal combat
Ryanair's operations overlap with roughly 5% of easyJet's seat capacity on an airport pair basis and 22% on a city pair basis. Ryanair's lower cost base may give it an edge in head to head competition, although easyJet has a head start with its customer service initiatives and its primary airport network. As Ms McCall said, the two have different network strategies.
See related report: easyJet & Ryanair: squaring up to each other as head to head competition increases
Ms McCall also said that capacity retrenchment by legacy airlines in general was now slower than previously anticipated as a result of lower fuel prices. "If [the fuel price] stays low," she said, "some inefficient capacity is likely to stay in the market longer".
Seat capacity growth in easyJet markets summer 2014 versus summer 2013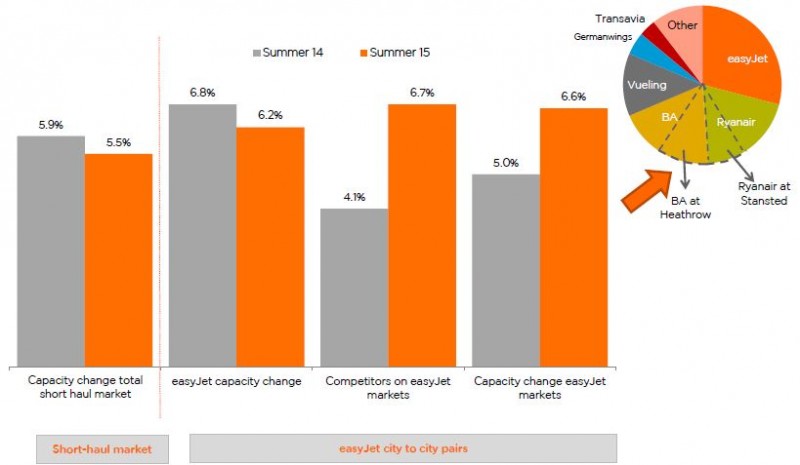 New bases deliver the strongest growth
By country, easyJet's capacity growth in 2H2015 will be double digit in Netherlands (+20.4%), Germany (+15.0%), Portugal (+13.8%) - reflecting its new bases in Amsterdam, Hamburg and Porto - and in Switzerland (+11.3%). Ms McCall told analysts that easyJet has overtaken SWISS as the preferred airline in Switzerland. It also plans strong growth in Italy (+9.6%), reflecting its new Naples base.
In France, easyJet plans summer growth of 6.9%, while in Spain (3.5%) and the UK (3.3%), its growth will be slower. In six of its eight largest country markets, it will grow faster than the market (see chart below), reflecting its policy of focusing on where it already has strong positions. According to Ms McCall, almost 80% of easyJet's capacity touches an airport where it is the number one or number two airline.
EasyJet says that its forward bookings are in line with this time last year, with 50.8% of seats sold for 2H FY2015.
easyJet seat capacity growth in key European markets summer 2015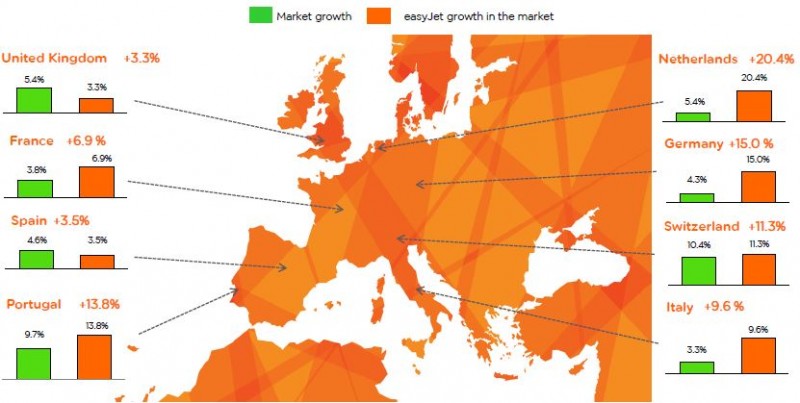 FY2015 guidance implies slower profit growth than previously forecast
easyJet's planned 6.2% seat growth in 2H2015 will bring its FY2015 growth to around 5%. Looking at other elements of its guidance, revenue per seat at constant currency is forecast to be down by a "low single digit" percent in 2H2015, but down 4ppts in 3Q2015. Ms McCall said at the analyst meeting that demand conditions and consumer confidence were positive. "Everywhere you look in Europe, there is a more confident feeling," she said.
The lower unit revenue outlook is the result of higher competitor capacity plans and lower fuel prices starting to flow through to lower fares. Nevertheless, Ms McCall said that lower fares stimulated demand and were a net positive factor.
The airline expects FY2015 ex fuel cost per seat, at constant currency, to be up around 2.5% total cost per seat to be down 1.0% (also at constant currency). It also expects a GBP20 million adverse impact from foreign exchange movements in FY2015.
As is often the case, the greatest uncertainty in easyJet's guidance lies in the outlook for revenue per seat. If we assume that a decline in revenue per seat at constant currency by a low single digit percentage translates into a 1% decline in 2H2015, we calculate that the other elements of its guidance would point to a FY2015 pre-tax profit figure of around GBP655 million.
This would be 13% higher than last year's GBP581 million pre-tax profit, but below the GBP670-GBP690 million range of most analysts' forecasts prior to the 1H results announcement (analysts had been expecting a more positive unit revenue outlook). Moreover, it would confirm a slowing of pre-tax profit growth after 51% in FY2013 and 22% in FY2014.
EasyJet remains one of Europe's most financially successful airline companies and is well positioned to continue to capture profitable market share from the higher cost legacy airlines that are its main competitors.
However, as its cautious unit revenue outlook demonstrates, it is not immune to competitive pressures.