Dynamics shift in regional Australia with Rex's first loss, JetGo expansion and arrival of Airly
Analysis
Australia's regional aviation market is undergoing adjustment as Virgin Australia gently withdraws from its high stakes bet on the resources market; Jetgo Australia carves a valuable niche in long, thin flying; and Australia's first all-you-can-fly operator Airly plans its entry. Meanwhile, Regional Express' streak of profitability ends with its first-ever loss in 1HFY2016. Rex has not experienced passenger growth since 2009 and while its network has grown, ASKs are down, profits continue to fall and load factors have only recently stabilised. With a slowing resources sector and weak domestic business demand, Rex expects flat profit growth heading through to FY2016.
JetGo has been the standout in the regional market - defying expectations to carve a relatively successful niche of long, thin city pairs. Its success has been largely in connecting frustrated regional markets with major cities using regional jets. After a patchy start - none of its original routes remain operating - the airline has expanded further up the East Coast as its previous core of resources FIFO work has diminished.
Virgin Australia's move into regional Australia was always ambitious, and the acquisition of Skywest even more so. Its big bet on resources traffic has failed to pay off as mineral prices have fallen and the industry broadly has shifted from construction to production, but a partnership with Alliance and an improving freight business provide some bright spots in a muddy outlook.
Rex books its first ever operating loss in 1HFY2016
Regional Express (Rex) expanded significantly through 2016, with two additional Saab 340Bs and a network touching 53 destinations (up from 36 y-o-y) as the airline moved into Western Australia and Queensland - though with an overall reduction in ASKs.
Rex also reported its first loss in history at USD8.2 million for 1HFY2016 although, unlike the situation when CAPA last examined the airline's performance, Rex has arrested a downward slide in passenger numbers. Some financial pain can be expected as the company grows and diversifies its network.
Rex's network as of 04-May-2016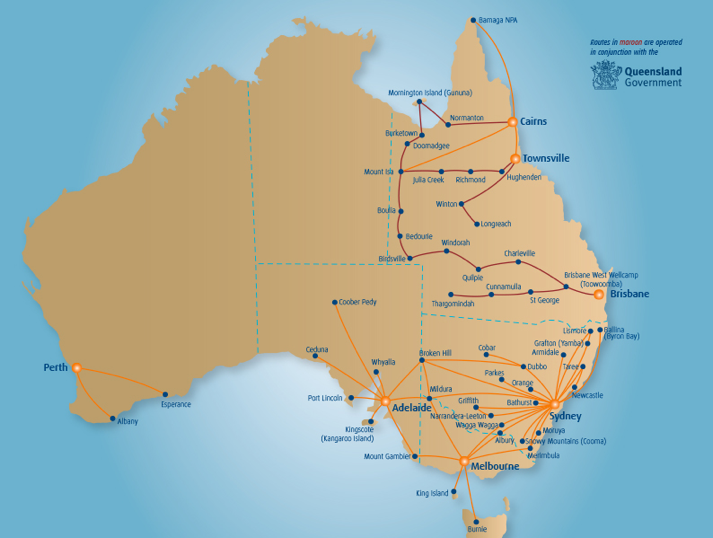 Rex's expansion in both Western Australia and Queensland is a result of winning regulated route contracts with each respective state government, the former state operation coming at the expense of Virgin Australia Regional Airlines. This is a prudent move, providing a safety net against the economic shocks which rattle the airlines' bread-and-butter business routes through New South Wales, Victoria and South Australia.
The airline has also expanded its pilot school, Australian Airline Pilot Academy, to train cadet pilots on behalf of Vietnam Airlines. However, soft demand and the cessation of an Australian Defence Force target towing contract mean that the net outcome of tailwinds and headwinds is neutral toward underlying profit in 2HFY2016. Neutral or declining profitability looks set to continue.
Regional Express (Rex) net profit FY2008 to FY2015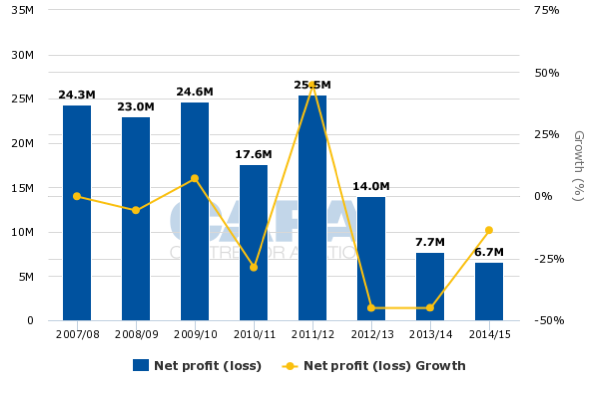 While the airline has finally arrested a free fall in passenger numbers and load factors, it has done so with a significant cut to its network.
The charts all relate to FY2015, but in its 1HFY2016 update Rex did report a 0.7% increase in passengers and a 0.2% increase in load factor on 1.7% ASK growth.
Regional Express (Rex) ASK vs Load Factor FY2009 to FY2015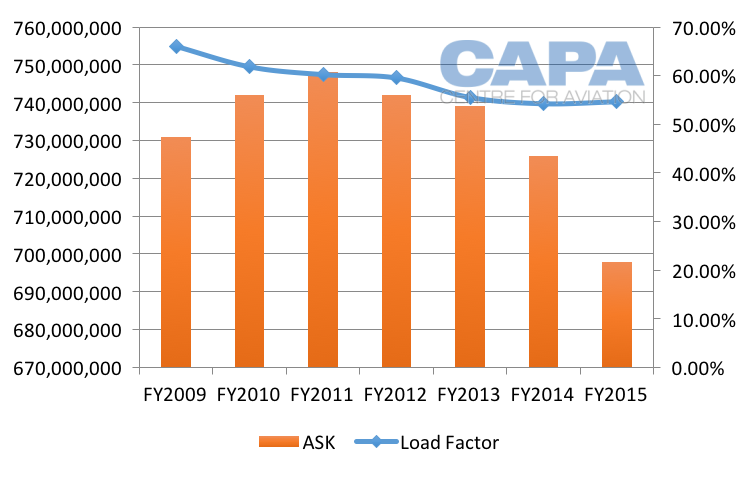 The result of continued fare increases (and perhaps a slowing economy) across Rex's network is evident in a steady decline in passenger numbers which continue to reach new all-time lows each financial year - most recently to 1.025m in FY2015. By contrast, Rex carried more than 1.3m in FY2009 - the height of the global financial crisis.
Rex has not experienced passenger growth since 2009. Management display frequent optimism but without larger scale changes to strategy it is unclear how improvements will be achieved.
Regional Express (Rex) Average Fare vs Passengers, FY2009 to FY2015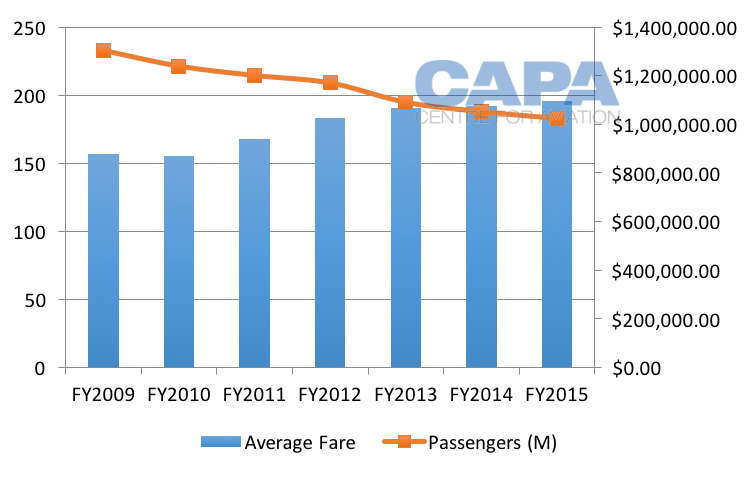 Rex's underlying economics remain sound: the airline has reported increases in passengers, ASKs, average fare and load factor as well as a 3.4% rise in passenger revenue per ASK, to AUD0.305. While expecting a weak 2HFY2016 the airline has weathered worse storms. Cost control has always been Rex's strong point, and the company has begun cutting deeper and making more frequent adjustments to its network.
The real challenge will be in the coming decade. Rex maintains that it can operate its Saab 340 fleet for at least 20 more years, and has aggressively purchased spares inventory from operators around the globe.
Indeed, it may be able to do so, but fleet renewal will have to come eventually given that its average fleet age already stands at 22.2 years. The combined lack of suitable 34-seat turboprop replacements and lack of capital to undertake a 50-aircraft fleet renewal may be Rex's biggest challenge yet.
JetGo carves a viable niche in long, thin 'hub busting' routes as resources business slows
Beginning as a privately funded FIFO/charter operator in 2012, JetGo has repositioned the majority of its business into regional flying as the resources sector has slowed. The airline has focused its RPT expansion on "frustrated markets" that are without services, and although having a fairly rocky start – the no longer operates any of the routes it launched with, and suspended one before commencing service – JetGo has since found its sweet spot, with a network soon to span nine destinations.
Jetgo MD Paul Bredereck has previously explained: "You can have FIFO contracts but there are only so many of them. We saw a niche opportunity on a number of longer, thinner regional routes," that bypass major capital city hubs. These high-yield regional services are beyond driving distance from capital city hubs, giving Jetgo a 'hub-busting' advantage in the market.
The airline's passenger mix skews more toward VFR, but still holds a business travel component. The model is fairly resilient in the market, as Mr Bredereck notes: "People are observed saying it is a challenging time for regional markets, but I would dare say QantasLink is probably one of the most profitable parts of Qantas' operation. No matter what business you are in it is challenging times. It is a matter of defining a niche and having a good product".
Jetgo Australia route network as at 02-Apr-2016*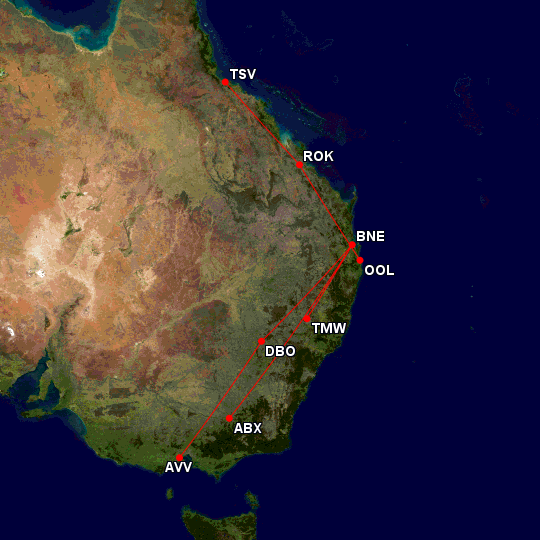 The airline operates three Embraer E135s and reportedly acquired three Embraer E140LR aircraft for further expansion, which had been due in Aug-2014.
As of May-2016, these aircraft are yet to arrive. JetGo has said that the delays were due to the "considerable modification work" required to meet Australian requirements, including ADS-B, but it has not provided an update on the aircraft status since Aug-2015.
Jetgo Australia fleet summary as at 02-Apr-2016
| | | | |
| --- | --- | --- | --- |
| Aircraft | In Service | In Storage | On Order |
| Embraer EMB-135LR | 3 | 0 | 0 |
| Total | 3 | 0 | 0 |
JetGo's approach to using E135 (and potentially E145s) is prudent, given the low cost of acquisition and number of used frames available. The airline takes advantage of the regional jet bell-curve, leveraging its efficiencies on longer sectors – JetGo's average sector length is 733km, or 396nm. Being the only small jet operator, JetGo has a competitive advantage – competitors can either dump capacity to take share, or enter with turboprops.
Airly joins the fold as the first all-you-can-fly airline
The all-you-can-fly phenomenon has had extremely limited success globally, one notable exception being SurfAir in the US. Nonetheless, Airly is bringing the model to Australia.
The airline is reportedly close to closing its first funding round for "a few million dollars" with domestic and international investors reportedly interested in a minority stake. Airly told Fairfax: "The raising is progressing well but is slower than we anticipated... Most investors understand and have first-hand experience of the problem we solve, and love our solution. However... overcoming some of the ingrained inefficiencies and expectations is an educational process."
The carrier has no plans to own or operate its own aircraft. Instead, Airly has shortlisted three Australian RPT AOC holders to operate services on its behalf - initially with three wet-leased Beechcraft King Air 350, expanding to a fleet of five "fairly quickly." Also on the cards is at least one Learjet 45. This capital-light approach may limit Airly's expansion options, given heavy reliance on the operational integrity of a third party (and likely one without significant scheduled RPT experience).
The airline will target the 'super commuter' who travels more than twice a month. Airly estimates this market to comprise between 3,000 and 5,000 individuals throughout Australia, a self-confessed "very niche" business, but has noted plans to operate to Canberra, Adelaide, Gold Coast and Hobart in future.
Initially, Airly plans to operate four times daily Sydney Bankstown Airport-Melbourne Essendon Airport service each weekday, to a total of 20 one-way frequencies each week, providing 160 one-way seats over the period. This would increase to nine daily frequencies each weekday, or 45 one-way frequencies each week, with then the addition of Melbourne Moorabbin Airport (Moorabbin being between 35 and 50 minutes' drive from the Melbourne CBD).
Bankstown is located 45 to 60 minutes from the Sydney CBD (as opposed to a 15 to 20-minute drive to the existing Sydney Kingsford Smith Airport), while Essendon is 10-15 minutes closer to the CBD than Melbourne Tullamarine Airport (both are less than 30 minutes away, but traffic conditions can alter this).
Airly has not yet confirmed where it will operate from at both airports, other than to say it will have its own lounge at Essendon through an existing FBO. The airline has yet to reach formal agreement for a facility at Bankstown, however the airport does have a rudimentary passenger terminal that has been in place since 1993, primarily used by charter operators and occasionally for events.
On the trunk route between Sydney Bankstown and Melbourne Essendon, a King Air would have a total airtime of approximately 1:30 including a 15-minute bias for take-off. A Learjet would complete the same route in 1:05. This compares with the block time of a commercial flight of 1:30.
The company initially advertised a service which can "save one to two hours every round trip," though this has since been adjusted to a saving between "two to three hours every round trip." For a sector of 1:30, a time saving of three hours is difficult to reconcile with fact.
The use of secondary airports further demonstrates this point given the marginal time savings – at Bankstown especially. Importantly, with a fleet of three aircraft the maximum interval of frequency the airline could offer is one every hour – occasionally one every two hours, depending on the specific rotation. For example, as shown below, this would mean a departure at 06:00, 07:00, 08:00 and 10:00 from Bankstown, assuming 20 minutes of ground time.
Sample Airly schedule between Sydney Bankstown and Melbourne Essendon using King Air 350

Airly has said that its frequency would be determined in conjunction with usage and utilisation, and it would launch with an intentionally low membership figure to ensure operational integrity. It noted that it would speak with its members to build a schedule around their regular flying patterns – an ambitious task. At least at launch, the airline will offer fewer daily frequencies than Qantas Airways offers between the hours of 06:00 and 07:30 each weekday – a significant barrier to achieving its promised time savings, and offering limited options for disruption recovery and accommodating changed travel plans.
Airly advertises its membership as beginning at AUD2550 plus an AUD1000 joining fee for all-you-can-fly each month, but its value to the corporate traveller isn't immediate – many of those travellers are rusted on to the respective FFPs of Qantas and Virgin.
Airly has noted that 60% to 70% of interested members hold high-tier status on one of the commercial airlines, but said: "Status credits [on] Sydney-Melbourne or Sydney-Brisbane don't appeal to them, they're used for the longer trips," adding "The remaining [sic] either don't put effort into FF or don't bother with it at all. We feel there is a gap between hardcore FF status and point optimisers and our members. Our members don't have the time for it."
This model is questionable in the Australian market – Airly says that the time-poor traveller is its core market, although four return departures each day is unlikely to be sufficient. While Airly's core differentiating factor appears to be focused on flexibility and frequency, it appears to achieve neither.
Airly is undoubtedly an interesting proposition, but the airline may be more suited to chasing the niche market, like Jetgo, where it can command a convincing time advantage.
Virgin Australia makes cuts as its resources bet fails to pay off
The play into regional Australia was always going to be ambitious. Virgin bet heavily on the resources sector, which has slowed considerably as mineral prices fell and the industry broadly shifted from construction to production.
In 2016 the Virgin Australia Group plans to dispose of 16 aircraft – almost all of which are deployed in the airline's regional markets. Eight Fokker F50s have already been retired, four of five Embraer E190s have been withdrawn, and the final aircraft will leave by Sep-2016. Virgin also plans to return three ATR 72s, which are now surplus to capacity requirements, to the lessors.
Since acquiring the Perth-based charter operator Skywest in 2012, Virgin built the carrier up to include a fleet of 14 ATR 72s (since transferred across to the mainline division) and rebranded it to match the mainline subsidiary.
The core focus now appears to be on developing Virgin's in-house freight division, which falls under the VARA umbrella. After a bumpy start, which resulted in Virgin ending its sole freight contract with Toll, the airline has said that launching a dedicated freight business is beginning to pay off.
Virgin Australia Regional Airlines CEO, Merren McArthur, has said that a recent deal signed with with TNT - to take effect from 01-Jul-2016 - would deliver increased revenues over Toll, given that the latter operates its own freight aircraft.
Virgin plans to wet lease two BAe146 freighters and one Boeing 737-300 freighter, with plans to add additional capacity as required. The aircraft will be operated by Pionair Australia.
Virgin Australia's regional fleet summary as at 02-Apr-2016
| | | | |
| --- | --- | --- | --- |
| Aircraft | In Service | In Storage | On Order |
| | 2 | 0 | 0 |
| | 14 | 1 | 0 |
| | 0 | 8 | 0 |
| ATR 72-500* | 6 | 0 | 0 |
| ATR 72-600* | 8 | 0 | 0 |
| | 13 | 3 | 0 |
| Total | 43 | 12 | 0 |
Since 2014 both the Virgin Australia CEO John Borghetti and Ms McArthur have talked at length about the desire to add more aircraft to the regional fleet, however the only new additions have been five F100s, while the F50 fleet has been retired entirely (related to Virgin Australia's decision not to retender for a regulated route license in Western Australia: since awarded to Rex). Plans for a larger fleet of ATRs are clearly off the cards.
A partnership with Queensland-based Alliance Airlines provides some strength in bidding for future contracts thanks to their complementary network coverage.
Ms McArthur has explained: "When we are competing for business we can choose which is the most cost-effective operation to draw it from and pitch the most likely solution... We have got very complementary businesses. Their strength is predominantly on the east coast and in South Australia. Our strength is obviously in Western Australia and they have also got operations in Western Australia". Virgin and Alliance plan to keep existing contract work to themselves, but will bid together on new contracts and cooperate to recover from disruptions.
So far, the most immediate impact of this relationship is Virgin offloading its scheduled 16 times weekly Brisbane-Emerald service to Alliance, who will operate the route with Fokker F70 equipment. This kind of relationship was probably all that Virgin needed with SkyWest, rather than absorbing the airline in its entirety.
Adjustments are necessary for sustainability in a difficult operating environment
Vast distance and small source markets make Australia an inherently challenging environment to operate in; that only one major regional operator is unaffiliated with an airline group provides testament to that.
Regional Australia is a cruel partner - as the operating environment continues to weaken, the market will bear the greatest brunt of any impact. While pockets of opportunity remain, now - more than ever - is no time for complacency.