Double-digit fare reductions create continued yield weakness in Aug-2009: ATA
Analysis
According to ATA President and CEO, James C May, "while there are signs that improvement may be on the horizon, regrettably the demand for air travel remains weak".
During Aug-2009, passenger revenue, based on a sample group of carriers, fell 21% year-on-year, wrapping up ten consecutive months of passenger revenue declines.
According to ATA, 6% fewer passengers travelled on US airlines in Aug-2009 (a worsening from the 4% contraction in Jul-2009), while the average price to fly one mile fell 17%, a slight improvement over the 18% yield decline in Jul-2009. Revenue declines extended beyond the domestic US to the trans-Atlantic, trans-Pacific and Latin American markets.
Market focuses on optimism of a market recovery
Despite this toxic combination, the Amex Airline Index has soared by 125% since early Mar-2009 lows as investors seem to be betting the worst of the industry's steep revenue losses may be behind it. Investors have also been buoyed by successful debt and equity raisings by airlines.
Amex Airline Index share price growth: Jan-2009 to Sep-2009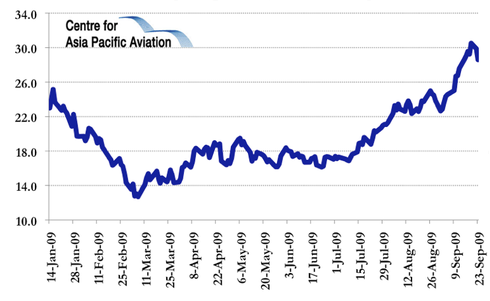 Yields continue to deteriorate at alarming levels
Significant improvements in yields failed to materialise over the peak Summer period. During Aug-2009, domestic airline yields slumped 14.0% (a slight improvement from the 14.7% reduction in Jul-2009, and the smallest reduction since Apr-2009), while Atlantic yields continued their downward spiral, falling 24.3%. This contraction is larger than the 22.8% reduction in Jul-2009, and the second highest year-on-year reduction this year (second only to Jun-2009's 25.2%). Atlantic and Latin yields were also down significantly, by 24.4% and 19.8%, respectively, following reductions of 27.5% and 21.5% respectively, in Jul-2009.
ATA yield growth: Jan-2008 to Aug-2009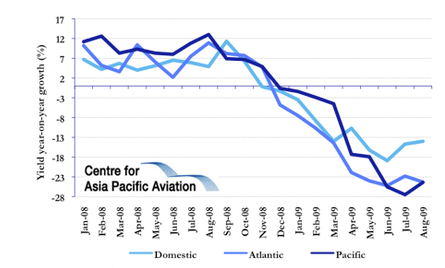 There was some improvement on the previous month, and it also must be noted that August's reductions were off reasonable growth in the corresponding period in 2008. (Domestic Aug-2008 yields were up 4.9% and Atlantic, Latin and Pacific yields gained 10.9%, 16.2% and 13.0%, respectively, partially due to fuel price related increases).
ATA yield (US cents): Jan-2008 to Aug-2009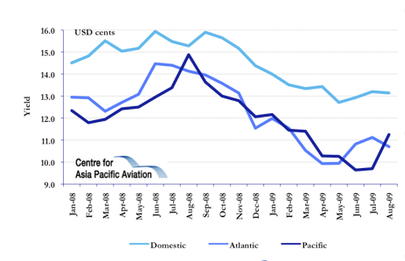 Yield weakness to continue, more cash needed
Looking forward, US carriers are likely to be headed for another month of double-digit yield reductions in Sep-2009, as economic conditions remain patchy (and last year's base was still quite solid).
Fitch Ratings has warned that while revenue declines for US carriers are slowing and airline financial health is expected to improve in 2010, carriers are coming to the end of their liquidity reserves and will need "emergency sources of capital" to survive the slower Winter period. According to Fitch, weak fundamentals in some airlines could lead stronger carriers to commit to another round of consolidation.