Domestic yield growth running out of steam in the US
The beleaguered US economy appears set for further weakness in the months ahead. Further contraction in the US Leading Index in Nov-08 suggests that the recession that began in Dec-07 will continue into the New Year, and the contraction in economic activity "could deepen further in the near term", according to The Conference Board.
For most US airlines, which have benefited greatly from the slump in fuel prices, this is not welcome news. The weak economy finally appears to be playing out on yields, with domestic yields rising just 1.2% in Nov-08 - the slowest pace of growth since Sep-07 and well below the 6.9% average increase in the 11 months to Nov-08. The weakness in yield comes despite big reductions in domestic capacity of around 10%.
ATA passenger yield growth (% year-on-year) by region: Dec-07 to Nov-08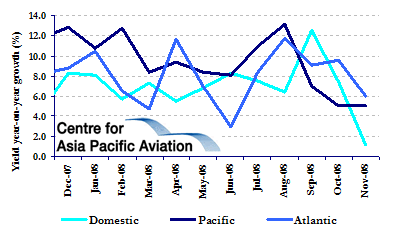 Pacific yield growth continued to ease from the high start of year levels to +5.0% in Nov-08 (following +5.0% growth in Oct-08 as well). Atlantic yields rose 6% (below the 8% year-to-date increase).