Dobrolet nears take-off, but can Aeroflot's LCC subsidiary achieve the required cost structure?
Analysis
Russia's parliament, the Duma, recently adopted a bill allowing Russian carriers to offer different fare classes and non-refundable tickets. The law will enter into force 60 days from its official publication, effectively creating the conditions to allow low-cost carriers to establish in the domestic market. Meanwhile, Aeroflot's planned new LCC subsidiary, Dobrolet, is nearer to its planned launch, reported to be in May-2014 with a service from Moscow to St Petersburg.
At Aeroflot's Capital Markets Day (13-Mar-2014), it provided more details of Dobrolet's business model (close to a pure LCC) and of its planned network development (11 destinations in 2014, rising to 36 after five years). With plans to price its tickets at a discount of 20% to 40%, we assess if and how it can achieve the necessary cost savings to ensure profitability.
See related report: Aeroflot Group: LCCs in Russia have been notable for their absence. Aeroflot will start one
Dobrolet reportedly expects to take delivery of its first aircraft in Apr-2014, a new Boeing 737-800. The fleet will grow to eight 737-800s by the end of 2014. In Mar-2014, it was reported that the carrier's application for an air operator's certificate had been delayed by its lack of aircraft. Consequently, it was also reported that Moscow Domodedovo Airport would not conduct negotiations with Dobrolet regarding a potential hub for the start-up until its fleet and air operator's certificate were in place.
What is clear is that Dobrolet's hub will not be located at Moscow Sheremetyevo, since this is the main hub of parent Aeroflot and the group rightly wishes to establish its new LCC on a stand alone basis. It seems that Domodedovo is its first choice for the Moscow hub, although Dobrolet has reportedly also considered Moscow Vnukovo as a fall-back option.
Aeroflot needs Dobrolet to complete its multi-brand strategy
For Aeroflot, Dobrolet completes its airline product portfolio within its multi-brand strategy. The parent company Aeroflot is present in the business class, regional and leisure segments and in short-haul, medium-haul and long-haul. In addition, it also has subsidiaries Donavia, Rossiya and Aurora in the regional segment on short and medium-haul routes and Orenair in the leisure segment. Dobrolet will compete in what Aeroflot calls the "price sensitive" segment.
As part of the gradual process of the liberalisation of market access, Aeroflot is seeing a growing level of competition from LCCs on short and medium-haul international routes to/from Europe. If its LCC Dobrolet is successful in the domestic market, it may also become a useful weapon on international markets.
See related report: Aeroflot SWOT analysis. Russia's national champion is well positioned to confront new challenges
Aeroflot Group multi-brand strategy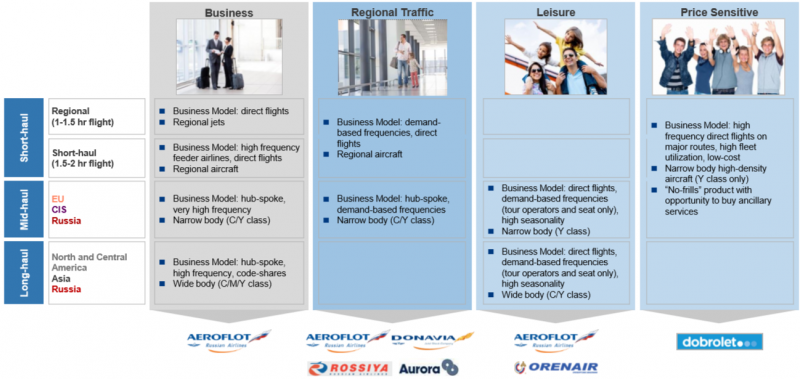 Dobrolet is planned to be a pure LCC
If the plans announced by Aeroflot are anything to go by, Dobrolet will look and feel like a purist LCC. It will operate single aircraft fleet (Boeing 737-800) with high density seating (189 seats) in a single cabin configuration. One cabin bag will be allowed, but additional features such as checked baggage, on board catering, allocated seats and priority boarding will come at an additional price. There will be no inflight entertainment, but a magazine will be available on request.
Distribution will focus almost entirely on direct channels and fares will be non-refundable (this was not possible until the law was changed to allow for non-refundable tickets). The only non-purist feature of the model seems to be that Dobrolet will offer a frequent flyer programme, although this will be for a fee.
Aeroflot says that Dobrolet tickets will be priced at a 20%-40% discount to "traditional" carriers. It is keen to emphasise that the Dobrolet product is "substantially different" from that of Aeroflot.
Dobrolet product features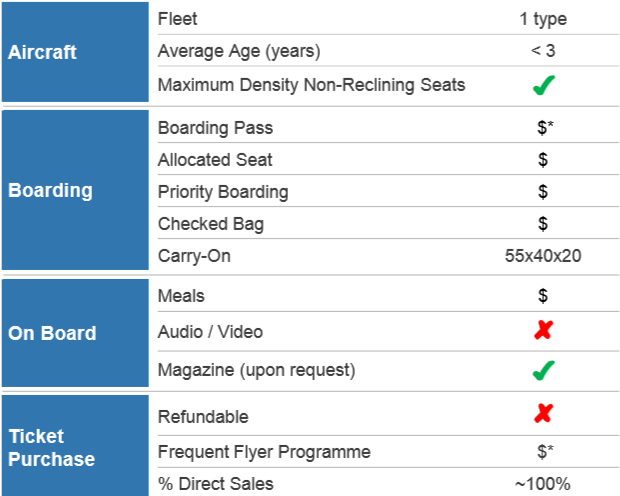 Route selection criteria cover all main rail routes
Dobrolet's route selection will focus on Russia's top 150 air and rail routes by passenger numbers, where there is sufficient demand for at least three weekly frequencies. In addition, it will seek sectors of more than 400 kilometres and airports where there are no restrictions for Boeing 737 or Airbus A320 family aircraft.
It is likely to have a longer average sector length than the major European LCCs such as Ryanair, easyJet, Vueling and Norwegian. The distances in the Russian domestic market are long and the Aeroflot Group's average domestic trip length is more than 2,000 kilometres. Most of the major European LCCs have an average trip length of around 1,200 kilometres or less and their networks include some short routes of below 400 kilometres.
Dobrolet key route selection criteria

Dobrolet will fly 11 domestic routes in 2014; international routes to start from 2016
Dobrolet has not yet announced its route network in any detail and flights are not yet available for sale. However, Aeroflot's Mar-2014 Capital Markets Day presentation to analysts and investors said that it would have 11 domestic destinations in 2014 and identified the number of destinations in each district of Russia (see chart below). In 2015, this will rise to 20 destinations and in 2016 it will have 27, including four international destinations. Dobrolet plans to have 36 routes over five years.
From press reports and from a number of requests for the provision of services such as ground handling and maintenance, we can get a fair idea of the first routes planned by Dobrolet this summer. It reportedly plans to launch its first service in May-2014 with daily Moscow-Saint Petersburg operation (Kommersant/AviaPort.ru, 26-Feb-2014), increasing to six times daily by the end of 2014.
This city pair is currently operated by Aeroflot (and a number of competitors: Gazpromavia, S7 Airlines, Transaero, Ural Airlines, UTair Aviation and VIM Airlines, according to OAG) and it is not yet clear whether the parent airline will continue to operate on the route and, if so, whether and how the schedules of the two Group companies will be co-ordinated. Aeroflot subsidiary Rossiya ceased operating the city pair from the start of the summer season, so perhaps Dobrolet is targeting its market share.
In addition to Saint Petersburg, it also seems likely that Dobrolet is planning to launch services to Perm, Samara, Ufa, Kaliningrad, Krasnodar and Yekaterinburg from Moscow in northern summer 2014. There have been reports that Istanbul and Yerevan are among the first international routes planned for 2016.
Dobrolet planned evolution of network 2014 to 2016

Cannibalisation risks are to be mitigated, but not removed entirely?
On all the domestic routes mentioned above, the competitive story is similar. Aeroflot is already the leading carrier by seats on these routes, but it faces a large number of competitors. Dobrolet will be the only LCC, at least initially, once it starts operating.
See related report: Russia's low air travel penetration augurs well for the aviation market - and for Aeroflot
Aeroflot argues that Dobrolet will differ from its core offer and that its product will lead to additional passenger demand, rather than the cannibalisation of existing sales. Dobrolet will use a different Moscow airport from Aeroflot's Sheremetyevo and it will focus on point to point traffic in a single (economy) cabin. Aeroflot believes that this will have no impact on the parent's transfer passengers and business class passengers.
Nevertheless, from the available information on planned routes, Aeroflot and Dobrolet will operate on the same city pairs, at least on its initial routes and it is difficult to believe that not one existing Aeroflot passenger will be tempted to switch to Dobrolet's lower fares. Perhaps Aeroflot is hoping that any cannibalisation will be more than offset by stimulating new demand and by taking share from its other competitors.
These competitors do not only consist of airlines. As noted above, Dobrolet includes the major rail routes in its list of potential markets and it has already demonstrated a willingness to attack rail competition aggressively.
Indeed, the Federal Antimonopoly Service directed the still to be launched LCC to remove an advertisement from its website after receiving a complaint from rail operator Federal Passenger Company (FPK) (The Moscow Times/AEX.ru, 06-Feb-2014). The advertisement read: "Are you tired of long, uncomfortable trips on the train, and high prices for airline tickets? So are we."
Dobrolet aims for ticket price discount of 20% to 40%; it should go for 40%
In 2013, Aeroflot's average passenger revenue per passenger in the domestic market was USD214, or EUR161 and the average domestic passenger trip length was almost 2,100 kilometres. European LCCs operating a similar average trip length generate revenues of EUR86 to EUR141 per passenger (based on 2012 data).
The midpoint of theses two numbers is EUR114 and this could be taken as a benchmark for the average revenue per passenger that Dobrolet should target in order to be competitive with international LCCs.
While it will undoubtedly undercut domestic competitors – there are currently no other LCCs inside Russia – it must establish its revenue (and cost) structure so that it is ready to compete on international routes when it expands out of the domestic market in 2016.
This benchmark of EUR114 is 30% below Aeroflot's average passenger revenue per passenger and so Dobrolet's target of pricing its fares at a discount of 20% to 40% appears to be about right. Comparison with the more efficient international LCCs suggests that it should aim for the lower end of its target range (ie a 40% discount).
Dobrolet's cost base needs to be commensurately lower than Aeroflot's too
While it does not take a genius to work out that offering tickets at a discount of 20% to 40% is likely to drive additional volume, the key to profitability for a low-cost carrier is to ensure that the cost of production is lower than the average ticket price. So, if Dobrolet needs to target revenue per passenger 40% below that of Aeroflot in the domestic market, it needs to construct its cost base to be 40% lower on a per passenger basis.
Aeroflot's Capital Markets Day presentation listed what it considers to be its main sources of cost advantage. It grouped these into six categories: fuel, labour, aircraft/traffic servicing, maintenance, SG&A (sales, general and admin) and operating leasing/financing.
Dobrolet sources of cost advantage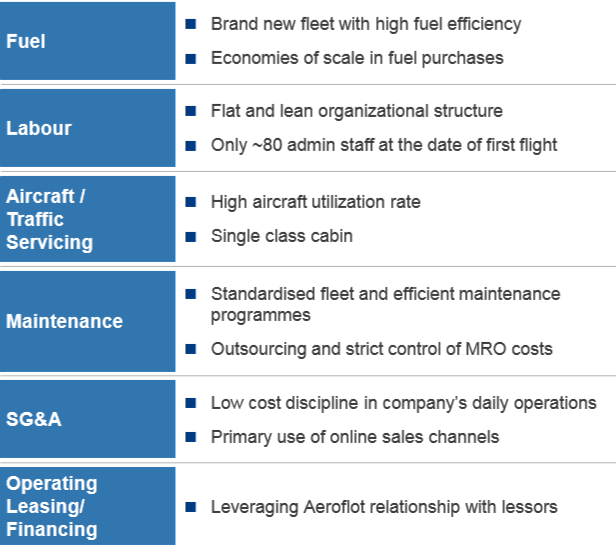 A truly stand alone operation is crucial to the LCC's success
A good starting point in constructing a low-cost carrier subsidiary of a FSC airline is to ensure that it operates on a stand alone basis with its own low-cost culture. It seems that Dobrolet is indeed being created from a blank sheet of paper, with its own organisational structure, workforce, aircraft and hub.
Moreover, judging from the requests for service that have appeared on Dobrolet's website, it appears to be independently choosing its own suppliers of services such as maintenance, ground handling and catering. While it is not obvious that it can obtain substantially better terms for such services, or for airport charges, it does offer it the opportunity to do things its own way.
So how can Dobrolet generate meaningful cost savings compared with Aeroflot on a per passenger basis?
The backbone of the Aeroflot Group's existing narrowbody fleet is the Airbus A320, of which it has 72 in its fleet (source: CAPA Fleet Database; it also has 41 A319s, 26 A321s and 9 Boeing 737s). According to the CAPA Fleet Database, the average age of Aeroflot's A320 fleet is currently 4.9 years, compared with the planned average age of less than three years for Dobrolet's 737-800 fleet.
While the Dobrolet fleet will be a little younger, it is difficult to argue that its fleet will have any material advantage relative to the parent company in terms of fuel efficiency and maintenance costs. The one area where Dobrolet plans to take advantage of its association with Aeroflot is in aircraft financing: it is "leveraging Aeroflot's relationships with lessors" and so ought to receive similar terms.
The use of direct sales channels will yield savings, but sales and marketing represent only 5% of Aeroflot's costs and so this is not likely to be a very substantial source of cost advantage.
Higher seat density is the most significant source of cost advantage
The most significant source of cost advantage on a per passenger basis is likely to be the denser seat configuration of the 189 seat Boeing 737-800s operated by Dobrolet compared with Aeroflot's 145 seat A320s. With no change to any underlying cost per flight, the additional seats give a 23% cost advantage per passenger assuming the same load factor as Aeroflot.
The parent company's domestic load factor was around 78% in 2013 and the LCC might hope to improve on this by a few percentage points, so that its cost per passenger advantage might exceed 25% purely based on higher seat density and load factors. In order to achieve the necessary 40% cost per passenger advantage, further savings will be needed.
Labour and aircraft utilisation will also have to contribute to the lean profile
These additional savings will have to come from lower wages, better labour productivity and higher aircraft utilisation. Aeroflot's average labour cost per employee is already low by European standards, but Dobrolet is recruiting its own work force (it is reportedly looking to recruit up to 160 pilots ahead of its launch and, presumably, sees potential for further savings from labour.
The point to point model should allow for better daily utilisation than achieved by Aeroflot, although this will also depend on airport infrastructure and Dobrolet's suppliers of ground handling services.
Overall, on the basis of what we know of Dobrolet's plans so far, it looks feasible for it to achieve a cost base that allows for profitable operations if fares are somewhere in the targeted range of 20% to 40% below those of Aeroflot in the domestic market, although a 40% discount would make profitability more challenging. Much will depend on how well it is received in the market and the level of load factor it can achieve.
As long as Dobrolet is operating in the domestic market only, and as long as there are no other LCCs in this market, it has the potential to be profitable with a ticket price discount of 20% to 30%. However, it will need to push the possible cost savings as far as possible if it is to compete profitably with the more efficient international LCCs when it enters international markets from 2016. As is often the case in the airline industry, labour costs may be the key to its success.
See related report: Aeroflot: strong profit growth in 9M2013. LCC subsidiary Dobrolet complements the team in early 2014