Demand destruction - enter the next phase of the airline crisis
But the global economic slowdown threatens to usher in the next - and potentially more damaging phase of the airline industry crisis - demand destruction. The International Air Transport Association (IATA) stated yesterday that strong traffic growth allowed the industry to partly absorb the rise in fuel costs from 2003-2007, but this is "no longer the case".
The statement accompanied IATA's revised industry forecast of combined losses of USD5.2 billion in 2008, based on an average crude oil price of USD113 per barrel (USD140 for jet fuel). The projected 55% increase in oil prices will push the industry fuel bill up by USD50 billion to an expected USD186 billion this year, accounting for 36% of total operating costs, up from just 13% in 2002. Even if prices slump now, earlier high levels mean the year average will remain well above USD100 per barrel.
Asia Pacific airlines are expected to see profits shrink from USD900 million in 2007 to USD300 million this year, while Middle East carrier profits will drop by USD100 million to USD200 million. North American carriers are expected to post losses of USD5.0 billion in 2008, making them the hardest hit by this industry crisis.
IATA's first profit estimate for Asian carriers for 2008 (back in Jun-07) had seen profits this year of USD2.5 billion. The new estimate is an 88% downgrade from the original forecast - such has been the impact of rising fuel prices and slowing demand on the outlook.
Evolution of IATA's 2008 industry profit (loss) forecast by region (USD billions): Jun-07 forecast to Sep-08 forecast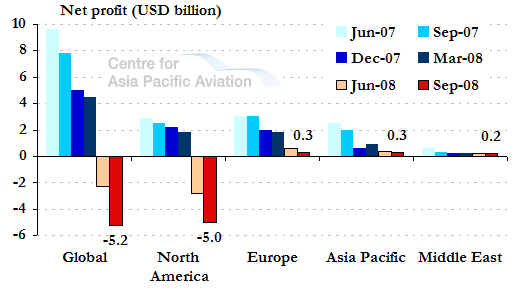 IATA Director General and CEO, Giovanni Bisignani, stated, "the situation remains bleak. The toxic combination of high oil prices and falling demand continues to poison the industry's profitability".
IATA has also issued its first profit outlook for 2009, showing an industry net loss of USD4.1 billion, and noting, "most economies are expected to deliver even weaker economic growth next year, which will negatively impact air travel and freight". Oil prices are projected to average USD110 per barrel (USD136 for jet fuel) in 2009, while traffic growth is expected to be weak. The 2009 fuel bill is expected to rise, as hedging offers less protection, to USD223 billion, comprising 40% of operating expenses.
The good news of the recent fall in the oil price reflects the bad news of a sharp slowdown in the global economy, which is evidenced in airline traffic data. IATA revealed worldwide international passenger demand growth fell to 1.9% in Jul-08 - the lowest in five years, while capacity increased by double that, pushing the load factor down to 79.9%, down 1 percentage point.
Asia Pacific carriers reported a 0.5% reduction in passenger demand in Jul-08. IATA stated this was partly attributable to a change in Chinese visa requirements in the lead up to the Olympics, "but also [showed] that economic weakness is spreading to previously robust economies". Asia Pacific carriers also reported a worrying 6.5% reduction in cargo demand in the month, driving worldwide down 1.9% year-on-year.
As a result of the weaker economic outlook, IATA significantly revised downward its traffic forecast for domestic and international markets combined. Global passenger traffic is now expected to grow on average by 3.2% (previously 3.9%) and air freight volumes by just 1.8% (was 3.9%). This is only half the pace of expansion seen in 2007.
What the report does not reflect is the fact that a combination of lower fuel costs and slowing demand offers ideas conditions for airlines with a lower cost base. If this is the direction the economy takes for a year or more, we can expect to see some significant changes in the industry's structure as we enter the next cycle.