Delta, United and American fall back, Continental hit by alliances review – Share Wrap
Analysis
Alliances holding pattern
Continental Airlines' plan to join the Star Alliance and cooperate more closely with United Airlines has hit a hurdle, with the Justice Department stating on Wednesday that it would like to review the Transportation Department's Apr-2009 preliminary approval to Continental's request for antitrust immunity. American is also requesting antitrust immunity to cooperate with British Airways and Iberia on the Atlantic.
For daily updates on American aviation stock prices and a complete wrap of the day's breaking news, sign up now for a complimentary subscription to America Airline Daily.
North & South America selected airlines daily share price movements (% change): 18-Jun-09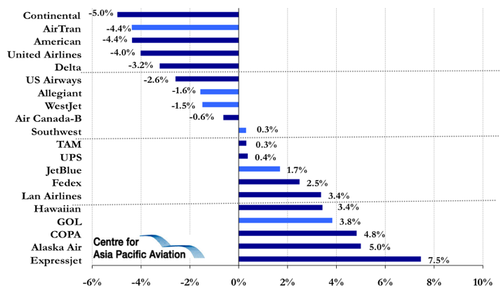 US Airways (shares down 2.6% yesterday) CEO, Doug Parker, told the American Association of Airport Executives this week that the "broken" US airlines still "have too many seats fighting for the same customers and too many airline hubs that drive a lack of profitability".
This is showing up in recent commentary on yields.
Unit revenues slumping
United Airlines stated on Wednesday it expects its PRASM to fall by up to 18.9% in 2Q2009 year-on-year, following an 11.1% decline in 1Q2009. United's operating costs (excluding fuel hedges and profit sharing) are expected to decline more (by 19.6% to 19.9% in 2Q2009), but it is a depressing picture nonetheless.
Last week, the CEO of Southwest Airlines (shares up 0.3% yesterday), Gary Kelly, stated he expects June PRASM to fall more than it did in May-2009 (-9%). He stated, "based on the trends we're seeing in June, I don't expect things to get any better". Mr Kelly added, "there's no real reason to argue that things are getting better - the 'green shoots' are pale green at best".
One potential green shoot on the unit revenue front is the fare increase (USD20 round-trip) initiated by Delta and US Airways on 10-Jun-2009. It appears to be sticking as more carriers, including Southwest, match the increase. If so, it would be the first broad-based increase this year and would be a welcome sign ahead of the Summer peak travel season.