Delta slumps again; AirTran pilots join ALPA United, TAM, Continental, US Air suffer flu- SHARE WRAP
Analysis
Delta (-9.9%) shares slumped again yesterday, after losing 14.3% of value on Monday, as swine flu swept the US airline industry. United (-8.2%), AirTran (-7.0%), TAM (-4.9%), Continental (-4.6%) and US Airways (-4.0%) all suffered from Swine Flu yesterday.
Only a handful of airlines across the Americas (COPA, American, Southwest, FedEx, Allegiant and Canada's WestJet) remained positive yesterday, in some cases after losing heavily the previous day.
For daily updates on American aviation stock prices and a complete wrap of the day's breaking news, sign up now for a complimentary subscription to America Airline Daily.
North & South America selected airlines daily share price movements (% change): 28-Apr-09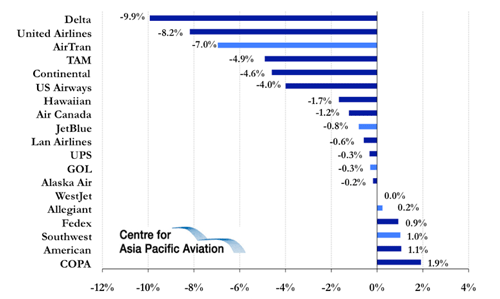 AirTran gets ALPA-ed

AirTran's share movement however was probably more due to an announcement that AirTran's National Pilots Association, to which most of the carrier's 1,700 pilots belonged, is to be merged into the wider industry body, the Air Line Pilots Association. This announcement followed ALPA's quarterly Executive Board Meeting on Tuesday. AirTran becomes the largest LCC to have full Air Line Pilots Association representation among its flight crew.

ALPA is the world's largest pilots union, representing nearly 54,000 pilots at 36 airlines in the United States and Canada.

Investors showed they were not nearly as impressed with the news as was the Association's President, Captain John Prater, who praised AirTran's pilots, "who have courageously and diligently combated their management's effort to bargain a concessionary agreement," adding ominously that, "We look forward to working together to secure the fair contract they deserve."

In a year which has more than half of the US' pilots awards being renegotiated, airline managements as a whole will be interested to note Captain Prater's boast that: "Through this ALPA-NPA merger, our union's collective strength will become even greater, as we move one step closer to unifying pilot groups of all sizes and that fly all types of aircraft for airlines throughout the United States and Canada."
For daily American share price updates direct to your inbox, sign-up now for a complimentary subscription to America Airline Daily.