Delta announces 25% reduction in operations at Memphis
See related report: US airport hubs: Memphis Airport
A planned correction or part of a slide?
The numbers were large - a drop from around 200 daily operations to perhaps as low as 150. The carrier was quick to note that most of the reductions would involve flights operated by its Delta Connection partners, operating smaller RJs, so that available seat miles would drop only about 8-10%. The changes would not involve any Delta mainline staff but that all the contraction would affect staff at Pinnacle, Atlantic Southeast and Comair.
Along with the cutbacks, to be implemented throughout 2011, Delta is in discussions with the airport to consolidate its operations in Concourse B as from 2012.
While the airport authority and the business community claimed that while the changes were unfortunate, this was not seen as a prelude to further downsizing on the part of Delta at the airport.
Plan B?

Unlike Cincinnati (CVG), where Delta has decimated the airport's previous reach, mainline services are still intact at Memphis. At CVG, almost all the mainline service has been replaced by smaller aircraft, leaving much of the airport's terminal capacity empty.
But, like Cincinnati, Memphis does not really have much of a Plan B. As illustrated by the Innovata data below, if Delta downsizes, Memphis' access to the nation and the world will be via other hubs, as Delta alone supplies direct seats to places like Los Angeles and Boston.
Click here for more schedule data and analysis on Memphis Airport.
Memphis International Airport capacity (seats per week, to/from) by carrier (21-Mar-2011 to 27-Mar-2011)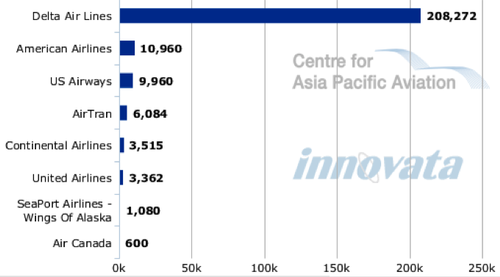 Unlike CVG, Memphis does have a low cost presence in the form of AirTran, soon to be Southwest, which provides some downwards pressure on fares. But compared to many other airports, that presence remains rather small.
Memphis International Airport capacity share by carrier type (21-Mar-2011 to 27-Mar-2011)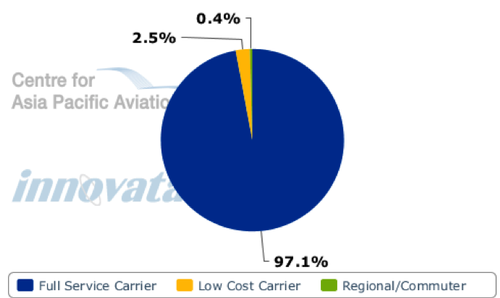 Vulnerable as fuel costs rise

Much of the rationalisation provided by Delta has resonance across the industry as all carriers reduce capacity in light of spiraling fuel prices. It may very well be that the airport will remain a vibrant Delta hub and that this is just fine-tuning, so as to boost the bottom line.
But what we have seen in the example of Cincinnati is that Delta can have a very low bar in determining what is classified as a hub. True, Delta remains the primary carrier at CVG, but its much-reduced presence has resulted in less service and higher fares for point-to-point travel. Plus, they have successfully deterred a meaningful LCC challenge.
And Memphis also differs in the presence of FedEx, which has made the airport one of the world's largest cargo hubs - good for the local economy, but not much use for travellers.
The scenario that is developing does not inspire hope.