Delta and Southwest become mired in legal tussles at Love Field. Passengers may be the losers
Analysis
Legal wrangling among the City of Dallas, Southwest Airlines and Delta Air Lines has intensified ahead of a 6-Jul-2015 expiration date on leases for gates that Delta uses at the airport. The amped up legal activity shows that there is no shortage of controversy in the consolidated, and mostly mature, US market.

In a complex web of leases and subleases, Delta is leasing gates Southwest is sub-letting from United. Southwest and United negotiated a lease agreement for two gates in early 2015, and Southwest has allowed Delta to use gate space until early Jul-2015. The two airlines are now trading legal barbs, with Delta refusing to vacate the space and Southwest accusing Delta of trespassing after the upcoming deadline.

The city of Dallas has sought clarification from a US District Court in how to proceed in the Southwest-Delta dispute while the US DoT is backing Delta. Both airlines, meanwhile, have sold tickets for travel beyond the Jul-2015 deadline, seemingly disregarding the operational nightmare it could create at the airport.
Delta is the odd man out after a gate shuffle at Love Field
Two events have created the latest controversy at Dallas Love Field – the 2014 expiration of the Wright Amendment limiting certain longer haul flights on jets with a specific number of seats from the airport, and the 2013 merger of American Airlines and US Airways.

In a settlement that American and US Airways reached with the US Department of Justice to close their merger, the airlines agreed to relinquish gates and slots at certain airports, including two at Dallas Love Field that American was subleasing to Delta.

Delta wanted to keep the gates and Southwest angled for them as well. Ultimately, the DoJ awarded them to Virgin America. Eventually United, which held two gates at the airport, forged a short sub-lease deal with Delta for one of the gates, but eventually struck a deal for the gates with Southwest, which allowed Delta to use gate space until the Jul-2015 deadline.

It is a lot of to and fro for a mere two gates, but the lifting of the Wright Amendment restrictions allow for airlines serving Love Field to now operate to key business markets with larger jets such as New York and Atlanta. Although Delta operates service from Dallas/Fort Worth, Love Field is closer to the Dallas city centre, which is a more attractive option for business travellers.
Seemingly opposing Federal directives put the city of Dallas in a tough position
As the expiration of the lease agreement with Southwest neared, Delta sought to remain at Love Field, and has gotten support in its efforts from the US DoT. The agency sent the city of Dallas two letters essentially stating that it should make reasonable efforts to accommodate airlines seeking to expand at Love Field.

But the city of Dallas believes creation of the Wright Amendment Reform Act of 2006 complicates the DoT's request to accommodate Delta at Love Field. That act has Federal statutory provisions protecting preferential gate rights at the airport for signatory airlines (which includes Southwest) from interference from other Federal codes that require airports to foster appropriate levels of competition.

The city claims it would be at significant risk if it adopted several options in attempting to settle the Southwest-Delta dispute. It faces legal action if it sides with one airline against another, or if it complies with the interpretation by the US DoT to satisfy Delta's request. Dallas also claims that it could grant funding for Dallas Love Field if it does not adhere to DoT's guidance.

Essentially, the city faces legal repercussions from both Southwest and Delta and also risks losing grant money from the US government. Officials from Dallas told the Federal Court handling its case that "...it is impossible to resolve the competing and conflicting claims without judicial interpretation, direction and decision".
Southwest and Delta continue to sell tickets amidst the legal battles ensuing
After the city filed its lawsuit seeking a decision in the Love Field dispute from a US Federal Court, Delta according to the Dallas Morning News has threatened to sue the city to retain its operations from Love Field, and Southwest is seeking an injunction against Delta for trespassing at the airport gates as of 7-Jul-2015. On 23-Jun-2015 the news outlet reported that Delta filed an emergency motion to request a temporary restraining order and a preliminary injunction from being forced to leave Love Field.

Both Southwest and Delta have been selling tickets for service beyond 6-Jul-2015 on the premise that each respective airline would prevail in the gate dispute.

Southwest would utilise 18 of 20 gates available at Love Field if it succeeds in pushing Delta out of the airport. It claims it has already sold 25,000 tickets to passengers planning to travel on five new flights operating from the gates it leases from United that Delta is occupying. Delta is also continuing to sell tickets for its flights from Love Field to Atlanta.

During Aug-2015 Southwest is adding new flights from Love Field to Boston, Charlotte, Raleigh-Durham, Detroit, Omaha, Philadelphia, Pittsburgh and Salt Lake City. So it will need to extra gate space to accommodate the new service.
Southwest and other airlines could push Love to operating capacity
It seems as if all the legal twists and turns are a bit excessive given that the dispute is over two gates, and there are two airports serving the Dallas metro region – Dallas Love Field and DFW. All the legal ruckus created by Southwest and Delta is against a backdrop of average fares in the Dallas market resting lower than a year ago before Southwest made its post-Wright push into numerous new markets. It seems as if airlines would want to avoid entering the fray when yields seem weak. Delta arguably has ample coverage in the Dallas metro market serving its hubs in Atlanta, Detroit, Cincinnati, New York LaGuardia/JFK, Minneapolis, Detroit and Salt Lake City from DFW. It also operates service from the airport to Los Angeles.

See related report: Southwest Airlines continues to exploit new Love flying while upping competitive pressure in Dallas

But in a consolidated environment, fewer airlines are vying for the allegiances of high yielding business passengers. Even American, according to legal filings from the city of Dallas, has requested four daily flights from the airport during the midst of significant pricing dilution in the Dallas market, and after it was forced to surrender gates at the airport. It is the largest airline at DFW by a wide margin, holding nearly 81% of its system seats and 74.2% of its ASMs. But it obviously sees some strategic value (either offensive or defensive) in attempting to re-launch a small amount of service from Love Field.

Southwest is pushing to operate 180 daily flights from Love Field, according to the City of Dallas. With the existing flights offered by Virgin America, Seaport Airlines, American's request for service and Delta's target for 11 daily flights, total daily flights at the airport would reach roughly 216 when Love Field can only accommodate 200 flights on a daily basis.

Since Southwest's push from Love Field beginning in late 2014, passenger numbers have soared at the airport to more than one million in Mar-2015 and Apr-2015. Passenger growth for the first four months of 2015 has exceeded 45%, reaching nearly 56% in Apr-2015.
Dallas Love Field monthly passenger numbers: 2008 through Apr-2015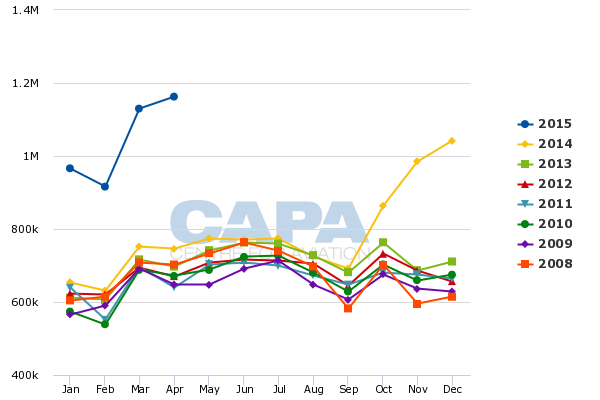 Southwest is obviously the largest airline at Dallas Love Field measured by seats (89%) and ASMs (85%). Although two gates seems fairly insignificant, their importance rises in a facility capped at 20 gates. The airline was artificially constrained at Love Field for a long time, so it will fight hard to ensure it can expand direct service from Dallas into the largest metro areas it has previously been prohibited to serve.
Dallas Love Field capacity by airline (% of seats): 22-Jun-2015 to 28-Jun-2015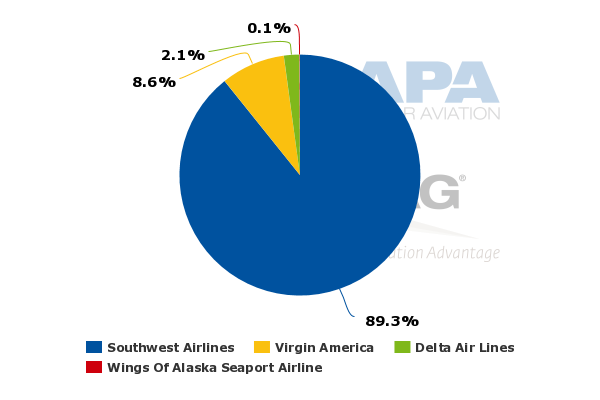 Dallas Love Field capacity by airline (% of ASMs): 22-Jun-2015 to 28-Jun-2015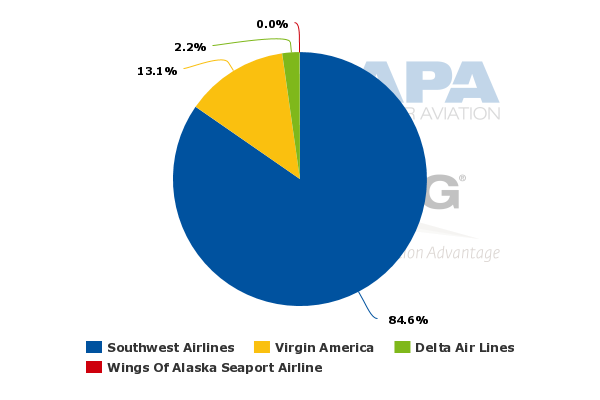 In an exchange with the Dallas Morning News after Southwest's annual shareholder meeting in May-2015, Southwest CEO Gary Kelly noted the airline would use every ounce of time and space at the 18 gates it holds at the airport.
Southwest opts to allow Delta to say at Love until the court makes its decision
The city told the court it has tried to negotiate an extended temporary or long-term gate agreement between Southwest and Delta, but neither airline budged in their respective stances. As the countdown to the showdown neared, Southwest opted to allow Delta to temporarily stay in its current space at Love Field until the court makes its decision about gate allocation.
Perhaps the drama the led up to Southwest's decision to thwart a significant operational disruption showed a bit of irresponsibility by each airline as they continued to sell tickets beyond the deadline for Delta to vacate the property. Now the airlines need to determine how to accommodate passengers that have purchased those tickets.
In the larger context of US aviation, the latest controversy in Dallas shows that pockets of intense competition remain the US market place.