Delta, AirTran, other US airline shares perform strongly. Embraer upgrade helps turnaround
Delta (+11.0%), AirTran (+10.7%), United Airlines (+9.6%) shares led the way up in a market rally that has continued for three consecutive days.
By contrast with European airlines, whose outlook seems to be regarded much more gloomily now, almost all American airlines performed well on Thursday.
North & South America selected airlines daily share price movements (% change): 12-Mar-09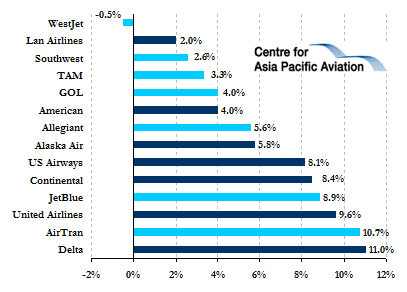 Among suppliers, Embraer (+12.6%), which had previously suffered negative sentiment, appears to be moving back into favour, helped by a Goldman Sachs report which suggested that proposed staff cuts (opposed by the political leadership, at least publicly) were now likely to succeed in producing considerable improvements in productivity.
Aercap (+11.1%) shares also continued their upwards trajectory.
Selected Aviation suppliers daily share price movements (% change): 12-Mar-09