Delta Air Lines defends its capacity increases as special items trigger a drop in 3Q2014 profits
Analysis
Delta Air Lines continues to trumpet capacity discipline even as it fields questions about a projected 2% rise in CY2015 supply, particularly increases in the trans-Atlantic where airlines are facing industry oversupply.

The airline assures that most of its trans-Atlantic push is directed to London in conjunction with its joint venture partner Virgin Atlantic, and its supply growth in the North Atlantic is in line with demand.

Overall Delta still remains on strong financial footing. But there are specific pockets of geography where is faces challenges that could create revenue pressure during 2015.
| | |
| --- | --- |
| | CAPA's first America Aviation Summit will he held at the Hilton Lake Las Vegas Resort & Spa on 27/28 April 2015. To experience CAPA's unique aviation conference format and to meet the movers and shakers in the Americas and worldwide with 20+ airline CEOs, click here: CAPA Americas Aviation Summit |
Delta's top-line expenses outpace revenue growth in 3Q2014
Delta's net income declined 74% during 3Q2014 to USD357 million as top line revenue increased 7% to USD11.2 billion. Its operating expenses jumped 16% to USD10.3 billion, which drove operating income down 47% to USD835 million. Delta's largest line item increase year-on-year during 3Q2014 was profit sharing, which grew 54% to USD384 million.
Delta Air Lines operating revenue: 3Q2014 vs 3Q2013 and 9M2014 vs 9M2013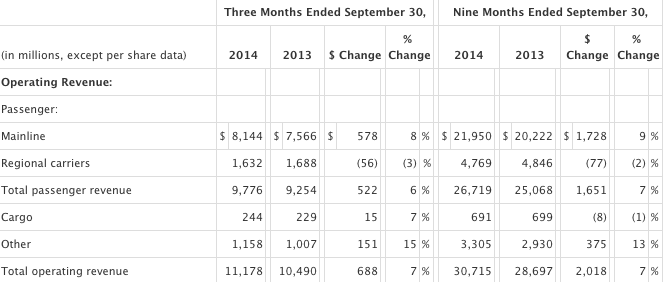 Delta Air Lines operating expense and operating income: 3Q2014 vs 3Q2013 and 9M2014 vs 9M2013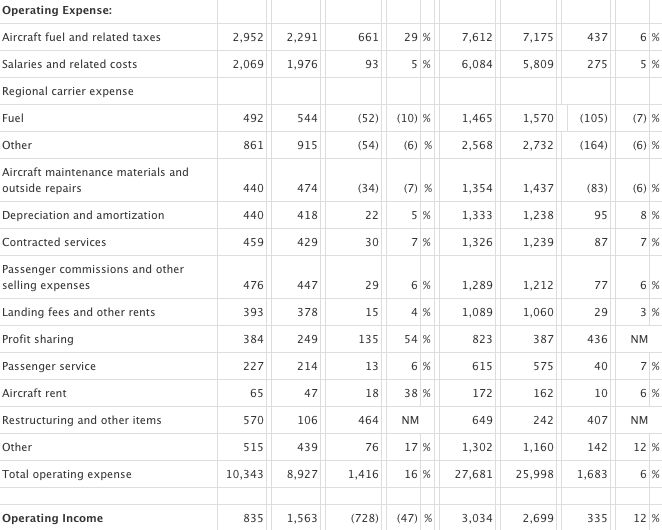 The airline recorded USD657 million in special items during the quarter including USD397 million in fleet costs related to Boeing 747 retirements, USD215 million in hedging charges and a USD87 million debt extinguishment expense.

The airline's pre-tax income excluding special items was USD1.6 billion, a rise of USD431 million year-on-year. On a GAAP Delta's pre-tax income was USD579 million and its operating margin was 7.5%.

On a unit basis, Delta's unit costs excluding fuel remained essentially flat as both consolidated passenger unit revenues and yields increased 2% year-on-year in 3Q2014 on a 3% rise in capacity. Delta's traffic increased 3% during the quarter.
Delta Air Lines unit revenue, unit cost and yield performance: 3Q2014 vs 3Q2013 and 9M2014 vs 9M2013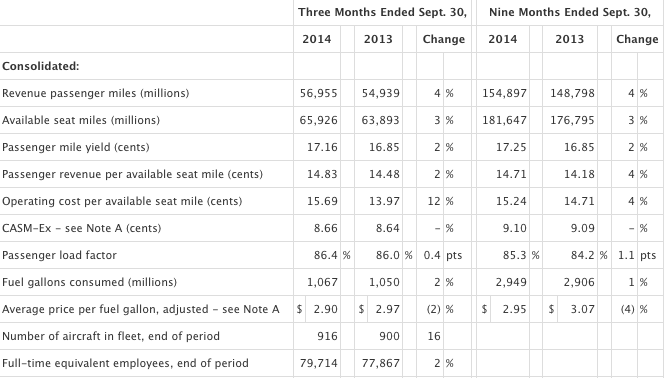 The domestic market remains Delta's strongest geographical performer
Delta's domestic entity was its top geographical performer during 3Q2014, which has been the case throughout most of CY2014. Its unit revenues increased 7% on nearly 5% yield growth and a 4% rise in capacity.
Delta Air Lines performance by geographical entity: 3Q2014 vs 3Q2013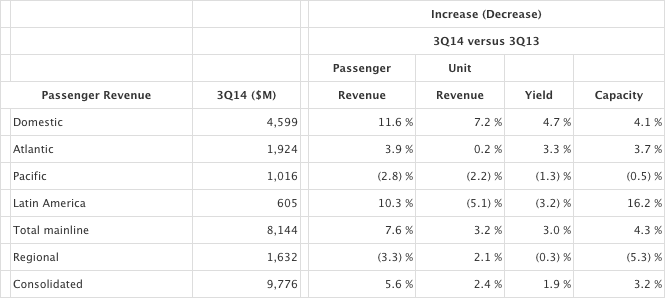 Airline president Ed Bastian remarked that Delta's corporate revenues increased 6%, with its New York LaGuardia hub outperforming the system with a 10% rise in unit revenues. The airline's unit revenues at its Atlanta hub increased 8% year-on-year while unit revenues in Seattle increased 6% on a 25% rise in capacity.

Mr Bastian remarked that the capacity Delta has pulled out of Cincinnati and Memphis and redeployed elsewhere, most notably Seattle, is "producing solid results".

See related report: Memphis and Cincinnati airports look to low cost airlines as they work to reinvent themselves
Delta expects to slow rapid capacity growth in Latin America during 2015
Latin America was Delta's worst performing entity during 3Q2014 as unit revenues sank 5% on a 3% decline in yields. The region recorded the largest capacity increase of 16%; however Mr Bastian remarked that in 2015 Delta expects capacity growth in the low single digits in Latin America as some of the double digit capacity growth recorded in CY2014 is annualised.

Mr Bastian explained that even as Delta has limited exposure to Venezuela and Argentina, the weakness in those markets created by each country's economic volatility represented roughly half of the airline's unit revenue decline in Latin America during 3Q2014. Previously CAPA has reported that for the week of 13-Oct-2014 Delta's seat share to Venezuela from the US is roughly 2% compared with 18% for American and United's 6% share.

Delta's seat share from the US to Argentina for the week of 13-Oct-2015 is 10%, compared with 9% for United and American's 44% share.

See related report: American Airlines opts to erect protective measures against Argentina's weak economy

Mr Bastian remarked that Delta was nearing the end of the investment spool-up in its Latin entity – the airline has equity stakes in Aeromexico and Gol and holds a seat on each airline's board of directors. He stated that the traffic supplied by those airlines created USD40 million in incremental revenue for Delta during 3Q2014.
Delta stresses most of its trans-Atlantic growth is geared toward Heathrow
Delta turned a positive performance in the trans-Atlantic during 3Q2014, keeping unit revenue flat on yield growth of nearly 5% and a capacity increase of 4%.

Delta, American and United have all cited overcapacity in the trans-Atlantic and have revealed plans to trim their supply. American is cutting its capacity in the market by 3% in 2H2014 and Delta and its joint venture partners Air France-KLM and Alitalia have refined their growth to a 1% to 3% rise in trans-Atlantic capacity during the winter 2014/2015 timeframe, which is roughly half of previous growth projections.

Mr Bastian remarked that the bulk of Delta's trans-Atlantic capacity increase – roughly 2.6% in the winter time period – is tilted toward London Heathrow in conjunction with its joint venture partner Virgin Atlantic. He estimated during 3Q2014 the joint venture generated a 4% unit revenue gain and an overall 17% rise in profitability on a 7% increased in combined capacity.

Some of the planned CY2015 increases by Virgin Atlantic within its joint venture with Delta have raised concern at American Airlines, which recently stated that as it plans to right size capacity, other airlines are expanding supply. Virgin Atlantic during 2015 is bolstering service to New York and Los Angeles, two key markets for American.

Delta has also cut capacity by roughly 20% to Moscow, Tel Aviv and West Africa – regions that are either in the midst of geopolitical unrest, or in the case of West Africa, battling an outbreak of Ebola. Mr Bastian estimated those three markets represented roughly 1% of Delta's overall system capacity, and concluded the unrest in those markets created 1.5ppt of unit revenue pressure in the trans-Atlantic during 3Q2014.

See related reports:
Delta re-fleets and cuts capacity to improve its Pacific fortunes
A weak Japanese currency continued to drag down Delta's Pacific performance as unit revenues fell 2% year-on-year on a 1% decline in yields. The airline kept its capacity flat in the Pacific year-on-year during 3Q2014.

Mr Bastian remarked that JPY revenues fell USD20 million net of hedges during 3Q2014, as the airline continues to restructure its Pacific network. He projects a decline in Pacific capacity in the high single digits with a 25% to 30% reduction in what is deemed as low yielding intra Asia operations. The airline is focused more on direct service from its Pacific gateway in Seattle than connecting traffic through its Narita hub.

Delta is also undergoing a fleet restructuring in its Pacific operations as smaller gauge widebodies are freed up from capacity cuts to Europe. The airline will retire a total of four Boeing 747-400 widebodies used in Pacific operations during CY2014, and aims to retire the remainder of the 16 widebody jets by 2017. Mr Bastian stated that the 747 retirements should improve Delta's profitability in the Pacific by USD100 million in CY2015.
Delta defends its capacity increases and competitive moves in Seattle
Delta's current projections of 2% capacity growth in CY2015, which is pegged to GDP forecasts, appear to be generating some concern in the investor community given recent headlines that the economy in Europe is weakening.

The airline stressed that in addition to most of its capacity deployment concentrated in London, it is generating improved utilisation of its assets as aircraft during the past few years have undergone various modifications for Wi-Fi installations or flatbed seats.

Delta also defended its competitive capacity additions in Los Angeles and Seattle – where it has added significant domestic supply to feed its long-haul fights. The airline stressed those additions were supported by transferring underperforming assets from elsewhere in its network, and concluded that margin performance in Seattle and Los Angeles has grown significantly year-on-year. The airline's domestic performance reflects that theory; but what remains to be seen is the long term staying power of the capacity increases, and the viability of the margins beyond the short term.
Despite strong fundamentals, Delta faces challenges in its global regions
Delta projects a reasonably solid performance in 4Q2014, with unit costs excluding fuel in the flat to 2% range and a 10% to 12% operating margin.

Throughout much of CY2014 Delta's strong domestic performance has offset the continuing challenges it faces in the Pacific, oversupply in the trans-Atlantic and economic uncertainly and some excess capacity in areas within Latin America. Domestic demand appears to be holding steady; but the rewards of Delta's Pacific restructuring will take some time to materialise, and the economies of Argentina and Venezuela are far from stable.

The airline's profitability streak is by no means in jeopardy. But there are lingering concerns about its aggressive competitive capacity increases in Seattle and Los Angeles and increasing capacity to Europe. For now Delta appears to be producing favourable results from its asset redeployment; but there is no guarantee that positive performance will become a mainstay over the long term.
As the merged American, and to a lesser degree United, both strengthen their respective entities, the competitive edge Delta has enjoyed during the last few years may lose some of its lustre.