Corporate travel: CAPA-ACTE Sydney Innovation Summit tackled the issue of supply chain disruption
Analysis
Disruption, data and duty of care were the major topics as Australia's corporate travel leaders met in Sydney at the CAPA-ACTE Asia Pacific Corporate Travel Innovation Summit 2015. The Summit, developed in partnership with the Association of Corporate Travel Executives (ACTE) and chaired by ACTE President, Kurt Knackstedt, attracted around 150 senior travel managers and over 300 attendees. Attendees heard predictions for the near- and long term future of travel as well as supplier and buyer insights into current challenges and opportunities.
There was a strong expectation that the disruptive technologies like Uber and Airbnb will continue to challenge current travel management practices, forcing all levels of the supply chain to adapt.
A number of speakers emphasised the increasing role of data in travel management, although there are still concerns about data ownership and access.
Duty of care and traveller safety remain a challenge for all in the industry, with several people expressing fears that organisations are still not fully aware of their responsibilities.
The practical ramifications of these issues were demonstrated in a number of buyer case studies, which also reflected significant differences in the market. Buyers represented organisations with traditional in-house travel procurement, embedded TMC operations and company-owned travel agencies, all at varying levels of maturity and all notching up achievements, but striving for further improvements.
CAPA-ACTE Corporate Travel Summit Highlights 2015
Looking into the crystal ball - travelbots are on the way
The Summit opened with a look into the future by Concur Senior Director-Strategy and Product Marketing, Johnny Thorsen.
A respected technology evangelist, Mr Thorsen started with three bold predictions for the shape of the travel industry for 2020.
"We're only starting to see the beginning of disruption in the travel industry," he said, citing Uber and Airbnb which have "turned the industry upside down because they came from outside".
He noted that Airbnb has 1.5million rooms and was tipped to reach its first million-bed night shortly.
Uber, meanwhile, is the world's biggest transportation company without owning a car … "and they're not going away".
These two developments from outside of the industry prompted Thorsen's first prediction: a new virtual airline with no planes. "They'll simply consolidate available seats. The technology is there; it's just about industry opening the door to make it happen."
His second prediction, after 25 years of filling out traveller profiles, is a universal profile. "Why can't I have a QR code? That's me and I'll only deal with you if you recognise that code – and companies will save a fortune by not having to create their own data."
Mr Thorsen's third prediction concerns automated information systems he calls travelbots. "It'll be hard to talk to someone by 2020 unless you put $100 on the table for advice. We're going to get intelligent services that will understand your situation, what your pattern of behaviour is, what you normally do, and they'll be able to give you answers in a microsecond. It's all about using the big data that's sitting under the surface, telling everyone all about me through my universal profile."
Mr Thorsen's view is that all three can happen with existing technology. "I don't see how the industry can prevent them coming through," he said.
Jonny Thorsen offers his vision of the future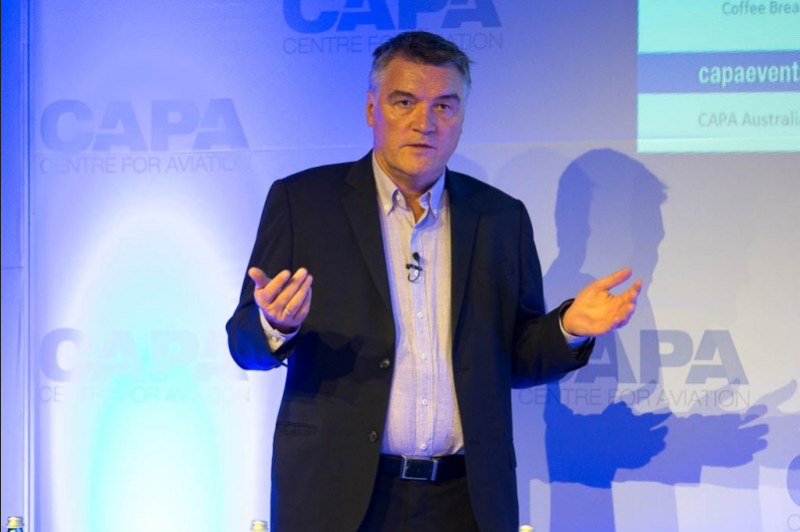 Short term developments - including demand-driven change; and the fundamentals
Looking to the more immediate future, a panel discussed the latest trends and developments that will affect local travel managers, buyers and their programmes over the next 12 to 18 months.
Rob Gurney, Divisional Vice President Australia and New Zealand, Emirates, spoke about "demand-driven change" and stressed that if businesses want to attract the right people, they'll need to give them the choices they want.
His airline's growth, facilitated by Dubai's geographic position and its fleet of wide-body aircraft, has been the result of a focus on innovation, product and service, he said, citing the example of free WiFi on flights.
Steve Limbrick, Executive Manager Sales, Marketing and Distribution at Qantas Domestic, spoke about the airline's transformation programme aimed at reducing costs, modernising the business and seeking to innovate. "The biggest challenge is demonstrating value and showing that it's about more than price," he said.
Mr Limbrick identified changes in the distribution and payment landscape as the next big thing.
For example, he said, Qantas is "dipping a toe in the water in regard to NDC (new distribution capability) which is part of our multi-channel platform and our ability to offer a greater degree of information to those who are travelling".
Craig Bowen, Regional Commercial Manager - Oceania, UATP, pointed out that globally, payment costs outstrip GDS costs for airlines. Cost remains an issue, he said, and if it can be driven down, there's more opportunity for profit.
He explained that UATP, an airline-owned payment solution, is working with alternative forms of payment such as PayPal and Bitcoin to make it easier for merchant airlines to accept these without having direct links with each one.
The opening panel looks to the near term developments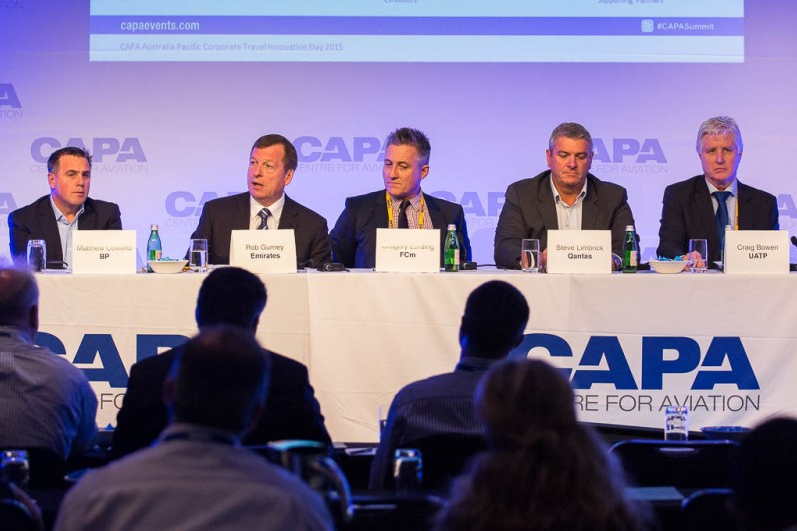 For Gregory Lording, Travel Solutions Global Brand Leader at FCm, the key focus is moving data from historical to predictive – from justifying past expense to predictive, real-time management tools.
He is also keeping a close watch on the sharing economy which is evolving and will get a foothold in the corporate market. However, "it's a time of transition and policies have to be adapted to accommodate them".
Mr Lording also noted the rise of "traveller friction", pointing out that employees now review travel policies before taking a job and will move to companies with more attractive programmes.
Practitioner Matthew Coviello, Corporate Travel Manager-ASPAC & Middle East for BP, noted that while issues like disruption and mobile strategies are important, "complaints that come across my desk are mostly about the fundamentals".
There is little place for open bookings in BP's air programme since the company negotiates directly with airlines, he argued. And where LCCs are used, the data is pulled into the system for duty of care reasons.
"Open booking is more of a concern for hotels, especially for remote hotels which are difficult to book through the TMC," he added, explaining that there is a GDS supplier that integrates those off-channel bookings, "but that's not yet in place – and it remains a duty of care concern".
Following the hot trends, as the consumer wants - and gets - more
A supplier panel examined some of the sweeping trends affecting managed travel globally and their local impact.
Virginia Fitzpatrick, General Manager, 4D Advisory, cited Amadeus' research about the blurring of the divide between business and leisure travel. The increasing prevalence of leisure while on business requires a balance between duty of care and meeting the demands of the next generation of business travellers who insist on it.
Another 'hot' trend she is following is the smarter air procurement practiced by SMEs who plan well instead of relying on negotiated fares like their corporate counterpart.
Carlson Wagonlit Travel Senior Director-Solutions Group, Asia Pacific Carl Jones pointed out that traditional policies are being challenged by disruptive technologies in terms of choice, "so we go from a model which is heavily centralised to a model which is all about consumer choice. The problem is that the consumer doesn't really know (how to compare) apples to apples."
Mr Jones also commented on the rise of ancillaries. To manage this aspect, it's necessary to ensure their visibility, which requires access to data. "Without the ability to track and measure ancillary fees, it's hard to fully manage a programme," he explained.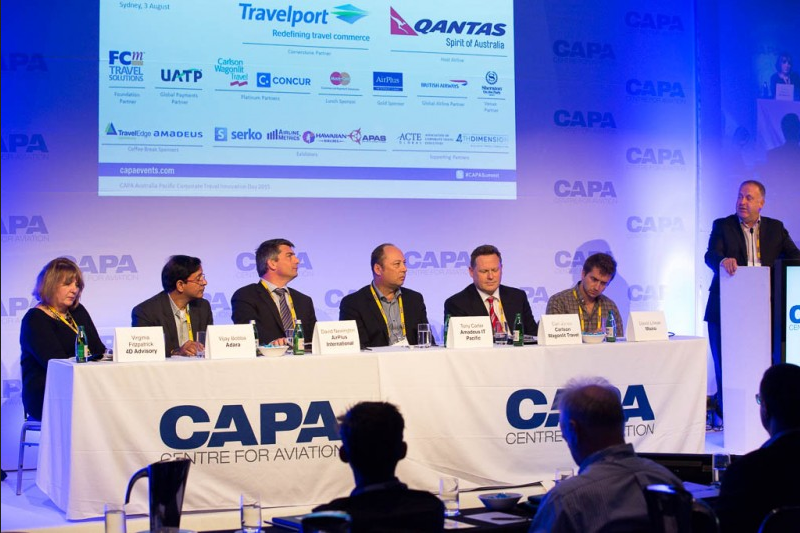 For Tony Carter, Managing Director, Amadeus IT Pacific, the most disruptive phenomenon today is the demands of the traveller. "The traveller today is more empowered and more experienced with more choice than ever before," he said.
"Personalisation is hot: as travellers get more demanding, understanding their needs will be critical."
Asked whether Lufthansa's move to charge GDS fees marks the start of a new trend, Mr Carter was emphatic: "We believe the industry has to work together and what Lufthansa has done is not in the best interests of the traveller, the TMCs or the industry overall."
Vijay Bobba, Managing Director Asia Pacific of ADARA, introduced his company's real-time marketing platform powered by big data for the travel industry.
Mr Bobba is clearly determined to benefit from the rise of ancillaries and is keen to leverage data for the benefit of both suppliers and travellers.
"Who owns the data? If TMCs happen to have right to use the data to sell ancillary products, why not?" he suggested.
Picking up on comments of other panellists, he also noted that ancillary spend doesn't necessarily need to be covered by policy. "Some of us don't mind spending our own funds on ancillaries," he said.
David Newington, Country Manager, Australia, AirPlus International, also stressed the focus on data - in his case, spend data.
He suggested that more flexibility is required for payment solutions, raising the need for data aggregation.
"We talk about 'bring your own device', but not every company has the ability to provide every traveller with a card, so you have the need to provide them the flexibility to buy a product (on cards) as well as some on other platforms."
Mr Newington also identified the need for change in regulations to accommodate the proliferation of payment options amid the entry of new payment options.
David Litwak, Founder and CEO of Mozio, is among the disrupters with his "GDS for local transportation". Mozio already has 1,600 ground transport partners globally, plugging into their back-end systems and integrating them into one platform.
"We're an aggregator and there are different options for different people and different needs," he explained.
Mr Litwak also sees ancillaries as 'hot', but notes that they don't receive enough attention , "(although) we're noticing an increase". But data is needed to make sure the travellers are exposed to relevant options.
David Litwak, Founder and CEO of Mozio
The Buyers have their say too: more data, efficiency in the supply chain....
Besides vendor perspectives, the gathering also heard from some successful travel procurement practitioners.
NAB Procurement Manager David Crawford explained his role as an outsourced travel manager from the Flight Centre group's 4D consulting arm. This approach, he said, is aimed at delivering a cost-effective service to the category, using imported subject expertise to provide visibility over all aspects of the programme.
Mr Crawford said NAB is looking towards a less fragmented supply chain and is pursuing "fewer deeper relations" with vendors. "We're looking at helping suppliers be more efficient at what they do so that we can drive savings back into the bank," he said.
Dealing with a complex organisation and 42,000 travellers, Mr Crawford ensures continuity by focusing on hygiene. "I make sure that the travel Internet pages are up to date (so that all questions can be answered, even when travel staff are not available)".
His current challenge is "getting our arms around MICE", trying to bring the bank's events activities in line with travel and consolidate air and land components to maximise volumes for vendors.
Mark Hopcroft, General Manager - Brand & Product Development at Church Resources, explained his organisation's role of aggregating procurement for the 700,000 not-for-profit organisations in Australia.
The Catholic Church-owned organisation passes its aggregations savings back to its members and "takes a very small rebate out of the tail end".
"Our role is to give them breadth of supply choice, to aggregate their volumes, to give them price discounts and to lower their risk," he said.
Indirect savings in time and administration costs are additional benefits for not-for-profits, which are starved of resources. Spend has grown from $1.5 million in 2009 to $15.7 million in 2015 and heading for $25million next year.
The major challenge going forward is weaning its members off phone service and encouraging more online booking and communication, he said. This also requires integration of all Church Resources' supply partners into its portal, he explained.
George Weston Foods Limited, Group Head of Direct Procurement, Michael Palmer pointed out that his executives are really passionate about travel – even more so than about the essential ingredients that go into its products.
His priorities are "ensuring a great customer experience, making sure travellers have the right reasons for travelling and are doing it at the right time and ensuring that we get the most bang for our buck".
Mr Palmer reported on a 10% saving in the last year through ensuring compliance, starting with making sure that each trip is actually required. "A lot of our travel is for internal business meetings … and for these, a lot of the time we find that virtual meetings are possible," he said.
"Looking forward one or two years, the biggest change I am hoping to see is getting more data," he added.
Besides the traditional agency model and the insource approach, the buyer panel also included an inhouse TMC: James Highsted from Nexus Point Travel, the internal travel agency of CIMIC (parent of Leighton Holdings), explained how an in-house TMC benefited from being part of the organisation's overall strategic planning and operation.
"The important thing for us as an internal TMC is that we had the data," he said as he detailed Nexus Point's recently completed airline RFP.
In the process, Nexus Point looked at marketshare scenarios and drilled down into available seats, even analysing its workforce rostering as part of the request for pricing.
CIMIC has a strong cost focus, he said, and the RFP sought to understand the "total financial model". It also tried to future-proof the organisation, by balancing discounts with anticipated fare increases in the years ahead.
The big advantage of the inhouse TMC arrangement, he said, was the ability to make the RFP "matched policy".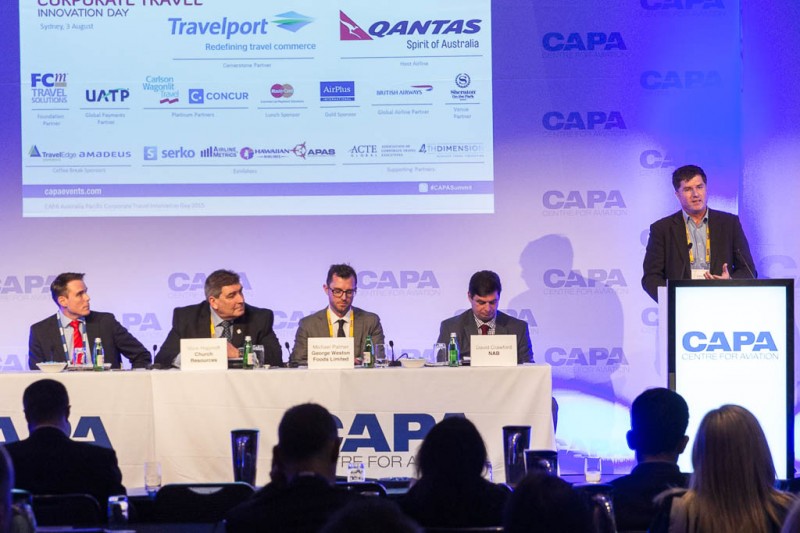 A Safe Work Travel System is the persistent theme for corporates
Duty of care and traveller safety are more topical than ever, with last year's Martin Place siege serving as a reminder that we are never far from risk.
Against that backdrop, a supplier panel discussed the state of play in Australia.
Dorina Santos, Senior Category Manager – Corporate Travel at Portland Infosys, began the discussion with an observation about the degree of ignorance about duty of care. "Some don't understand where it stops – or even where it starts."
"We're still taking about it because we still get it wrong for three reasons: ignorance, the extent of issue and an inability to deal with exceptions," she added.
According to Ms Santos, organisations don't do enough safety and security testing. "It's not just about Uber and Airbnb – it's about checking safety at hotels and other suppliers," she said.
Sarah Larkin from technology integrator Locomote said her company worked with DFAT to produce a risk management tool to address risk before the booking is made.
While the tool provides a framework, it still requires attention to other aspects of the travel policy and the trip. "No one supplier can support the end-to-end requirements," she explained, adding that Locomote's products don't pretend to deliver the whole solution but can be vital in ensuring a comprehensive solution.
Dr. Nhlanhla Mpofu, Medical Director, Occupational Health – Australasia at International SOS, explained how his organisation's focus has shifted from repatriation and evacuation to the design of preventative programmes.
"In Australia, people know the legislation and most people in the risk industry, in the workers' comp sector and in travel know what's required," he noted, "but the big challenge is that there's no ownership of the risk."
Lesley Jacques, Head of Accident & Health, Australia & New Zealand, ACE Insurance, shared her experiences in Canada, where regulators explained what needed to be done and gave the market a year to get its act together.
Canadian legislation prescribes access to immediate assistance but most clients are still in the dark about who their travellers should call, she said.
While insurance tends to come in at the end of the process, Jacques said ACE is working on embedding aspects of duty of care into policies.
Sarah Larkin from Locomote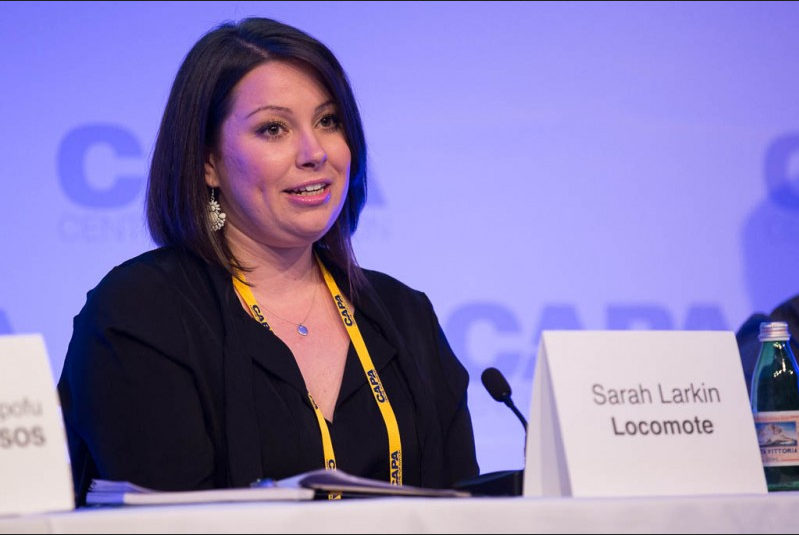 International SOS' Dr Nhlanhla Mpofu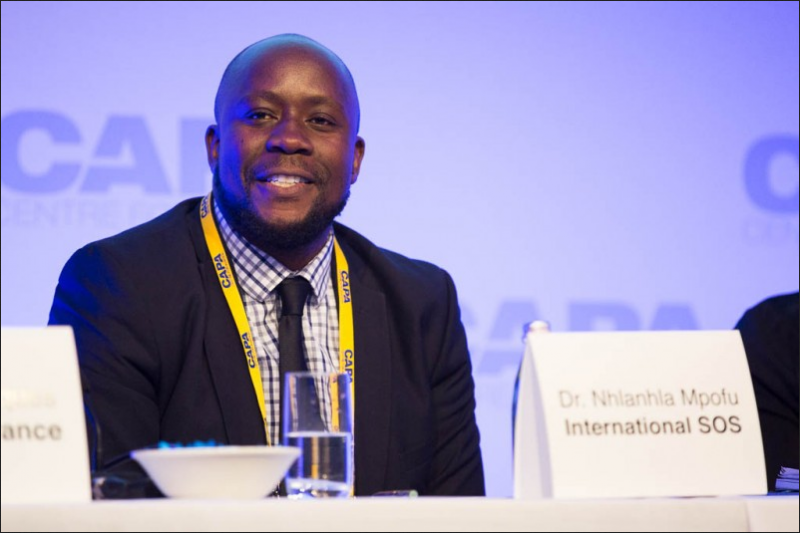 Leslie Jacques from ACE Insurance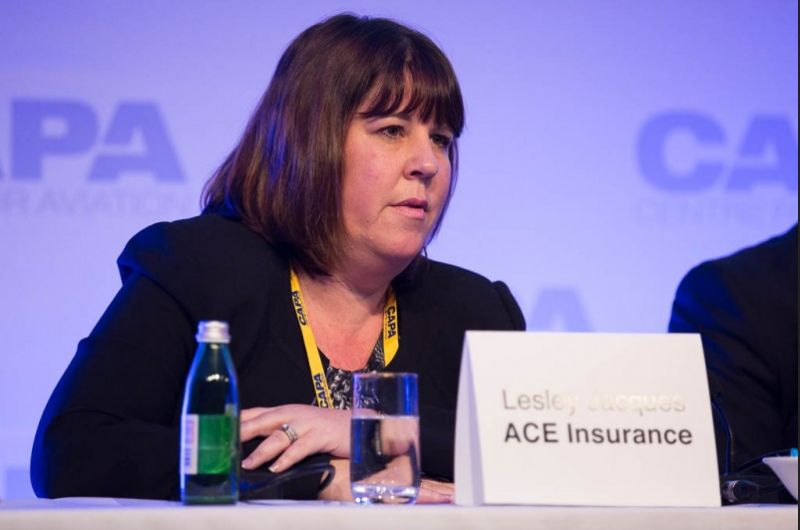 Virginia Fitzpatrick leads the thought processes
And all good books contain a legend or two
The conference included a special presentation by a British Airways pilot, who discussed the airline's historic links with Australia as well as sharing some of his personal experiences and perspectives from the flight deck.
British Airways pilot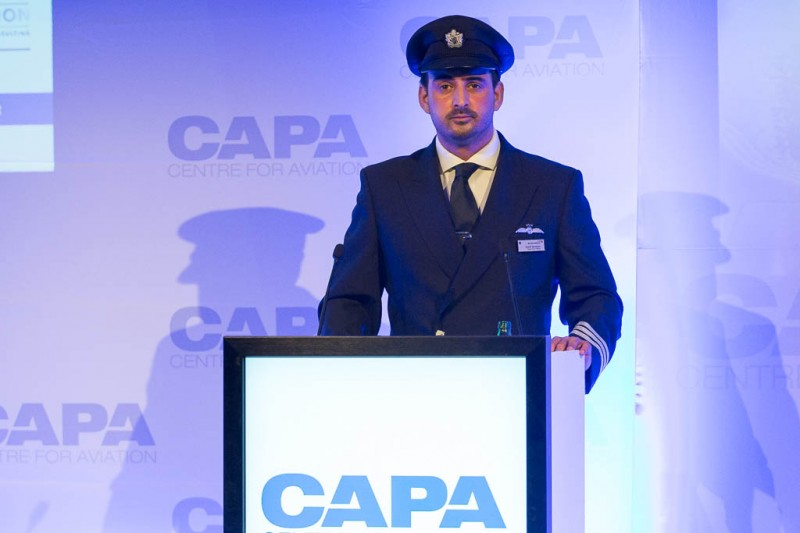 And the audience was inspired by Rugby Union great John Eales, now also a director of Flight Centre, who shared his insights in sporting and business success.
Citing achievers from both sport and business, Mr Eales highlighted the value of leadership and team participation.
"Nobody", John Eales delivers inspiration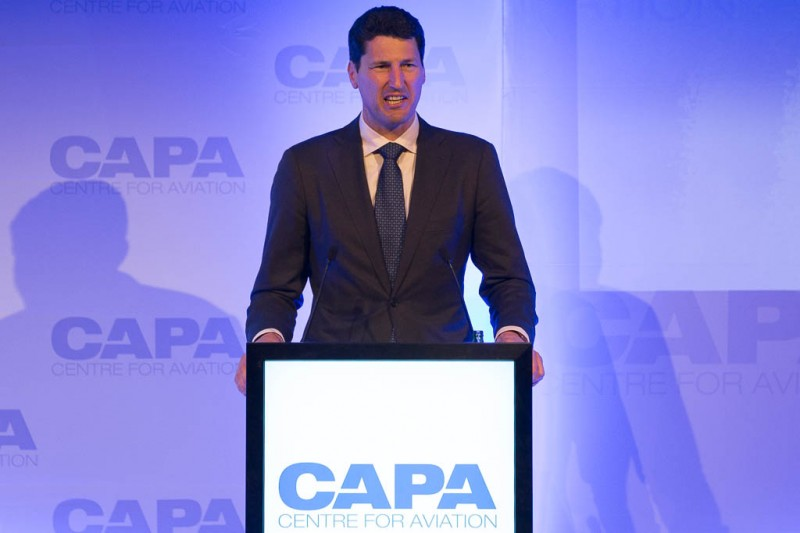 Besides presentations and panel discussions, the CAPA-ACTE Asia Pacific Corporate Travel Innovation Summit 2015 also featured a range of live technology demonstrations for the first time.
More Corporate Travel events in the near future: mark your calendar
Similar CAPA events will be held in Helsinki (7-Oct-2015) and Singapore (23-Nov-2015).
The Australian event will be held in Brisbane next year as part of an expanded programme which will also see dedicated sessions for Aerospace, MRO, Safety, Airline IT and Skills/Training sectors of the aviation industry.
Allan Leibowitz provided this report. Allan is a business journalist who edited Business Travel Monthly/Management for more than a decade and also transformed Procurement Professional into a leading resource in the Australasian market. He now leads 'talking business', a content marketing and events consultancy which specialises in procurement and business-process issues. Allan will be facilitating the upcoming CAPA Corporate Travel Innovation series at CAPA's Asia Pacific Summit 2015 in Singapore on 23/24-November-2015.