Copa's hub touted as ideal link between economic powerhouses: Asia and LatAm
Analysis
Using the old joke – Why did the bank robber hold-up the bank? Because that's where the money is – Copa Vice President Commercial and Planning Joe Mohan made a convincing argument that the same applies for trade between Asia and Latin America. Copa's hub at Panama City, Panama, would be an ideal location for a transit point between the two emerging economic powerhouses.
"Asia and Latin America are coming together more and more economically," said Mohan. "Latin American carriers have emerged with increasing strength through consolidation. The Americas are very profitable with operating margins twice that of their American low-cost carriers. Copa's is at 18%. Today's carriers include AeroMexico, Avianca/TACA, GOL, LAN-TAM, Aerolinenas Argentinas, and, of course, Copa. Other global carriers are noticing both the strength of the carriers and the markets they serve. Star Alliance's Air New Zealand will use its 787 on a raft of new Latin American services. Perhaps the largest opportunity is out of Japan, after JAL dropped service between Tokyo and Sao Paulo in the wake of its restructuring."
Mohan called the Avianca-TACA combination with its eight fleet types "not an airline but an airshow". He also indicated that the LAN-TAM deal was a response to the Avianca-TACA move. "Low-cost airlines have increased their market share to 40% of the market," he said. "GOL is 40% of the market in Brazil. What their next step will be is more competition with TAM."
Consolidation is continuing with Chile's LAN, in the midst of acquiring TAM, announcing three days after Mohan spoke, that it would acquire Colombia's Aires for USD32.5 million in an effort to build its presence in Colombia, where Aires has a 22% market share. Copa, after acquiring Colombia's Aero Republica, rebranded it last month to Copa Airlines Colombia
Trade between major East Asian economies and Latin America has more than quadrupled between 1998 and 2008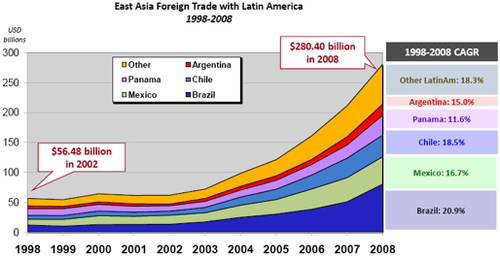 Traffic in Latin America grew at 9% through the first two months of this year, he told attendees at last week's Boyd Group International's 15th International Aviation Summit. Only the Middle East and Asia pace the region with Africa trailing at a respectable 9.3%.
"Alliances, hubs and joint ventures are the new reality," said Mohan. "Now it is being applied to Latin America. Star has a big hole since it has 28 countries where it has no presence. It added TAM but that is merging with LAN. oneworld has LAN so it's a big unknown and could mean a seismic shift in the market. There will be a huge fight between Star and oneworld. oneworld will be fighting to swing TAM to the oneworld alliance where it will be a powerful combination over Miami. Meanwhile, SkyTeam could be shut out. SkyTeam will end up picking up the pieces with only Aerolineas Argentinas. Star is reportedly in talks with Copa and Avianca-TACA."
That makes Panama City's Hub of the Americas, he suggested, the ideal alliance "intra-LatAm" hub since it is able to serve the entire region with narrowbody aircraft. He noted it is a modern, efficient airport with no constraints. "It's due south of Miami and is centrally located on both longitude and latitude to both Europe and Asia as well as the US interior," said Mohan. "It's also the number one free trade zone in the world. In addition, it requires no customs or immigration for transit passengers and cargo, unlike the United States which requires a visa even for transit passengers. Finally, a USD70 million expansion is scheduled for completion late this year which will boost the number of gates from 22 to 24."
Mohan suggested global carriers could use its position to their advantage by creating hubs there to connect to the under-served markets in Latin America. He called the B787 a game-changing aircraft especially in serving Asia to Panama which would "open up Latin America, big time".
However, Mohan said, adding the 787 to its own fleet is highly unlikely. "Instead, we'd like to see an ANA come in to Panama," he said, adding Copa plans to stick with its low-cost, simple structure which would then link with anyone building intra-Latin America service through the Hub of the Americas. "We are similar to Southwest. We have a simple fleet in the 737 NG-700s and 800s. It's great to fly to Havana and down to Rio and Montevideo. We are not comfortable with the level of complexity required for widebody operations. Maybe Air New Zealand will do it given its interest in the region. All I know is, somebody's going to do it."
The GDP of developing economies is about 6.2%, with Latin American at a 4% growth rate, double that of North America, said Mohan. Indeed, on Tuesday the Latin American and Caribbean Air Transport Association (ALTA) reported member airlines carried 11.1 million passengers in September, up 9.1% from the previous year. RPKs rose 11% while ASKs increased 2.8% as load factor climbed 5.6% points to 76.1% over Sept-2009.
ALTA also reported that more than 450,000 passengers were lost owing to Mexicana's suspension although it was offset "by impressive growth of other markets, led by Brazil, the main driver in Latin American", said Alex de Gunten, Executive Director of ALTA.
Year to date, through September, passengers carried rose 14.4% reaching 101.6 million.
Freight ton kilometres increased 16.3% in September and 33.9% year to date.
Mohan predicted there would be no Mexicana resurrection because the country does not have the bankruptcy laws that allow it to continue operating. However, he also noted that, so far, few aircraft have been claimed.
Despite the potential for Latin American growth, however, he cautioned that the political environment may stifle growth since it remains fragmented, restrictive and unpredictable.